For me, the only thing I love more than tending to my garden is creating it. Figuring out the design, adding to it as it grows or creating new mini gardens in our yard is lots of fun for me. Especially now that I've discovered a new way to make unique garden areas using wooden pallets. Versatile, sturdy and easy to decorate, they can turn any part of your yard, porch, or even terrace into a fragrant garden of flowers, herbs, and more.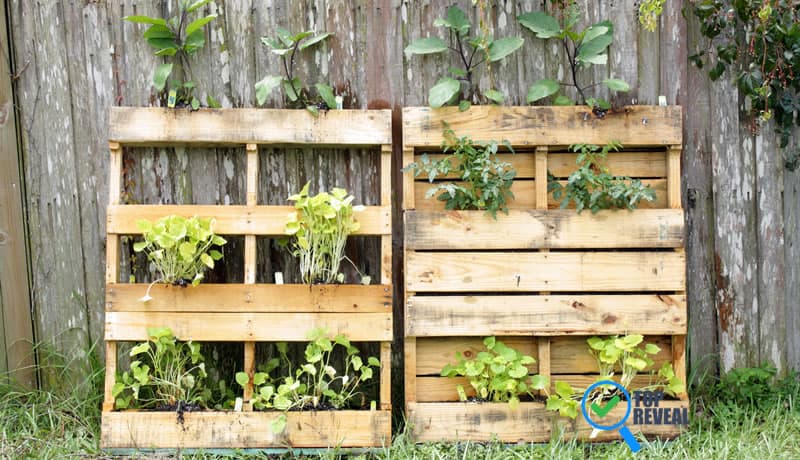 If you want to spruce up your existing garden or try your hand at one for the first time then check out these 19 breathtaking DIY Pallet Planter Ideas.
 Do-it-yourself Pallet Planter Ideas
A Wall of Beauty
 
Have a smaller area you want to bring to life with some beautiful flowers and shrubs? Then you should try this design by A Piece of Rainbow, which is simple and can easily fit on a porch or terrace.
Concrete Jungle
This design by Busy Creating Memories is one of my favorites because of it's natural beauty and how easy it is to put together. And for those with a smaller yard, you could re-create it on a smaller scale.
All Aboard!
If you have kids or love a bit of whimsy how can you not build this planter train from The Whoot? I think this design is absolutely charming and adds character to any garden space. But if you do have kids you may have to build 2 so they have one to play with.
No Hosing Around!
Extra storage and a place to plant some pretty flowers is always a good thing; lucky for you the instructions for this rustic pallet box from DIY Candy fits the bill and makes it easy to do.
Fragrant Find
Herb gardens are relatively low maintenance and add fresh spices to your food; this DIY by Ginger Snap Crafts makes it easy for you to have one, as it's lightweight, portable, and can be added to an existing layout or placed on the deck by the back door for easy access.
Table for 2?
Spruce up your patio and grow some tasty veggies with this clever pallet table by Ana White. You can make it any size you want, so it will work with yards and decks both big and small. And just think, you won't need a centerpiece and the next family gathering.
Flower Power
Display your flowers in all their glory with these striking pallet holders by The Self Sufficient Living. Great for beginners because there is no assembly, you can paint them using any colors and designs you want. And they can hold a lot of plants!
Have a Seat
Put your feet up and add a bit of greenery with this clever DIY by Minimalisti. Just beware this project is a bit time-consuming, but well worth it.
Something From Nothing
Create your own little oasis like the one here from How Garden for a tranquil escape after a long day of work.
Raise the Roof
If you want to create a raised bed without spending a fortune try this tutorial courtesy of the DIY Network using pallets and old accordion doors. Oh, and check out the wheels!
Cross-Hatch Heaven
If you have multiple flowers to display and want a different feel than your typical pallet this design by Working House Mom Wife is one to try. The criss-cross style gives it a dramatic flair that will enhance any garden or patio wall.
Looks are Deceiving
You won't be able to fully appreciate this ingenious DIY by Her Tool Belt until all your cascading flowers are in full bloom and it looks like a floating bush. But even when they're still growing it has a sweet antique charm.
Year-Round Centerpiece
Have fresh flowers on your table all year round with this rustic pallet centerpiece by Make Life Lovely. You can change what you grow according to the seasons too, like tulips in spring and pansies in the winter.
Just Hanging Around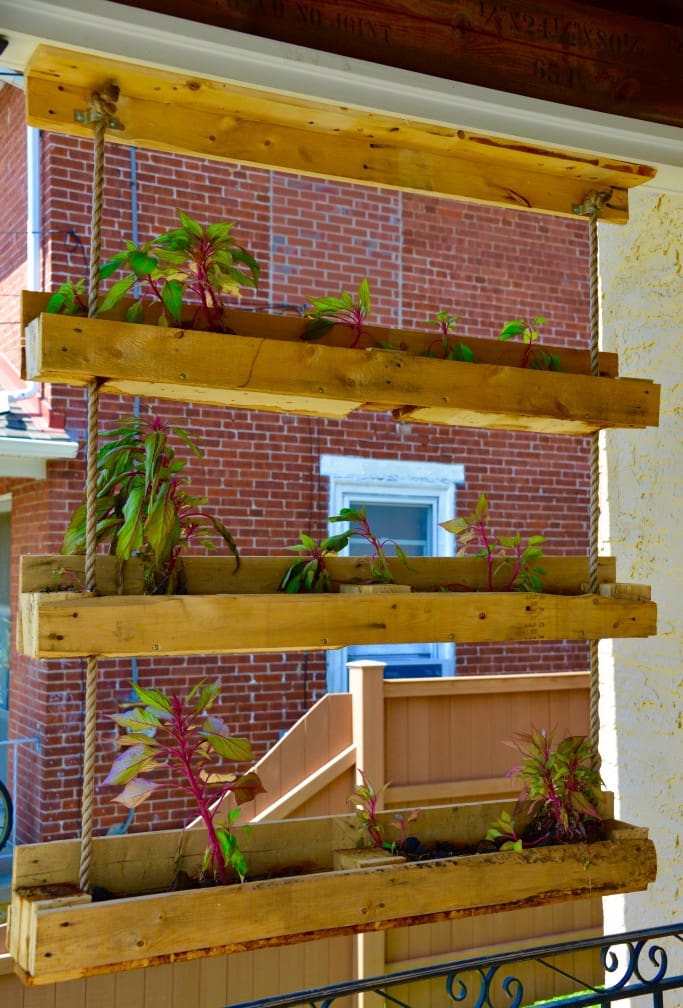 This hanging beauty by My Fix it Up Life is simply brilliant. You can hang it from a terrace, front porch, or a tree and fill it with herbs and plants to brighten the space.
Good Grief Charlie Brown
With this tutorial by Instructables, you can have your own Charlie Brown tree right outside your front door. And if you alternates wood shades like in this pic it creates a modern and striking look.
Zen-Like Bliss
Use pallets to put together a zen-like garden like this one from Pallet Wood Projects that you can sit and relax in after a long day. This works best with succulent plants, but you can use it for flowers or even veggies if you choose to.
All-Around Beauty
For multiple plants and a piece friends and family will love, try this project by Dump a Day. I like the sleek black paint, but you can really go with any color that catches your eye.
See these tools that can make your life easier: miter-saw and band-saw.
Plant a Seed
With a few jars and a decent size pallet, you can recreate this piece by Play At Home Teacher. Mix flowers with herbs for a fragrant, colorful look that can hang on any outdoor wall or fence.
Everything's Coming Up Zucchini
If you have a larger yard and want to grow some fresh vegetables this DIY from Instructables is one of my favorites. It's easy to do and you can even build it around an existing garden if you want to expand.
I hope these  DIY pallet planter ideas help you add some ambiance to your yard and let you enjoy your outdoor space more. Try one of these projects today and be sure to share this post with your family and friends too.