The power of a reciprocating saw is a necessary component of many jobs, but with stores packed to capacity with different buying options, it can sometimes be hard to tell what product is best for your needs. That's why we are here to help. Today, we will be taking a look at the cream of the crop with our Best Reciprocating Saw Buying Guide, featuring the top 5 product reviews so that you can decide for yourself what will work best for you.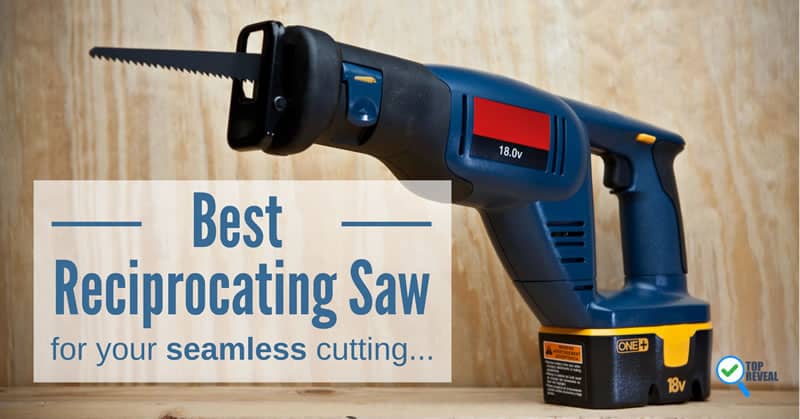 5 Top Rated Reciprocating Saws: Which One is the Best?
We will be discussing a number of different products, and each one of them has their pros and cons that make them a worthy buy; but if you like to jump to the end of the book before you finish then I'll tell you now that I think the DEWALT DCS380B 20-Volt MAX Li-Ion Reciprocating Saw takes the cake here.

Reciprocating-Saw Comparison Table

It's powerful, loaded with features, and available at an affordable price. That's just my opinion though. We're still going to take a look at a bunch of other excellent options so you can decide for yourself.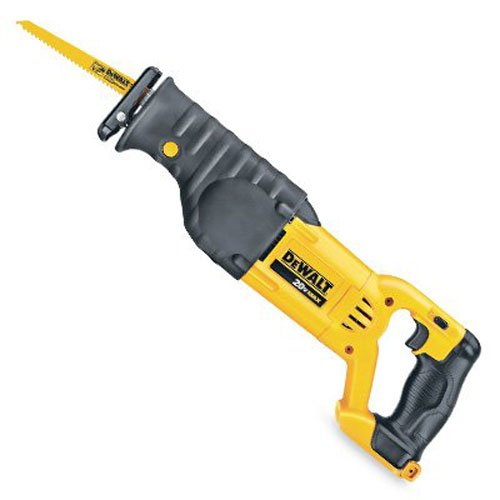 As I said, this model is my favorite of all the ones that we will be looking at, and after we take a more in-depth look at it, I think you will understand why. Let's take a look at some of the features so that you can see for yourself.
Key Features:
Versatile: The DCS380B features a 4 position blade clamp that provides a broad range of cutting options. Those who often find themselves in need of a reciprocating saw will appreciate the variety.
Speed Control: This model also features a speed control function so you can adjust the performance to suit any job. Speed ranges from 0-3000 spm (strokes per mimute).
Faster Cutting Speed: This last feature that we looked at allows you to control the speed of the blade with improved accuracy; the 1/8th of an inch stroke length programmed into this blade will also work towards helping you achieve quicker cuts.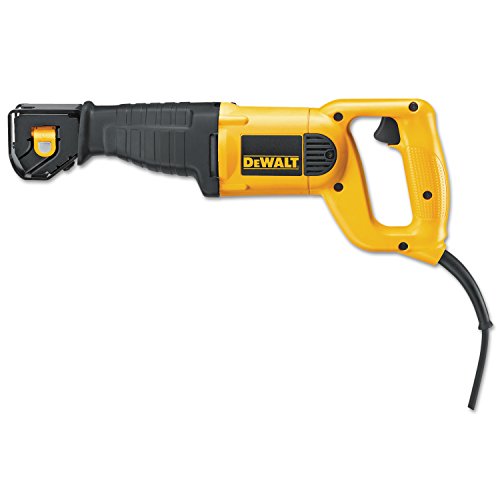 Like the last model that we took a look at, this unit was made by DeWalt, a company known for quality tools. Though not quite as advanced in terms of features it does come at a slightly lower price point which many buyers may find as an attractive option.
Features:
Powerful: The DWE304 features a powerful 10 amp motor that will make quick work of whatever you put before this saw's blade.
Versatile: It also features the same 4 position blade clamp system as the last model that we looked at which is ideal for those that desire versatility.
Controls Speed: With a speed range of 0-2800 the DWE304 doesn't have quite the same versatility as the last model we looked at, but given the bargain price many buyers may be willing to make the compromise.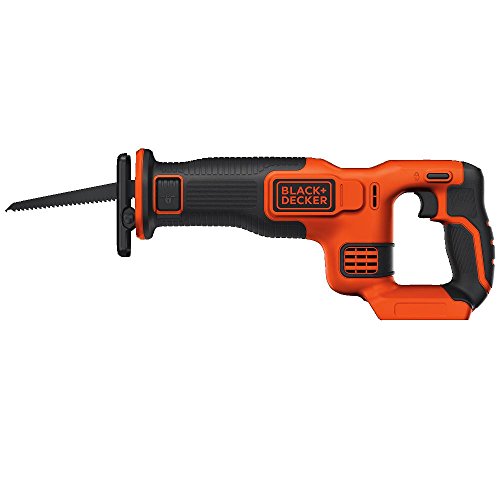 The next model that we will be looking at is made by Black and Decker and comes at a lower price point than the last two DeWalt units, and while the bargain does come at the cost of some features, those looking to save a few dollars might not mind.
Features:
Simple Blade Change: If you are reading this, chances are you probably enjoy working with your tools, but you might not enjoy busting them out every time your saws need their blades changed. With this model, you won't need to! Changing blades is simple and easy.
Controls Speed: With the Black and Decker you will be able to control your speed with a range of 0-3000 spm, matching the range of the DCS380B.
Pivoting Shoe: This model also includes a pivoting shoe which will make it easier to get consistent and clean cuts.

Skil has a reputation for producing great tools, and this model will certainly serve to foster it. Let's see why by taking a look at some of its deluxe features.
Easy Blade Change: Like the Black and Decker, changing the blades on this model is simple and easy, so you won't need to bust out the tools each time.
Sturdy: The 7.5 amp motor featured on the Skil won't quite stack up to the 10 amp motors that you will find on the two Dewalt models we have looked at, but it will still go a long way towards providing smooth, clean cuts.
Reduced Vibration: The heavy duty frame featured on this model not only contributes to its durability but also reduces vibration while you work.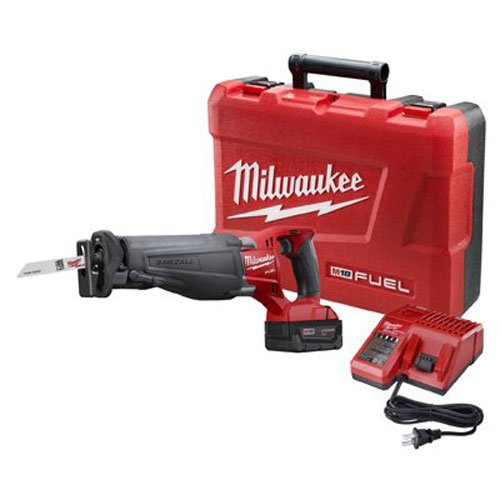 The final saw that we will be looking at is loaded with high-grade features just like everything else on this list, so let's waste no time, and take a look at them.
Fast: This model advertises a cutting speed up to 30% higher than that of other cordless 18-volt powered saw, which is certainly a plus for users that value compact power.
Brushless Motor: The brushless motor is part of what produces faster cuts, and it also serves to reduce the potential for overheating.
Strong Battery: The M18 also advertises a battery that provides more work per charge than other comparable models. Since one of the chief complaints regarding cordless tools is the frequent need to recharge them, many potential buyers should see this as a big plus.
Things to Consider When Buying a Saw
Now that you have a sense of what is out there, here are a few things to consider as you shop around.
Power: Since today we are looking specifically at cordless saws, the power of any given model is all the more important to take a look at. Cordless saws are awesome for increasing your mobility on a job, but unfortunately they ae also often noted for being a little less powerful than their corded counterparts.
That being the case you may wish to look at the more powerful cordless models out there to ensure that you are prepared for any job.
Strokes per Minute: I think it is relatively self-explanatory why this one is important. The higher the SPM the faster you will be able to cut.
That said, what you want isn't just a high spm, but also the option to go slower when the need presents itself.
Changing Blades: Not every reciprocating saw features the same easy blade change that we found on a few of the models that we looked at today. Strictly speaking, that's alright. It is not a feature that you explicitly need, but for jobs in which you find yourself frequently needing to change blades, it is certainly nice.
Durability: The reciprocating saw isn't exactly a finesse tool. Whether you are cutting through wood, pipe, or plaster, you are definitely going to want to pick up a model that is built well enough to handle the job at hand.
Bargains are nice but also look for quality. Picking up a cheap model now won't save you any money at all if you need to replace it again in a few months.
Reciprocating Saw Projects
Perhaps you are new to the world of doing it yourself. You are aware of the fact that you will need a saw, but you aren't so clear on why. That's alright! Here are a couple of projects that are perfect for your new saw!
Cutting Pipe: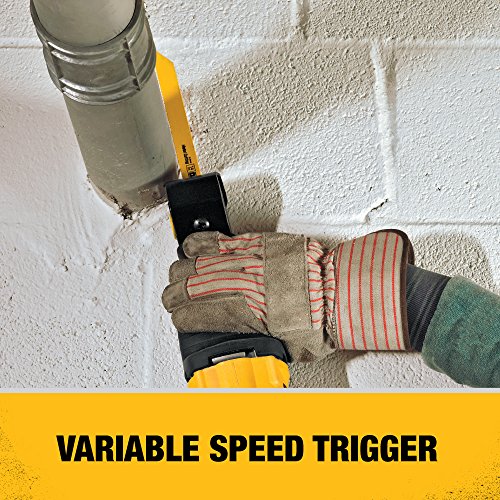 If you find yourself in the positing of needing to cut through even the toughest of pipes, you can do it confidently with a reciprocating saw. If you are doing so for demolition, great! Have at it. If what you need is a precise cut, take your time and be careful.
Reciprocating saws are ideal for demolition, but not quite as perfect for finesse cuts.
Wall Demolition:
My guess is you will have a good time with this one. If you ever find yourself needing to take down some drywall, the reciprocating saw will be a tool of choice. If you are working between the studs, you will have no trouble making short work of drywall.
Do be careful, though. You are going to want to plan ahead to ensure that you are only cutting through what you intend to. You certainly don't want to damage any wires or pipes that are essential to your home.
These are just a couple of examples. There are loads of jobs out there that prefer the power of the reciprocating saw.
Verdict
Well, now you know what is out there thanks to our Best Reciprocating Saw Buying Guide you can finally pick one up.
As I mentioned at the beginning, I am partial to the DEWALT DCS380B 20-Volt MAX Li-Ion. I think that its power, speed, and versatility are all crucial components of a good reciprocating saw, but at the end of the day, you will have to decide what is right for you. Just remember that when you are on the job, a good tool can make all the difference, so be sure to choose wisely!