Are you looking for beautiful curves? No guys, I don't mean those kinds of curves! I'm talking about the smooth, intricate curves you can get when using a band saw. Bands Saws are great machines for professionals and home DIY'ers because they allow you to perform a variety of cuts effortlessly so that you can tackle just about any project. If you're considering purchasing one, check out my Top 5 Band Saws Review to find out which one is right for you.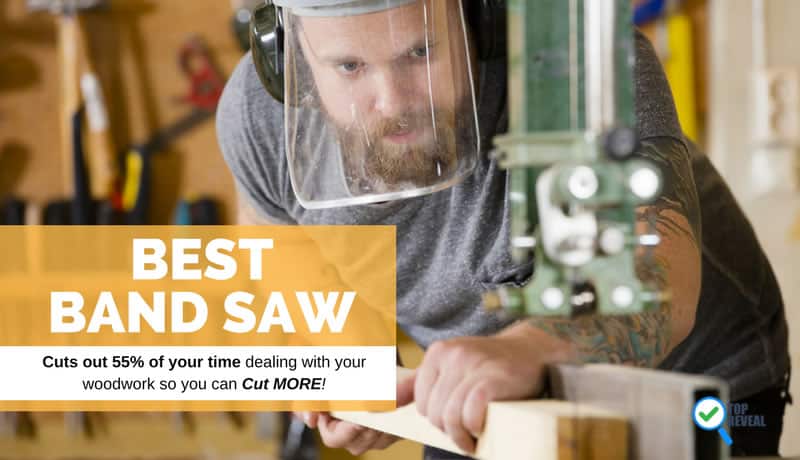 5 Top-Rated Band Saw – Which One is the Best?

Top Rated Band Saw Comparison Table
Below are descriptions of the top 5band saws available based on their functionality; they are not listed in any particular order.
The WEN Two-Speed 10-inch Band Saw will remind you of your Grandfather's band saw because of its power and sturdy feel. Able to cut up to six inches thick and 9-3/4 inches wide it is ideal for wood, metal, aluminum, steel and even glass with a special blade you can order separately. It has two speeds, 1520 and 2620 FPM, along with a motor with a3.5 amp.
But it's the blade that is the star here. The blade has a smooth operation and a long life due to the ball-bearings and can produce cuts and slices that are complex and durable. Included with the WEN 3962 are a work light you can manipulate at various angles for the work table, various extractor hoses, a fence to produce clean lines and a miter gauge for producing cuts on an angle. The stand can be put together 1-2-3 and elevates the saw but doesn't take up space on the work bench, and the saw has a 2-year guarantee.
The SKIL 3386-01 is one of the more versatile models and has a unique feature called EZ View Blade Tracking. With this, you can quickly align the blade, for seamless cuts every time. Featuring a rip fence for straight cuts and a miter gauge that helps guide the workpiece straight and accurate for cross cuts, you can tackle projects that are simple or complex, so it works for amateurs and professionals. The LED work light adjusts so you can see exactly what you're doing and the dust port keeps the area dust-free. There's even a convenient rack and pinion table adjustment to make right angles and height changes. The table top is 11-13/16 inch square, and the depth is 3-1/8 inch with a throat depth of 9 inches. It also comes with a parallel guide and hex key.
The DCS371 is all about convenience, comfort, and power.  With the ability to cut up to 2 inches of SCH 40 pipe, it has a 2-1/2 inch cut capacity, a cutting speed of 570 fpm and blade length is 32-7/8 inches, for lots of power. As for convenience and comfort, there's plenty of that too. The Centered handle position provides ergonomic balance for a more accurate cut and less user fatigue, while the LED Work Light (with 20-second delay) illuminates dark work surfaces.
Then there's the toolless blade changing lever, which loosens the blade tension and allows blade changes to be made easily. Finally, it has dual bearing blade guide rollers to give you increased durability, making it a substantial investment.
The WEN 14-Inch Benchtop is a quality saw full of extras to help you take on jobs big and small. Capable of cutting boards up to 3-5/8 inches thick and 9 inches wide it has a powerful 9.5 amp motor with 2 speed options as 1480 and 3280 fpm, and it can use 100-3/4 inch blades from 1/8 inch to 3/8 inch wide. The work table is spacious and swivels up to 45 degrees so that you can tackle materials from any angle and the ball-bearings give the blade a long life of smooth operation.
Included in your package is a handy carrying handle, a fence for creating straight cuts, an adjustable blade guard, a miter gauge, and a tension-release handle for fast blade adjustments; there's also a two-year warranty and a helpful customer service phone line.
To celebrate their 30th anniversary, Grizzly has created this 17-foot full-featured heavy-duty band saw. A combination of 2 of their most popular saws, this model is a special edition with a color scheme that workshops and small businesses will love nationwide. The G0513ANV is the same machine as the G0513 except for the unique colors and features a 2HP motor that cuts through wood up to 12 feet. It has two blade speeds of 1700 and 3500 fpm and the table, made of precision-ground cast iron with a deluxe extruded aluminum fence, is the ultimate in stability.
There's also a quick-change blade release, blade tension indicator, and blade tracking window to make cutting simpler than ever. It also comes with a heavy-duty miter gauge, deluxe fence, dual 4-foot dust ports, micro-adjusting geared table, and European-style blade guides usually found on more expensive machines.
Benefits of Owning a Band Saw
The bandsaw is a pretty versatile tool. Depending on what sort of blades you want to use with it, you will be able to work with a variety of materials, though of course woodworkers, in particular, are well aware of its versatility and utility.
Bandsaws will most often be used to cut less than typical shapes. They may also be used to cut slabs of wood into thinner pieces. Because of the way that the bandsaw operates, it will be great for furniture pieces, as well as any other project that requires unique cuts.
Owning a band saw will give you more versatile cuts thanks to the different blades you can use, which allows you to work with a wider range of materials. Blades come in a range of sizes from small and thin to thick and large so you can cut through wood, aluminum, steel, copper and more. The material and style of cut will determine the blade you use.
For example, to get decorative cuts, you would use a very thin blade. Band saws are ideal for saving time, effort and money. Cutting is easy and quick as opposed to using a table saw and a band saw furnitures for high volume projects or anything that needs elaborate cuts.
Different Types of Band Saws
There are five main types of band saws, classified by the material you wish to cut. They are vertical, horizontal, meat, timber and metal band saw; there are others, be these are the main styles. These saws, as you'll soon see, can basically be used on anything and in any situation. The metal band saw has two categories, the horizontal that is used to cut the stock down to size and the vertical, which is used for more intricate jobs. Then there's the wood saw, which is most popular for woodworkers in woodshops and the timber mill saw, which is a large-scale bandsaw for ripping lumber.
The meat band saw, usually made of steel, is for cutting and carving various types of meat by butchers while the vertical band saw is very versatile and used to make complicated shapes that no other band saw can do. Finally. The horizontal band saw is mostly used to cut longer materials down to size by carpenters. There is also a portable band saw that could be used on jobs at different locations too big to bring to the woodshop and they have real versatility.
Things to Consider Before You Buy a Band Saw
Before buying a band saw you need to consider what type of projects you're planning to make. Consulting someone who has worked with band saws will help you determine which kind of band saw to purchase. Here are some things to consider before buying:
Size
The size of the machine needs to match the work you do and you! If you are small or elderly, you may want a lighter model. If you work on mostly small-scale projects, a bench-top type will do. Also, make sure the machine you pick can hold the blade sizes and thicknesses you need to do the jobs you want.
Power
The saw's power is an important part of its effectiveness, so be sure to do research and pick the one that matches the projects you plan to tackle. For instance, if you work with metal or steel you will need a stronger motor to cut through those materials. Conversely, if you work with more delicate materials, or need to make complicated cuts, you'll want the ability to slow down for greater control.
Design
What you work on is important when making your selection. For instance, if you are a butcher, you want a meat band saw, not a timber saw. If you work on several different materials, you may want that is more adaptable, like a vertical band saw. Choose the saw you'll get the most out of, so you don't waste time or money.
Safety and Maintenance
The most important thing to remember is that you should consult the guidelines recommended by the manufacturer. Here are some other tips to keep in mind:
Ensure fingers and other body parts are out of the way of the blade
Decrease feed pressure when coming to the end of a cut
Keep wheel covers closed when in use
Adjust the upper guide about 1/4 inch above material before use
Maintain the blade guard in place
Disconnect band saw from power before changing blades
Always wear eye protection while in the workshop
If chips are in the throat, turn off machine before clearing out debris
Keep workpiece in contact with the table at the exit point of the blade
Check bearings when cleaning
Check belts when cleaning
Air spray all debris out when cleaning.
DIY Project Ideas
Band saws can create so many fun and interesting things. If you have children or grandchildren, they would love the wooden toys you can create such as blocks, puzzles, wheelie cars and trucks, animals and miniature furniture with miniature people. Another fun project to make would be a dog house or a doll house. You can also create a large variety of furnitures such as shelves, bookcases, tables, chairs, cabinets, chests and dressers. You could even make things that would give your home a new look such as shutters, trim, a bench or other entrance decorations.
Using the band saw to cut pipes to repair a plumbing problem would certainly save you money. You can also make gifts for your loved ones such as jewelry boxes, clocks, coasters, secret log boxes, picture frames, and flower vases. Almost anything imagined can be made on a band saw.
Now that you have seen a few really great bandsaws, and you are aware of some different uses for them, let's take a look at a couple of specific projects that will get you started out with this versatile tool.
Making a Gift Box
Making a little box for jewelry or nick knacks is a fairly easy project that even people who are new to the bandsaw shouldn't have much trouble tackling. They also make a great gift, or even a piece of décor to display around the house. Here's how to make one.
First, you are going to want to get a piece of wood with dimensions of 4-in. wide x 3-in. thick x 18-in. Depending on the size of your projects this may be enough materials to make between one and three boxes.
The first thing that you will do once you have the workpiece is set the fence to 3/8ths of an inch from the bandsaw and then use the blade to cut the sides off the box. After that, you will flip the larger workpiece over and apply the same 3/8th of an inch cut to the wider edge to create the lid. After that, you will remove the fence from the bandsaw, and trace out the outline for the inside of the box.
Then, you will use the bandsaw freehand to cutout the center piece, leaving the sides and bottom piece 3/8ths of an inch thick. Once this has been done glue the sides back to the centerpiece so that the bond is seamless. After that, you may apply sandpaper to form the edges of the box to your preference. Then glue on a handle so that it will be easy to remove the lid of the box then apply the finish.
Once you have done all of that, your finished!
https://www.familyhandyman.com/woodworking/projects/how-to-build-a-box-with-a-band-saw/view-all/
Scoop
To create a beautiful wood scooper that can be used to do anything from serve salad or dispense dog food. To start this product you are going to need a workpiece with dimensions of  3" x 3" x 6".
Once you have acquired your workpiece you will want to trace arch lines on the square face of the workpiece that will account for the leading edge of the scoop when the job is complete. An interior cut will be required for this project, so you will want to leave space of 1/4th of an inch between the lines. Once that is done, it is the bandsaw's time to shine.
Cut along the lines that you have traced until the interior has been cutaway. You may then use the cutoff portion of the workpiece to be re-glued to the back of the scoop to account for the handle. After that, apply a final sketch for the desired shape of the handle, and then use your bandsaw one more to make it.
To complete the project you will refine the shape with a sander, and then apply your desired finish. And that's it, then you're done!
Reference from Jays Custom Creations.