These days, garages are like a bonus room for most houses as many use them as a workspace/hangout, in addition to storing their car, tools, and anything else there isn't enough room for inside. If this sounds like you, odds are you can use some great, inexpensive ideas and DIY projects to get things in order.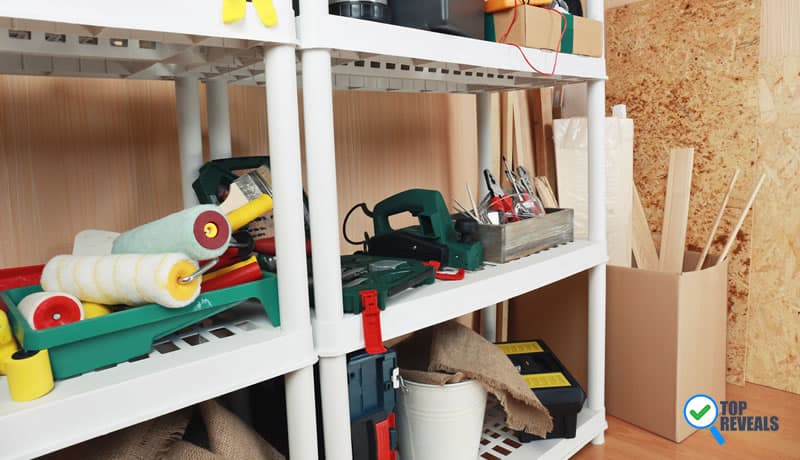 And I got them all for you. My guide to 20 genius ways to organize your garage will have it in tip-top shape in no time. Just be sure you know where your toolbox is before you start!
20 Genius Ways to Organize Your Garage
1) Brilliant Bins
When it comes to getting things in order, the easiest way to do it is by using storage bins like the ones from Family Handyman. The key is to put them in "lockers" to store them instead of stacking them on top of each other so they are easily accessible.
You can use bins of all shapes and sizes and add hooks on the size for even more storage.
2) Storage Heaven
No matter what size your garage is you can maximize storage by installing slat walls like A Beautiful Mess. Not only is it inexpensive, but it is a great way to declutter and open up your floor space instead of having it crammed with boxes.
3)  Space Saver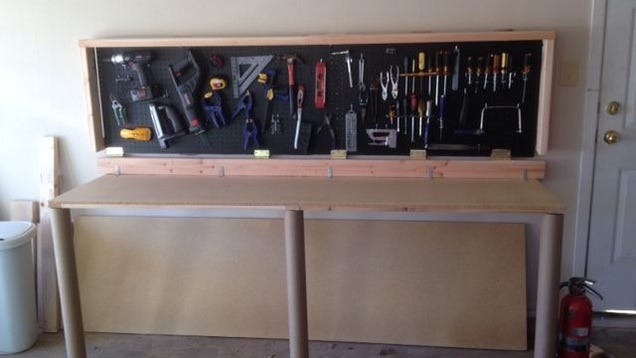 Take a cue from Lifehacker and create a workspace that won't get in your way. This table has space to hold your tools and folds up so you have added space when you need it. I like that your tools are at your fingertips when and where you need them.
4) Pegboard Bliss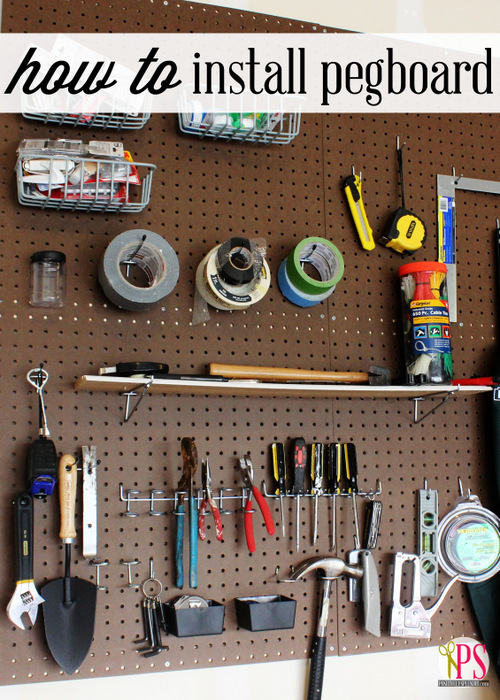 Positively Splendid has a positively brilliant, simple, inexpensive way to create neat and orderly storage: pegboards. You can hang virtually anything from them and you can easily see what is where so no rummaging through boxes. They are also versatile and come in a variety of colors.
5) Wall of Steel
The key to being organized is having a space for each of your hobbies/jobs/equipment, as seen here by House Beautiful . By using a steel pegboard they were able to keep all their paint supplies easily arranged and believe me when everything is in its place it makes you WANT to start and finish a project.
6) All Lined Up
If you have kids you know how impossible it is to keep their toys all in order, especially balls, which can be awkward to keep in place. But now, thanks to Designed to Dwell and their easy DIY rack problem solved.
7) Rack 'Em  Up
Does your garage double as a mudroom? Then this shoe rack from Finding Home is just what you need. Just have a rug to step on that leads into the house.
8) Pallet Power
Store garden tools, like rakes and hoes, or sports equipment using this easy to make (or find) pallet storage system from Clean & Scentsible.
9) Simple Spray
If you paint or have lots of cleaning can supplies this simple solution from Hi Sugarplum will have you smiling.
10) Corner Creativity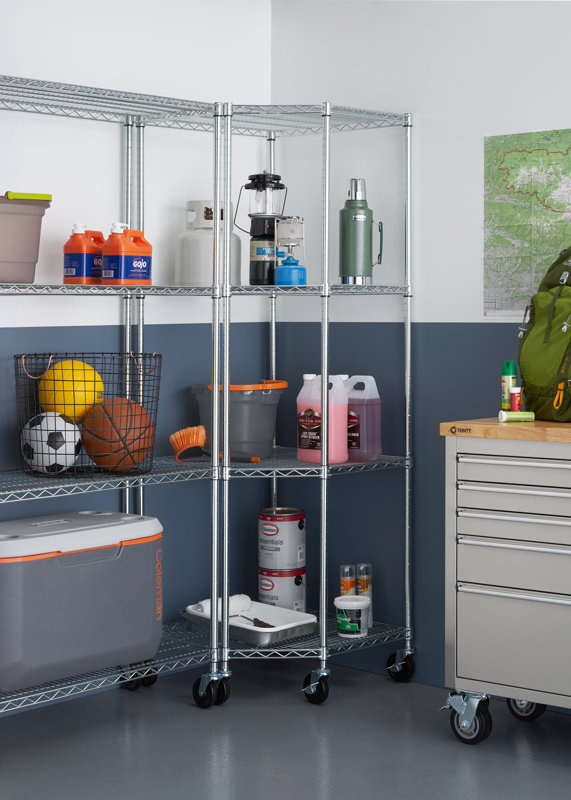 Corners are one of the most overlooked and wasted spaces in a garage, but not any more thanks to this portable corner shelving from Wayfair.
11) Tool Time
One Good Thing By Jillee has one of my favorite tips: a magnetic strip to hold all your tools. No more rummaging around a drawer for that tiny Philips screwdriver ever again!
12) Caddy Cool
If you have a lot of tools you may need more than a magnetic strip, like this caddy from Mom 4 Real. The beauty of this is that everything is neat and in place and you can roll it indoors when you need to.
13) Creative Containers
Nails and screws can be annoying to contain; they either roll around drawers and stick you or get lost falling out of things, but now you can keep them safe and ready to use with this ingenious gum storage DIY from The Ugly Duckling House.
14) Bike Parking
If you and your kids love to ride bikes having a place to put them without them getting in the way, like this rack from Addicted to DIY is a must. And notice the built-in pegs to hold helmets and other protective gear.
15) Recycling Done Right
Do you keep your recycling bins in the garage? If so, get them out of the way but still where you need them with this wall system from Handyman. And you can use "recycled" materials like old wood you already have lying around to create it.
16) Unroll Your Rolls
I don't know about you but the junk drawer in my garage is, well, junk, because I can never find what I need- especially tape. That's why I installed this tape dispenser from Popular Woodworking and you should too.
17) Straight Up
Pallets are great for storage, but even with them, it can be hard to keep items upright and neat. Which is why I love this DIY from Pretty Handy Girl, creating organized storage within storage.
It's even better to clean the floor with a stick vacuum.
18) Wonderful Workspace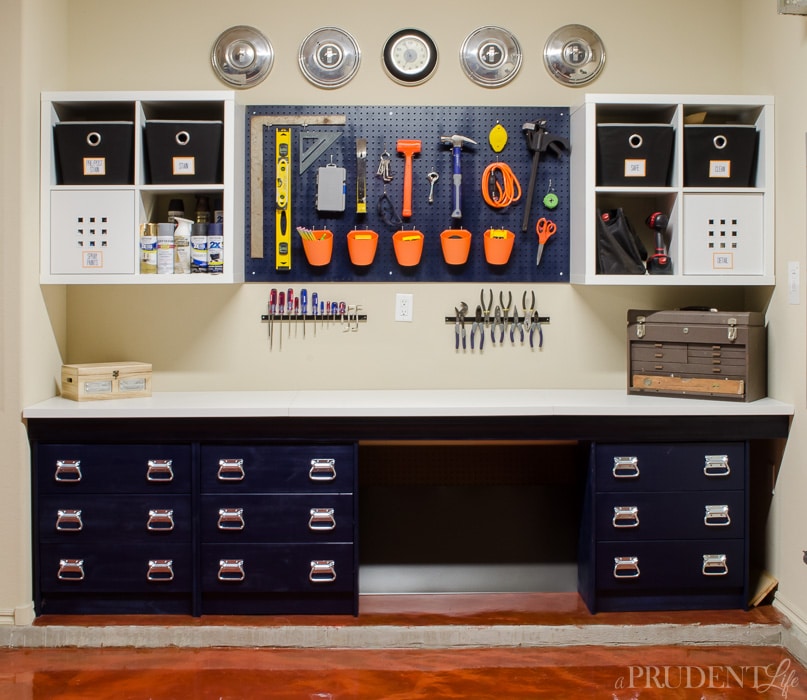 Whether you love to fix things or build RC cars like my husband, a neat and designated workspace like this one from  A Prudent Life is just what you need. And putting it together will be half the fun!
19) Seasonal Storage
For seasonal items, like snow boots, or holiday decorations, ceiling storage like this from Family Handyman is a smart option since you only take them down once a year.
20) Hang it Up
Keep wires and hoses neat and ready to use by hanging them like they did here at Better Homes and Gardens.
21) Practical Cordless Tool Station in your Garage
Wood Store has all you need as a station for your power tools today.
What did you think of my 21 genius ways to organize your garage? Share your thoughts below and share this article with your friends to help them get organized too!