Most of us like our homes clean but are always pressed for time. Stick vacuums, sometimes called electric brooms, are just the answer to this issue. Sometimes simply the thought of dragging the whole big vacuum out of the closet and dealing with it, is enough to stop me from vacuuming. Sounds dumb, right? It is only too true though.
A stick vacuum is quick and easy to use, lightweight, and somehow, just mentally makes it seem a more doable task that lets you move on to the next item on your agenda faster ━ so it actually gets done! Now there are stick vacuums and then there is the best stick vacuum under $100. We will give you the details that help you decide which one is right for you.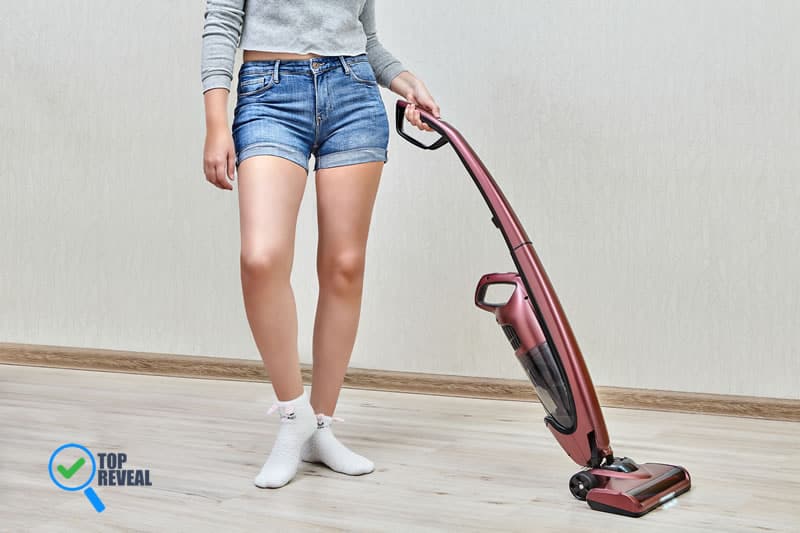 Why Buy a Cordless Stick Vacuum?
There are many buying considerations but there are several all of these models have in common and make cordless stick vacuums a great purchase for any home or business.
Bagless Debris Collection – This is one of my favorite features that makes using the stick vacuum a breeze. I never have to worry about running out of bags or space in the vacuum.
No reordering or the frustration of not having one when you need it. Pet hair is easy to dump without clogging things up. Canister gets full, no problem. Simply release it and dump. Voila, you are ready to go again.
Cordless and Rechargeable – Every one of the featured stick vacuums is without the disdainfully annoying cord. No need to drag the cord around, hang it over your shoulder, plug and unplug when you get too far from the outlet. This is easily one of my favorite features that makes it easy to use and quick to get around throughout the house.
Each one has batteries that recharge easily and within 3-4 hours to a full charge, so it is ready to go in an instant.
Lightweight – All five of these favorite vacuums are easy on the user when it comes to heft. Even though ten pounds is the heaviest of them, they all range from three to five pounds and will hardly count as doing your workout for the day – sorry!
Fantastic price – Whereas some upright and larger canister vacuums can go all the way up past $300, each of these stick vacuum models are around $100, making them an easy purchase to stomach.
Versatility – All of the models here can do bare floor, carpet or handle pet hair with easy to minimal adjustment. Each of them either has a swivel head that rotates various angles and/or goes almost completely flat to get under furniture and hard to reach places.
Quiet – Each of them are noted to have low decibel noise output, less than 75 dB, and several even boast that it won't wake a sleeping baby.
Here are the best stick vacuum options on the market that don't break the bank, the reason they are great to have around and features you should look for.
Our Top Choice
The Shark IZ363HT is not only Amazon's Choice but ours as well since it is lightweight and rechargeable at a value price while having the power for floors, carpet and even pet hair.
A detailed summary of features is below, but if I was going to buy one today, this is the one I would purchase for sure.

You might not know the Sowtech name but that should change. Their home appliances make people happy, especially when it comes to value and with features like:
Price Point – Although it is one of the lower priced stick floor vacuums on the list, it is not because of any lack of features. At this price, it is great to get to make your life easier at home or even as a wedding or holiday gift for someone else.
Light as a Feather – For those who need something ultra light, this is the one for you. This brings my grandma to mind, who was on an eternal search for the lightest vacuum ever – I think this is where she could have stopped her search with the best stick floor vacuum.At 3.33 pounds, it has to be one of the lightest vacuums on the market, so it is easy to handle for just about anyone.
Durable Stainless Filter – Although the Sowtech model does not have a HEPA filter, it does have a washable stainless steel filter using 5th stage filtration. It filters 99% of particles down to the smallest mites and dust. No need to buy replacement filters on this one, ev-er.
Attachments Abound – This stick vacuum wins the attachment contest with an extension pipe, floor brush, mattress tool, square brush, and crevice tool. With all of these, there is no place you won't be able to reach or clean effectively.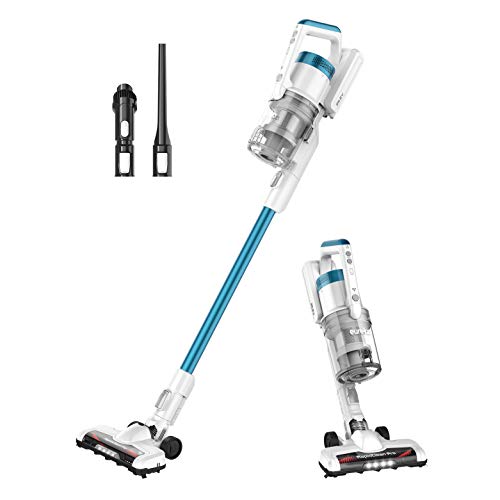 Right around the $100 mark, this vacuum combines quality with an awesome design, including characteristics like:
Thoughtful Design – One feature that I especially like is that the vacuum converts easily into a handheld vacuum and its light ABS body allows for cleaning ceilings or other higher areas without too much strain. It is only 6 pounds in total, so that makes for easy maneuverability when combined with the 180-degree swiveling head.
Versatility – In addition to the design features noted above, the crevice tool and brush attachments will surely come in handy without being a slew of parts to keep track of – it is really just what you need.
A Great Warranty – This appliance comes with an 18-month guarantee and 30 days money back if not fully satisfied. They stand behind their product and will provide 24-hour response time for any inquiries. That is support!
Light Up Your Life – There is a battery life indicator light to easily identify when it is time to take it home to charge and the LED headlights in front guide you to precision vacuuming in hard to see areas.
What are the Differences between Shark IZ363HT Anti-Allergen Power and Eureka RapidClean Pro Lightweight Cordless Vacuum Cleaner ?
This is the best stick floor vacuum buy at just around $200, and the one I would be using in my home. Oh right, I do! Check out why I think it is THE one.
Body
To some people it might seem silly, but many like to personalize everything and this vacuum gives you two color scheme choices in pink or light blue.
HEPA Filtration, HEPA Filtration
You are NOT seeing double. There are two HEPA filters, one for easy replacement. This way, while you are cleaning the washable filter, you don't have to wait for it to dry to replace it! Very nice of them, I think.
Not only is this machine a whiz at getting things clean but the HEPA filtration will deliver clean air output. If someone in your house suffers from allergies or pollen sensitivities, this can handle that and leave your breathing easy.
Indicator Lights
While the excellent suction is powering away all the dirt, grime and hair, you don't have to wonder how long until it needs to be charged. The indicator light shows battery life while it is being used so you don't have any surprises. No one likes a half clean space.
Who Doesn't Love Accessories?
You can clean just about anything you want in the house with all the two different power modes, the swiveling head, locking power trigger and steerable brush guided by the LED lights. It converts easily to a handheld vacuum and has a long reach. Accessories include a wand, crevice nozzle, replacement brushroll and a 2 in 1 dusting brush. By far, my favorite add-on is the wall mount station to keep it all neat organized and easy to charge.
Power Cleaning
This stick vacuum has the benefit of upgraded suction and power from previous models. MAX mode has 150 watts of suction which is more than enough to pick up the toughest dirt or pet hair.
Easy Clean Maintenance
Let's get real – no one wants to spend much time cleaning their cleaning tool, right? This one has two features that make cleaning and maintenance of the vacuum for couch super simple. With one click, the receptacle is easy to empty and gets your right back to the job at hand. One of my least favorite vacuum maintenance tasks, getting hair out of the roller, is a breeze on this one. The roller comes out quickly and can be replaced just as effortlessly. Additionally, the filtration portion comes apart with little exertion and makes this one of the easiest ones to keep running smoothly without much time or effort.
This stick vacuum is heaviest at ten pounds , it remains one of the top five options with features like:
Reliable Battery
The Hoover boasts a Fade-Free lithium ion battery for recharging for many years. It has a battery gauge and the battery is interchangeable with an option to buy an extra one to extend the usage time period.
Warranty
With the slightly higher cost comes the assurance of knowing that it has a two-year warranty not offered by any other. Companies don't offer longer warranties unless they feel really solid about the product they are putting out, so this should give you confidence in a quality product.
Coverage With Ease
Not only does this stick vacuum have Hoover's patented WindTunnel Technology and HEPA filtration, but it also has a wide sweep path, side edge bristles, and easy adjustment to different heights and floor types. This makes for impressive functionality.
Common and Frequently Asked Questions
Here are some frequently asked questions in regards to these types of machines:
Q. Can the stick vacuum replace my larger vacuum?
A. No and yes. I would say they really serve different purposes in most cases, so no. For example, your stick vacuum will work for up to 40 minutes and is great for smaller jobs and routine upkeep. That being said, when you are spring cleaning or trying to cover every nook and cranny, that is probably going to take a little longer and require a larger canister to hold all the dust and grime. Even still, if you live in a smaller home or a single person dwelling and can complete the whole task in 40 minutes, then maybe a stick vacuum is all you need. Bottom line, it depends on your situation, of course, but in most cases a stick vacuum will supplement your cleaning tools rather than replace one.
Q. Will I need to order any filters or other pieces?
A. Again, it depends on which one you choose, but most of them have washable filters as a feature. This is one of the selling points I like to look for. I don't like having to get more parts and pieces as this just creates an excuse to skip the chore.
Q. Do the batteries need to be replaced regularly?
A. No, as long as the vacuum is charged according to the instructions, the batteries tend to last many years. If the battery does stop holding a charge due to years of use, they can be replaced fairly easily online through Amazon or other online retailers.
Q. These seem rather inexpensive – are they made well?
A. Yes, all five of the cordless stick vacuums were posted as the best, have ratings close to 4 of 5 stars or better. They get these ratings due to quality and durability as well as reviews that consumers post that validate their value.
Things to Ponder Before Selecting and Buying a Stick Vacuum
Each of the best cordless stick floor vacuums under $100 has features that make it different. They are all cordless in this list and they are all lightweight.
So it is those other features that you need to weigh before making a final decision. Some key considerations are:
What attachments do you need and are their certain uses you know you will want it to handle?
If you plan to use it on your car or the furniture, you need to make sure it can handle that or your major objective is reducing allergens around your home, a HEPA filter might be a necessity.
Of course, we all like to keep as much money as possible in our own pockets, but if price is really important to you, that is something to weigh versus features.
Sometimes it is best to find a good balance point, although there are some very value-oriented options in this list.
Weight

– These are all light units, but some are definitely lighter or heavier than others. For some people, that is an important selling point that has some variation here.

Warranty
If you are a regular at the return counter, warranties vary on each of these units, so be sure to compare prior to buying.
After these considerations, comparing these products comes down to preference. Just be sure the one you choose works the best and fits your most important needs before buying.
Wrap Up
The best cordless stick vacuum under $100 is on this list. At Top Reveal, we can really stand behind the JASHEN Powerful Stick Cordless Vacuum Cleaner. It is the best value for the money and it is as full-featured as they come. It is a great buy for nearly anyone, although each person's needs do vary and you might like a different one.
Each one on this list is sure to make your vacuum life a shade better. I really don't think you can go wrong with any of these five!
[rwp_box id="0″]