Coffee, tea, or me?  What about all 3? Before you say, whatchu' talkin about Tracy, let me explain. If you love coffee or tea and are looking for some inspirational DIY projects to set up your own little home bar then I can help. I've rounded up 20 Genius DIY Coffee Station Ideas that will work in any home or apartment.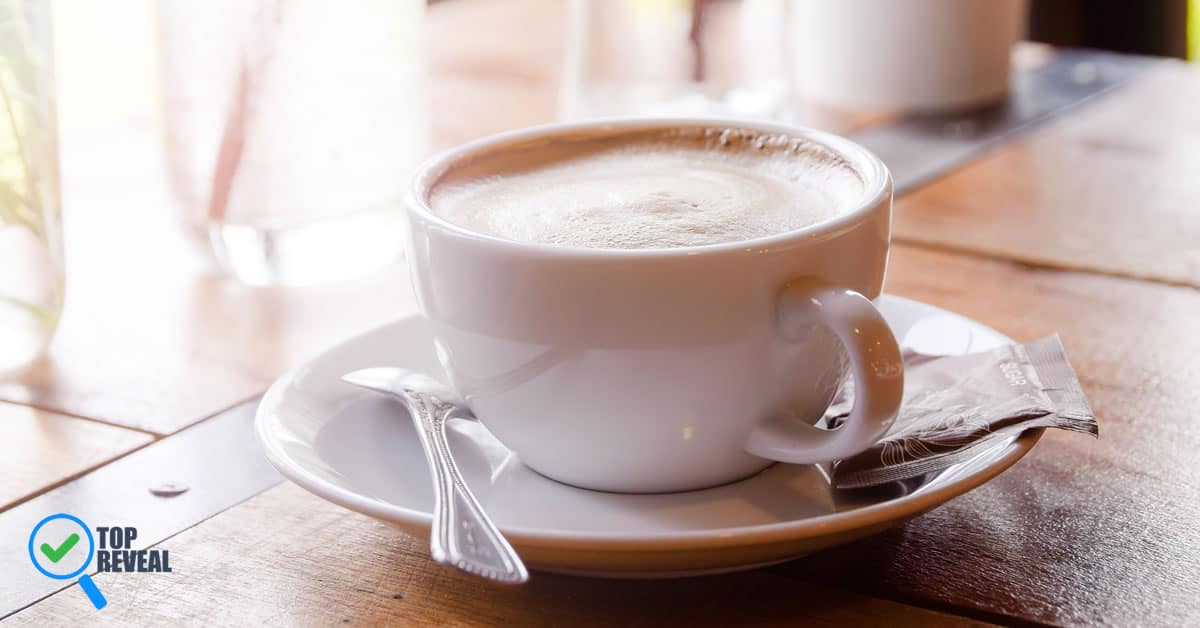 And since we don't discriminate, you can use these ideas for tea, hot chocolate, or any other home-brewed beverage you enjoy. So, enjoy this article and then enjoy a hot cup of whatever you choose!
DIY Coffee Bar and Station Ideas
At Your Service
Set up your own cafe-style bar in no time with this tutorial by Thrifty Decor Chic. You can use any available space, so it's good for apartments and larger homes and the syle is kinda timeless.
Clever Cubby
If you're pressed (haha, get it?) for space this small, but efficient bar by eastburnwoodworks.com is awesome. You can build it into your existing pantry or add it on the side. Discreet and ready to go when you need a morning jolt.
Industrial Strength Coffee Bar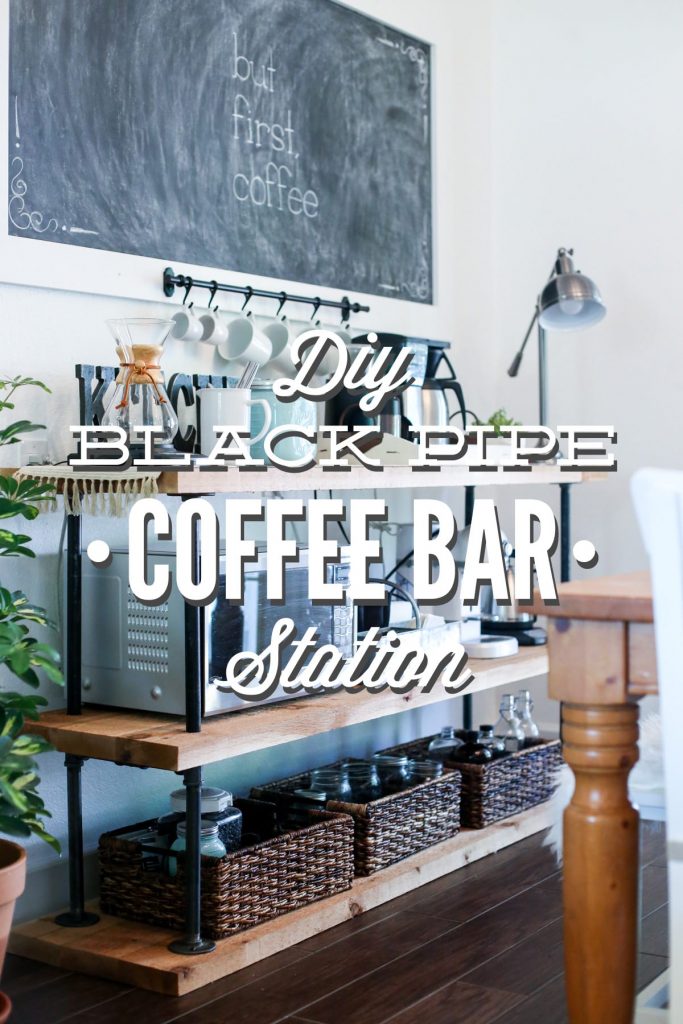 Elegant, chic, and super-simple to put together, this bar by livesimply.me makes a great place for the family to gather at every morning before going on there way.
See some DIY Power Tool Prime-Day Sale here.
Pleasing "Pallets"
Use pallets in alternating shades and combine it with metal accents and a cement top like studiograyhouse.com for an industrial style bar that you can use for coffee, tea, or any other beverage.
Book Coffee Worm
This clever design from Only Deco Love uses a bookshelf from Ikea to create a simple coffee bar that can hold all your essentials.
Potent Portable
A coffee bar you can move where you need it? Yes, just use this DIY on  Design Sponge and you can have a lightweight bar that can be pushed aside or put in another room when you need it.
Fine Dining
Take an elegant hutch like the one seen on  Little Brick House and transform it into a simple, yet elegant coffee station. The beauty here is there's plenty of storage underneath and on top thanks to the mesh baskets.
Farm Fresh
Those looking for some rustic charm with their morning brew will appreciate this DIY from Sunday with Susie. You can paint it any color you choose or leave the wood natural for a true country vibe. You are welcome to check out more Coffee Tables here.
Eye-Popping Delight
If your coffee doesn't wake you the bright color on this coffee bar by jaimescott will. I love how they used an old dresser and elevated it with this cheery hue, and the shelving on top makes it easy for you to grab and go.
Wheeling & Dealing
This DIY by abeautifulmess.com is one I actually built and let me tell you it works great; I take it from the kitchen to our yard during the summer and enjoy my coffee with the sunrise. Great for summer parties too- iced coffee anyone?
Type Drink it Up
Instead of throwing out that old desk use it to serve up some piping hot coffee or tea using this tutorial via www.bowerpowerblog.com. This style is perfect for a corner spot but really any desk in any nook will do.
Top it Off
Create a coffee bar by adding shelving to existing furniture like  jenwoodhouse.com. The navy and brass is a sharp combination and works well over a dining room side table.
Coffe in Bed?
A cart like this one from theinspiredroom.net means you can have your coffee in bed; or better yet, go around with it to wake up everyone in the house and get them up and ready for school or work.
Swing & Swig
Charming and efficient, the swinging arm on top of this project by Inspired by Charm is the best part. You can keep your cups and sugar on it and it adds a fun, light touch to the piece.
Barn Door Bar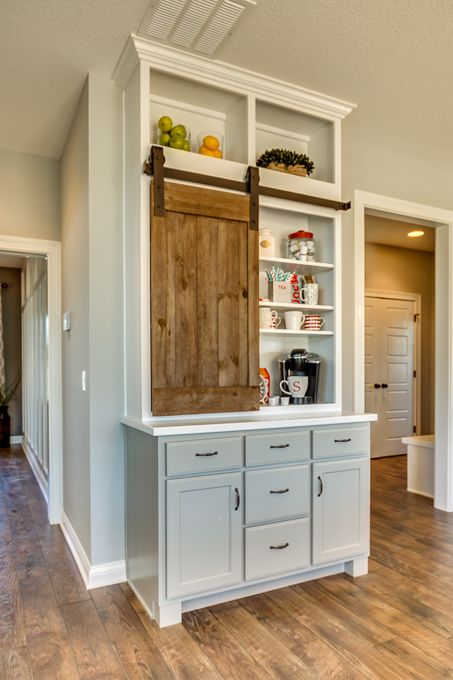 Adding a barn door to any piece of furniture instantly makes it better, just like you see here on Slattery Builders. This is a smart way to hide your supplies when you're not using it.
Leave Your Mark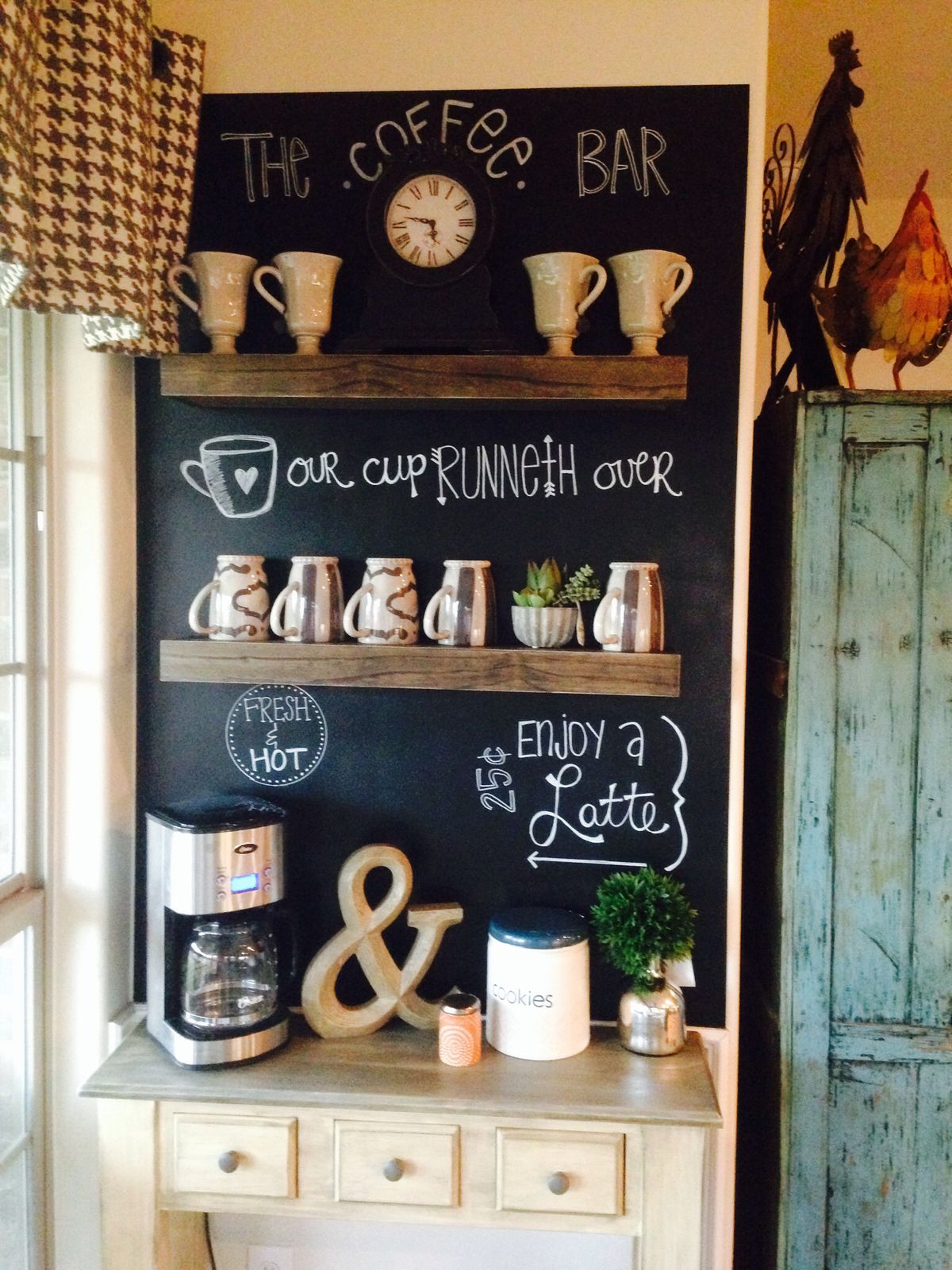 Leave a message for your spouse or kids using this clever DIY from klik.gr. You can write the roast of the day, make a lemonade section for the kids or whatever else comes to mind.
A Wrinkle in Time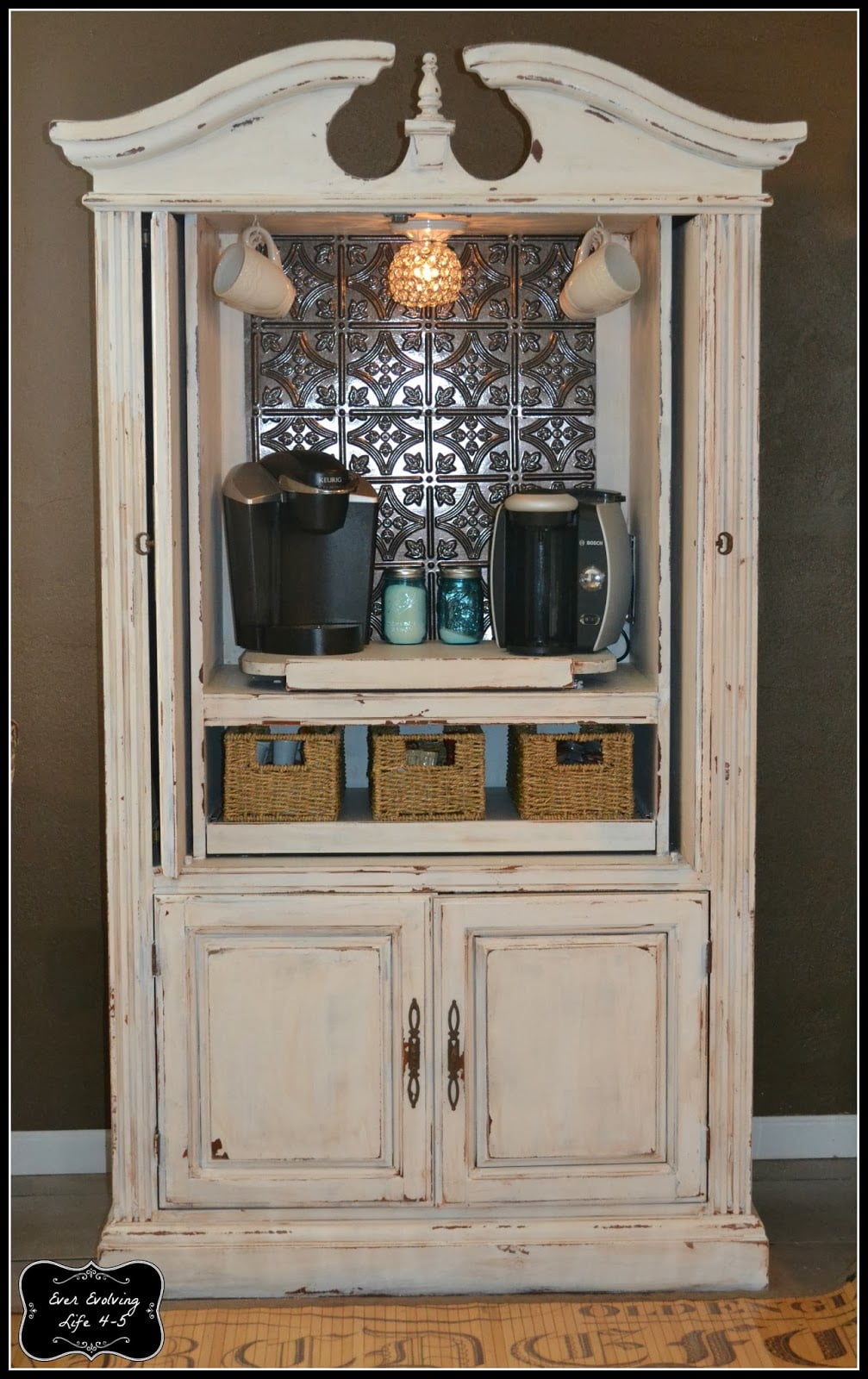 You'll feel like you're being transported to another time when you put together this eclectic station from everevolvinglife4-5.blogspot.com. From the distressed wood to the tin backsplash this bar is full of character and is sure to be the center of attention.
Polished Presence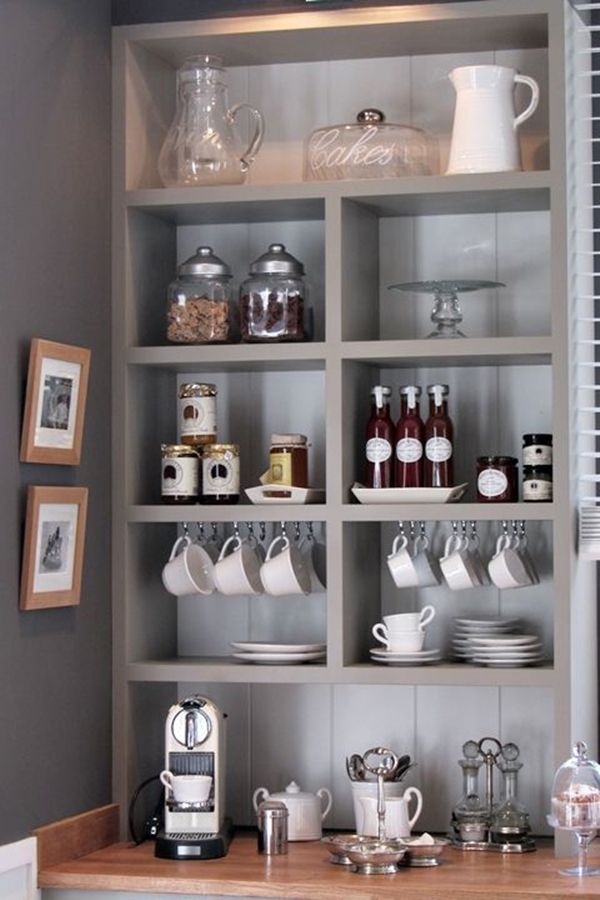 Sleek and refined this station by  jeab.com fits right into a modern home. Keep the piece neutral and add pops of color with your sugar or milk containers to tie it all together and keep it interesting.
Hammer Time

From the wooden planks to the aqua colored mason jars this DIY that I found at ebay.com screams rustic and makes you want to get all cozy and share a cup of coffee with family and friends.
Coffee is Served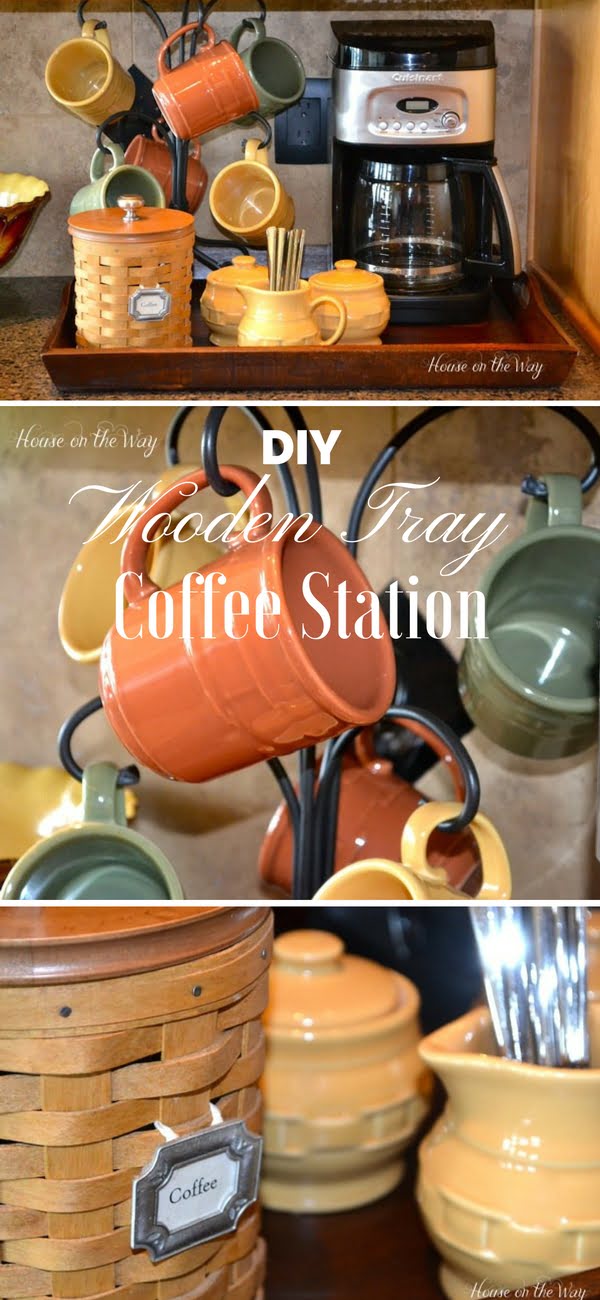 Who says you need a lot of space to put together a coffee station? As you can see from this tutorial by houseontheway.com all you need is a tray, some cups, and of course, a pot of java and you're all set. Perfect for apartments or other small spaces.
And there you have it, 20 DIY Coffee Station Ideas to get you going through the morning and beyond. Are these ideas you think you'll use? Tell us what you think, share your own ideas with us and be sure to share these great ideas with your family and friends.