If you own a home or are otherwise responsible for the maintenance of your residence, a few well selected tools can go a long way towards saving a lot of money on the cost of a handyman.
The problem? For a lot of people, the process of getting started is a little bit too intimidating to overcome.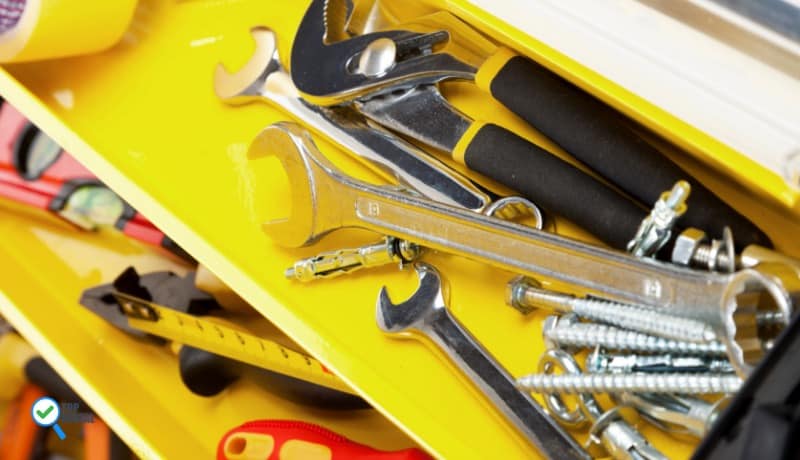 It doesn't have to be that way. Chances are doing it yourself isn't nearly as difficult as you expect and a little bit of information now will help you save some money down the line. That is where we come into play. Read on for a guide to making a DIY home repair kit.
Why Everyone Needs a Home Repair Kit
If you are a little bit skeptical over why you even need a home repair kit, it's understandable. For people who are not currently acquainted with the world of tools investing in a home repair kit sounds like an expensive process to acquire things you might not be able to figure out anyway.

Source: Fix.com Blog
For the record it is true that there is a startup cost. However, it is also true that utilizing a basic home repair kit is also a lot easier than you think.
You need this because despite the startup it will save you money in the long run. Plain and simple, the right equipment might very well end up saving you hundreds, or even thousands of dollars in repairs over the years.
Now that you know why you need to buy some tools, let's take a look at what you should get.
Claw Hammer
A hammer is a basic tool that pretty much everyone should own. A simple sixteen ounce head should be sufficient for basic use. Just be sure to get a hammer that feels comfortable in your hands when you use it.
A nice comfortable grip can make your work a lot easier.
What can you use your new hammer for? Quite a few things, really, but if you are just moving into a new home you will probably find plenty of use for it when it comes time to start hanging some pictures.
Drill
While you might not need a drill all the time it is a simple and easy to use tool that can be used on a wide variety of projects.
Cordless drills are going to have the most utility especially for basic do it yourself projects. You will use this tool for drilling holes, turning and unturning screws, and performing a variety of other tasks that you simply can't do without a good drill.
Tape measure
The tape measure! This is perhaps the very most basic tool in the bag. If your intimidated by all of this new equipment the tape measure should be where you find some solace. It's about as straightforward to use as its gets you wont hurt yourself with it and its extremely affordable.
It also happens to be a crucial component on a wide range of jobs so if you don't already have one you should definitely add the tape measure to your shopping list. It's a basic tool so there isn't even any pressure when it comes to buying the right one. You should be fine just going with whatever catches your eye.
Screw Driver Set
You can't do much of anything without a comprehensive screw driver set. There are lots of different types of head sizes out there and the more sizes you get the better equipped you will be to handle all of the screws in your home. If you can find a versatile set that is definitely ideal but at the very least make sure you get a Philips head and a flat head. One of each should leave you equipped to handle most screw driver related tasks.
Adjustable Wrench
A good adjustable wrench will be able to empower you to turn a variety of different bolt heads. There is not very much in terms of variation when it comes to these tools though you can find units with special comfort grips if that suits your preference.
Ladder
The ladder is a staple of every home. Whether you are changing lightbulbs cleaning the gutters or even just trying to get into your attic you should find no shortage of uses for a good sturdy ladder. And do make sure its sturdy. Keep on mind that the job of this tool is to stably support you even at great heights. Pick a unit that looks up to the task. Also consider what you will be using the ladder for.
Are you trying to paint the walls and ceiling? Clean your gutters? Ideally you will be able to pick a ladder that is sized to tackle any job you might have for it around the house.
Tool Bag/ Box
Last but certainly no least the tool bag or box. Now that you have all of this do it yourself equipment you are going to need a something to store and transport it in right?
There is lots to consider when choosing a tool box or bag. You want it to be big enough to accommodate all these new tools (with room left over for all the extras you will inevitably acquire) but you also don't want it to be so big that its hard to transport.
Durability is also a factor to consider.
While the tool bag/box won't be exposed to the same wear and tear as the tools themselves it is pretty safe to say that carrying around your gear will be trying.
Pick something with plenty of room and a hearty co situation and you should be pleased with your purchase.
Conclusion
Well there you have it! It's not so hard assembling a basic home repair kit, is it? With the information that you have been given in this article you can start collecting tools that you can use to perform basic tasks around your house.
Why pay someone else hundreds of dollars when doing it yourself can be so fun and simple?