There was an incident at my home the other day. My Ikea coffee table I got in college broke. Honestly, it was on its way out the door anyways but I was not expecting to have to find a replacement so soon. Rather than going out and purchasing the first one I found within my budget, I decided to try and actually find a piece I love. Turns out I have expensive taste. So I have now turned to DIY! Which is actually looking like a pretty great alternative.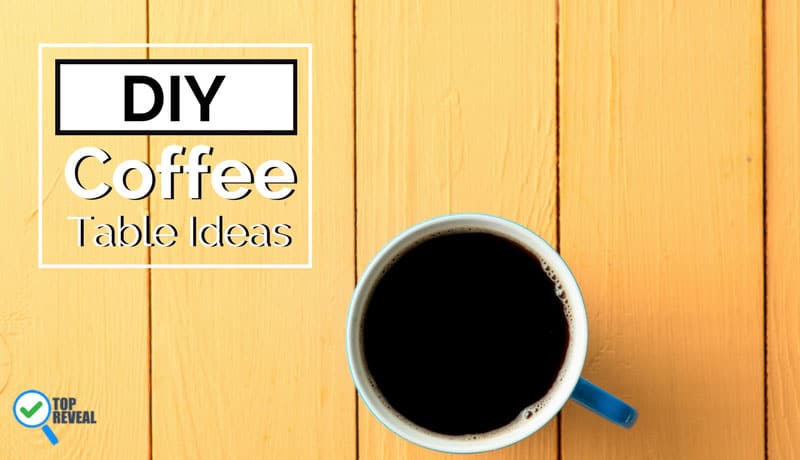 Turns out there are tons of DIY coffee tables that look like they came off a showroom floor. There are also tons of options for the novice builder, so anyone can create a stunning table. Here are some of my favorite DIY coffee table ideas…
DIY Coffee Table Ideas
Simple Crate Coffee Table
This simple coffee table can be put together in an afternoon! Experiment with wood stains and add a beautiful plant to the center for a nature-inspired look. Not to mention, there is great storage that comes with this project.

Project courtesy of Anything & Everything
Country Chic Coffee Table
Looking for a coffee table to offer some clean country inspired storage? These crisp lines and colors can complement any country, nautical, or preppy living room.
Courtesy of Her Tool Belt
Lazy Ikea Hack Coffee Table
Here is a DIY cheat! If you are strapped for time and cash but do not want to sacrifice style, convert a standard Ikea coffee table into a beautiful modern coffee table using marble contact paper!
Courtesy of Poppytalk
Colorful Chic Coffee Table

Comfort and Chaos
This coffee table is beautiful for the shabby chic lover, who wants to add a bit of rustic country style. What I love the most about this project is the creator has found a way to turn a pretty standard coffee table into a truly unique piece of art!
Aquarium Coffee Table
If you are looking for a coffee table that will bring the Wow Factor, this sure is it! It may be a bit more complex than your standard coffee table but no one will forget your unique and playful style.
Copper Coffee Table
A coffee table that is both simple to create and modern. This beautiful blend of colorful metal and wood can compliment any room, by incorporating a unique metal not often seen in furniture design.
From For Me, For You
Woodland Coffee Table
Add a bit of whimsical charm to your home with a woodland coffee table. This forest inspired coffee table brings the outdoors inside, reminding you of all the beautiful forests you will visit…one day.
Courtesy of Better Home and Gardens 
Wino Coffee Table
Where are my wine lovers at? This coffee table not only allows you to recycle some of those saved wine corks but it adds a great urban rustic vibe to any room.
From Little Things 
Modern Coffee Table
This simple coffee table is modern but can easily fit into any living room. Offering rustic, yet simplistic modern charm. It can be fairly simple to put together and offers a sturdy structure for all of the coffee table books!
Via Mayan Rocks
Window Coffee Table
This design incorporates a bit of recycling and shabby chic charm. Store some fashionable magazines inside or a couple thin blankets. You can even leave it empty and it will appear just as beautiful when the sun reflects off that glass.
Suitcase Coffee Table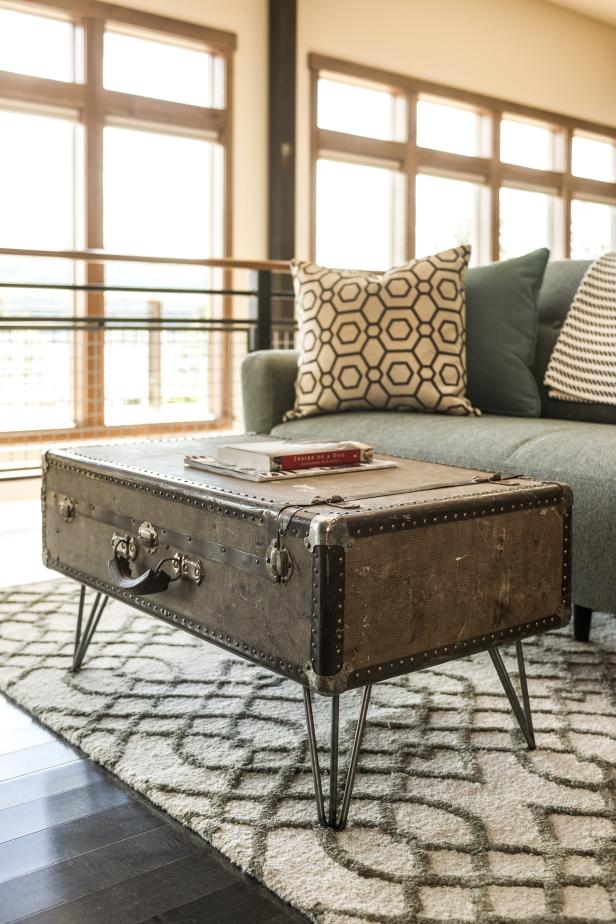 For the one who loves to travel, always keep it on your mind with a suitcase coffee table. It is great for storage and adding some vintage flair to your home.
Courtesy of DIY Network
Whiskey Coffee Table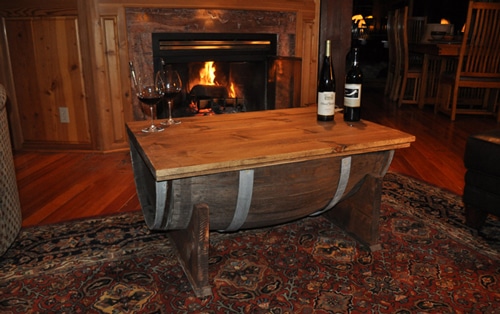 This would be a fun coffee table for your at-home bar or man cave. Convert a whiskey barrel into a coffee table! Also important to note, it does not have to be a whiskey barrel. Wine barrel will do just fine.
Tile Coffee Table
http://www.and-project.com/diy-patterned-tile-coffee-table/
Found some tiles you just cannot live without? Incorporate a beautiful pattern or bring some color to a room. Creative tiles are a fun way to add some life to a room that needs a pick-me-up.
Coffee Table With a Bit of Storage
When it comes to creating your own coffee table you do not need to sacrifice storage. This coffee table can incorporate some vintage furniture while storing cozy blankets, books, toys, or movies, with plenty of space to tuck these items away.
From Rogue Engineer
Pottery Barn Inspired Coffee Table
Pottery barn is known for its classic and beautifully designed style. Yet the price tag is not always as pretty. This blogger found a way to get that great look without that nasty price.
From Pottery Barn 
Extendable Coffee Table
If you are struggling on space or often turn your living room into an office or dining room, this is the perfect table for you. Turn your coffee table into a desk in second, then return it to a beautiful living room chest coffee table.
From the Owner-Builder Network
Surf Board Coffee Table

Home-dzine
Embrace your inner California girl with a surfboard coffee table. Use it inside or outside for all those Pina Coladas, chips, and salsa. It may be a bit more challenging for a project, but your guests will surely be very impressed.
Sand Box Coffee Table
If the surfboard is a bit too challenging, but you are still looking bring the beach in, try this seashell coffee table. It is a fun and creative way to incorporate the outdoors you love.
Coffee Table on Wheels
Not every coffee table has to be a fancy masterpiece, some coffee tables are amazing just because you can easily move them out of the way for your afternoon yoga sessions!
This coffee table is not only stylish but shows you how to properly incorporate wheels for simple mobility.
Display Coffee Table
This beautifully designed coffee table is perfect for displaying seashells, souvenirs, or collections you want to show off but also keep safe.
Courtesy of Lowes
There is a coffee table for each and every passion. Ones that are perfect for families looking for lots of storage, masculine styles for the bachelor, or vessels of creativity for the free spirit. Find one that will fit your home perfectly! I hope you enjoyed this list, I found these examples really helped me brainstorm the perfect coffee table for my home. If you liked it as well please feel free to share this article! I would also love to know what you think in the comments