So you are fascinated about canister vacuums too? Well, you are not alone. Few people understand and know how great canister vacuums are. Finding the best canister vacuum can be a big challenge in today's world, where technology is evolving at a rate never witnessed before. Now, a good number of vacuum cleaner manufacturers are trying to push bags into their products.
Additionally, most of the bagless options available are not that good. Here we will evaluate Bissell Zing Canister against Eureka Whirlwind Bagless canister and decide which one will be the best option for you.
Our Recommendation
Don't have the time to read through the entire review? Are you wondering which is the best product overall between the two? Well, you got it. Now, both of these products are great. However, Eureka Whirlwind canister cleaner takes the win. Want to know why? Keep reading.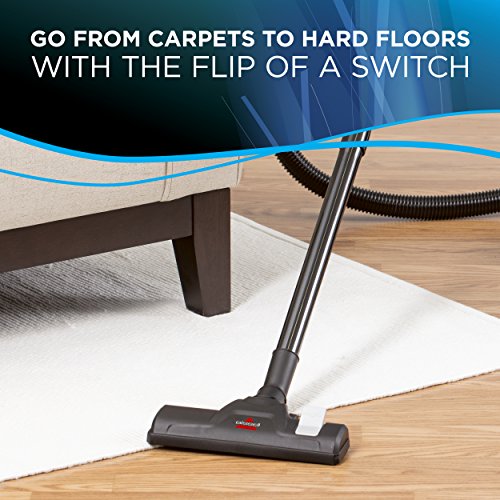 If you need a vacuum cleaner that is easy to operate and offers powerful dirt removal from one room to the other, this is a great choice. This bagless vacuum cleaner offers:
• Lightweight design
• Cyclonic action
• Above floor accessories
• Three-stage filtration
• Ability to clean multiple surfaces
Though it comes with a short cord, a loose attachment holder, and unsuitability for thick carpets, the vacuum cleaner is essentially the best performer. How does it work?
Now, Bissell Zing Canister features the great cyclonic technology to provide continuous and powerful dirt suction. It essentially covers most of your cleaning needs. With Bissell Zing canister, you can easily clean the rugs, hard floors, and low pile carpets. You won't have to bend during the cleaning process. All you will need to do is flip a switch, and the canister vacuum will smoothly glide from hard carpets to floors.
For a better experience, the canister vacuum comes with a three-stage filtration. It has a dirt cup and a post-motor filter that helps capture the dirt and the finer particles. Essentially, this filtration process is critical in trapping the dirt to prevent it from mixing with the air you breathe.
The filters are washable and therefore reusable. However, it is recommendable that you regularly replace the filters annually since they degrade over time and may not trap dirt as efficiently as they used to. With the multiple attachments that come with the canister, you can easily clean above-floor surfaces.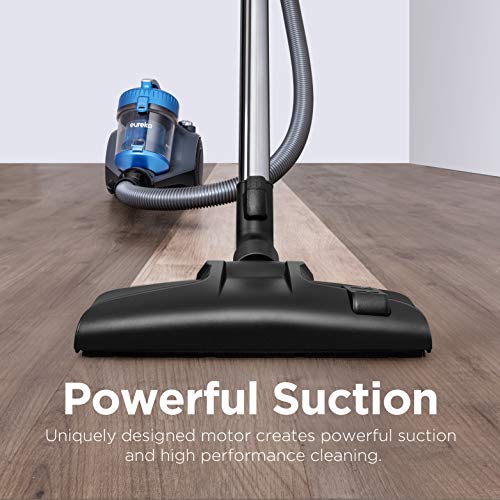 Being one of the most popular canister vacuums, Eureka has a uniquely designed motor to provide high-performance cleaning. Some of the features of this canister vacuum include:
• Great suction power
• Ability to clean multiple surfaces
• Cyclonic filtration system
• Ease of use
• A two-in-one crevice tool that is integrated into the system
If you need to get rid of dust or dirt easily, then this is your best option. It also offers multi-surface cleaning through a switch on the floor tool. With just one tap, it can glide across a carpet to a hard floor; hence you won't have to bend. The bagless canister also offers an excellent filtration system to ensure that your air is clean and no dust is allowed to mix with the air you breathe.
The Whirlwind also comes with a 2-liter dust cup that you can easily empty. All you have to do is press a button and let the system do the magic. In addition, the dust cup and the filter are washable and therefore reusable.
Does the canister vacuum have flaws? Now, this bagless canister has a sharp bent on the wand that is very prone to clogging. It also comes with a slider that is too easy to slide. Additionally, if you need a rotating dusting brush to clean your carpet, you won't get one with Eureka Whirlwind cleaner.
Bissell Zing Canister Versus Eureka Whirlwind Head-to-Head Comparison: Main Features
Brand and Build Quality
Essentially, regarding the brand and build quality, Eureka Whirlwind has most of its parts made from hard plastic. A close look makes it appear cheap. The telescopic wand, on the other hand, is made of metal and has a rubber grip. Though the canister looks quite flimsy, it is still better quality than other canisters.
Additionally, assembly and disassembly of the canister are quite straightforward and intuitive. Bissell Zing, on the other hand, has a well-built canister. Most of the parts are made from plastic and don't look that premium. The compartment and wheels are even flimsier and appear to be relatively weak. Putting it together is also very intuitive and requires not much effort.
Here, the Eureka brand bags the win.
Stand out Features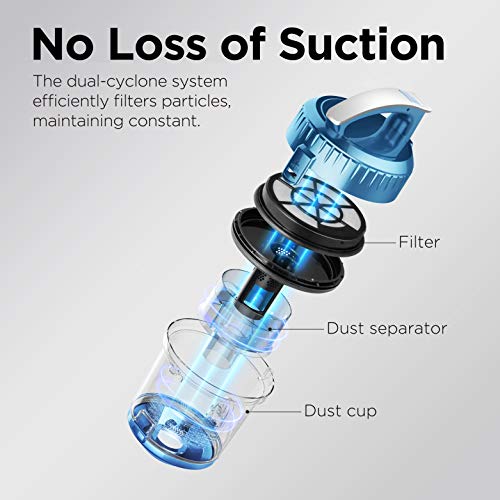 • Soft dusting brush – Eureka offers a soft dusting brush option that Bissell Zing doesn't have. This brush is essential for above-floor cleaning.
• While both canister vacuums have no HEPA filter, Eureka Whirlwind offers little to no recurring costs. This makes it easy to maintain.
Product Weight
Eureka Whirlwind offers great portability when it comes to weight. It weighs approximately 9.26lbs, while Bissell Zing weighs about 10.8lbs. Eureka Whirlwind also comes with a handle to help carry it around. Bissell Zing also comes with a carrier handle.
In this category, Eureka whirlwind is the clear winner.
Usability and Convenience
Regarding cleaning and other vacuum cleaner utilities, Eureka whirlwind has great performance for bare floors. You can use it to pick up pet hair, large debris, and also small debris. The hair can also get stuck on the head bristles.
On the other hand, Bissell Zing has an inferior performance when it comes to bare floors. While it is great with small debris, larger dirt materials are quite a challenge for the cleaner. Debris such as cereal grains will get stuck on the entry head and can stop your cleaning process. Pet hair also gets stuck on the cleaner's head.
Power
Both of the canister vacuum cleaners are corded and don't use a battery. All you have to do is connect them to a socket in your home and get cleaning. The power usage is almost similar to typical appliances such as a refrigerator or a microwave.
Options to Choose
Unless you would want to purchase other brands, these two don't offer too many options to choose from.
Warranty
Both of these products come with a one-year warranty. The warranty is limited and can be issued once the purchase is made.
Price
Want to know which one costs more than the other? Essentially, Bissell Zing is pretty cheaper than Eureka's Whirlwind. For this reason, many customers have a preference for Bissell Zing since they perceive it as a more affordable option.
The Final Verdict
Now, both canisters are great for general home cleaning. However, you can choose the Eureka canister vacuum if: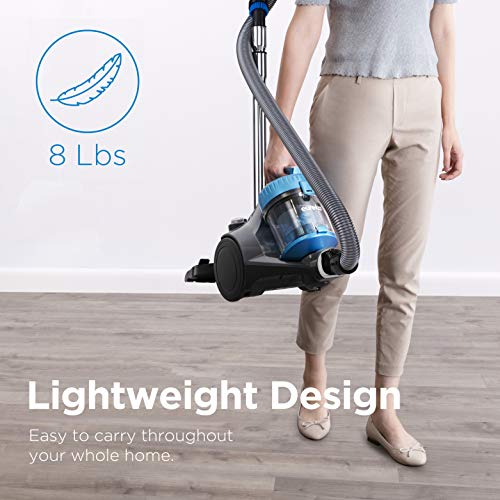 • You don't want the recurring costs.
• You want a product that can remove all types of debris • Want a canister vacuum cleaner for your bare floor and low-pile carpet.
On the other hand, you can decide to choose Bissell Zing for the following reasons:
• Low price
• Ability to clean above-floor spaces
• It is a great option to help you clean your car
In essence, it all depends on your particular preferences. However, I would suggest you go for the Eureka Whirlwind canister vacuum cleaner.