No home is complete with the right vacuum in it. And, if you're looking for the right canister vacuum for you, we're comparing the two best out there right now. This Dyson vs. Miele Canister Vacuum Comparison Guide will tell you everything you need to know about both of these fine products – and which one you are going to find more intriguing.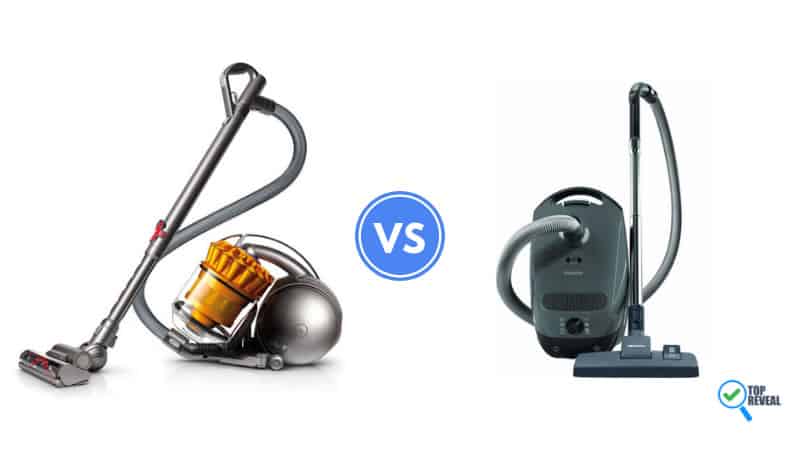 While both are such great options, there are a few major differences that you absolutely must see to make the right decision. Check them out below!
Our Recommendation
If you wanted to know what we ended up choosing for ourselves, we had to pick up a Miele Compact C1. Why? For us, the decision came down to whether we wanted more versatility or didn't want to deal with bags.
The Miele machine gives you the ability to choose between 6 levels of suction as well as providing a few attachments for places up off the floor of your home. We do appreciate the bagless nature of the Dyson Ball Multi floor Vacuum, but we chose to deal with bags for that extra bit of cleanliness. Which would you choose?
Comparing Dyson Ball Versus Miele Compact – Which one is better for you?

As a part of the Dyson brand, you can trust that you are getting a high-quality machine with this vacuum added to your home's cleaning repertoire. The Dyson name is widely respected in homes across the world where their vacuums work wonders. That reputation, just as you would expect, shines through in this vacuum. Everywhere you look, it has something to love including features like:
Ease of Use
As a peak engineering firm in the vacuuming space, you can bet that Dyson designed this vacuum with you, the user, in mind. This vacuum can clean every floor type without needing to change suction heads, speeding up your cleaning time. It is also the only turbine head that is controlled from the handle rather than a more awkward place like other vacuuming choices.
The bin is just as simple to empty due to the fact that you don't need bags to use this machine and you will love the overall experience that this vacuum provides. Just look at those clean floors!
Whole-Machine HEPA Filtration
Some vacuum users don't even know it but their vacuum is picking stuff up off the ground and simply tossing it back into the air. But, as you would expect, Dyson wasn't about to let that keep happening.
This canister vacuum has HEPA filtration that keeps all the bad stuff in (anything from allergens, bacteria, and dirt) so that you know your home is cleaner than it was intended to be when you started vacuuming. This world-class clean is something you probably could only get with a Dyson.
Dyson Ball Technology
You've probably heard about Dyson Ball Technology from the commercials and even say it in your head in that Northern European accent – but this bit of engineering is no joke. The Ball lets you move into tough places around your home with ease and push around your vacuum nearly effortlessly. Another prime plus that comes out of The Ball is the filters which last your entire lifetime. Just wash them and re-use.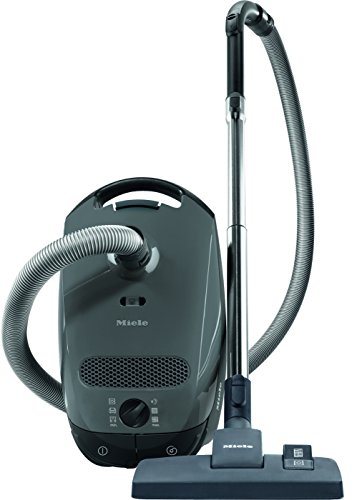 If you ask Miele, they are the best vacuum manufacturers in the world – and we believe them that they are in the running. Their vacuums are highly regarded and we know you would love their company just as much as all of the rest of their customers do. Take one look at this Miele vacuum and you will see that it is a powerful competitor with its characteristics like:
1200-watt Vortex Motor
Of course, you couldn't build a great vacuum without a powerful motor at the heart of the machine. 1200 watts in such a lightweight bundle is more than enough to get through even your filthiest floors and the specially crafted Vortex Motor is something to behold. The system is also equipped with the exclusive Miele AirClean Sealed system to keep all the bad stuff in and all the good stuff out.
With this combination of power and filtration, you're sure to end up with the type of clean that you will step back and appreciate.
6 Settings of Suction
Now, it is important to note that not all floors are created equal. Your carpeted floor needs to be treated with a little more suction than your hardwood flooring where too much suction might create a vortex that actually shoots dirt away from the vacuum head. With the simple turn of a rotary dial, you'll have the exact type of cleaning for every inch of your home.
You'll go from hardwood to that area rug, back to the hardwood, and right over to your carpeted bedrooms with the simple flick of a switch.
More than Floor Clean
Sure, you could vacuum all of your floors in your home with the AllTeQ Combination Floorhead on your vacuum. But that would be missing out on half of the picture. On the VarioClip, you'll find a dusting brush, an upholstery tool, and a crevice nozzle so that you can get very nearly your entire house spick and span with just one machine. That's an all over clean that almost anyone can appreciate.
Similarities between Dyson and Miele Vacuums
There are a lot of ways that these two devices can be seen as similar. First, there is the obvious factor that they are both canister vacuums. They are similar in stature with their size and weight so maneuverability with both should be comparable.
Dyson Ball Animal Upright Vacuum – Corded
You'll also notice that they both
feature those HEPA filtration systems
so that you know you are trapping all of the yucky stuff from your floors inside of your vacuum.
And, last, they have a similar overall design where the motor is on a dolly separate from the suction head, as is typical with any canister vacuum. So, at a quick glance, these vacuums could be seen as quite similar.
Dyson Ball versus Miele Compact: What is the Difference?
However, there is so much that is so different about these two machines that you really must pay attention to see which one fits your fancy the best. After all, the differences in these appliances are what should lead you to pick one over the other in the end, so let's take a look at what makes each one so special in this Dyson vs. Miele Canister Vacuum Comparison Guide.
Suction Variability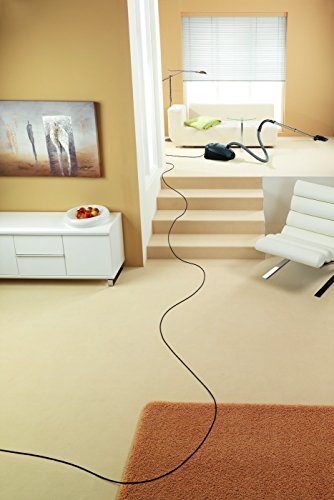 If you want to be able to change the suction styles of your vacuum, the winner is clear here. The Miele machine has the ability to switch between six different levels of suction. While turning down the power may not seem like something you want to do with a vacuum, this function absolutely has its place and will create a more effective clean than keeping the vacuum on full blast at all times.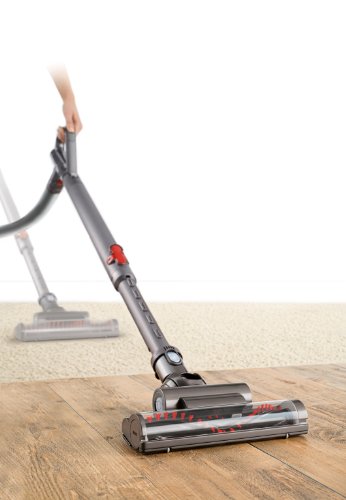 As for the Dyson vacuum, this functionality is nowhere to be found. So, if having the option to take your vacuum off of full blast all the time is something that you want, then Miele is the clear winner here.
Vacuuming the Floor – And More
Of course, a vacuum's effectiveness doesn't have to be restricted to the ground. You can vacuum upholstery, furniture, and tight spaces all around your home with the right set up! Well, looking at these two vacuums, it looks like Miele wins again.
Whereas the Dyson model tells you it works great on all your flooring types, the Miele vacuum is a great floor vacuum and has attachments to give you the opportunity to clean all sorts of places.
This kind of versatility can go a long way in the effort to keep your home clean so Miele scores big points with us right here.
Bags vs No Bags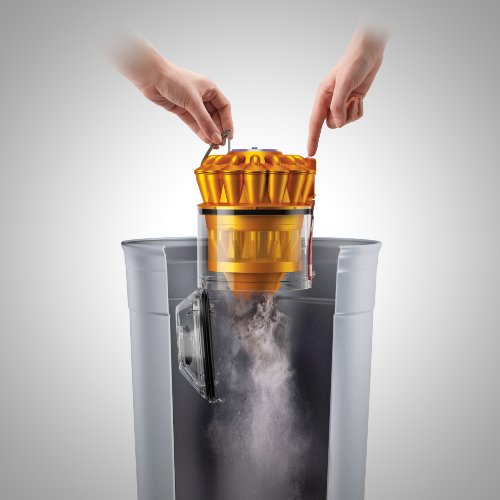 This point of comparison is a simple one: the Miele vacuum requires that you buy replacement bags while the Dyson does not. This can mean additional costs on the back end as well as some small headaches with having to wait for bags to come in the mail or go search for some yourself.
Additionally, replacing the bag itself can be something of a hassle. So, if you think you are the kind that will get annoyed with the bagging replacement process, you'll absolutely want to go with the Dyson.
Verdict
Altogether, both of these vacuums are amazing options. When it comes to this Dyson vs. Miele Canister Vacuum Comparison Guide, you can tell that we had a hard time deciding who we liked better. Both of these vacuums will work wonders on your home and give you a lovely clean that you can appreciate.
But, in our opinion, we appreciate the versatility that comes along with the Miele vacuum more than the bagless nature of the Dyson. However, whichever you choose, we know you will be happy.