These days, it seems like everything is "smart"; smart thermostats, smart bulbs, and a whole bunch of other gadgets meant to improve your life. And while some of these things I can do without (no thank you to a refrigerator that can taunt, I mean, show me what's in it) there is one device I have found to be invaluable: a smart lock. This ingenious contraption makes getting into my home easier for me and harder for intruders, and it can do the same for you.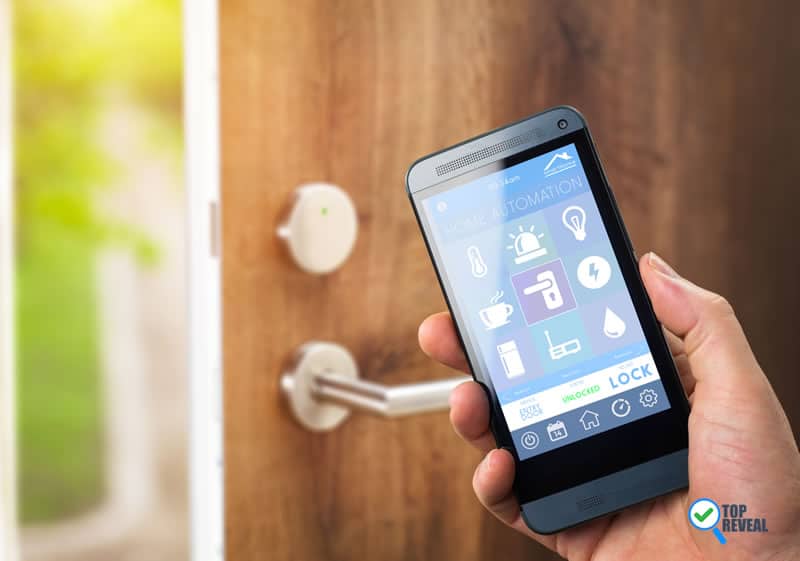 To help you understand how they work and help you find the right model for your home I've compiled this review of the Best smart locks. I'll share my buying tips, break down the features of each device and explain the pros and cons to ensure you make the "smart choice."
Smart Lock 101
Smart locks are trending right now, and after buying one, I totally get why. These electronic devices attach to your door and using a smartphone or tablet; you can command them to open, close, or lock your door- even if you're not home. They also have electronic keypads, so you don't have to have your phone to use them and some even have voice activation.
Most can slip over your existing lock for easy installation, and some have advanced features that allow you to create virtual keys for select individuals; with a virtual key, people you choose, like your grandma or sister, have a unique access code to lock and unlock the door.
Top Rated Smart Lock: Which one Fits you the Best?
Now that you have a good idea of what to look for let's review the top devices. I'll give you the good and bad, outlining the pros and cons of each lock, along with customer reviews, to give you a well-rounded picture of what you can expect.
Pros
Easy Install: This lock slips over your existing deadbolt, so you don't have to worry about taking out your old lock or damaging your door. There's also no wires as it runs on batteries, which means you can have your lock connected and working in minutes.
Auto Lock/Unlock Feature: With this feature, your door will automatically open as you approach. Have a handful of groceries? Well, that's no longer a problem as the door will be open when you get to it.
It will also auto lock as soon as your inside, for hands-free, no-hassle exits and entries. Oh, and you can turn this feature on or off whenever you want.
Remote Access: Using your phone, you can lock, unlock, assign keys and see a log of who enters and exits; compatible with Amazon Alexa, Nest, IFTTT, Wink, Logitech Harmony, Apple HomeKit (Siri), the Google Assistant, Logitech POP, iOS and Android devices.
Cons
The main drawback is that sometimes the lock won't recognize you and lock you out. Although this is not common, if it does happen, you will need to use an actual key and reset the system, which could be annoying, not to mention inconvenient.
Customer Reviews
This lock has gotten high marks on Amazon, with many noting how fast and straightforward the installation was. Users were also impressed at how easily it was able to lock and unlock their deadbolt, noting there was no lag time or jams. Overall, reviewers gave it 5-stars and would recommend it to family and friends. See how this is comparing with 2nd Gen and other models here.
Pros
Multiple Keys: You can give out up to 19 virtual keys, so you never need to hide your keys in a flower pot or under the rug again. Allow access to your family and friends when you need to, making life easier for everyone.
Compatible with Most Doors: the Schlage is meant to fit on standard doors and the sleek, modern design blends with any decor for a put-together look. The compatibility also allows for quicker installation
Quality Design: the keypad has a silicone coating, so the numbers will never wear off and also have a backlight, so you can see what you're doing even when it's pitch black out.
Cons
There are 2 drawbacks with this lock: there is no remote access, and if the battery dies you could be locked out. One person's lock battery died, and they got left out in the rain. Also, you can't unlock remotely, which means if your hands are full you'll need to put down packages to unlock the door.
Customer Reviews
Most users were happy with how this lock performed and the pricing. Many felt it was quite durable and loved the quality of the keypad, but a few were disappointed it did not allow you to operate it when you're away or auto unlock. For the price, it is a substantial investment and worth it for those looking for more security than convenience.
Pros
Advanced Security: There are multiple code restrictions and access points for the highest level of security. Secure mode disables any code you want, Master Code prevents anyone from adding or tampering with existing codes, and Code alarm will sound an alarm after 2 incorrect codes are put in.
In House Locking & Unlocking: As long as you are within range, you can auto-lock and unlock your door. Kids arriving home? Use your phone to let them in.
Secure Screen Technology: The touchscreen has added layers of protection, requiring random digits to be entered before your pin to prevent code or fingerprint detection.
Premis App: The Premis app and Siri give you complete control over your lock, allowing you to see (using Apple TV) anyone who enters or leave.
Cons
The main con here is that this device is from Apple and not compatible with Android. This leaves a lot of consumers without access to a premium product.
Customer Reviews
Shoppers are in love with this device and are floored by the top-notch encryption it offers. Many also love the Premis app, letting them see who is coming and going. The ability to visually see the entryway of their home via Apple TV is a convenience no other lock offers. Most of all, consumers love how much they get for a reasonable price. It is around the same price as the August, but has more high-end features, making it a top choice among homeowners.
Pros
Keyless Touchscreen Deadbolt: You can use remote access, your voice,  or the keypad to enter, for the ultimate in convenience
Multiple Layers of Security: there is a random 2-digit access code every time you come to keep you secure, and you can have a 1 or 2-step entry; choose to enter a code or a code and passcard for additional security
Auto-lock: Door will automatically lock once it closes, so you never have to wonder if you locked the door. It does it for you!
Superior Battery: There is a 9V backup battery when the battery runs low, and the lock will also alert you when it's time to change it.
Cons
A drawback with this lock is that if you don't follow the installation directions you could damage the lock. The lock is on the higher end price-wise, so the somewhat complicated installations can be a turn-off.
Customer Reviews
Overall, consumer like the easy usage of this lock and the multiple keys that can be given out (up to 70). They also appreciate the various entry methods, making them feel more secure when they're home and away. For the price, it is very well-made, and since it fits most doors, it is a good choice for families.
Pros
Touchscreen/Voice Access: The touchscreen has a backlight for easy readability, and there is also voice access to program codes and other commands
Multiple Pin codes: You can create over 25 unique codes, allowing access for family, friends or workers when needed.
Quick, Simple Installation: With just a screwdriver, you can attach this lock to any standard door in just seconds.
Cons
Many people complain that the door will automatically lock if your hand or an object passes in front of it, locking you out prematurely and requiring you to enter your pin again.
Customer Reviews
This is the lowest-priced lock on the list, yet it has some of the best features, a point not lost on customers. Many raved about the sturdy steel construction, while others loved the simple touchscreen access. It has gotten predominantly positive reviews and 5-stars from most users. A great value for the price.
Why Smart Locks are So Smart
So, why is everyone, including me, raving about these devices?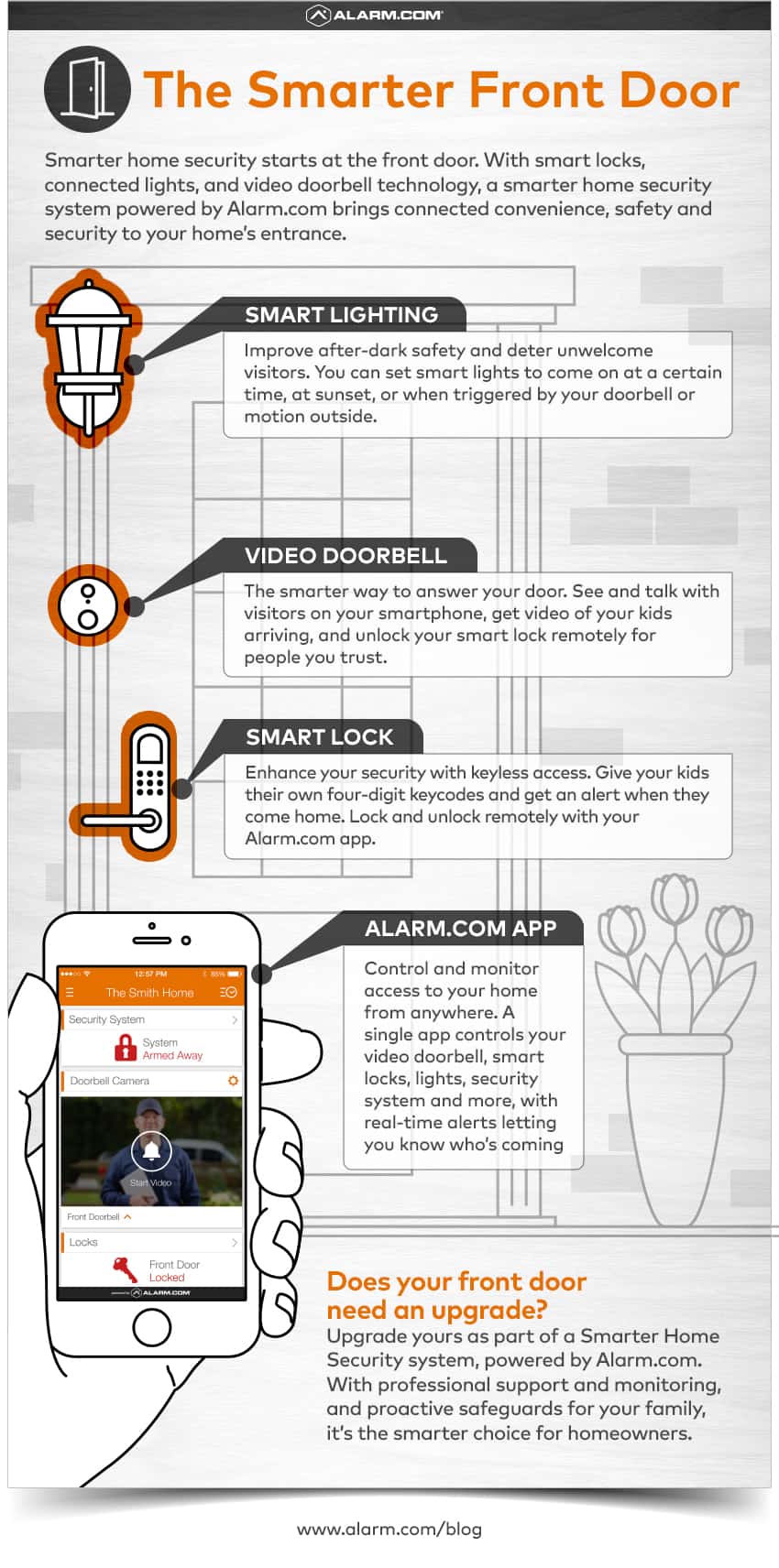 See other benefits from this infographic from alarm.com
Well, there are a few reasons, which I'll break down to you by explaining the benefits of these locks:
Peace of mind: For me, the biggest plus to owning a smart lock is the peace of mind you get with it. No more asking, "did I close the door when I left for work?" Now, you can check and lock it remotely through your phone. It is great knowing everyone I love is safe and secure at all times.
Convenience: With a smart lock there's no more looking for your keys in the rain or late at night. Now, with a simple command from your phone, you can have the door unlocked before you reach it. No more fumbling or freezing to open the door.

And God forbid you are in danger, those seconds you save with a smart lock can make all the difference. It's a great partner with your smart home hub.

Access for loved ones: Have family coming from out of town? Does your dog walker need to get the dog? With a smart lock, you can give people a virtual key, allowing them access when they need it. And those keys can be canceled or changed repeatedly, so they only get in when you want them to.
Alerts: Many locks will let you know through the phone app if someone enters or exits, so you could catch a burglar, or discover your kid ditching school.
What Features to Consider when Buying a Smart Lock
Before buying any of the devices on our list, it's important to know what to look for to ensure you make a good purchase. Here is what you need to consider:
Installation
The degree of difficulty to install one of these locks varies widely, so you need to look at the installation process before you buy. Some locks slip over your existing one, making it a 1-2-3 install. However, there are some that require wiring or need to be installed separately from your existing lock. If you're not handy or good with electronics, you may want to stick with a simpler model.
Features
Do you need to give out virtual keys? Do you want to be alerted every time your door is locked or unlocked? Every lock performs differently, so look closely at the model's main features to ensure you get a good fit for your lifestyle. If you get a lot of deliveries, for example, you will want one with unlimited virtual keys that can be changed on demand.
Price
Pricing varies for these devices and more expensive doesn't always mean better. Study each model and be sure to pay for what you need. It's nice to have all the bells and whistles, but why pay for them if you don't need them? If the basic model fits your needs go for it.
Security
All smart locks are encrypted for your safety, but some have added layers of protection. Figure out how easy or hard you want to make entering your home and choose accordingly.
I hope our Best Smart Lock Review helped you understand just why everyone is so captivated by these devices and why they are a great investment. They are made to keep you and your family safe, providing peace of mind and a convenience standard locks just can't give you. So, make the "smart" choice and pick up one of these devices today.
[rwp_box id="0″]