By now, we are all well aware of the benefits of picking up a cool smart hub. They are fun, innovative and perhaps most importantly they allow you to sync up a lot of your smart devices for easy access and control.
Without a doubt, smart hubs are a fun thing to add to your home, but they also aren't all created equally. That is why today we will be highlighting twohigh-qualityy options that may very well change your home life. Its time to give your home a brain! Read on for a guide to the SmartThings Smart Home Hub Vs. the Wink HUB 2.
Recommendation
We are going to be taking a pretty in-depth look at both of these products in the coming paragraphs, and during that time you will of course be able to come to your own conclusion as to which is best for your needs. That said, for our money, one of the two does come out just a little bit on top.
While both of these smart hubs are pretty incredible, we prefer the SmartThings model due to its integration with Alexa and all Samsung smart devices.
Of course, you can decide for yourself which of these devices is better when we take a deeper look at both of them. Let's take a look!

You will of course remember the SmartThings hub. We just mentioned it as our pick as the as the top smarthub, and now you can take a look at how we came to that conclusion as we examine some of its top features.
Smart Devices
The principle function of this hub is to…well, be a hub. It certainly succeeds at that. The SmartThings hub is going to be able to let you hook up to your lights, speakers, locks, thermostats in more all in pone easy to access device, so that you have complete control over your home all in one place.
Of course, you will need a lot of smart devices in order to get the most out of this hub, but assuming that you do, you are going to have complete control of your house in a single easy to use interface
Alexa
The SmartThings hub is also capable of syncing up with Alexa, so that you can control your house with the power of your voice if you have an Alexa enabled device.
Users without an Alexa empowered device can simply control their house with the very easy to use SmartThings app. This is definitely a very viable and easy to use option but there is something kind of Jetsons like about being able to lock your doors with your voice.
Affordable
Affordable is of course a pretty relative term that will ultimately depend entirely on your budget. Now, that said, compared to other similar products, this unit is offered at a price that falls in at the lower end of the spectrum.
If you want a great smart hub that isn't going to break the bank, this is definitely a very viable option to consider.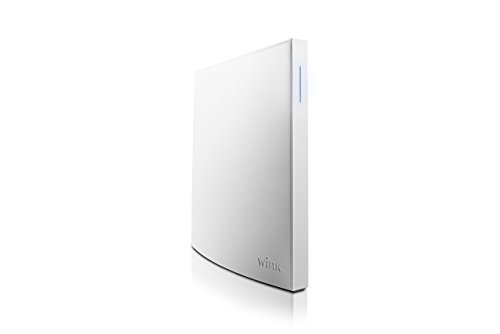 The other device that we will be taking a look at today is the Wink Hub 2. While we did not select this unit for our top pick today, that is not to say that it isn't an extremely impressive device that will change the way that you live if you decide to take it home. Let's once again take a look at a few key features to see if this is the right model for you.
All-in-One Hub
The principle feature of this device is of course the way that it centralizes all of your other smart devices into one easy to use interface. You can accomplish pretty much the same thing with this device as you can with the SmartThings hub. Whether you want to lock your doors, change the thermostat, turn lights on or off, or even activate security cameras, you are going to be able to do it throught he Wink Hub 2 app.
I will say this, the app interface that comes with this unit is extremely easy to use. The icons of all your deices are on the home screen, and you just have to click them to control your devices.
Set A Schedule
Another thing that I really like about this device is that in addition to allowing you to control your device at the touch of a button you can also set a schedule so that your smart devices activate automatically at the same time each day. For example, if you want your lights to turn on before you get home from work so that you don't have to come home to a dark house you can.
It's a great way to save energy, and live in a house that is familiar with your routines.
Design
While you probably aren't buying these hubs to be décor pieces, you definitely want them to look nice in your house, right? While the Wink Hub 2 might not be a piece of fine art, it nevertheless is definitely going to blend in pretty well no matter where you put it.
Thanks to the sleek, modern, understated design of the Wink Hub 2, it is going to look good in pretty much any home no matter where you put it.
SmartThings Smart-Home Hub versus Wink HUB 2 Comparison
What Makes These Devices Similar?
In broad terms these devices are fairly similar in that they are designed to do essentially the same thing—connecting your smart devices into one easy to use hub. So in that regard, function is indeed the primary similarly. Both devices are great options for the person that wants to centralize control of all of their smart devices into one place.
While the function of these devices might be similar, it is how they achieve that function that differs. Let's now take a look at what makes these devices different in order to help you make a more informed buying decision.
What are the Difference between SmartTings and Wink Hub 2?
While similarities are all well and good, differences are ultimately what will help you to make your final buying decision.
The Alexa capability that is present in the SmartThings model is perhaps the first difference that potential shoppers might notice, but of course it is also only beneficial to users that already have Alexa, but if you do have an Echo product, it is super handy.
Voice control is pretty big right now, so the ability to control this impressive hub with the power of your voice definitely is a point in the SmartThings hubs favor.
Price is also something to consider. While the difference in price between these units is not terribly significant, the SmartThings hub is a little bit more affordable which makes it a great option for people that are on a tighter budget.
Conversely, the Wink Hub 2 also has some points in its favor. While the SmartThings hub is great at a lot of things, it doesn't have the best app out there. The Wink Hub 2 app, on the other hand benefits from a really easy to use interface that will give even smart hub novices the chance to have complete and easy control over their home.
Of course, one of the less important differences comes in the form of the design of these devices. I mentioned earlier that the appearance of the Wink Hub 2 is pretty sleek but unfortunately the SmarthThings hub isn't quite as dressed to impress.
While it is by no means garish, the design is guilty of being something of a plain Jane. The boxy white square that constitutes the design of the SmartThings hub might not be ugly but it definitely does not benefit from being as eye catching as the sleek appearance of the Wink Hub 2.
Finally, the SmartThings hub wins out when it comes to user support. While its app might be a little bit more difficult to use than that of the Wink Hub 2, it makes up for this by providing an excellent support community that the Wink just isn't able to match.
With the SmartThings hub, not only are you able to reach out to the manufacturer and developers to get your Q's A'd but you also have access to an active and receptive community that will happily help you work out your issues. Conversely, with the Wink Hub 2 you are pretty much left with standard customer service options.
Verdict
Which of these options is right for you? Well, that is ultimately going to depend on what you are looking for, but I will say this, for how similar that these units are, I do think that the majority of buyers are going to find just a little bit more to appreciate in the SmartThings unit.
If you want to get a lot of great features out of a relatively affordable device, the SmartThings hub is without a doubt something to look at. However, both devices really are impressive, so no matter what you are going to bringing home something literally changes the way that your house operates.