So, you're doing it! You're packing up, leaving the Lonestar State and moving to the Centennial State? It will be a great move, and you will absolutely love Colorado, but are you prepared? Things are a bit different in this landlocked state. Beautiful mountains, great skiing, amazing walks and exciting craft beers aside, there are a few changes that you may not be expecting. So here is a bit of a moving to Colorado guide to help you prepare.

Texas does big; Colorado does big weather
Texas is huge. It has a landmass well over double the size of Colorado. So, you can expect some variation in climate and weather conditions depending on where in the state you are. However, in Colorado you can expect some variation in climate and weather conditions depending on how quickly you cross the road. From wildfires to hailstorms, from blizzards to floods, what Colorado lacks in extreme population it makes up for in extreme weather. It's exciting!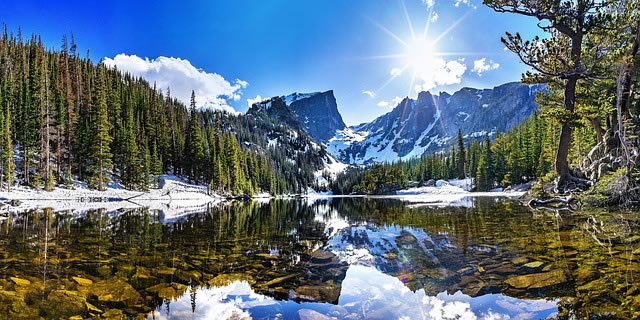 Home grown, organic, GM free food as standard
Also exciting is the food – although Texas has some amazing chilis, fried chicken and delicious Tex-Mex flavors, Colorado is known for its fresh organic meats and fruit. Whether you're tasting the richly flavorsome lamb or tender, low fat bison, or sampling GM free corn, or perfect Palisade peaches, you will want to make sure that you have packed your kitchen utensils ready for the move to Colorado. Sample the local restaurants when you arrive to see the amazing range of flavors that can be achieved, and then talk to the locals for great recipes using fresh produce. Coloradan's may have a bit of a reputation for being hippies or hipsters (it may be all that fresh mountain air and easy access to beautiful walks), but this will work to your advantage when it comes time to eat, drink and be merry. Boulder was even named as "America's Foodiest Town 2010" https://www.bonappetit.com/drinks/wine/article/america-s-foodiest-town-2010-boulder-colorado As an interesting aside – did you know that the cheeseburger was invented in Colorado? Yes, we know California tries to claim the fact, but we're going with the Humpty Dumpty Drive-In claim.
The state motto should be "We Know"
Colorado has 17 universities, and an educated population, with over 90% of people having obtained at least a high school diploma. One of the options for a university education is even free! Colorado Free University is in Denver www.freeu.com with over 700 courses in topics ranging from learn to sing or travel blogging, through to neuroscience or digital marketing. So, pack that bookcase and be prepared for some interesting conversations once you arrive. Of course, Colorado has legalized marijuana consumption for recreational use, so conversations may be intensely philosophical, but it all fits in with the general feeling of being alive and at one with nature. Coloradan's know what is going on in the world. In case you were wondering, the Colorado motto is actually "Nil sine numine" (Nothing without providence).
Colorado is old and can prove it
Dinosaurs walked in Colorado, and you can walk in their footprints. At the Picketwire Canyonlands over 100 different species of dinosaur have created nearly 1,300 tracks, but you'll find evidence of dinosaurs throughout Colorado. Dinosaur museums and visitors' centers have been set up to allow anyone to come to understand how these creatures roamed the state. Understanding things is important in Colorado.
Everything is connected
No, we're not talking about the conversations you'll have with hipsters over a nice craft beer. People in Colorado are online. 80% of the population is connected to the internet (compared to around 60% in Texas). Events are promoted online, and with over half the population on Facebook you'll be able to use social media to make friends and find out what is going on in your area.
Whether you want to login to Twitter in order to join the other 500,000 people following the hilarious Colorado Rockies account or follow the Indian Hills Community Sign Facebook account to discover just how puny Coloradan's can be. There is a social media account that will fit what interests you. There are also the more official accounts run by Colorado Tourism, and these can be found on almost all platforms. They really do want everyone to be connected and in the know! Coloradan's love their memes – and with good reason.
Do everything
When you're booking the moving company in preparation for sending all of your worldly possessions away from Texas, have a look at the Colorado schedule of events here. You probably don't want to arrive in the middle of the annual Renaissance Festival or while everyone is in town for the Great American Beer Fest. Throughout the state there are a wide range of public events, many of which are free to just wonder around and soak up the atmosphere. While having the backdrop of the Rocky Mountains makes for an absolutely spectacular event, the mountains do also play host to a range of events, from ice sculpting competitions to international ski affairs.

Colorado is an amazing state, the views, the people, the food. Enjoy the move there!
So, you're doing it! You're packing up, leaving the Lonestar State and moving to the Centennial State? It will be a great move, and you will absolutely love Colorado, but are you prepared?
Texas
Colorado
Nickname(s):

The Lone Star State
The Centennial State, Colo
Population
28,304,596
5,607,154
Area
268,581[2] sq mi
(696,241 km2)

104,094 sq mi
(269,837 km2)

Highest point
Guadalupe Peak
8,751 ft (2667.4 m)

Mount Elbert in Lake County
14,440 ft (4401.2 m)