Are you one of the many people who dream of the perfect master bedroom, but can't decide on the right design? After all, what exactly makes a bedroom masterful? The size of the bed? The price of the headboard?
Ultimately, I think it is important to create a space that doesn't only serve a function but is also a haven that reflects who you are and what you love. With that in mind, here is a list of incredible master bedroom ideas to inspire, tantalize, and wow you.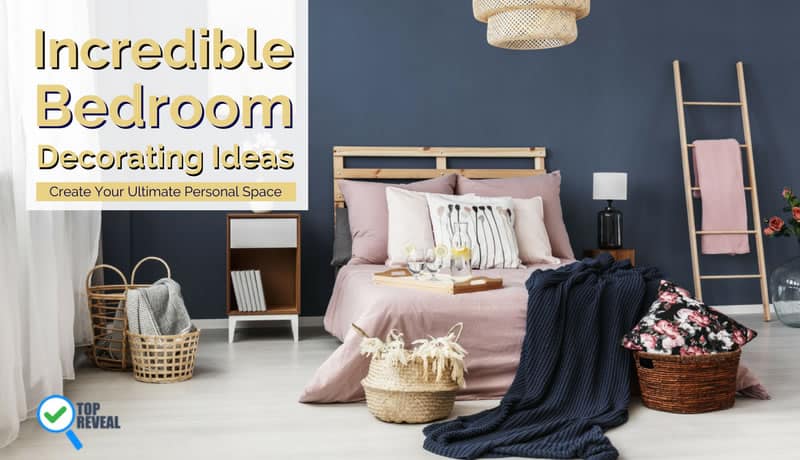 Incredible and Cozy Bedroom Ideas
1. Ignite Your Love With a Cozy Fireplace

Source
Set the mood and banish the cold forever with a classy fireplace. The great thing here is that fireplaces come in various sizes to fit any size bedroom. Even better, they have gas, wood, and electric options, so it works with any style home.
2. Put Your Love Into Words

Priced to Love
Adding something romantic to your bedroom is a nice way to remember how much you love each other no matter how hard life gets. With a headboard like this, I challenge you to go to bed angry.
3. Give Your Clothes a "Room" of Your Own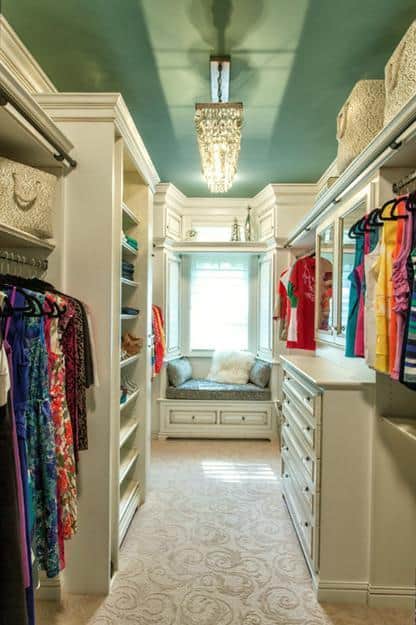 Via Pinterest
No true master bedroom is complete without a walk-in closet that fits your every need. There are a million ways to design a walk in, and you have the option of making it unique to you and your lifestyle. And don't be afraid to give it a little extra flair.
4.  Rustic Charm
If you want a quaint and cozy feel to your master bedroom, look no farther than some wood accents and shiplap. I would never want to get out of this vintage bed frame. The light color scheme will always have you waking up in a positive mood.
5. A Room Fit for a King (And Queen)
Elegance never goes out of style, and this design is proof of that. Many of the decorations are refurbished antiques that add a charm hard to find anywhere else. The lovely chandelier and old-fashioned fireplace will have you looking forward to "you" time every time.
6. Color Your World
Don't be afraid to be bold! This applies to any aspect of the bedroom, especially the color. Don't make your room white because that's what's "in". If you want turquoise walls, then start painting. Colors are not to be feared. You'll be happier if you have a room that is uniquely yours.
Find a elegant fan to decor your bedroom this summer.
7. Enjoy the View
Waking up to natural sunlight pouring through the windows is one of the nicest ways to wake up in the morning. There are few things nicer than having large windows to watch the world from while you get ready in the morning; whether it's a forest of solitude or a big city waking up alongside you.
Shared via House of Turquoise
8. Sharing is Caring (Sometimes)

Gnbbuilders
All couples know how tiring it can be to try and get ready together at the same time. Maybe there isn't enough room, or you have to wait your turn to use the sink. In this brilliant design, you can now shower at the same time!
With a large space, and two spouts, you can say goodbye to the frustration of being late simply because your partner takes too long.
9. Modernism (The Future is Here)
For those of you with more modern tastes, this bedroom is for you. With the simple black and white palette, floor to ceiling windows, and minimalist decor, this is the dream room of any modern-lover. See even better match with cozy carpet.
10. The Sky's the Limit
We already know how great expansive views are, but with a skylight, you get to experience a whole new kind of angle. If you live in a big city, this may not be the best option for you.
But for those of us who love the outdoors more than humanity, this is the perfect way to watch the stars while you fall asleep. What's more romantic than that?
11. Canopy Bed (With An Rustic Twist)
What kind of canopy is right for you? There are so many different styles so the possibilities are endless. This one is a personal favorite, and I thought quite interesting. Since we've already looked at what a modern canopy bed looks like, I went back to more rustic tastes.
Calling all outdoor lovers, this bed frame is for you.
12. A Bed You'll Never Want to Get Out Of
The bed is the most important part of any bedroom, for a lot of obvious reasons. So when it comes to choosing where you're going to sleep every night, you want to make the right decision.
Don't feel like you have to settle for the norm, there are a plethora of one of a kind bed designs out there that will make you happy to sleep in them every night.
Via Idolza.com
13. Defining Your Space
When choosing any bed, you have to also think about what kind of headboard you want. You can make your own, or find some really unique ones, but these are usually huge and will mandate the tone of the rest of the room. Whether you like traditional, modern, rustic or otherwise, there is a stunning headboard waiting to adorn your oasis.
14. Set the Mood with a Cozy Fire
Even though having a fireplace in the bedroom isn't exactly a novel idea, it is always a welcome one. The ambiance of a fire is unmatched, and there are so many ways to incorporate the lovely decor of a fireplace.
It doesn't matter if you prefer logs to gas, having a crackling fire in your room will make it oh so cozy.
15. Outdoor/Indoor Magic
We establish how nice it is to have a stunning view from the bedroom. But what if you could take it a step further? Wall to ceiling windows are lovely, but they would be even better if you could remove them entirely.
How amazing would it be to sleep in your bedroom and be able to feel a warm summer breeze stir your sheets?
16. Aye, Aye Captain
Add a nautical touch to your bedroom with strategically placed stripes in the room. Navy and white bedding or a striped rug freshen up the space and give it a crisp, vibrant look any tine of the year. With this power tool, your bedroom shall be bright and clean.
17. Picture Perfect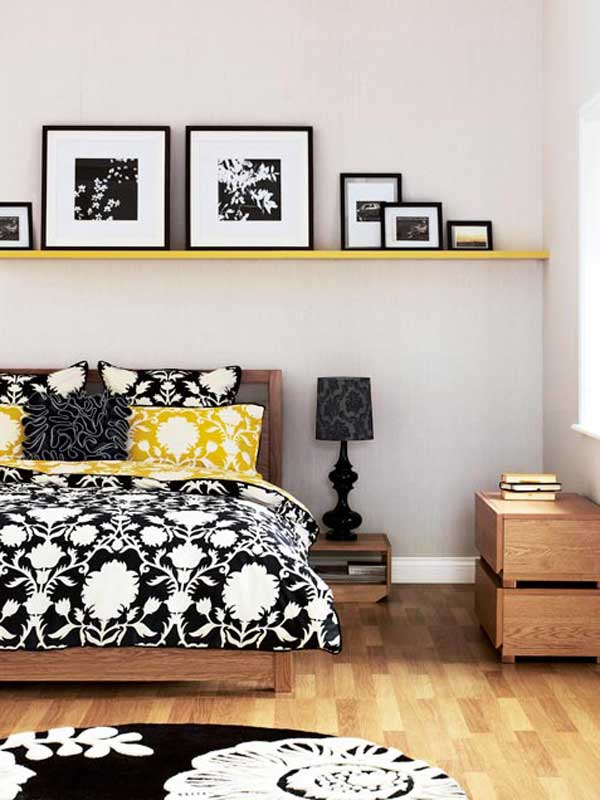 You want to be surrounded by beauty in your bedroom and what better way to do that than by adding some striking pictures on the wall over your bed? These black and white photos are tranquil and stunning all at once.
18. All Tucked In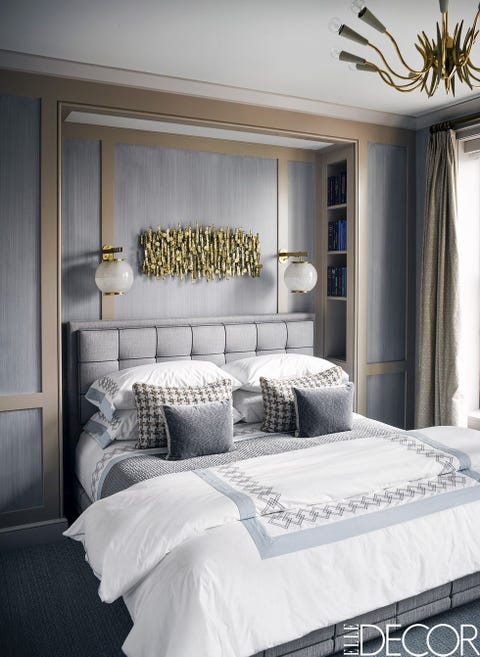 An alcove around your bed gives it a more intimate feel;  it's also a great way to keep the things you love, like photos, or need, like books, close to you. Check out our cleaning tips for your bedroom.
Via elledecor.com
I hope this list of master bedroom ideas has inspired you to create and design your own personal space. As someone who loves color and creativity, this list is somewhat important to me, and I will be sure to incorporate some of these ideas into my own master bedroom once I have one.
But we are more curious to know what you think; what you liked and disliked, and your own thoughts, so don't hesitate to comment!