Do you steam clean? You really should. Vacuums and other cleaning supplies are great for everyday use, but for homeowners looking to keep their house in tip-top shape, a steam cleaner is a must. Using just water, they're able to penetrate beneath the surface of your carpets, drapes and more, providing a deep and effective cleaning that is 100% safe. And one of the best models out there is the McCulloch Heavy-Duty steam cleaner, which I'll be reviewing for you today.
What is a Steam Cleaner?
If your cleaning regimen consists mostly of the basics: vacuums, brooms, mops, then you might be finding yourself with a few questions. Namely, what can this product offer me that other basic home cleaning supplies cannot?
For those of you who are unaware of the benefits of this useful tool, steam cleaners do just what their name suggests; using a combination of tap water and heat, you can bypass the need for harsh, damaging chemicals to give your home the rich, deep clean that it deserves.
While all steam cleaners essentially do the same thing, they don't all do it with the same level of quality. Which is where the McCulloch comes in. Picked for its exceptional quality, durability, and performance, it is a good fit for any home.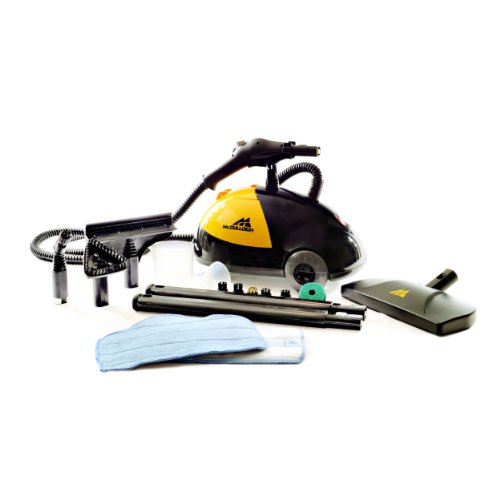 Of course, as is the case with any product, results will vary, so you will want to be sure to familiarize yourself with the features of a product before you buy it.
Here's a look at some of the things that make the McCulloch a top contender:
If you've ever engaged in extensive home cleaning, you know that this feature is a must. The long reach of the McCulloch allows you to clean larger portions of your house at once; no more struggling to get the top of the drapes or cabinets. With this product, there is no need to constantly move your steam cleaner.
If you have small children or pets, this is a feature you will truly appreciate. There is need to worry about the harmful effects of typical household cleaning product chemicals; all you need is tap water to run this product, and give your house the deep clean that it deserves.
Removes Wallpaper Quickly
My guess is that removing wallpaper isn't a daily. or even monthly event- unless it's your job. When the situation does arrive, however, you will want the most effective help possible and the McCulloch is it. The wallpaper steam plate featured on it will help you to remove wallpaper 20% faster than non-pressurized steamers.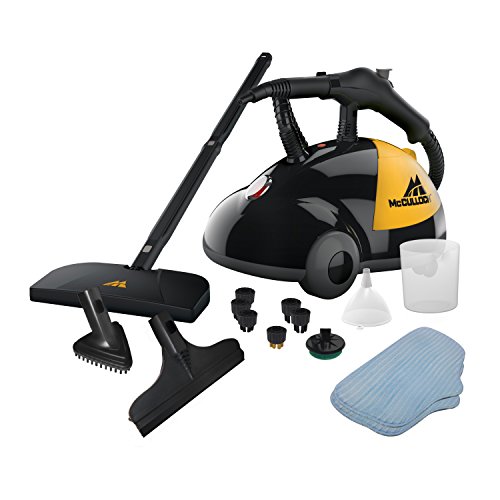 The McCulloch also comes with a wide array of attachments to fit the needs of any cleaning job. from wiping down couches to scrubbing tiles.
McCulloch Heavy-Duty Steam Cleaner Pros & Cons
Now that we know what the McCulloch can do, let's take a look at the pros and cons of this product.
Pros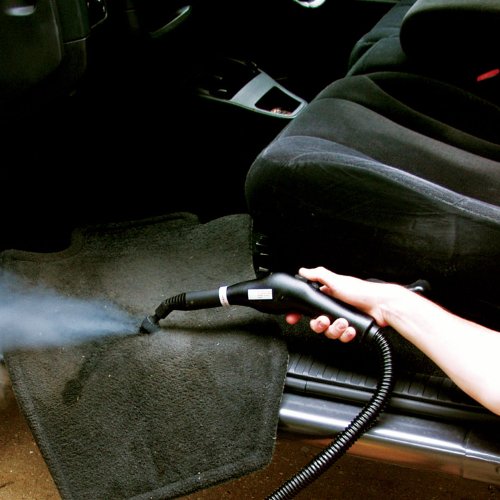 -Saves you money on additional cleaning supplies- Since it only uses water, you don't need to worry about spending lots of money at the store replenishing your supply of cleaning products. Just fill up with water from your sink and you're ready to go.
-Use it on almost anything: Steam cleaners can be used on almost any surface. Whether it is carpets, upholstery, or curtains, the McCulloch has you covered. You can even count on your steam cleaner to kill germs on flat services, such as tile, ceramic, and metal.
-Say goodbye to mold: Steam cleaners even work on mold—a feature that you cannot count on other more traditional cleaning devices to offer.
Cons:
-Risk of burns: You will need to pay attention while using a steam cleaner. The high temperatures that kill mold and bacteria can be painful to your skin; keep kids away when using it and consider wearing protective gloves and goggles.
-Excessive Dirt: Steam cleaners are capable of removing bacteria, but for surfaces that are particularly grimy, you might find that an additional wipe down is necessary. Your steam cleaner will definitely make strides with the dirt, but it may not eliminate it completely.
Comparing Products: the McCulloch versus the Pureclean XL Steam Cleaner
The best way to accentuate what the McCulloch can do is to take a close look at other products of a similar nature. To help give you a point of reference, we will compare the McCulloch to its competitor, the Pureclean XL steam cleaner.
These products are similar in many ways, including price. Both offer heavy duty, germ killing cleaning capabilities, and both even feature similar wide ranges of motion that would make either a competitive choice for the consumer considering purchasing a steam cleaner. They even feature the same attatchments that will provide you with everything you need to give your home a deep clean. The McCulloch does come with a significantly larger tank, allowing you to clean continuously for longer, which may give this product the edge.
Common Q and A's
Now, let's take a look at some common questions and concerns regarding this product.
Question:  I have a tile stained with leavings from a pet. Will the McCulloch be able to help remove those stains?
Answer: Yes! The McCulloch is designed to give your home a deep clean, which includes liberation from the lasting damage of pet accidents.
Question: Is the McCulloch good for cleaning leather?
Answer: Unfortunately, no. While it may be good for dirt removal, the high pressure steam can be damaging to the finish of leather goods.
Question: Can you steam hanging drapes?
Answer: Yes! The McCulloch will work well on hanging drapes, sparing you from the burden of excessive ironing.
Customer Reviews
The people who have purchased the McCulloch are glad that they did. Many owners go on about the "numerous features," the McCulloch has to offer, while others are transfixed by the way it cleans floors "while leaving zero water streaking."
Still others simply cannot believe that they never before knew how thoroughly a steam cleaner could clean their home.
Final Thoughts:
At the end of the day, you will need to make the decision that is best for you, your family and your home. You have seen the benefits of a steam cleaner. If you want a deep clean that eliminates dust, germs, and mold without using toxic chemicals, then you know where to go. Loaded with useful features, and offered at a competitive price, the McCulloch should be an excellent fit for your home.

[rwp-review id="0″]