When it comes to the indoor camera market, the Nest cam has long been considered tops thanks to its superior quality and impressive features. But all that is about to change now with the introduction of the Amazon Cloud Cam. Similar to the Nest in terms of style and function, many consumers are wondering which is better.
And we're going to tell them, and you, with our Amazon Cloud Cam Vs Nest Cam review. We'll break down what each can do and compare them in key categories so you'll know which is the best one for you.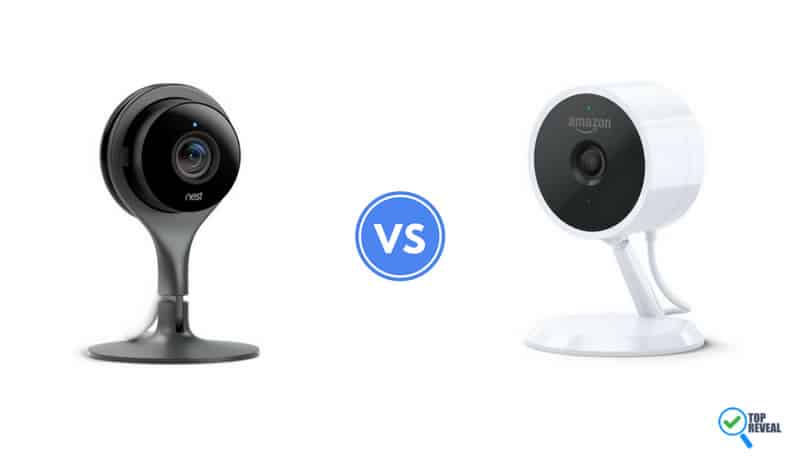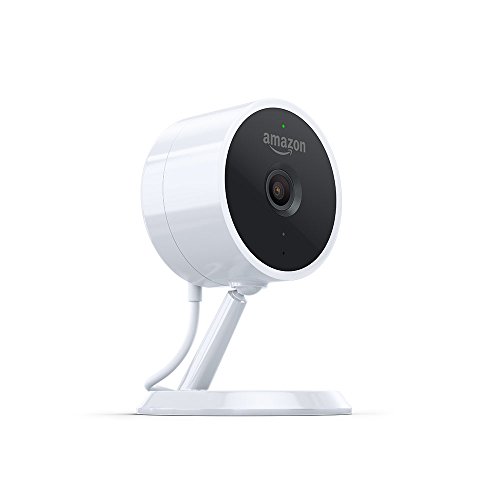 The Amazon Cloud cam is an indoor security camera meant to give you peace of mind when you're home and when you're not. Compact and easy to mount, it connects using Wi-Fi and an app to scan and watch any area of your house using your smartphone, tablet or computer.
Sounds like every other camera so far, and it is, but it does have one or two things to set it apart; mainly, Intelligent technology and compatibility with Amazon Key.  Let's look at what it can do:
Smart Design: The Cloud Cam is small, sleek and is fitted with quality components that deliver exceptional video, clips and sound. It has 

1080p Full HD video resolution, 130-degree camera view and 8 IR LED lights. This allows the camera to see farther and clearer, even in complete darkness. Video and clips are sharp and easy to view. 

Two-Way Audio: Thanks to a built-in microphone and speaker, you can hear and respond to anything that is happening.  This is great because you can see, hear, and be heard, for seamless communication throughout the day. Tell your kids it's bedtime, ask your spouse to pour you a glass of wine, or scream at an intruder- you can do it all.
Intelligent Technology: One of this camera's best features is it can adapt and customize your alerts and notifications. Specialized motion detectors and computer technology can help it differentiate between motion from a falling leaf or a person- so you only get alerts when they matter. You can also have it give you notifications for movements in specific areas.
Amazon Key: Amazon Key is a new service being rolled out in an effort to provide shoppers with a more secure shopping experience- especially during the holiday season. Basically, those with a smart lock can have packages delivered inside their homes; a delivery guy can enter your home and leave your order inside. And with the compatible version of the Cloud Cam, you can watch them deliver it, either in real time or later on. This makes the whole process secure and simple.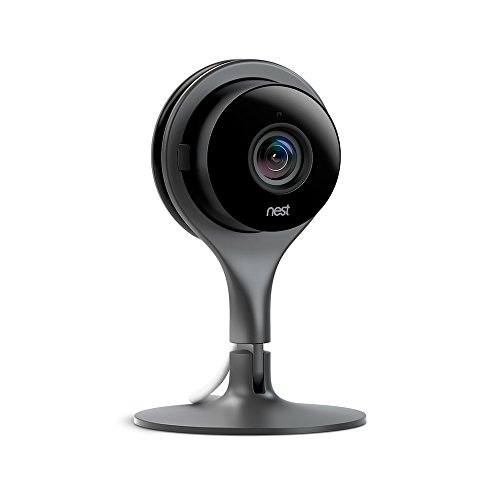 Since 2010 Nest has been tops when it comes to smart home devices and their indoor security camera makes it easy to see why. Small and stylish, it is packed with innovative features that consumers appreciate, from Cloud-based storage to crystal clear night vision. To see why it's so popular, let's look at its key features:
Modern Design: The sleek black casing houses some impressive parts, including a camera that has an 120-degree view and produces 

1080p HD resolution. There's also an 8X zoom lens to zero in on even the smallest detail and lights for infrared viewing. So you can see anytime, day or night, without struggling or squinting.

Simple, Effective Connectivity: Using Wi-Fi, the camera connects and can stream or capture video images from anywhere in your house. You can view that video from any smart device, in real time or through clips later on, so you always know what is happening in your home.
Two-Way Conversations: With a smart microphone and speaker, you can hear anything that is going on, even while you're at work. So you can check in with your babysitter, yell at the dog for chewing your shoes or listen to your kids tell you about your day. Pure genius.
Smart Alerts: Using motion-sensing detectors and an internal mic, the camera can send you an alert directly to your phone when someone is there. So, you can let friends know to wait because you're running late or call the police if something is happening- even when you're away. It would be perfect to use with a smart-doorbell.
Amazon Cloud Cam Vs Nest Cam Review: The Same but Different
Okay, now that you see what each has to offer, lets make this easier by comparing how they're similar and different.
Cloud Cam and Nest Cam Similarities
For the most part, these 2 cameras are quite similar. Both are meant for indoors only and can be mounted anywhere in the house using a simple set-up. In addition, they are similar in size, shape and function. Each uses the Cloud for storage, has 1080p resolution and infrared vision, along with two-way audio for clear communication.
Plus, they both work with Alexa and can easily integrate into your smart home. With all that in common, it is their differences that will help you make your purchase decision.
Amazon Cloud Cam versus Nest Cam Differences
These 2 share a lot, but there are a few key differences you need to see to truly make a smart buying decision. Let's take a look:
Price: When it comes to cost, the Amazon Cloud Cam is the better choice all around. The camera costs about $70 less than the Nest and it's package plans are cheaper too. The Amazon Cam has 4 packages, with the cheapest starting at $6.99 ($69.99 a year) and the most expensive, the Pro, costing $19.99 a month ($199 a year); in comparison, the Nest has only 2 plans: Basic and Extended; the Basic plan is $10 a month ($100 a year) and the Extended is $30 a month ($300  a year)
Service Packages: Speaking of packages and pricing, the Amazon Cloud Cam's can be used without a plan, although features are limited. With the Nest, you need to purchase a package. In addition, the Pro package from /amazon's camera and the Nest's Extended package both offer the same services, which makes the Amazon cam the better value for your money.
Cloud Storage: When you use the Amazon cam, you get free clips for 24-hours each day; and if you get a package you get clips for up to 30 days. In contrast, the Nest gives you free clips for 3 hours and 30 days with a plan. The fact that you get a full day to see clips could be crucial if your home is broken into, giving the Amazon cam the clear edge.
Extras: Currently, only the Amazon Cam is compatible with the new Amazon Key service, giving you a bit more for your dollar.
We hope our Amazon Cloud Cam Vs Nest Cam Review helps you decide which camera is right for you and your family. For us, the Amazon Cloud Cam, has a bit of an edge and is the clear winner thanks to its superior value and key extras. However, both are solid devices and will protect you and your family-and that's priceless.

[rwp-review id="0″]