Picture it: You're away from home, and someone comes to your door. Maybe they're family, maybe they're a friend, or maybe they're someone with bad intentions. Whoever they are, the only way to know they were there or possibly stop them from breaking in is with a video doorbell. With its remote access and video history log, you can see who's at your door, even when you're not.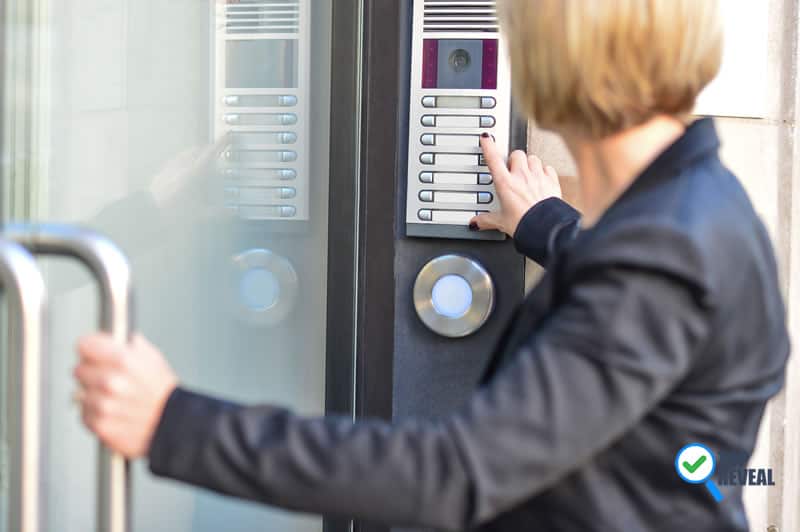 To see what all the fuss is about, check out our review of the best video doorbells. We'll give you an in-depth look at the top 5 models,  along with buying tips to help you find the right one for you and your family
What is a video doorbell?
Different types of video doorbells have different features (which we will go into shortly) offering you a variety of ways to protect your home. Generally speaking, your video doorbell will let you remotely view your porch no matter where you are using its always vigilant camera; the ability to have a virtual peephole on your front door is the hallmark of this device. But there are additional features that, depending on the type of bell you choose, can enhance and improve its functionality.
The first type of video doorbell acts much like one would expect with a camera to view your front porch as well as a combination microphone and speaker so that you can talk to whoever is at your door. The second type, a "smarter" type of doorbell, if you will, offers a compelling benefit: the ability to connect to the locks in your door so you can let individual visitors in by giving them a virtual key through their smartphone.
Top 5 Video Doorbell Reviews: Which one is the Best?
Below, you'll find a breakdown of the top 5 models, complete with their pros and cons and customer reviews. This information will help you decide which device is bets for your home, lifestyle, and budget.

Next Top Rated Doorbell, Ring's video doorbell, is our top pick due to its exceptional design and performance. Let's take a look at what is has to offer:
Pros
Wide-angle High-definition Video
With the Ring you get a full view of your door at all times; no area is left in the shadows, so you can see when a package is left or someone is waiting. It also records to the cloud, so you can view the film at a later time if you need to.
Automatic Recordings and Alerts + Designated Watch Areas
The Ring automatically records and alerts you when there is movement at your front door. It will alert you when someone is standing there, as well as when packages are left or someone is lurking. Even better, you can choose areas too be watched and get specific alerts. This level of vigilance gives you a layer of protections the others don't.
This doorbell has infrared LED, so you can record even when there little to no illumination. In the case of a break-in, or vandalism, this is invaluable, as you can see who the culprit is.
Cons
Not Apple Home Kit Compatible
One needs to pay monthly subscription for video recording.
The only drawback with this video doorbell is that it's not compatible with Apple's Home Kit, though that may change in the near future.
Reviews
Reviewers of this product are almost unanimously positive. Most are thrilled that you can see and speak to whoever is at the door and love the unlimited ways to watch the front door. In addition, many buyers rave over the exceptional video quality and how easy it is to retrieve video. They also are big fans of the 4 interchnageable faceplates, giving it a custom look that fits any decor.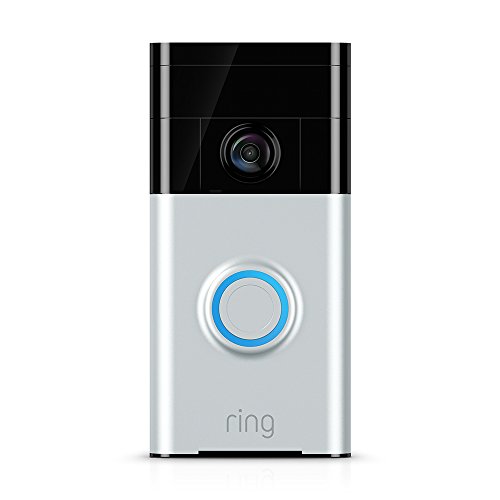 Last, but certainly not least, the ring has created what is arguably the most popular – and highly reviewed – video doorbell on the market today. Let's take a closer look at what it has to offer:
Pros
This doorbell lets you see, hear, and speak to whoever is at your door from wherever you are by using your smartphone, tablet, or PC, much like many video doorbells.
With this camera, you get instant alerts anytime someone approaches your door in crystal clear HD. You can even check in on your home at any time due to the combination of night vision and Live View.
Its design is very simple and looks great on any front door. So, this doorbell not only gives you far more capabilities but it also adds to the look of your home.
Cons
A common drawback that people mention with this product is that they find that the camera starts recording too late. They only end up with video of individuals leaving their doorstep rather than when they are approaching. While any video is good, it is a drawback in the event of a break-in.
Reviews
The Ring video doorbell is one of the most highly rated in its class and belongs in the upper echelon of choices for this type of product. People love its sleek look, easy installation, and cloud service that makes it one of the most innovative products in video doorbells.

The Zmodo provides the greatest value out of all of the video doorbells we have on our list. It works just as well as any video doorbell with the benefit of a lower price. Here's what is has to offer:
Zmodo Pros
This model doorbell allows you to use the existing wiring and WiFi connection already in your home to set it up, making the process quick and straightforward.
The smart motion detection this doorbell is capable of lets you know when anyone approaches your door, giving you a wider viewing frame; you'll also get an alert on your smartphone, letting you know of any potential dangers.
See, Hear, and Speak with your Visitors
This Zmodo product has a microphone and speaker set up that you can use to communicate with whoever is on your doorstep. Tell the delivery guy to leave your packages or ask your friends to grab the mail for you on their way in.
Cons
Difficult WiFi Connection
The WiFi connection may be spotty in some areas according to some Amazon reviews, so this may be a concern.
Reviews
If you do choose this video doorbell, you will enjoy it like the rest of Amazon's reviewers. Those who have it love the value that they got out of their purchase since they received the doorbell and a WiFi extender. Altogether, this product is a great addition to your home's security.

Next on our list comes a video doorbell from VueBell that is just as good a product as any high-priced one. Here's what it has to offer:
VueBell Pros
With this video doorbell, you'll be able to keep an eye on your front door no matter the occasion. You'll get notifications and pictures whenever a visitor rings your doorbell, or the motion detector is triggered.
Much like other options on this list, you can hear and talk to your visitors through a microphone and speaker by using your smartphone. This gives you the ability to answer the door at any time so you could answer the delivery man or scare off a burglar even when you aren't there.
With easy installation, you'll be able to get this extra protection for your home in about 15 minutes. The installation even features AC/DC wires for powering the unit at all times.
Cons
A shortcoming of this doorbell is that the connectivity of the app is a bit rough, according to some reviews, which may or not be a case of faulty WiFi.
Customer Reviews
Most reviewers, though, said they love their new doorbell and the new security it provides them. They enjoy how they can talk to their visitors with ease and see who came to their door. According to them, it is a solid product for protecting your home.
It's a lot like many other similar products but with the added benefit of not requiring an in-wall power source. Let's take a look and see what you get:
Pros
This video doorbell is fuelled by a battery, making the installation much easier. After installation, you will have gained the ability to see your visitors through a 720 HD video feed with 2-way audio communication.
Camera for Every Situation
The camera features night vision and a motion sensor, ensuring that you never miss any activity.
Using the app, you can watch saved cloud videos and see recent activity that has occurred at your door. This could be valuable were a package to disappear from your porch or an intruder to attempt to enter.
Cons
Unstable WiFi Connectivity
A potential issue you may have with this product, though, is getting it to connect to your home's WiFi network. Unfortunately, many people say they have problems with this after they install the unit.
Customer Feedback
Amazon reviews are full of high marks for this doorbell. What is most often mentioned about this product is that customers are happy to havebattery-poweredred version of the video doorbell. The battery makes it easy to troubleshoot any power issues and makes it so those who aren't great with home improvement have less installation work to do.
What Can a Video Doorbell do for You?
A video doorbell is much like any doorbell in that your visitors can push a button and a ringer will go off in your home letting you know that someone is at the door. But a video doorbell offers so much more.
With a video doorbell, you can enjoy benefits and features like:
Remote viewing: A video doorbell has a camera built into it so that you can see who is at your door. When connected to your home's Wi-Fi you will be able to connect your video feed to your smartphone so that you can remotely view your doorstep from anywhere.
Night vision: Some models offer cameras with night vision for added security so that, at all hours, you can keep an eye on your front entryway.
Communicate with visitors: Most video doorbells have a combination speaker and microphone, letting you have a conversation with whoever is at your door without ever having to open it. Another feature that some video doorbells have is recording with playback. They will also keep a log of your camera's most recent sightings and save them for replay at your discretion.
Lock/Unlock Front Door: You could even choose to install a smart lock on your door for times when you aren't home, but someone arrives that you want to let in. Just by using your phone, you could view who is on your doorstep and unlock your front door without even being there.
Alerts: Some products let you set yourself up to receive alerts on your phone whenever anyone comes to your doorstep, immediately notifying you of any visitors. This way, you will never be surprised that somebody showed up to your house when you weren't home.
Video-Doorbell Buying Considerations
There are plenty of buying considerations when it comes to a video doorbell. Some of the things to contemplate are:
Price: As with any purchase, the price is a factor with the best video doorbells available today. There is a wide price range for these products so make sure that your doorbell doesn't break your bank.
Remote access: This is an important consideration for most people, so many fear their home is being broken into while they aren't there. With a video doorbell, you can be sure that no one is coming in that you don't authorize, even when you aren't home.
Unlock for desired visitors: As we mentioned before, some video doorbells are smarter than the rest. They can allow you to let your visitors in if you want, without even being home. This neat feature could give some doorbells the edge over others if you desire this capability.
Aesthetics: Let's be honest – there's no need for an ugly doorbell to ruin the appearance of your front entryway. First impressions are always important, and your front door is the first impression of your home for visitors. There are varying looks, styles, and colors so you can find one that enhances the beauty of your home.
Installation: While this may be a smaller consideration, it is still an important one. Some may find that they want an easier installation even if it means fewer features. Also, you need to look at your existing hardware to make sure the bell you choose fits with your front door's configuration.
Video Doorbells and You
Altogether, it seems like there's a video doorbell out there with your name on it. The best models available are right here on this list for you to choose from.  It is often said that the most vulnerable part of a residence is its front door. With a video doorbell, this is no longer the case because yours will always be watching.
[rwp_box id="0″]