Is there anything Amazon's Alexa can't do? Anywhere you can't find her? Turns out that list is getting smaller and smaller as several Alexa-compatible devices are set to debut at CES 2018, the most buzzed about being the Vuzix smartglasses. Yes, you read that right, everyone's favorite assistant is set to enter the world of VR goggles, once again changing the way consumers interact with the world around them.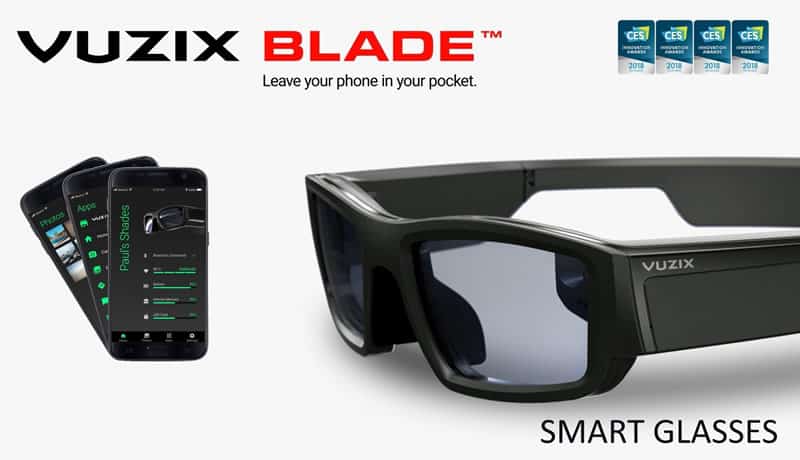 A Whole New World for CES 2018
The Blade will make its debut during Las Vegas' CES 2018 show, bringing lots of excitement to a show that has become somewhat predictable in recent years following years of wearables from Fitbit and others dominating the spotlight. CES has always been known for showcasing innovation in the world of technology and this year it looks like that will once again be the case, with virtual assistants and reality devices taking center stage.
A Sneak Peek at the Vuzix Blade
Vuzix CEO Paul Travers told Bloomberg News this Friday that it's newest smartglasses, the Blade, would work with Alexa, setting a new standard for wearables everywhere. Yes, Alexa is already compatible with several brands of smartwatches and headphones but these glasses are the first to feature everyone's favorite girl.
Vuzix is being a bit tight-lipped about details, but we do have some preliminary information about how they look and what to expect. Here's what we know:
What the Blade Can Do
The Blade is designed to look like sunglasses and will project information on the lenses for users to see; information that will now include the ability to answer calls- something many other VR headsets can't do or don't do well. They will be compatible with Android and iPhone, as well as prescription lenses, so there really is no limit to who can use them.
The Blade will also have a camera built-in, microphone and a small touchpad embedded in the side for those who still want the ability to manually input stuff. But for those who love the idea of hands-free control, the addition of Alexa should take the VR experience to a whole other level and really meld fantasy and reality.
Just imagine taking a picture using Alexa or calling up Instagram notifications with her; the idea, according to Vuzix, is to allow users to connect to their digital world without disconnecting from the world around them. These glasses allow for that, letting you see notifications without having to pull out your phone or stop what you're doing.
What the Blade Looks Like
The one negative, if there is one, may be the somewhat generic look of the glasses; think Tom Cruise in Risky Business. However, they are much slimmer than many other smartglasses and have a smooth, light design that is comfortable to wear. Also, their lens shape is quite complimentary to various face shapes, so they'll look good on anyone.
The debut of the Alexa-powered Vuzix Blade smartglasses is a great step forward in the world of technology and the environment around us. It will make the ability to interact with others and manage our virtual world easier, faster, and best of all, a lot more fun. Check back with us next week, as we will have a full review when CES 2018 kicks off.