Fresh on the heels of Amazon announcing 3 new devices last week, Google has just unveiled 2 new devices of their own and while both are impressive it is the Google Mini that really has us intrigued. Designed to go head-to-head with the Echo Dot, it has a lot to offer at a price that is hard to beat. But none of that matters if it can't deliver against the established Dot, so I've done some research to see if it does. My Google Home Mini vs Echo Dot review will break down these 2 devices so you can see for yourself which one is right for you.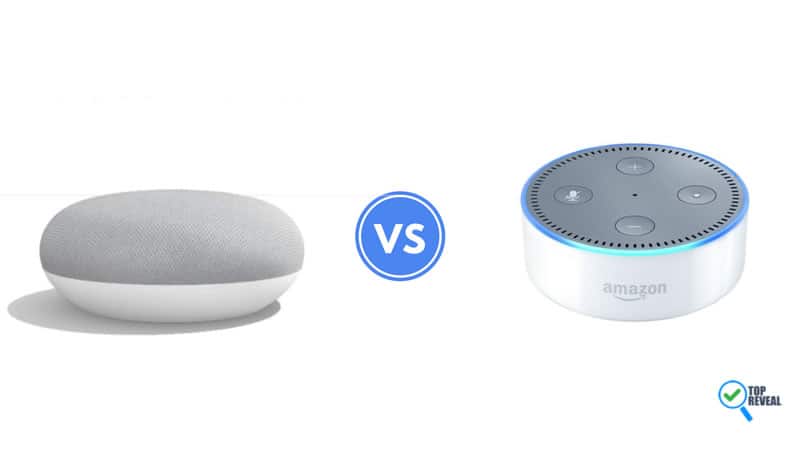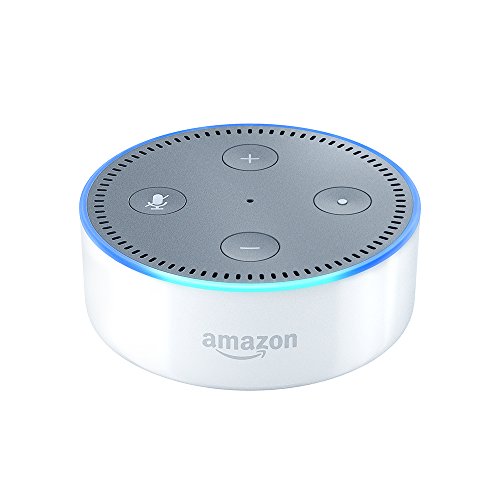 The Dot's a favorite among consumers and it's easy to see why. From virtual assistant Alexa to a  strong WiFi range, it delivers clear, sharp audio whether you're listening to your favorite song or a news flash. Here's a look at what the Dot can do for you:
Stream Any Content: From music to the latest sports scores the Dot can stream tons of entertainment, with or without a Prime account. It's compatible with Amazon Music and Video, Pandora, Spotify, iHeart Radio, and more.
Order From Anywhere: You can use the Dot to order from Prime and beyond. Using a simple voice command, you can have Alexa call a cab, order groceries or get a pizza delivered. The Dot works with Domino's, Uber, and hundreds of other retailers.
Control All Your Smart Devices: The Dot is compatible with most smart device brands, from the Samsung SmartThings hub to Philip's Hue and the Nest thermostat. Just set up your devices, the ask Alexa to dim the lights or crank up the heat.
Teach You: Want to learn how to knit or need help with geometry? Well, now you cam because Alexa can help you with all that. The Dot has thousands of "skills" it can teach you, so you can learn to cook or figure out a mathematic equation in a snap.
Call Anyone: The Dot can now call or message anyone who has an Alexa-enabled device. So, you can rock your baby and remind your husband to bring home milk all at the same time
Google Home Mini: Small but Powerful
First things first, let me say that the Mini is a real head-turner. Small and light, it's shaped like a stone and looks cool anywhere you put it. I know looks aren't as important as how well it works, but since most smart speakers look like, well, a speaker, I have to give kudos to Google for coming up with a really cool style.
Ok, so now that we got that out of the way let's talk about what the Mini can do. Designed to act as a smart speaker, it works via Google assistant and can perform lots of tasks in an effort to simplify your life. All you have to is say Ok Google, play music or Ok Google, check my calendar and it's done. Here's a rundown of what it can do:
Entertainment with a Simple Command: From streaming music to playing movies on your smart TV, the Mini is all you need to keep yourself entertained. Just ask it to play Justin Beiber or show a slideshow of your vacation photos on your TV  and you're ready to go.
Voice Recognition: One of the coolest things about the Mini is that it can recognize user voices and personalize answers accordingly. So, the more you and your family use it, the more tailored its responses become.
Complete Home Automation: The Mini works with Phillips Hue, August locks, Wemo, Nest, Honeywell and more for complete automation you can control using simple commands. Google Home Mini can turn off your lights, lock your door and set the thermostat for you and you never have to leave your bed.
Answer All Your Questions: Now you can google anything you want to know without having to pull out your phone or get on your laptop. From traffic conditions to the square root of 2,476, the Mini can tell you.
Complete All Your Daily Tasks: With the Mini you can set up appointments and reminders, place calls or find out the news; and thanks to voice recognition, it will respond accordingly for each user. So if you ask it to call dad, it will call your dad, not your spouses. Just be aware that it currently doesn't sync with your work calendar, so there are limits.
Google Home Mini versus Echo Dot Side-By-Side Comparison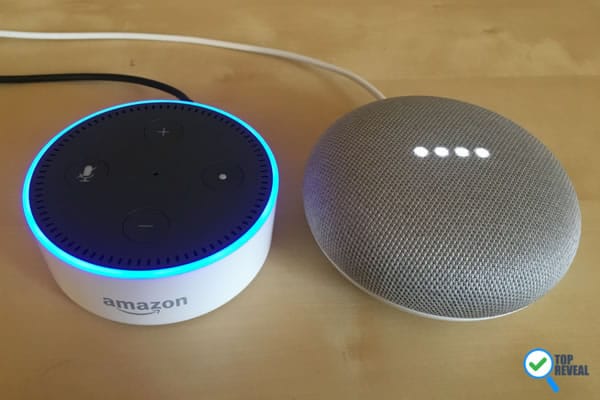 As you can see these 2 devices have a lot in common. Both are small and lightweight, act as a smart speaker and can control other smart devices. However, they have a few key differences when it comes to design and function. Let's see how they compare:
Design
While both are quite small, the Mini is a bit larger in size and rounder in shape. It comes in 3 colors: charcoal, gray and coral red and the top half has a fabric texture, giving it a two-tone, edgy look. While I like having color choices, the coral may be a bit of a dust collector and honestly, it will be hard to match with a lot of decors.
The Dot, on the other hand, is smaller and more disc-shaped. It comes in only 2 colors, black and white, and has a simplistic overall look. Like the Mini, the white Dot is a dust magnet, and while it lacks variety it's compact size allows you to place it almost anywhere.
For me, the Dot wins this category thanks to its smaller design and ability to fit in more places.
Voice Recognition
The Mini can differentiate between user voices and catalogs their preferences, allowing it to customize answers. For instance, if you have an appointment for Sunday and your teen has one for Tuesday, Google Home Mini will only tell you your appointment when you ask. The ability to tailor answers based on the user is a big plus, as it means multiple people can retrieve data using it.
The Dot, meanwhile, does not currently have voice recognition and can only answer based on the most frequently asked questions regardless of who is asking. For this reason, the Mini gets the edge.
Audio Quality
Google Home Mini is a speaker, but the sound quality is less than stellar. It's good for listening to the news or a song, but it is not loud enough to use for a party. Even worse, it only pairs with Chromecast compatible speakers, limiting what speakers you can connect to to make it louder. It does a decent job picking out your voice in a noisy room but there were one or 2 instances where it got confused. Oh, and there's no audio jack.
The Dot has exceptional sound and can pick up commands no matter how loud it gets in the room it's in. It also has an audio jack so you can hook it up to speakers and use it at a party. This makes the Dot the clear winner here.
Bluetooth
The Dot can connect over Bluetooth, which makes connecting to other devices or speakers a breeze. Seems like a small thing, but Bluetooth transforms where and how you use your device. For instance, if you take it to a friend's house, they can use your Dot with their audio system.
The Mini, sadly, is not a Bluetooth speaker, so you don't have that adaptability. Advantage Echo Dot.
Buttons
The Mini only has 1 button to turn the microphone on and off. Everything else is controlled either by tapping the device or voice command. This can be a bit of a hassle, as it's hard to control the volume and get it to the exact level you want it. And the Mini is touch sensitive, so at times the volume changes just by you brushing against it.
The Dot had buttons to control the volume and mute the mic; This gives you an added layer of precision and since it's not a touch device it won't waver when you go near it or move it. Once again, this gives the Dot an edge.
Services
The Dot can order from outside sources, like Uber, while the Mini can recognize multiple users. Being able to call up outside sources to meet your everyday needs is a huge plus, as is recognizing different user preferences, making this category a draw.
Make a Call
Both units let you call anyone you know in the U.S. However, the Mini's poor sound quality makes it hard to hear, for you and whoever you call. The Dot sounds clear and crisp when you call, making it the clear winner.
I think its clear from my Google Home Mini Vs. Echo Dot review that while the Mini is impressive, it's still no Dot. It has great design and can do a lot in and out of your home, but lacks the audio quality needed to dethrone the Dot- at least for now.

[rwp-review id="0″]