As an avid fan of the Amazon Echo Dot, and voice assistant Alexa, I was beyond skeptical when someone told me there was a device that could measure up or make me even think of being disloyal to Alexa. After all, I've reviewed many devices, including the top of the line Google Home and had yet to be impressed or swayed to let my loyalties wander.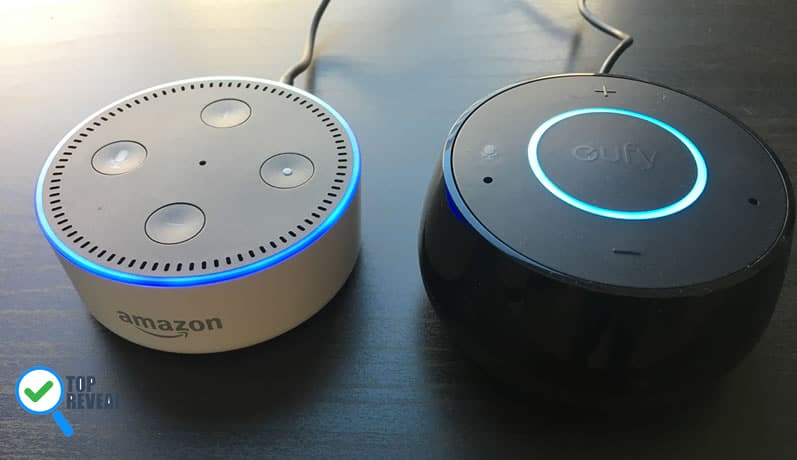 So imagine my surprise when I tested the Eufy Genie and was, well, impressed. How impressed? You'll see when you read my review of the Amazon Echo Dot Vs. the Eufy Genie. I'll give you a complete rundown of each and reveal whether or not I remained true to my girl Alexa!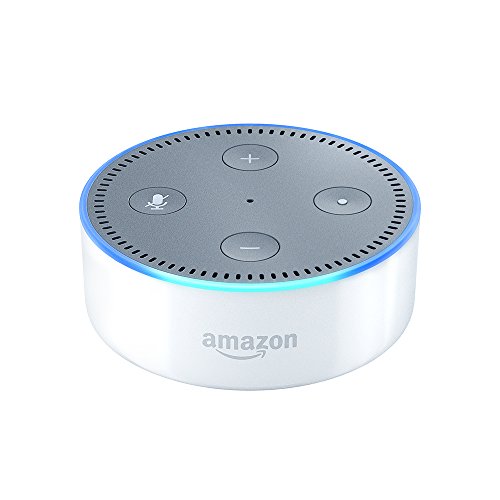 Amazon's Echo Dot is the top-selling WiFi/Bluetooth smart speaker
and I am probably it's the biggest fan. The Dot's best asset is its virtual assistant, Alexa, who can answer questions and carry out instructions, or "skills" in a snap. Alexa can even anticipate some of your needs as time goes on, choosing music or sales that appeal specifically to you.
Besides Alexa, the Dot also boasts incredible WiFi range, giving you crystal clear sound, whether you're listening to your favorite song or the latest news. For Prime account holders, it takes everything you love about Amazon to another level. And for those without Prime, good news; it doesn't matter! There is so much you can do and access outside the Echo Dot that you won't miss it!
Here's a look at what the Dot can do for you:
Stream any content: From music to news and sports, the Echo Dot can stream tons of entertainment with a simple voice command and it's superior Bluetooth capabilities. And where you stream from is almost unlimited, as the Echo works with Amazon Music and Video, Pandora, Spotify,  and iHeart Radio, just for starters.
Order clothes, food, and more: Amazon is known for its ability to provide exceptional customer service for almost any product and the Dot takes that tradition to the next level by offering delivery for things outside of Prime. Using just your voice, you can have Alexa order you a pizza, call you a cab, or order groceries.
The Echo Dot works with Domino's, Uber, and hundreds of other retailers; and Prime members can order anything that's Prime eligible- so there's almost nothing you can't get.
Control everything in your home: Smart devices are all the rage and lucky for you, the Dot is compatible with many smart device brands and products, including the ever-popular Samsung SmartThings hub, Philip's Hue bulbs, and the Nest thermostat. So, with a little programming and a simple voice command, you can have Alexa get your Roomba going when the kids make a mess or make her change the lights from white to blue if you feel like a little mood lighting.
Teach you something new: Want to learn how to bake an apple pie? Need help with your kid's spelling homework? Well, don't worry because Alexa can help you with all that, making homework time, or anytime, a breeze. And hey, if you want to wow everyone, ask Alexa the answers ahead of time- everyone will think you're a genius. Don't worry, your secret's safe with me!
Call anyone in a snap: Just when you think you've seen it all Alexa goes and adds a new trick: she can now call or message anyone who has an Alexa-enabled device. Which means you can bug your kids if they have an Dot in their room or check in on mom without lifting a finger.
The Eufy Genie, on the surface, doesn't look too impressive, but looks can be deceiving. Like the Echo Dot, this little device packs a wallop, delivering crisp, booming sound every time you use it. But what really makes the Genie stand out is its compatibility with Alexa. Unlike other non-Amazon brands like the Google Home, Eufy works with Alexa, giving you almost all the benefits of the amazing virtual assistant at a fraction of the cost.
Here's a look at what it has to offer:
Superior Sound: The Genie is small but powerful, so you can listen to music as low or loud as you want. There is a jack to hook it up to your stereo, but you don't really need it. Just make a playlist, invite some friends over and you got all the makings of a great party.
Music streaming: With the Genie you can stream music from a host of different apps, giving you access to almost any song. It works with Amazon Prime music, TuneIn, iHeart Radio and others with a simple command; sadly, it doesn't work with Spotify and Pandora, 2 of the biggest music streaming services.
Advanced Shopping: Just like the Echo, you can use Alexa to order from outside vendors, including Uber, Sirius XM, Dominoes and others. The ability to order a pizza or call up ESPN to find a score makes life much easier and a lot more fun.
Smart Controls: The Genie adeptly allows you to integrate gadgets and control them all using Alexa. Companies such as Lumos, with their LED lights and Robovac 11c all, work with Eufy, so you can save on your electric bill and tidy up without ever leaving the couch!
Compare Amazon Echo Dot Vs. Eufy Genie
As you can see, both the Genie and the Echo have a lot to offer and many of their features overlap; which is why it's important to examine their differences in each of the main categories. Looking at how they compare in terms of design, apps, services, and pricing will help you see which is the better choice for you.
Let's take a look:
Design
The Echo is small and compact, measuring 1.3 inches by 3.3 inches by 3.3 inches and weighing 5.7 ounces. It comes in matte black or white and there are cases available in different colors and fabrics, so it blends with almost any decor in just about any room. There is a blue ring that lights up on top when you engage Alexa, so you know it's on and jacks to connect to a speaker system in the back.
The Eufy Genie is also compact, with a short, round design that measures 3.5 inches by 3.5 inches by 1.9 inches and weighs 9.1 ounces. It has a futuristic look to it, with the telltale blue ring on the top and comes in a shiny black. What I like most about both is that they can fit on any shelf or any space. And even though it only comes in 1 color, I give it the edge in terms of overall look to the Genie.
Streaming Services/Smart Control
Both the Eufy and Dot can stream music and news using Alexa, as well as control smart devices, they don't use the same services. The Echo can stream using Spotify, iHeart, Amazon, Pandora and more. It can also control devices using WeMo, Phillips Hue, Samsung SmartThings, Nest, Amazon Fire TV and more.
The Eufy, on the other hand, is more limited. It cannot stream music from Spotify or Pandora and doesn't work with Samsung or Phillips. It does, however, work with several companies, including TuneIn, Philips, Dish, Amazon, Lumos, and others.
The limited vendors from Eufy give the Echo Dot a distinct advantage in this category.
Key Features
The Amazon Echo Dot has 2 key features: Bluetooth and call/message. The ability to use it as a Bluetooth speaker gives you additional resources in terms of streaming. For instance, you can sync your iPhone over Bluetooth, giving you access to your Apple music. In addition, being able to call, message or text using Alexa gives you additional freedoms. For instance, if your hands are dirty and you need your husband to pick up eggs. just tell Alexa as you knead the dough for hands-free messaging.
The Eufy Genie, at this time, does not offer any of these services. It is not Bluetooth compatible and cannot call or message- yet. So for now, the edge once again goes to the Echo. Echo Flex is a new model 2019 and one shall check it out comparing to Echo Dot.
Price
When it comes to cost, the Genie and Dot are a draw, but now when you look at value. Both cost under $60 and are just dollars apart, but when you factor in missing features and services, they are worlds apart. From the added vendors you get to Bluetooth and calling, the Dot is the overall better choice and edges out the Genie. The Genie is a solid option, but with the price so close, the Dot is the one to go with. If you look for even better Alexa speakers, check out the comparison between Echo Plus and Echo 2nd Gen head-to-head and detailed report.
Echo Dot or Eufy Genie Verdict
I think it's plain to see from my Amazon Echo Dot Vs. Eufy Genie review that Alexa is still number one. Don't get me wrong, the Genie is a great option, especially if you're on a budget, but the Dot is the better of the 2, in terms of quality and function;  at least for now!

[rwp-review id="0″]