If you are passionate about your tools, then purchasing a new circular saw is an exciting process; but, even the most enthusiastic consumer can get overwhelmed by the research that comes with it. In a world flooded with options, it can be hard to determine which tool is best for your needs. Buying the wrong product will hurt your wallet, and perhaps even more importantly, your work.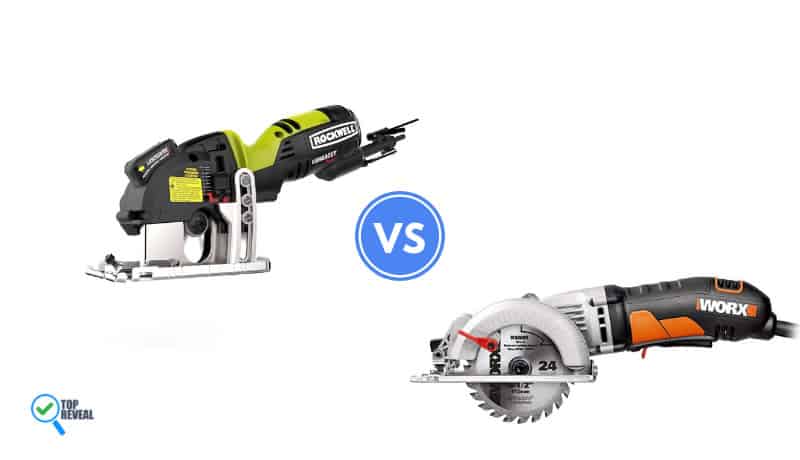 For your shopping convenience and sanity, today we have a comparison between two high-grade circular saws. It's the Rockwell Versacut VS the WORK WORXSAW. Read on to see which is right for your home.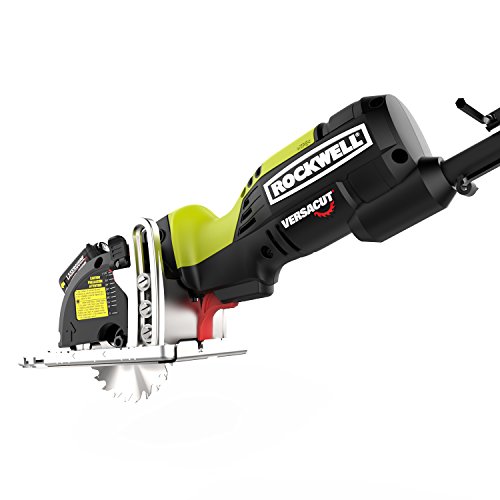 The Versacut is a powerful but compact tool capable of cutting through metal, wood, and plastic with ease. Don't be fooled by the small packaging; all it means is that its compact size only makes it more convenient to operate and transport. Let's take a look at some of its features.
Maneuverability: At only five pounds, roughly half the weight of similar products, this compact saw is easy to maneuver, and transport, but does not sacrifice any power.
Ergonomic: Long hours spent hard at work will cease to be quite so physically punishing, thanks to the ergonomic grip.
Power: The 5-amp motor operates at 3500 rpm, and fully matches the performance of full-sized saws, to make quick work of the woods, metals, and plastics.
Improved Visibility: The Versacut features a left-handed blade design that optimizes your line of sight on the cut line. It also features a dust extraction adapter that keeps you cutting clear time after time.
Laser: The Versacut also features a laser sight line that will help you line up to make the perfect cut.

Though slightly heavier, the WORK WORXSAW is a surprisingly easy to use, powerhouse compact blade whose performance obliterates the expectations that are set by its size. Let's take a look at the WORXSAW's features to get a sense of what it can offer.
Thin Blade: The thin blade of the WORXSAW reduces tool strain for quick speeds and clean cuts.
Tears Through 2 x 4s: This saw will go through 2×4's in a single pass, saving you time and effort.
Adjusts Quickly: This unit features a 0-45 degree range on the bevel setting, making for quick adjustments.
Visibility: Like the Versacut, the WORXSAW is also set for a left-handed blade design that will maximize your visibility to achieve a clear-cut every time.
Vacuum Adapter: The WORXSAW also features a vacuum adapter, great for blowing the dust off the cutting surface, so that nothing interferes with your work.
How are Rockwell Versacut and Dremel Saw Similar?
On the surface, these products seem similar. Both are high functioning compact saws that pack a big punch. Both are designed to optimize visibility and keep your workspace free of dust for clean cuts.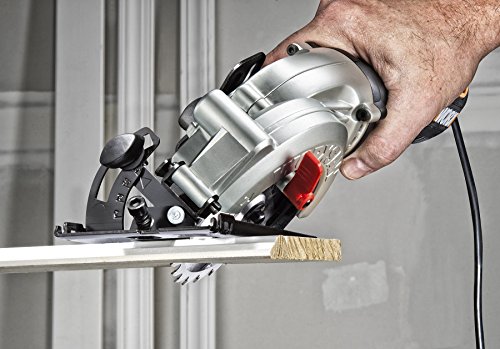 Indeed, when it comes to cutting through 2×4's, most users will find that either tool is perfect for getting the job done, but there are nevertheless subtle distinctions between the two products that could be enough to ultimately influence your buying decision. Read on to see how their differences may affect your needs.
How are Rockwell Versacut versus Dremel Saw Different?
Since your intentions with this product are unique to you, it's important to understand which features best accommodate those plans. Below is a list of differences between the two product's features meant to help you make the best buying decision possible.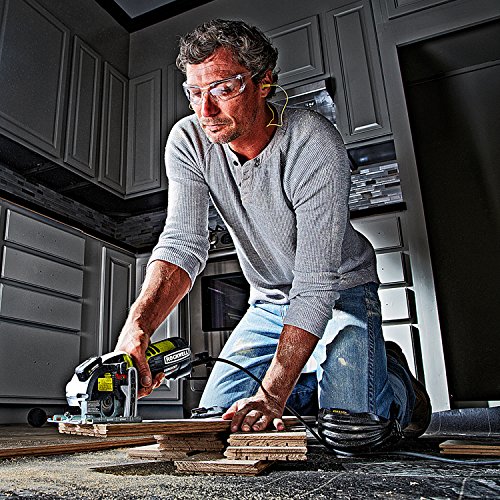 Lightweight: Both products advertise a compact design, but between the two of them, the Rockwell weighs in at about a pound and a half lighter. The small difference won't matter much to most consumers, but those that place a premium on the lightweight design will note that the Rockwell delivers the same amount of power, in a slightly smaller package.
Comfortable Grip: The Rockwell also benefits from a comfortable, ergonomic grip that allows you to operate the saw with just one hand. Users with arthritis, or other grip problems, may find this feature more user-friendly, especially coupled with the lighter weight of this unit.
Pivoting Metal Guard: The Rockwell features a pivoting metal guard that will help you make easier and safer plunge cuts.
Laser Guide: On the Rockwell, there is a laser guide feature that will help you line up consistent and straight cuts. For users that demand top of the line precision in their work, every feature helps.
Depth Gauge: The WORXSAW, on the other hand, features a convenient depth gauge, great for adjusting your settings on the fly.
Price: Both units are relatively affordable when it comes to the circular saw market, but between the two of them, the WORXSAW is the less expensive product. In fact, at full price, the Rockwell can go for almost twice as much as the WORXSAW.

While in this case, the extra money does buy you a few extra features, for consumers on a tighter budget, the discrepancy in price may be enough to make the decision for you.
Verdict and Final Thoughts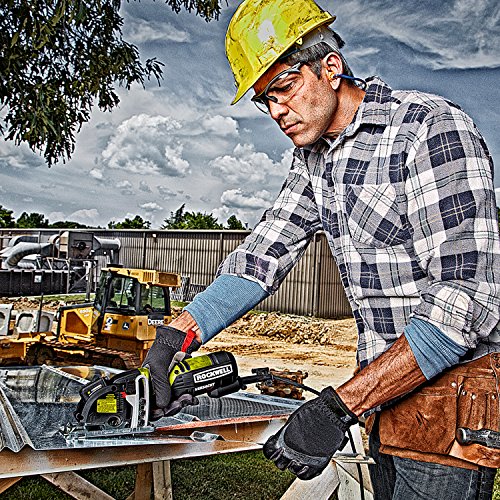 At the end of the day, both are high-quality products that would make reliable additions to your tool collection.  If cost is not much of a concern, you may find that
the Rockwell is the saw for you
. On your longer days at work, you will certainly appreciate the lighter design, and the grip built for comfort.
That being said, buyers hoping to find a bargain will certainly appreciate that the WORXSAW has many of the same features available at such a reduced price. Those who have already bought and used these products are satisfied with their decision, and if you take the time to thoroughly consider which is more suitable for your needs, you will be satisfied with your decision as well.
Hard work gets a little bit easier with the right tools, and in that regard, neither the Rockwell or the WORXSAW will leave you disappointed.
[rwp-review id="0″]