Have you ever watched the show MacGyver?  Remember how he could turn any object into a tool? Good, then you have a pretty good idea of what a rotary tool is like. Considered the Swiss army knives of DIY, their small size and versatility make them the perfect instrument for just about any project.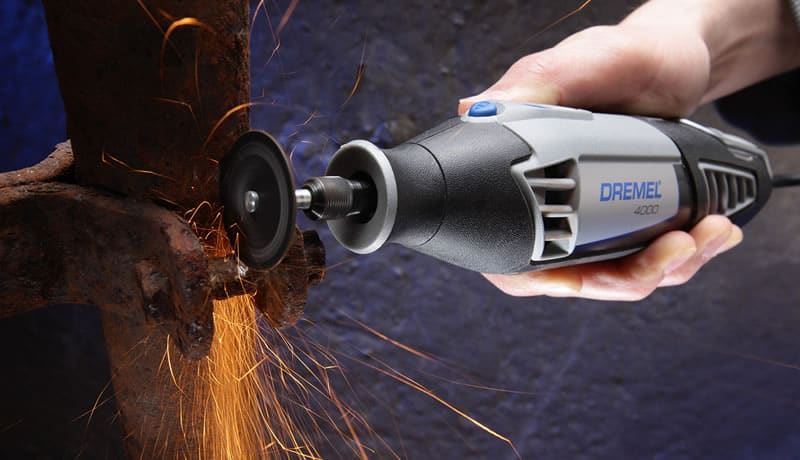 And of all the rotary tools you can choose from, there are 2 that are a cut above the rest. Haha, cut- get it? Anyway, most professionals and DIY'ers swear by the Dremel 3000 and 4000, leaving us to wonder which is better? To find out and help you make the right choice, we did lots of research and testing, and we're going to share our findings with you. We highly recommend Dremel 4000 due to higher power and extra Electronic Feedback feature. Our review of the Dremel 3000 versus 4000 will give you a breakdown of they're features and a side-by-side comparison so you can see which is the right tool for the job.

The Dremel 3000 is the perfect mix of power and effectiveness, with a 1.2 amp motor that can cut through marble, wood, metal and more. Lightweight but sturdy, it comes with 27 accessories to handle jobs big and small and is the top choice of dIY'ers. Personally, I agree because it's a true all-in-one machine and is easy for women and older users to operate.  Let's look at its main features and benefits to see what it has to offer.
Ergonomic design: the soft grip and lightness of the machine make it simple to manipulate so that you can do intricate carvings or cuts in odd spaces with ease. It also makes compatible with those who have a weaker grip, arthritis, or small hands.
Multiple accessories: there are attachments for carving/engraving, cutting, cleaning/polishing, and grinding/sharpening/sanding. Which means you can do anything. Remove rust with a grinding tool or cut through drywall; there's no project you can't handle.
Variable speed control: you can adjust the speed of the machine to match the materials you're using or task you're tackling. After all, if the machine is going too fast to slow, it could burn out the machine, not cut properly, or ruin the material you're using. With this option, you have greater control and can make more detailed carvings and cuts.
EZ Twist Nose Cap Wrench: the built-in nose cap wrench lets you quickly change attachments so that you can switch projects or approaches without a struggle.
Solid carrying case: the case helps you keep all your accessories organized and safe from the elements.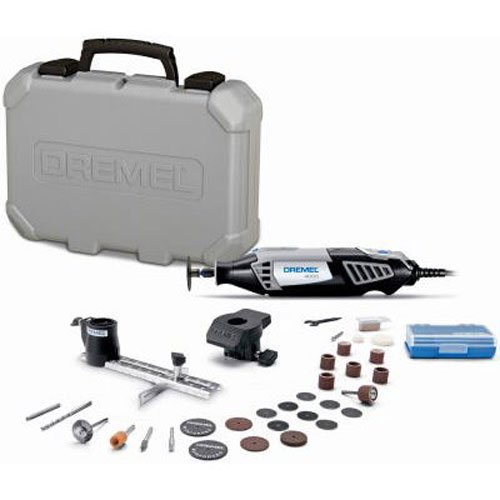 The Dremel 4000 is impressive with a 1.6 amp motor that is strong, yet still easy to control. It's strength and ability to provide real-time electronic feedback make it a must-have for professionals or those who work with delicate or complicated mediums. For me, it has an added layer of control and efficiency that makes it more user-friendly. Even a beginner will have a hard time messing up with this one. Let's look at what it has to offer.
360-degree ergonomic design: the shape of the 4000, combined with the rubberized grips, allow you to hold it at any angle. Grab it from the middle, angle it 90 degrees; however, you need to manipulate it you can, without it slipping or hurting your hand. Want to etch a design into the ceiling corner, or cut a sideways nail? Go for it; the 4000 can more than handle it.
Electronic feedback: the 4000, thanks to strategically placed circuitry, will alert you if you're using too much pressure or speed. Which means no more damaging delicate glass or cutting more than you wanted to.
Separate on/off speed dial with variable speed control: in addition to being able to monitor the speed, there is also a separate on/off dial to control it. The dial is placed, so it won't interfere no matter where or how you grip it while still allowing you to quickly change and adjust speeds.
Compatible with all Dremel accessories: this rotary tool can work with all of Dremel's accessories and attachments, taking it's MacGyver status to a whole other level.
The Dremel 3000 and 4000 Comparison: Cut From the Same Cloth
Looking at these 2 machines, there are a lot of similarities between them, which can make choosing a bit confusing. So, we're going to look at how they're the same, then outline their differences, to make things a bit clearer.  For now, let's focus on their similarities. Both have 27 different attachments so that you can use them in a variety of ways and each has speed control, for greater accuracy when you work.
Besides, both machines are easy to operate and hold, making them a reliable option for users of all ages, strengths, and experience. The grips are comfortable, and both machines are comparably light. Finally, both come with a convenient carrying case and are close in price.
The Dremel 3000 VS 4000: The Devils in the Details
Now that you see all these 2 have in common, it's time to take a closer look at what sets them apart. There are 3 main differences between them, which we'll examine by category to make it easier.
Controls
The 3000 and 4000 both have variable speed control, but the 4000 takes it a step further with a separate on/off speed dial to control it. The ability to switch speeds instantly and without interfering with a project gives the 4000 a distinct advantage. You can speed up or slow down mid cut, elevating designs and finishes to a professional level. Those who do delicate etchings or complicated swirls and woodwork will appreciate the added control.
Electronic Feedback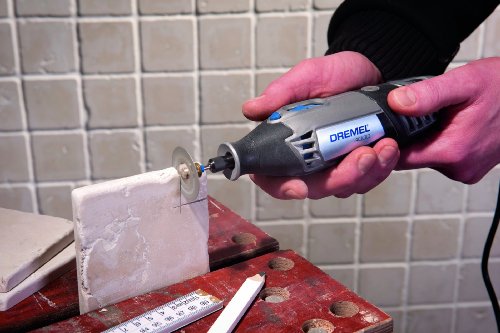 With the 3000 you need to use your judgment when it comes to the right speeds and pressures, which may cause a few mistakes for newbies. The 4000 eliminates this issue by providing electronic feedback as you work. It will let you know when your speed is off or you're grinding too hard, for improved craftsmanship. Makes it more friendly for beginners and gives a higher level of control and manipulation. For instance, if you're new to using a rotary tool and want to buff some old family heirlooms, the feedback function will help you to do it right and not wear out the piece.
Motor Size
The 4000 has a larger motor, 1.6
versus 1.2 on the 3000, giving you greater range in your work. You can work with more materials and mediums without sacrificing comfort since the 4000 is still pretty lightweight. For those who need to cut through dense materials, or want to do bigger projects, the added power will be a big help and eliminate the need for additional tools.
Rotary Tool Basics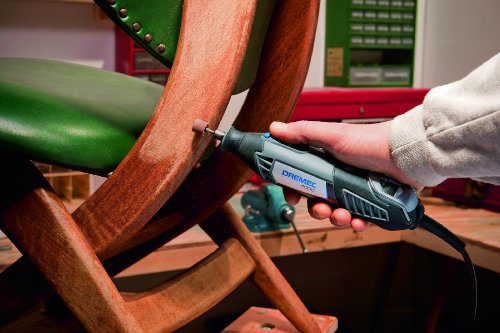 Before we get into our comparison, let's go over what a rotary tool can do. Small but powerful, a rotary tool is a handheld motorized machine that has a wide variety of attachments to perform different jobs. From carving and etching to polishing and cutting, it can cut through various materials and objects, giving users greater flexibility and control. Here is a basic rundown of what this tool can be used for:
A metal cutting attachment can be employed for cutting baseboards, wainscotting, crown molding and more
Polishing attachments can be used to buff doorknobs, faucets, or even jewelry if you're careful
Carbide bits can be attached to engrave or etch on metals
Cutting attachments can saw through wood, plastic, or fiberglass
Rotary Tool DIY Projects
For those planning to buy one of these machines, here is a fun project you can use it on, courtesy of Dremel.
Homework Tool Box
Cute and pretty easy, you can use the Dremel 3000 or 4000 to make this homework organizer. Here's how:
Materials/Tools: Dremel 3000 or 4000; Dremel Saw-Max; various paints, small wood boards, nails, dowel.
Directions:
Start by cutting out the sides and bottom of the kit using the Dremel Saw-Max and the SM500 Wood & Plastic Wheel. You need 5 pieces in all, here are the measurements:• Bottom: 12″ by 4″ • 2 Long Sides: 10 1/2″ by 4 1/2″ • 2 Short Sides: 8″ by 6″.
Next, cut the top corners of the 2 short side pieces at an angle. Draw the angle lines by marking an inch and 1/4′ in from either side on top; make a small mark 4 1/2″ from the bottom. Then, join the top marks to the bottom mark and cut using the SM500 Wood & Plastic Wheel.
When you're done cutting, nail the sides together; you can use wood glue before nailing the sides if you want added support. Then, pre-drill holes for your handle in the top of the side panels using the Dremel 3000 or 4000.
Next, take your dowel and cut it to 12′ to make the handle and attach it. Finally, paint whatever colors you like, and you're all set!
After comparing the Dremel 3000 versus the Dremel 4000, it's pretty clear that both these machines are a great addition to any professional or beginners toolbox. Both models deliver in terms of quality and efficiency, with the 4000 being a slightly better value for your money thanks to its upgraded motor and improved technology.
It comes down to your personal preference and the projects you plan to do. Just know that whichever one you choose, MacGyver is just a show- so choose your projects wisely!
[rwp-review id="0″]