Looking to get into scrolling? Outstanding! Some of the most beautiful works of woodworking art can only be made with a speed scroll. Your choice to join this ancient craft gets us excited and we're happy to help you with one of the first steps to getting yourself on your way to your scrolling goals. Our comparison of the DeWalt DW788 vs the Delta 40-694 speed scroll options should get your ball rolling on what you are looking for most out of your speed scroll. And, best of all, it is our hope that we are leading you right to your next power tool – and possibly your new favorite.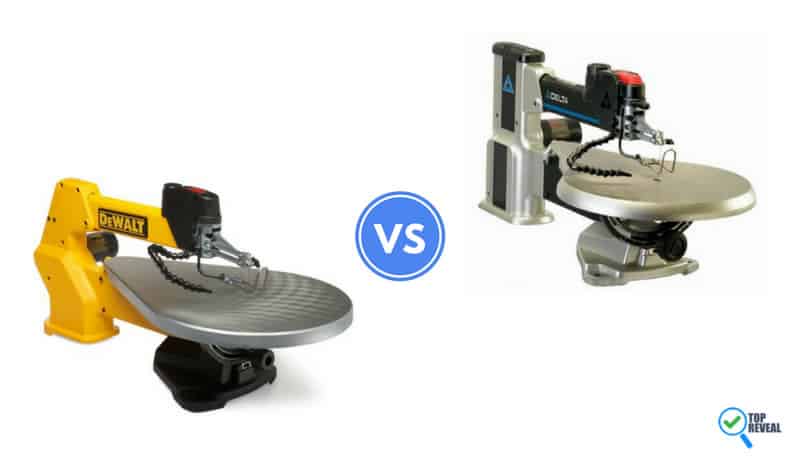 And the Winner Is…
Just in case you don't want to have to wade through all of our reasons why we are choosing one speed scroll over another, we're going to tell you right at the top who our favorite is. Now, it is true that we liked both of these saws. They are both great for getting you to your speed scrolling goals and are awesome tools in their own rights. But we had to choose one, right? So, spoiler alert!
By our estimations, the DeWalt DW788 is the clear victor here. Above all else, we trust what other customers have to say about products and, according to reviews left by those very customers, the DeWalt product is far superior. Not only does the DeWalt possess an Amazon star rating far higher than the Delta scroll saw but the reviews for the DeWalt are also far more positive. Many reviews of the Delta saw show that the product is very often defective on delivery or very shortly thereafter. With power tools, this is something that we don't tolerate well (just as you shouldn't) so we have got to go with the DeWalt DW788 here.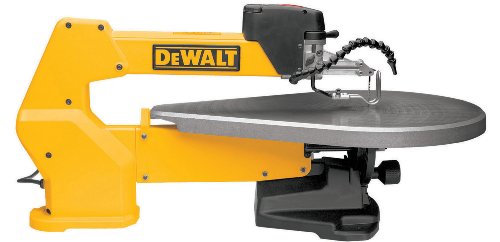 DeWalt is a well trusted brand name in the power tools space – and for good reason. They have been making high quality products for years and the DW788 is no exception to that rule. While there may be other scroll saws on the market, trusting your next scrolling option in the hands of DeWalt would not leave room for any mistakes. It has plenty of outstanding characteristics packed into it that will surely satisfy your needs like:
Conveniently Located Controls: The electronic switches on this machine are all conveniently located right on the front of the upper arm. The on-off switch, variable speed, dust blower, and blade tensioning lever are all easily within reach for both accessibility and safety's sake.
Two Part Parallel-link Arm Design: The engineering of this scroll saw makes it a top of the line contender for your attention. This design makes it really easy to make extremely accurate cuts by dramatically reducing vibration and noise.
Reduced Movement: The arm design also shortens the arm by pivoting the saw from the back to front. Because of this engineering, the whole machine runs smoother and quieter while it is in operation.
Easy Adjustment for Inside Cuts: Of course, you are going to want to be able to make inside cuts with your scroll saw. With this DeWalt machine, this is no problem as the arm lifts so the blade can easily be threaded through your material.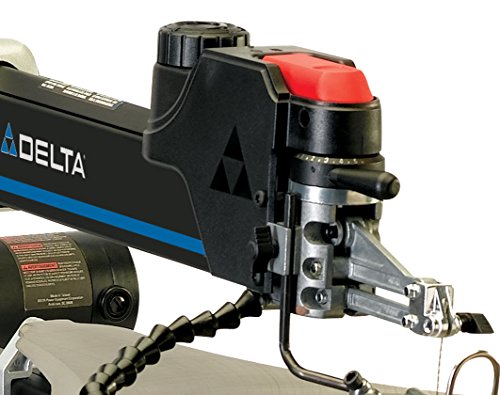 Taking a look at the Delta 40-694, it looks like there are so many great characteristics to this power tool that we can see so much potential for you and your projects. Just imagine the feeling you would have inspecting your newly finished scrolling project and knowing that your Delta was the tool that got it done. You're sure to love this great addition to your workshop because of its features like:
Variable Speed: The electronic variable speed on the motor of this tool goes from 400 – 1750 SPM. This makes it versatile just as well as effective. Providing you with a wide array of cutting applications, you can get a lot out of this scroll saw with just a little effort.
Dual Parallel Link Arm: The design of the arms of this saw make it a perfect choice for your cutting needs. It is specifically made for reducing vibration to improve accuracy and quality as you cut into your projects.
Moveable Upper Arm: The higher extremity of this scroll saw lifts up into a raised position. This makes blade changes and adjusting the blade position for fret work a snap.
Tool Free Blade Changing: The blade clamp doesn't require any outside tools so you can change blades in a quick second. More work on your project, less annoying preparation work.
Tilting Table: This is an interesting addition to this machine for comfort's sake. Whether you prefer scrolling on a perfectly flat surface or prefer to make your cuts at an angle, the Delta tabletop can adjust to your desired angle for maximum effectiveness.
Optional Light and Stand: If you so desire, you can get a model that comes with a light and a stand. If you're looking for convenience for all situations, we certainly recommend getting your hands on both of these options.
DeWalt DW788 vs the Delta 40-694 Comparison
How are they the same?
So what similarities do we see in the matchup of the DeWalt DW788 vs the Delta 40-694 speed scroll? Well, there seem to be quite a few, actually. Both are variable speeds so you can use them for a wide range of projects. Both are engineered for precision due to their designs that reduce noise and vibration.
Both have moveable upper arms that make it so you can feed the saw through your materials for inside cuts. And, to round things, out both seem to provide plenty of precision and reliability for scrolling projects. Not too bad considering that you will be getting one of these saws. Good thing they are both great!
How are they different?
What makes this comparison important, though, is noticing what is different about these two saws. If they were exactly the same, then who would care to compare them?! But no, there are some details between these two machines that make them quite different products. To speak for the most important specifics about these two options, we've got them listed right here:
Tilting Table: Interestingly, this is a point where the Delta machine comes out ahead. If you want to be able to tilt your worktable to the perfect angle for your preferences, you'll need a Delta. This is something that the DeWalt scroll saw simply just cannot do.
Storage: Again, the Delta scroll saw has an edge here. There is a compartment over the top of the base of the machine that makes it easy to store blades. There are two straight blades included in the package and they will be found easily organized into this neat little space.
Customer Satisfaction: Now, this is a difference that cannot be understated and DeWalt wins a clear victory. The DeWalt scroll saw has a 4.5 out of 5-star rating through over 400 Amazon reviews whereas the Delta saw has earned itself a 3.8 out of 5-star rating through just over 100 reviews. That is a difference of almost a full star and, upon further inspection, the reviews of the Delta product are littered with reports of defective products and ill-working machines.
Price: Here, Delta wins in another aspect. The Delta scroll saw can be purchased under $300 where the DeWalt saw is priced higher. While we aren't saying that this is to be expected, our previous entry on this list about Customer Satisfaction might be reflected in the prices of these two saws.
Clearly, there are a lot of things that make these two products very different when it comes to their speed scrolling capabilities. While both are great products, we are going to have to choose one to satisfy your scrolling needs.
Conclusion
While it is somewhat clear that the Delta scroll saw does take the lead over the DeWalt in three easily verifiable and clear ways, it looks a lot to us like the customers who use these tools tell two very different stories. This is something that we take largely into account when we recommend products and truly believe will lead you to the right scroll saw for you.
When we look at these two scroll saws side by side, we feel the DeWalt DW788 has an edge over its competitor. Although it may not have a bit of extra storage or a tilting table, what matters the most is that the saw itself actually works. According to the reviews of these two products, it looks like the DeWalt DW788 has to win in this regard. The cutting ability and the reliability are the most important parts of a saw and DeWalt wins in both of these categories. So, in the battle of the DeWalt DW788 vs the Delta 40-694 speed scroll, it looks like DeWalt is our choice.
[rwp-review id="0″]