If you're a woodworker, a jewelry maker, hobbyist or just creative with carvings, a scroll saw is a smart investment. A scroll saw makes me think of the sewing machine…it's a machine that isn't very pretty but it sure can make some truly beautiful things. Do you want to make beautiful things? If so, you've come to the right place because our review of the Best Scroll Saws will help you find the right machine for you and the projects you plan to do.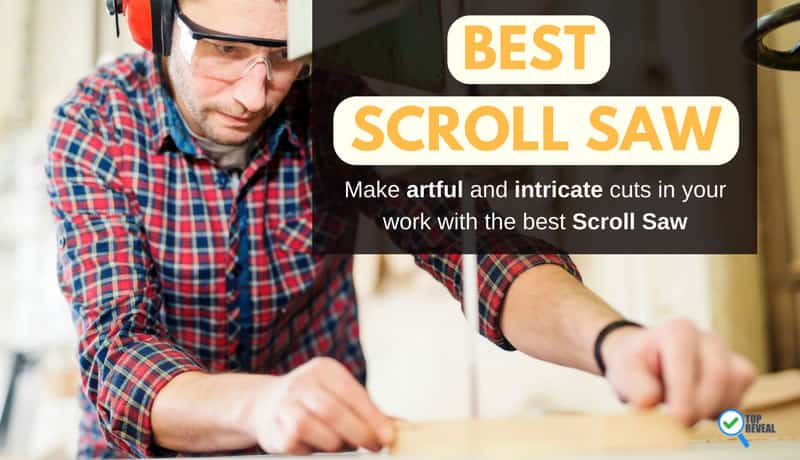 What is a Scroll Saw and How Does It Work?
A scroll saw is a pedal-operated or electric saw that is capable of making creative cuts like curves with edges for a myriad of designs, including vines, spirals and more. It is used when a jigsaw or coping saw isn't a good fit for a project; the blades of a scroll saw are similar to those of a coping saw.
There are different types of scroll saws but the most common is the parallel, which has a motor attached near the back of the arms and the two arms are always parallel to each other. They are classified according to their throat size, which is the distance from the blade to the rear frame and the blades are typically five inches long and made in different weights with ones that are as thin as a hair.
5 Top-Rated Scroll Saws (2022) – Which One is the Best?
Top Scroll Saw Comparison Table
The following five scroll saws have been selected for review to help you select one that you will want to take home and get busy making some beautiful things.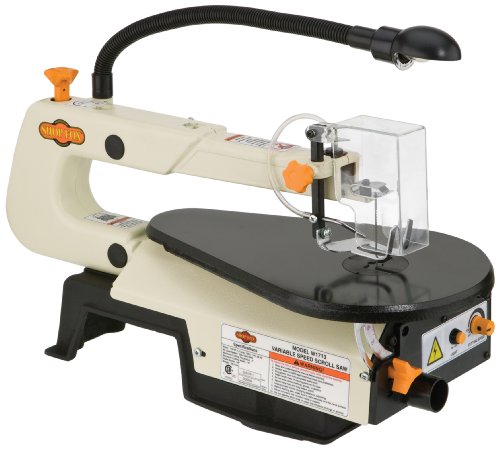 The Shop Fox W1713 has features that most users rave about, including a cast iron construction, extra cutting capacity, and a variable speed control. You get two-way dust control, consisting of a dust blower that blows air at the cutting location to keep debris away and 1-1/4 inch dust port that can be connected to a shop vacuum to keep debris from accumulating. And it also has a gooseneck work light to see your work better while working with a large 45 degrees tilt table.
Easy Controls
The lock knob and tilt scale are for tilting the table to make horizontal angle cuts and you can make easy blade changes with the W1713 since it accepts standard plain or pin-end saw blades. Also, an adjustable hold-down shoe keeps the piece you're working with from rising up while the air nozzle blows air to keep wood debris away.
Quality Design
Some specifications include a maximum cutting thickness of 2 inches and maximum cutting width is 16 inches. The blade stroke is a ¾ inch, with a no-load speed of 550-1650 SPM, with a 1/8 HP, 1.2 Amp, 120V single-phase 60 HZ. The weight of the machine is 31 pounds. This scroll saw is even safer if you attach a footswitch pedal so you and stop and go while having both hands on the workpiece.
According to most reviews, the Fox W1713 is an excellent saw. It cuts one inch green Southern Yellow Pine, Maple and Oak easily and makes very straight cuts and tight rounded corners without needing to make relief cuts. It also has sufficient power to cut hardwoods at any speed. One customer said that he has a friend who uses a more expensive saw and was amazed at how well this one handled several cuts. Many customers were pleased with how well it worked for such a reasonable price.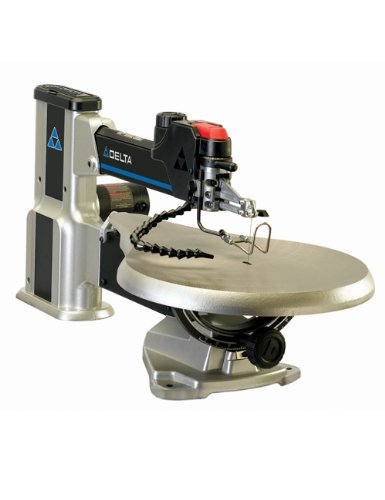 The Delta 40-694 has variable speeds you can adjust for several cutting applications, from 400-1750 SPM. Designed for convenience and precision, it gives you a level of control other machines
Excellent Control
It has a unique dual parallel-link arm that is great at reducing vibration and keeping the blade perpendicular to the working surface. This reduces over or undercutting to a dramatic degree that will improve the precision and value of your work. Also, when you change a blade, the upper arm can be locked even in a raised position; this allows for instant adjustments and the blades can be changed instantly with the help of the blade clamp, which requires no tools.
Quick Adjustments
The tool-free blade tensioning allows for quick adjustment of the blade to the proper tension, which will help you make accurate cuts and makes the blades last longer. And it has a large cast-iron tilt table, measuring 16 inches by 24 inches, that is adjustable from zero to 45 degrees left or right for working at the perfect angle.
There's an adjustable dust hose that blows the debris clear from the work surface, along with an on-tool blade storage that provides neat and organized protection of your scroll saw blades; it also includes two straight blades.
The Delta 40-694 reviews were mixed giving it 4 out of 5-star rating. Customers loved the saw because it never broke a blade and was very accurate with the ability to cut any kind of wood but many had issues with it arriving with broken pieces and then not be able to contact customer service.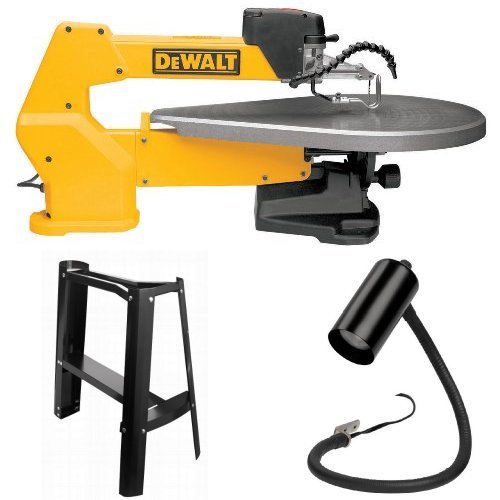 The DeWalt DW788 is the most coveted scroll saw on the market today.  It has a double parallel-link arm design so that vibrations and noise are dramatically reduced and is used mostly for moderately styled cutting by hobbyists and semi-professionals.
Instant Access
One of the best features of this saw is that you can set it up instantly and use it immediately since it doesn't have too many inserts. The simple, effective design makes for improved performance and time management.
Multiple Angles
This scroll saw has a movable top arm that allows you to easily get your project on and off the table plus it has the flexibility of moving your project to get the right angle, up to 45 degrees to the left or right.
Blade Efficiency
Your wood will not burn when cutting slowly since the forward and rear blades do not move, giving you a very sturdy and accurate workspace; The DW788 is also quiet and has very strong bearings, making the machine heavy but ensuring very little vibration even at full strength. It has an on and off switch, a flexible dust blower, and a blade-tensioning lever that are located on the front upper arm for easy access. The arm also lifts to allow the blade to make inside cuts.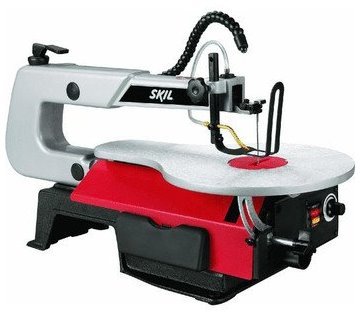 This scroll saw has the right features for woodworkers from beginning to intermediate level of making intricate cuts and patterns. The Skil 16 has a 16 inch by 10-inch work table that will tilt 45 degrees for precise cuts and has an articulating LED work light to ensure the user can see the workpiece clearly.
Complex Designs
It operates with electronic variable speed control that helps in cutting a variety of materials and has a 16-inch throat for cutting thicker pieces. There's also an integrated dust removal system that keeps debris off the table and a 1-1/2 inch dust port that keeps work area clear of dust.
Convenient Storage/Blade Changes
Two blades come with it and they can be kept in the storage area where you can keep blades handy. Speaking of which, changing the blades is keyless and easy to do, with many customers who were new to woodworking noting how impressed they were with how easy it was. Other customers complained of vibrations of the light and table at higher speeds and that the light wasn't very bright. It was noted that it works better with pin blades than with pinless blades. Its rating is 3.8 stars out of 5 stars.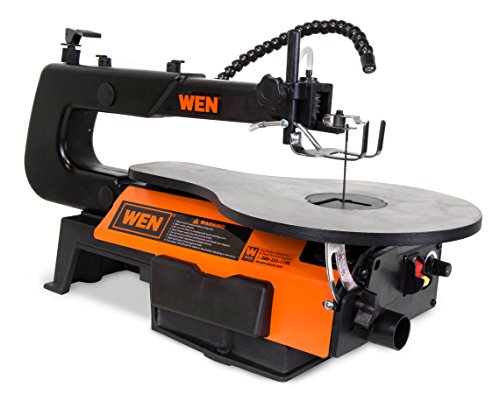 The WEN 3920 scroll saw has a lot of happy customers who have found it to be very user-friendly with blade changing a breeze. Many would recommend it to a beginner as well as the experienced user.
I thought one happy customer summed it up bets when they said what a great scroll saw the Wen is when he said that you would become good friends with this scroll saw and spend many hours making sawdust with an end result of beautiful woodworkings.
Benefits and Uses of a Scroll Saw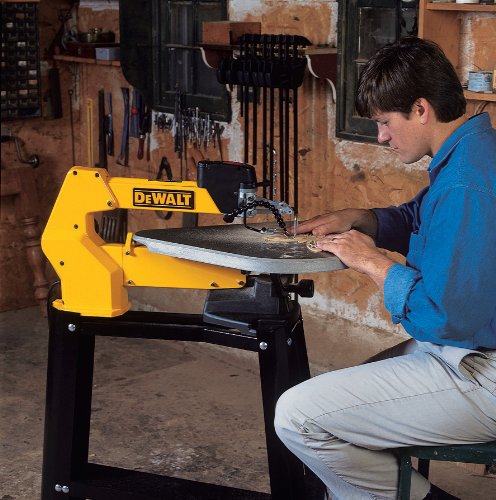 The scroll saw is a power tool that focuses on finesse. Mostly, this tool is used to to cut fine curves on your work piece. In that capacity, it functions similarly to a bandsaw though the scroll saw provides a much more desirable degree of control.
The scroll saw is also going to allow you to make very detailed interior cuts, which is what makes it such a unique piece of equipment.
Because of the way that the scroll saw functions, you can use it to perform a pretty wide range of projects including etchings, and decorative pieces like intricate frames or other wall hangings.
The major benefit of using a scroll saw is that the fineness of the width and the tooth count of a scroll's blade lets you do more intricate curves than a narrow gauge band-saw blade. In addition, there are other benefits to using this versatile machine, including:
A scroll saw uses a reciprocating blade (push-n-pull motion) instead of a continuous loop and is similar to a band saw and a coping saw.
The various speeds enable finer control when cutting delicate materials, such as dovetail joints.
It reduces how many other tools are needed for certain creative projects.
It increases the accuracy of your cuts and speeds up the time to complete a project.
DIY Projects using a Scroll Saw
Now that you have seen a few awesome scroll saws and you know what they can do, let's take a look at few projects that you can use your exciting new tool on.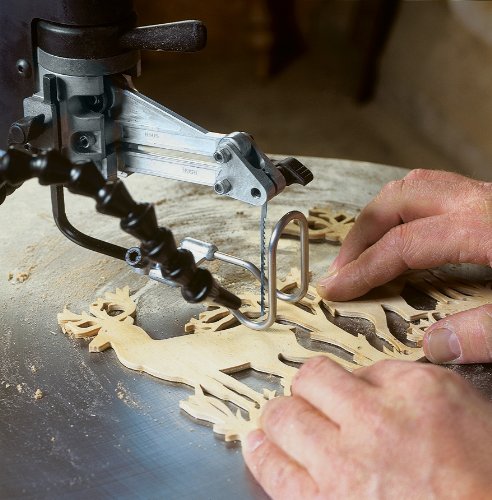 A Cool Coaster
The scroll saw is a power tool that focuses on finesse. Mostly, this tool is used to to cut fine curves on your work piece. In that capacity, it functions similarly to a bandsaw though the scroll saw provides a much more desirable degree of control.
The scroll saw is also going to allow you to make very detailed interior cuts, which is what makes it such a unique piece of equipment.
Because of the way that the scroll saw functions, you can use it to perform a pretty wide range of projects including etchings, and decorative pieces like intricate frames or other wall hangings.
If you are new to scrolling, you might want to start out with a fairly basic and inexpensive project so that you can gain a little bit of experience and confidence. Making some unique, personalized coasters is a really easy way to start your scrolling career on a project that will eventually become a part of your home.
For the purposes of this example, we will assume that you already have a precut workpiece. The ideal dimensions for a project of this nature are about 3 ¾' x 3 ¾' x 1/8′.
Many more experienced scrollers may make use of intricate patterns to imprint special, unique designs on their workpiece. While you are undoubtedly going to want to take part in this eventually, to start out, you don't necessarily need to. To get started you could do something as simple as tracing a leave from your backyard.
If you do decide you would like to use a pattern, you are going to need to apply it to the workpiece before you start. To accomplish this, you can use a spray adhesive to fix the pattern to the workpiece, then simply apply your saw to the wood. The paper should subsequently peel off afterward without much effort.
After that, simply apply the scroll saw to the pattern until completion. And that's it! The more you practice, the better your scrolling will turn out!
Shared via scrollsaw.com.
Word Art
Word art is a great, classy way to decorate your home, and it will be a particularly prized piece of home décor if you made the piece yourself.
In order to do this project you are going to need a workpiece with dimensions of 11 inches high by 24 inches wide.
After getting your workpiece, the first thing that you will want to do is find and print a template online. In this case the template will be whatever word you want to create. You will then apply that template via transfer paper using the same technique that you used for the last project.
Once you have transferred the template over to the workpiece, you will begin rounding out the edges with your scroll saw. When you get to inside cuts, you will need to drill a hole in the workpiece that is large enough to allow you to thread your scroll saw through.
Once your word has fully taken shape, you may want to smooth it out a little bit with sandpaper. And that's it!
Reference from https://dreamingindiy.com.
Maintenance and Safety
Maintenance on a scroll saw consists of regularly lubricating it and making sure the blade area is clear of debris. The scroll saw is actually one of the safest tools you can use, but the following precautions should be taken to avoid accidents.
You should also read the safety instructions of the owner's manual.
Secure the scroll saw to a workbench or tabletop for more precise cuts in a well-lit room
You should wear safety glasses with side shields, a dust mask, and hearing protection
Do not wear loose fitting clothing or have anything on that hangs down like jewelry and tie back hair that is long and may get caught in the blade
Make sure the saw's power is off when changing blade or making any adjustments
Do not reach under the table while the machine is running
Be sure to clear the table surface of debris before starting to saw any piece and make sure there is no one standing closer than two feet away
Always insert blades with the teeth pointing forward down the table of the saw and maintain the proper blade tension
Be sure that the blade you plan on using is the proper type for the project and speed (softer wood like maple and poplar can handle faster speeds)
After cutting, make sure the blade is backed out carefully so you don't accidentally make cuts and so the blade doesn't get damaged.
I hope my review of the Best Scroll Saws helps you find the perfect machine for your projects. Scroll saws are safe and efficient, helping you to create beautiful projects easily, whether you're a beginner or an expert craftsman. We highly recommend Shop Fox W1713 Variable-Speed Scroll Saw for reasons. It's beauty, much like the art it helps create, lies within, and will be a great addition to your home or business tool box.
[rwp_box id="0″]