If you're still using a manual saw for your cuts, it's time to upgrade. If you want a serious, quality cut we've got the right circular saws here for you. A couple of the best in the game are the Rockwell Compact Circular Saw and the WORX WORXSAW Compact Circular Saw. Since these are the couple of the best around, we have put together a comparison article right here so that you can understand how the two stack up. Here you have it: the Rockwell vs. the WORX.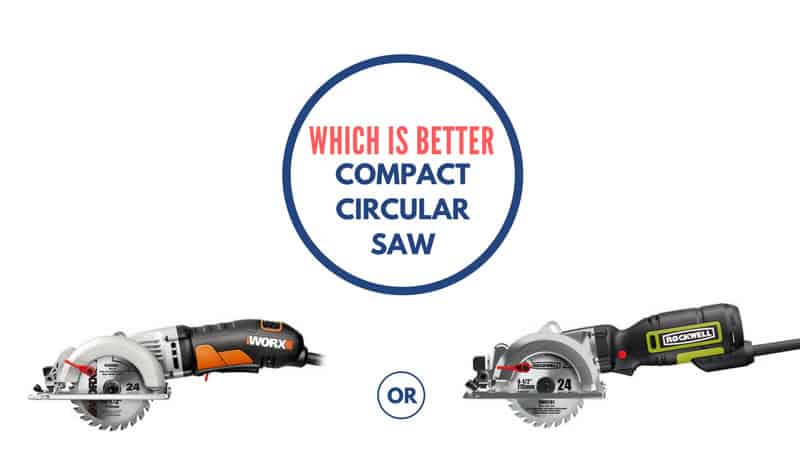 Spoiler Alert: Rockwell Wins
Just in case you aren't much of a reader, we'll tell you right here at the top that the Rockwell saw is the better product. While the WORX compact saw is a worthy opponent, the features that the Rockwell saw have are difficult to match. The Rockwell saw provides a better value despite its higher price point by being lighter, sturdier, and more maneuverable than the WORXSAW.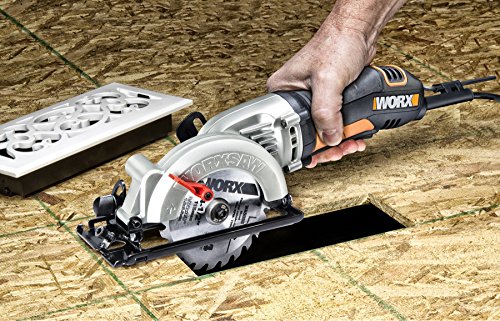 WORX has managed to manufacture a quality circular saw in their own right. This saw is enjoyed by those who own it because of its great features like:
Cut 2×4's in One Pass: This saw is great for cutting those all too common 2×4's with ease. It maneuvers easily for a precise cut on all sorts of other dimensions of wood, too.
Weighs Just 5.3 Pounds: We all know how physically taxing cutting a ton of wood can be. With this in mind, WORX has created a light saw that won't tire you out too quickly during a long day of work.
Left-Sided Blade: Since most of us are right handed, WORX has placed the blade on this saw on the left side. This means great visibility for your cuts as well as more comfort, balance, and control.
Simple Adjustments: This saw has a depth gauge lever and 0 to 45 degree bevel settings that give you versatility over your cuts. A saw can be good for simply cutting things in half but can also be used for a little more variety, too.
Thin Blade for Less Tool Strain: Even though this saw is built smaller than the rest, it still performs just as well. Expect excellent cutting speed and performance from this saw.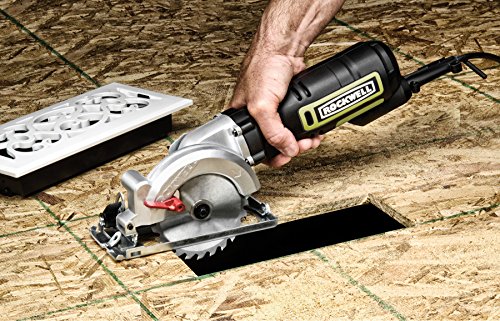 This circular saw from Rockwell is a strong competitor for the best compact circular saw on the market. This product boasts many great features like:
Weighs Five Pounds: This unit is perhaps one of the smallest that you could stand to find today without sacrificing power. You can lighten your load without losing effectiveness with this particular saw.
5 Amp Electric Motor: This compact motor brings full-size performance at 3500 rpm. This is plenty enough power to get through even a 2×4.
High Visibility Design: I think we can all agree that being able to see what you are cutting is a good thing. Thankfully, this saw is built with its blade on the left so that you can easily view your work.
Comfortable Grip Design: This saw is designed with balance, comfort, and control in mind. It is easily maneuverable and great for overhead cuts.
Adjustable Cutting Depth and Bevel capacity: This saw does more than simply cut 2x4s. You can change the depth with which you cut as well as adjust the bevel.
Similarities of These Saws
The similarities of the two saws we have here are numerous. They are the same because of things like:
Compact Size: The shortened size of these two saws make them both easier for maneuvering around your workspace. This helps you be able to work for longer as since they are so small.
Bevel Adjusting: You'll be able to make interesting angled cuts with either of these saws. This could be the difference between a simple or extremely difficult cut.
Left-side Blade: Both of these saws make it easy to see your work since the saw is on the same side of the motor as your eyes.
Rockwell vs. The WORX  – What are the Difference?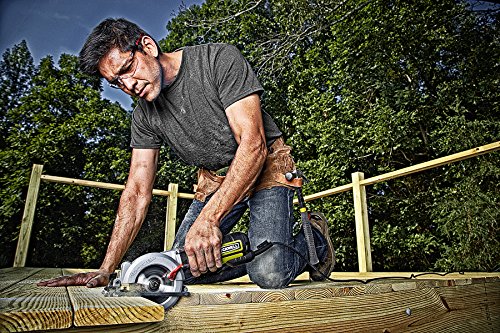 Comparing these two saws, it is important to note the difference between the two. In order to cater to your personal preferences, you must pay attention to differences like:
Handle Angle: The angles that these saws are at as far as the handle goes are slightly different. The difference is small visually but could create an entirely different feel for you as you use your tool. The Rockwell saw's handle is a bit more angled away from the face of the saw while the WORX saw's handle is a bit more in line with the surface you will be cutting.
Handle Thickness: Again, another major difference is how the saw feels in your hand. The Rockwell's handle is a bit thicker, giving you a sturdier feel while the WORX saw is bit thinner. This difference contributes to your comfort with the tool and may make the difference between you enjoying your new toy and wanting to send it back to the store.
Price: Since these saws are quite similar, the price may make a difference to you. The WORX saw is cheaper while the Rockwell saw is under $80. You'll be getting a similar product with the WORX edition but may get more out of the Rockwell.
Compact Circular Saw Buying Guide
Benefits of Having a Handheld Circular Saw
The benefits of having a handheld circular saw are numerous. Of course, you can cut a far greater amount of wood with a circular saw as opposed to a manual saw and you'll be able to do so much quicker. This makes it possible to attempt larger projects. But the handheld ability of smaller circular saws provide a ton of versatility that can save you even more time.
Instead of having to move wood every time you want to make a cut, you can simply move your saw, letting you move more fluidly throughout your work. In this way, you will be able to cut larger amounts of wood at faster rates.
Buyer's Considerations – What to Consider When Buying a Compact Circular Saw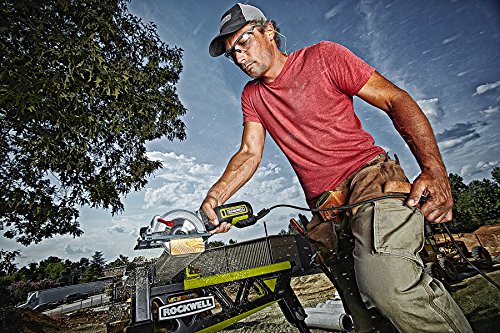 A few things you should think about when you go to buy your own saw is:
Blade Thickness: The relative thick or thinness of the blade on the saw that you get matters. A thinner blade provides an easier cut at the expense of a little less durability. A thicker blade is sturdier but can be more obtrusive while you cut.
Durability: It is always a good idea to check around customer ratings for reports about how durable a power tool is. Some power tools suffer from fatal flaws that break down often despite careful craftsmanship.
Price: As with the purchase of practically anything, money talks. With power tools, most craftsmen swear that you get what you pay for. However, we don't recommend breaking the bank just to get the sweetest handheld circular saw that you can.
Different Types of Circular Saws
As we alluded to two sections prior, there are different types of circular saws that afford different capabilities and features. The two we will focus on here are the compact circular saws we have been talking about and the larger 7 1/4" versions that are also available.
The saws we have listed here comparing the Rockwell versus WORX are compact circular saws. These saws are meant for high maneuverability so that you can bounce around your workspace making cuts with ease. They usually boast close to the same amount of power as their larger brethren but may not feel as stable while cutting do to their smaller stature. Since they are lighter, they'll help you stay fresh through a longer workday.
Alternatively, you could be looking for a 7 1/4' circular saw for a heavier experience. These saws are the traditional, powerful circular saws that you may find more commonly. These saws are more stable, more forceful versions of the types of saws we are talking about here. However, this comes at the price of being bulkier and heavier.
The Verdict
As we mentioned before, the Rockwell saw is the clear winner here. Rockwell's saw has been received more highly by customers and boasts more useful features than the WORX circular saw. While the WORX saw may provide a pleasant experience for some woodworkers, Rockwell's Compact Circular Saw is certain to help you create the perfect project sooner and more effectively.
[rwp-review id="0″]