If you are a new homeowner, or a person who just wants a new look for your place, then knowing how to organize your home is a necessary skill! Putting everything in order, or making the best use of a space, gives a house a neat, fresh feel that is inviting to your family and others. It makes it easier to clean, makes things easier to find, and just makes life in general easier for you.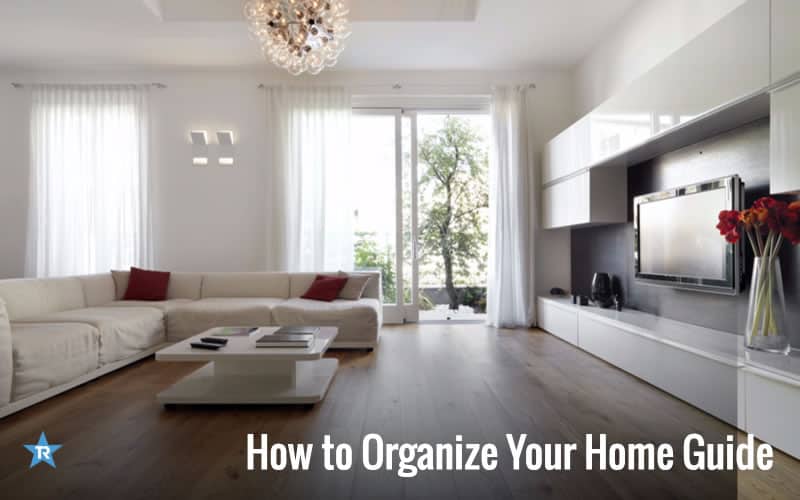 There are a lot of ways to organize your home, and we're going to help you figure out what works best. Our tips will make organizing a snap, leaving you with a home that is comfy, cozy, and clean!
Where to Start When Organizing Your Home
There are two areas in your home that you should give special attention when organizing: your bedroom and general living areas. These two areas are where your family stays most of the time, so it's important to have them arranged in a logical fashion.
The main purpose of organizing a room, or house, is to make it neat, and ensure everything is where it needs to be. No scrambling to find the remote or rummaging through draws for tax papers. Plus, it looks more appealing. think about it: these days, modern interior designs, featuring minimalist stylings, are all the rage. That's because they give a space an open, airy feel that is crisp, yet warm. If you organize the things in your home, here are the benefits you'll get:
More room for you to move around your house
More space for future additions of furniture
You can find things (especially small items) quickly
You can avoid hazards such as getting injured
Your home is less susceptible to fire and unwanted explosions
Easier to keep clean
Here are some tips on how to organize your home:
Bedroom
Arranging Documents
There are a lot of papers and documents you bring home from your office or school. And let's face it, they usually end up in a growing pile on a dresser or side table.
To stop that from happening, have organizers, or a filing cabinet, to keep documents in place. This keeps them out of sight, and also makes it easier for you to find a paper when you need it. And go through your papers before filing them to get rid of the ones you don't need.
Closets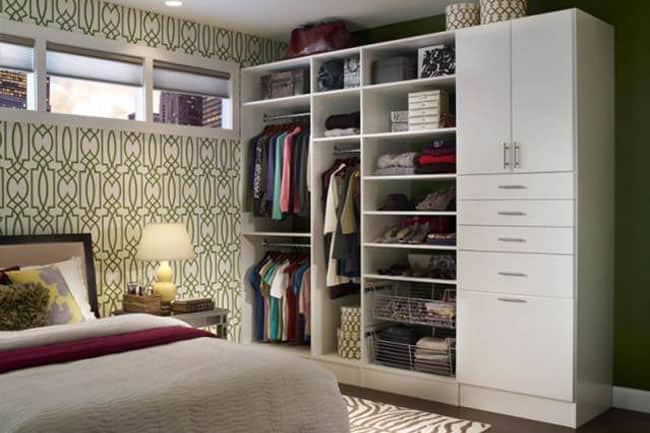 Shared vis Closet Maid
You can fully organized your closet by inserting several bins.
If you have a builder-grade shelf, you can use them to as a storage for your cleaning tools such as your broom. Just by several S-hooks and it is good to go!
Save more space in your closet by installing a double-hang closet rod. If your closet has a wide vertical space, this trick works!
You can use pool noodles to keep your boots in standing position. To do this, you have to cut the pool noodles into quarters using a serrated knife.
Attach pipe cleaners in the ends of your hanger to avoid annoying clothes slippage.
School Items Separation
Some people love to keep their kids old school books and papers for memories. Heck, some even keep their own, as a memory of their younger days. While it's great to have them, they can make things messy and take up valuable face. To solve this problem, dedicate different compartments for these items, ideally in a closet or attic space.
Un-wrangling your Wires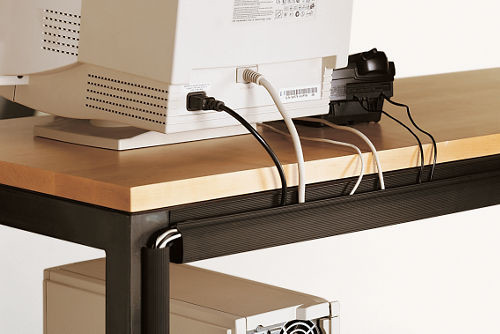 If you have several devices in your bedroom, like a computer, TV set, and cable box, dealing with wires is a constant problem (and a big pet peeve of mine). To solve this pesky issue, try acquiring camouflage power strips, adapters, and cable management boxes. These things can keep your wires from looping like spaghetti and make a space look as neat as a pin.
Phone Accessories and Charges
Use a large basket as storage for your phone chargers and other mobile accessories. Also, you can use binding clips to prevent the wires from convoluting and entangling with each other.
You should do this for your headsets. In this way, you can save your time from finding these accessories. All of us know how fast these things can get lost in our bedrooms.
Arranging your Children's Room
Using different containers and storage systems is the simplest, most effective way to organize all of your kids things. Dedicate different size bins and boxes for their toys and other belongings, so they are easier to find. This will prevent the kids from dumping toys all over and give them more space to play. You can also use bins for excess clothing and to put laundry away.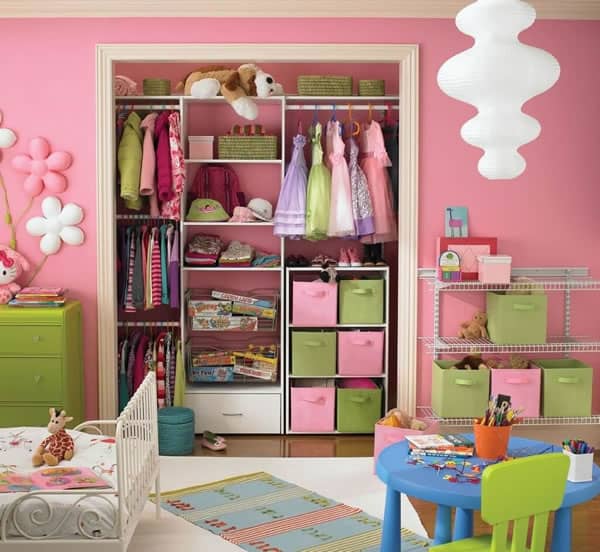 Shared via Elja Home
Quick tip:  install shoe-bags to stuff small toys, like dolls.
To make cleaning your children's room quick, let your kids join you. Let them arrange their beds and put away they dirty clothes in a bin. In this way, you can teach them how to be responsible enough to deal with their own mess!
Other Children's Room Organizing Tips
1. All those leftover crayons and other coloring materials can be stored in a candy jar. They look great as a decoration!
2. A utility cart, like Raskog, can organize the craft items of your children.
3. Reserve a space in their wall for an "Art Wall." This could save your refrigerator from being flooded by your children's artworks.
General Living Areas
Keeping Your Entry Points Clean
If you get a lot of mail, or newspapers, then you should dedicate a box for them near your door or gate. This way, you can easily access them without having them on your counters and tables. Also, consider installing a perch for your house and car keys.

Shared via Amazon
For your coats, hats, scarves, and mittens, you can arrange them by using fabric bins on your top shelves. And you should have a shoe rack for your boots and other footwear.
If you find this arrangement too crowded, you can seal away all of your off-season items in a garment bag.
Home and Study Station

Shared via Baby Center
In your house, it is important to have a dedicated space where you can work or your children can study. This gives you a clean space to work and eliminates any possible mess that you create while doing your work.
It is also a good space-saving mechanism to keep everything in place.
Removing Paper Clutters
1. Segregate the important documents from those that have no use already.
2. Create a compartment in where you can store these papers based on their category (e.g. office documents, medical records, academic materials)
3. When disposing paper, it is ideal to use a paper shredder to save space in your trash bin.
Drawer Knobs as Storage
Aside from hooks, you can always use the knobs in your drawer to hang your garments, umbrella, small bags, and other embellishments. This way, you can keep the entry points of your house free from being cluttered.
Pegboard to organize your Shoes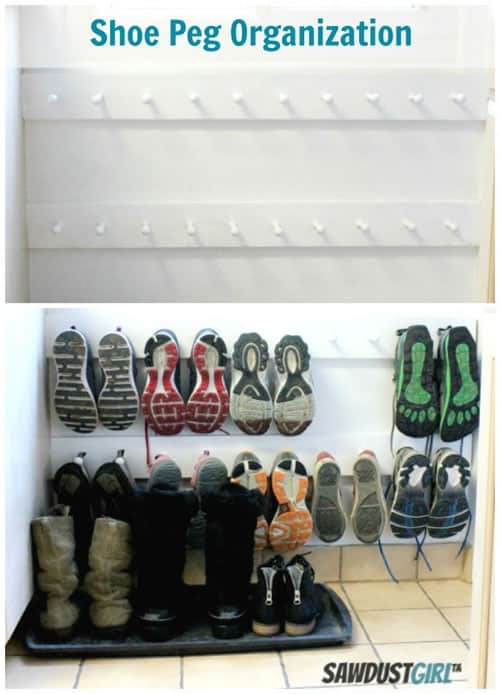 Shared via Saw Dust Girl 
If your shoe rack is full already, you can opt to install a peg board as an alternative. It can also save space since you will be just hanging it in a wall or closet.
Sports equipment
Most of us have an athletic family member. Although we love sports and their enthusiasm for them, the mess they leave after playing a game still annoys us. To keep their gear in check, you should acquire a sports equipment organizer. Also don't hurt to steam clean your tools after usage.
Laundries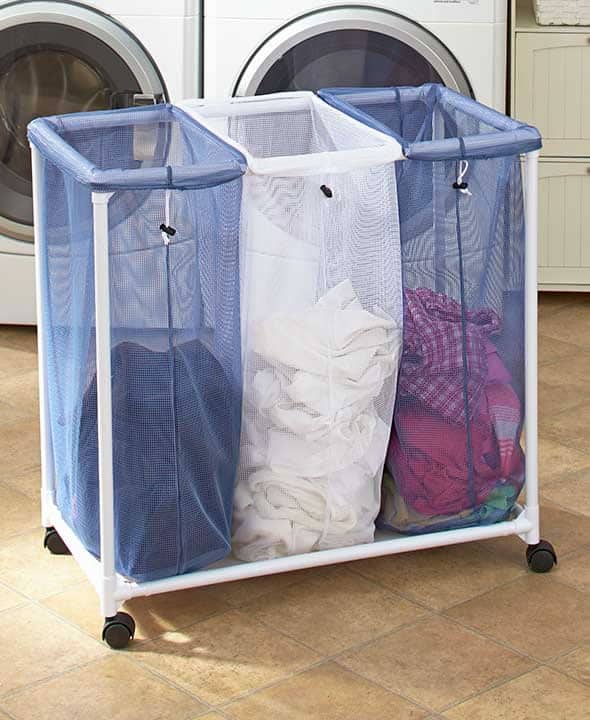 Shared via LTD Commodities
Sorting out the laundry can consume a lot of our time. To save you from this trouble, dedicate one colored laundry bag to each family member.
Conclusion
There is a necessity for you to learn how to organize your home. Doing this ensures you won't misplace any of your things and your house  won't be susceptible to dirt and bacteria.
If you have a big family, then you should organize your home regularly. Day by day, each of your family members does stuff that disorients the arrangement of your home. By maintaining order once in every two weeks is fine, you can makes sure messes are kept to a minimum.
And as a suggestion, why not teach these tips to your family members as well? After all, it is fun cleaning when it is done altogether!
Do you have any comments, questions, and suggestions? Ask us! We love to hear from you!