Each Christmas, serious house-decorators wonder how they can improve their display. For this, dynamics are key. Lights can be used for a variety of purposes, from trees to pathways to illuminating life-sized nutcrackers. To create a unique, beautiful light display, all you need is a bit of skill and a lot of creativity.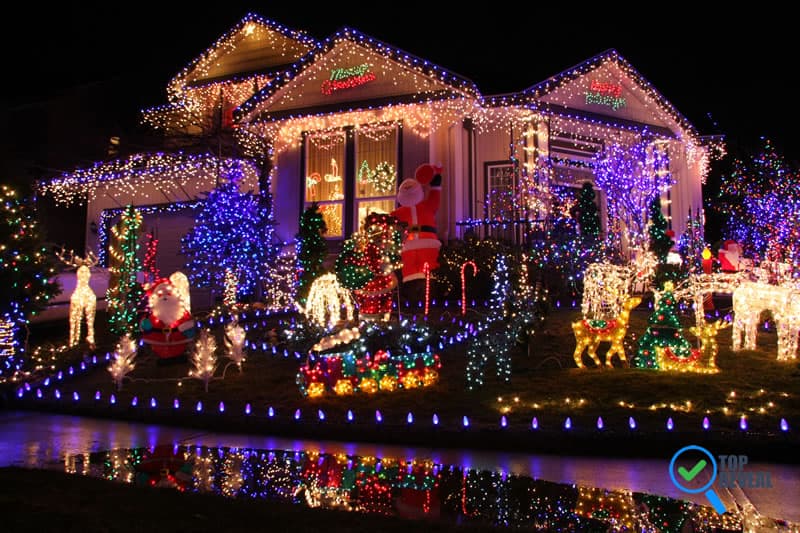 The following are some of the most cool, cute, pretty and unusual outdoor Christmas light ideas out there.
1. Use Candy Lights to Create Your Own Candyland

Oh Happy Day
These homemade candy lights look very realistic and adorable. They are perfect for a Candyland theme. Fortunately, you can make them yourself at home with a few basic supplies, including cellophane.
2. These Candy Garland Lights Look Good Enough to Eat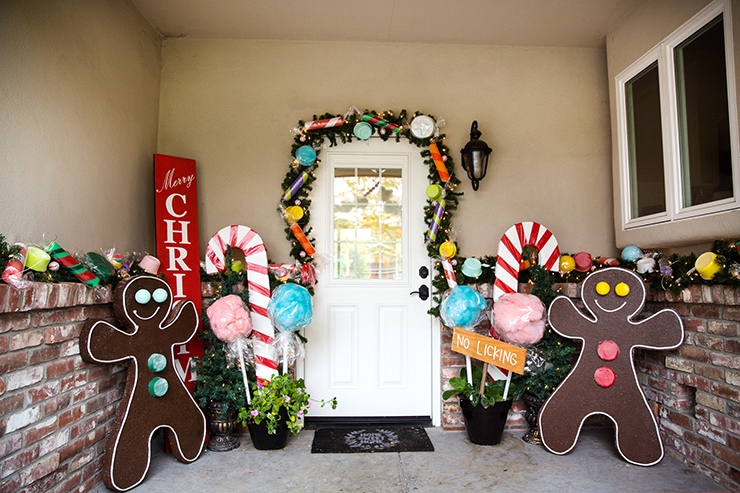 The Sits Girls
With DIY candy garlands, you can create your gingerbread outdoor light idea. You can use these to adorn doorways, pillars, and the like. The result? A fanciful house that looks like Hansel and Gretal might stop by.
3. Try Magical and Cozy Holiday Globe Lights

thegardenglove.com
You may be after a good old-fashioned outdoor light idea. Not only are rustic-style lights full of charm, they are also especially simple to design.
4. Enchant With Festive Ice Luminarias With Twinkle Lights

BNG
Pair these outdoor Ice Liminarias with twinkle lights or candles to create a glowing, nature-inspired light display. You can incorporate leaves, pine cones, and other seasonal items that are perfect for Christmas-time.
5. Mickey Mouse Can Spread Some Cheer

Source
Mickey Mouse is popular all over the world. This makes for an outdoor light theme that you and your neighbors are sure to enjoy. Place lit-up Mickey Mouse wreaths wherever you please.
6. Use the Force to Decorate

desertchica.com
Looking for a really unique outdoor light idea? Consider these Light Saber Christmas Lights. You can hang these in trees, on the edges of your home, or wherever you desire. This is one theme that Star Wars fans will certainly love.
7. Wooden Snowflake Lights Will Create a Winter Wonderland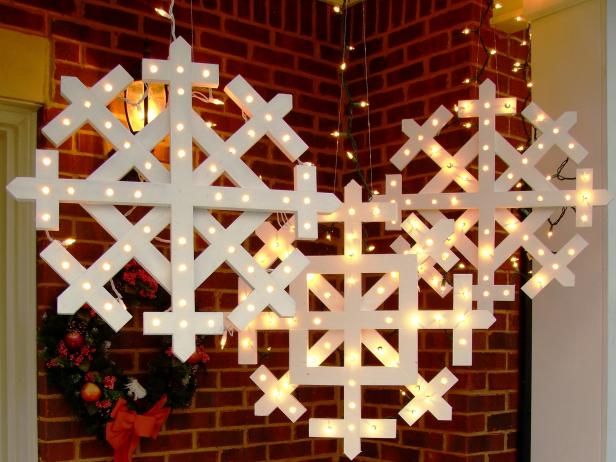 DIY Network
Whether you have snow or not, you can make your own white Christmas with these Wooden Snowflakes With Lights. Place snowflakes everywhere to design a magical blizzard outside.
8. Snowmen Are Festive and Cute

Crafty Morning
Snowmen are seasonable and adorable. Lighted Snowman Grapevine Leaves are a great way to invite frosty to your door. Place these wreaths on the walls outdoors for a lovely, snowman-inspired outdoor light idea.
9. Spread the Christmas Spirit with Mini Trees

Source
Why limit yourself to just one Christmas tree? A classic Christmas tree outdoor light display is hard to beat! Place these tiny trees on your porch, along the entrance walkway, or here and there in the yard.
10. Classic Star Lights Truly Shine

Artful Parent
Another classic is a Star Theme. Coat your yard in light stars, wooden light stars, star lanterns, etc. to create a Star Theme that will dazzle.
11. Classic Sleigh

Just Measuring Up
Invite the spirit of Christmas with a shiny sleigh, lit up by twinkle-lights, of course.
12. Holiday Gnomes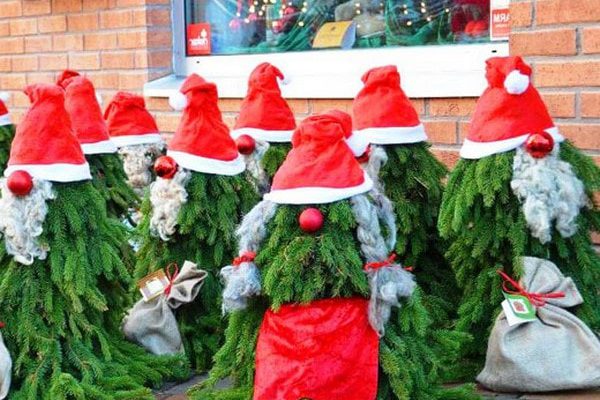 These are an absolutely wonderful Christmas light idea. Build a unique, dynamic little gnome out of pine sprigs and other natural materials. Wrap the fellow in twinkle lights so you can see him in the dark, too.
13. Christmas Light Balls

Christmas Lights Etc
Christmas light balls make for a truly magnificent Christmas light display. The brilliant globes look magical and are sure to catch the eye of passerby.
14. Light Pathways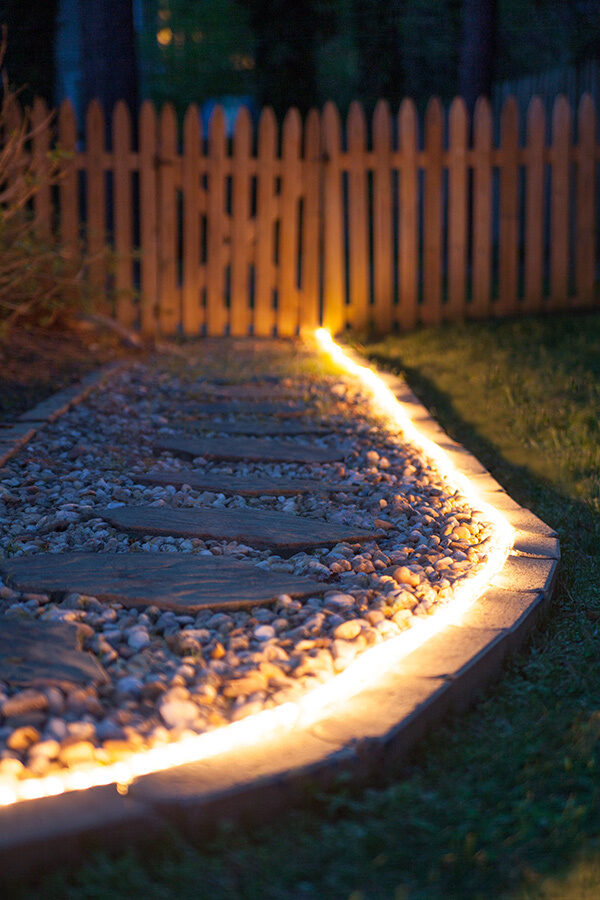 Yard Envy
Light walkways with sparkle-lights. Create a wondrous pathway.
15. Lighted Gift Boxes

Christmas Lights Etc
Lighted gift boxes are a cute and unique light idea. Put twinkle-lights inside homemade wrapping paper-covered boxes and watch them glow.
16. Giant Lollipops

Kim Lacey Schock
Giant lollipops are a super whimsical Christmas decoration idea. Color them brightly for the daytime, and wrap them in twinkle lights so you can also view them at nighttime.
17. DIY Icicles

Shelterness
Icicles are naturally beautiful. Create some of your own to incorporate them into your holiday display.
18. Geometric Shapes and Stars

Christmas Lights Etc
Of course, you are not limited to twinkle lights for the holidays! There are lots of lovely geometric light and lantern shapes out there. One of the most popular are traditional stars.
19. Giant Yard Ornaments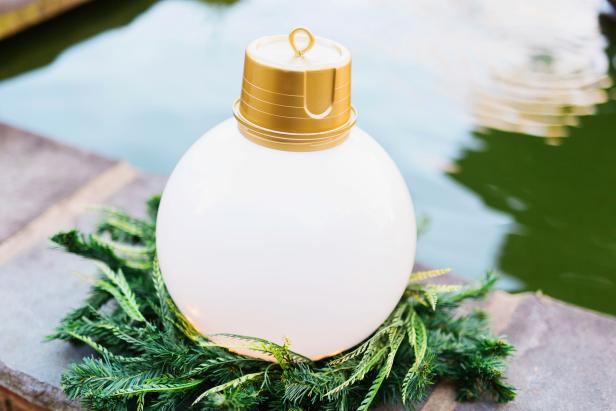 HGTV
Giant ornaments will definitely make a statement. Adorn them in twinkle-lights and watch them catch the eye.
20. Life-Sized Nutcracker

Hallmark Channel
Craft and dress up a life-sized nutcracker, complete with twinkle-lights so you can see him at nighttime.
21. Ornament Topiary

The Creativity Exchange
For a decorative and dynamic light display, consider an ornament topiary. Stack ornaments as guided here, and wrap them in lights for a fabulous nighttime display.
22. Festive Planter

A Pretty Life
Plants make lovely decor. In the winter, greenery is a bit sparse. Consider filling an empty planter with ornaments and other festive items. Adorn these in twinkle lights.
23. Stacked Presents

That Village House
Like the ornament topiary, present stacks offer dynamics. Wrap old boxes in your favorite, festive wrapping paper and you are ready. On you have stacked the gifts accordingly, add some twinkle lights to the display.
24. North Pole Sign

My Pookiedesigns
A North Pole sign is one of the cutest Christmas light ideas. Welcome people to your home in style with a twinkle-wrapped sign for the North Pole.
25. Homemade Twine Lanterns

Splash Of Something
You can make your own nifty lanterns out of twine and twinkle-lights. These have a natural, rustic appearance. They look beautiful and cozy.
26. Snownall Lanterns

Little Green Fingers
One of the most gorgeous outdoor Christmas light ideas is snowball lanterns. As the name implies, these are crafted from snowballs and lit up by tea lights. You can place them along the pathway to your home. They have a magical and lovely glow.
27. Train Made of Crates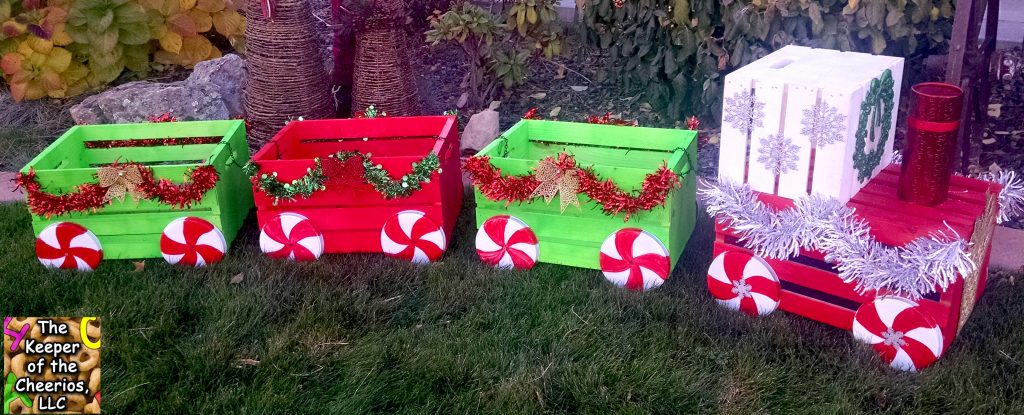 The Keeper Of the Cheerios
Make a homemade train and light it up with Christmas lights to make your yard shine.
28. Shooting Star Light Display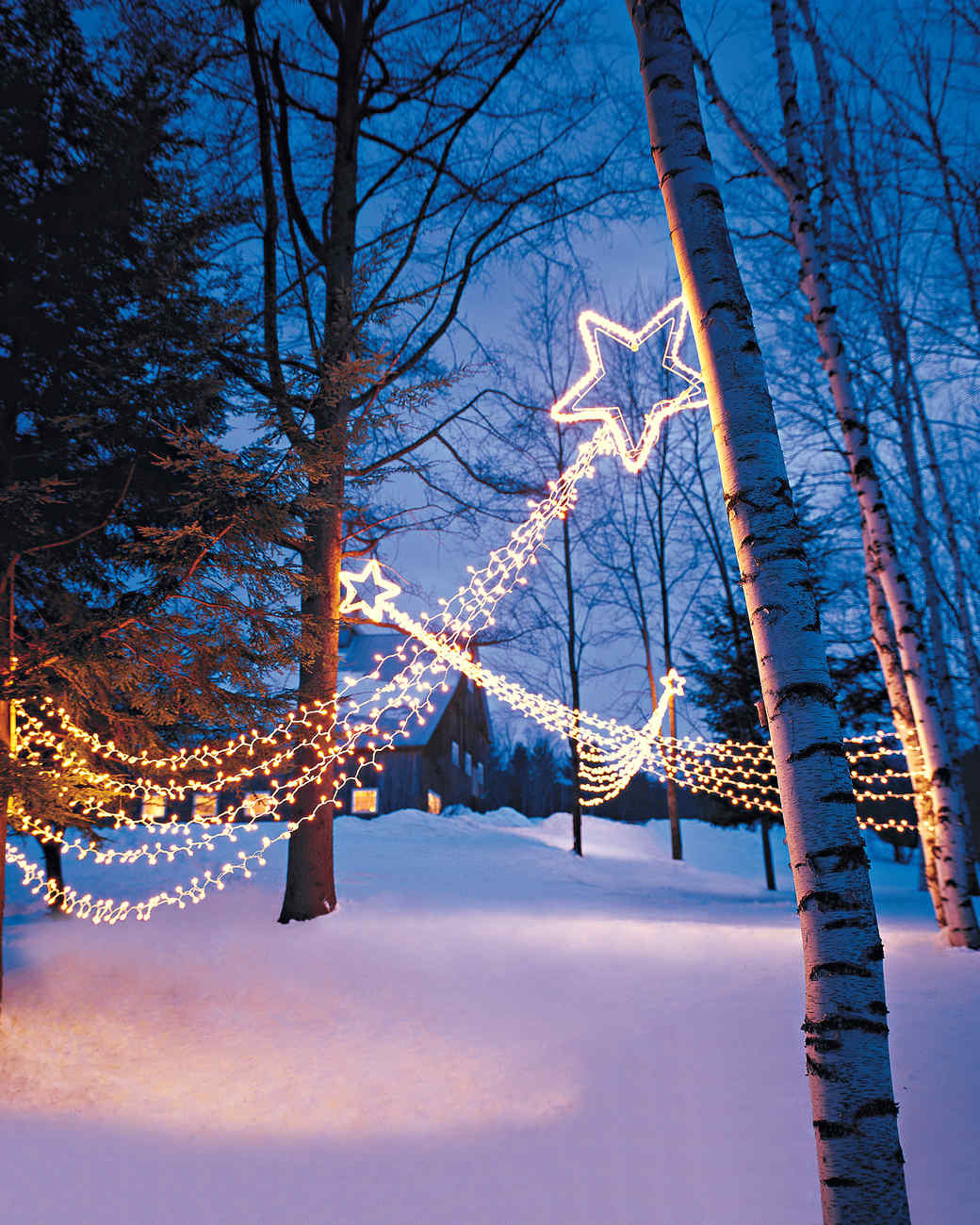 Marthastewart
Shooting stars are among the most amazingly creative outdoor Christmas light ideas. With a bit of time and skill, you can arrange your twinkle lights to be like stars across the sky.
29. Twinkle Light Chandelier

Wiki How
Did you know you could make a simple hula hoop into something refined, sophisticated and festive? You can, with a few steps, and twinkle lights.
30. Tomato Cage Light Tree

17 Apart
Use a tomato cage to make a beautiful and easy Christmas tree of lights.
31. Light Tunnel

Home Dzine
Welcome people to your home in style, with a Christmas light tunnel for them to walk under on the way.
32. Ice Ornaments

Red Ted Art
Use ice ornament decor outdoors if it is nice and snowy. All you need is ice and some creativity.
33. Flameless Fire

Blog Freepeople
This is one of the coziest outdoor Christmas light ideas out there! Create a faux campfire. This will illuminate your yard and make it look nice and cozy.
34. Gumdrop Walkway

Happy Crafty Kids
Invite guests to a magical candy land, with big, colorful gumdrops lining the pathway.
35. Fairy Lights

Diy Projects For Teens
Decorate twinkle lights in fabric to make them look like winter fairies. These can be used to create the ultimate Winter fantasy.
36. Firefly Jar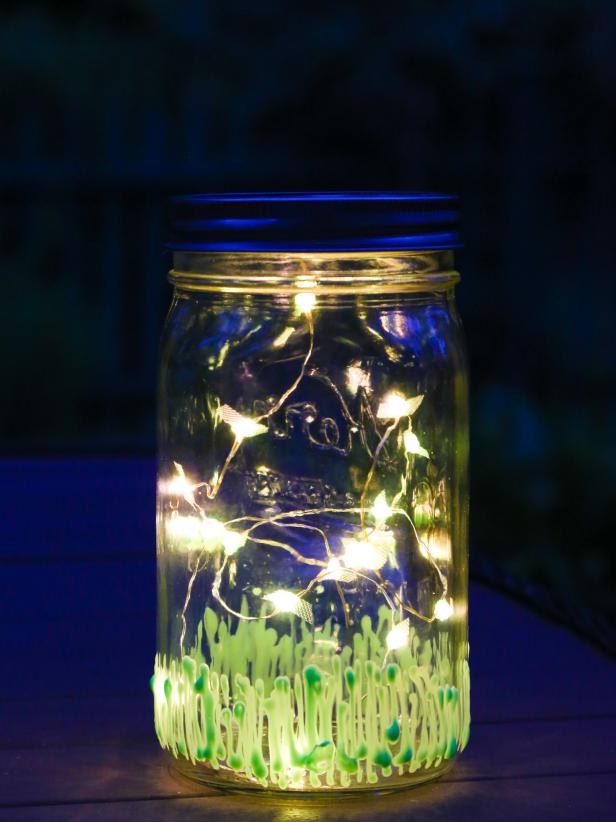 Diy Network
This simple but darling idea requires twinkle lights and jars. Combined, these look like fireflies. Use them in your Christmas display for a touch of magic.
37. Cloud Light

Diy Projects For Teens
A cloud light is a unique decoration idea that is certain to wow. Lanterns, twinkle lights, and cloud fluff will start you on your way.
38. Snowglobe Terrarium

2 Bees In A Pod
You've seen terrariums. Have you seen a snowglobe terrarium? Fill one with fake snow, figurines and other festive decor. Top it off with sparkle lights, for a stunning display.
39. Tree Lights

Christmas Lights Etc
Hang lights from one of your trees to make it classically festive and sparkly.
40. DIY Log Snowman

Crafty Morning
Craft some rustic, jolly snowman friends to decorate your home.
As you can see, the Christmas light possibilities are endless. You can incorporate them into just about any holiday decor, and not go wrong. They also create gorgeous displays all by themselves. So, what are you waiting for? Give some new Christmas light ideas a try.