If you want a cozy space on a cool summer night, love to roast smores, or have kids who get a kick out of a good campfire ghost story then a fire pit is a must in your backyard. And the good news is with a little ingenuity and elbow grease you can build your very own. As someone who loves to be outside and entertain trust me when I tell you the time and effort will be worth it.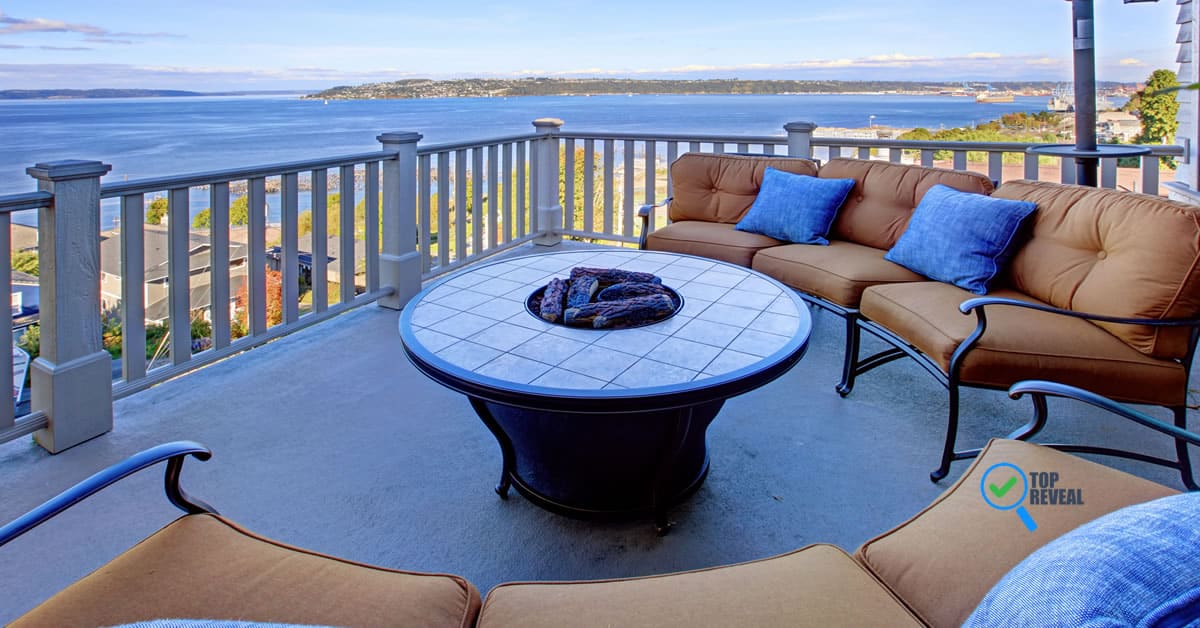 So check out my list of DIY outdoor fire pit/ fireplace ideas, call some friends and family over to help and then test it out with them; just tell them to bring the marshmallows.
Outdoor Fire Pit and Fireplace DIY Ideas
1. Budget Buddy- Movable Fire Pit
This fire pit from Creatively Southern gets high marks because not only is it affordable, but you can move it to! That is important if you live in an area with harsh winters or plan to move soon. The pavers are stylish and look great with any outdoor space and the insert is great for roasting.
2. Garden Retreat- Fire Pit and Bench

Source
Create an inviting garden space with this simple in-groundn pit and bench. I love how the bench has storage for wood and you can play around with the shape, doing rectangular, hexagonal or any other style that compliments your space.
3. Oddly Inviting- Modern/Rustic Fireplace
If you have a large yard this fireplace from Better Homes and Gardens is the ultimate in ambiance. The modern shape combined with the primitive materials creates an inviting escape from the daily grind; and you don't even have to travel far for it.
4. Sitting Pretty- Patio Fire Pit
If you have a patio or concrete sitting area this stylish pit from the DIY Network is a great option. You can use any colored stones you like for the interior and if you feel like roasting some food you can get a removable grate to go on top.
5. Inside Out- Stacked Stone Fireplace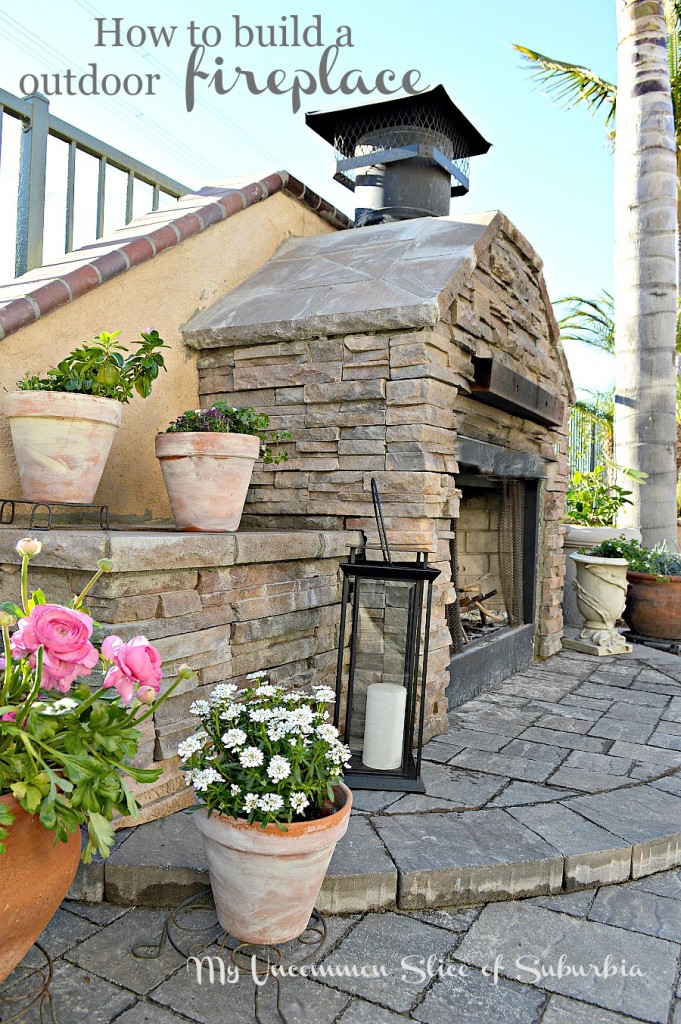 This stacked stone fireplace from My Uncommon Suburbia brings the indoors outside, using traditional elements in an untraditional setting. It's perfect for sitting around with friends and family to enjoy a glass of wine or even as part of an outdoor kitchen/dining area.
6. Send a Message- The Sentimental Fire Pit
Leave your family's mark by building this fire pit via Sharpe Creations. You can do all your kid's prints, the whole family, and even the family pet. It adds meaning to a piece that, if built well will last long after you all move away.
7. Entertainment Heaven- Firepit with swings and Pergola
If you love to entertain or have a large family this enchanting hangout from remodelaholic is a must. Centered around an easy to build firepit that's perfect for toasting smores, the swings are great for lounging, chatting, or even watching a movie. Yes, it's a bit more complicated to build, but the payoff is well worth it.
8. Chill and Grill- Fire Pit and Grill Set-up
With this fire pit on Redhead Can Decorate you can chill out or you can grill up some tasty grub. Throw on some hot dogs, toast the buns and enjoy a lazy summer evening watching the game outdoors or just sit around and discuss your day with loved ones. Either works with this cool set-up.
9. Simply Stunning- Concrete Fire Pit
Instructables  has a sleek, chic fire pit- and you can build it for only $50!  The scalloped edges give it a softer feel and the rust color allows it to stand out among all the greenery. It's modern, stylish, and a real bargain.
10. Modern Marvel- Metal Fire Pit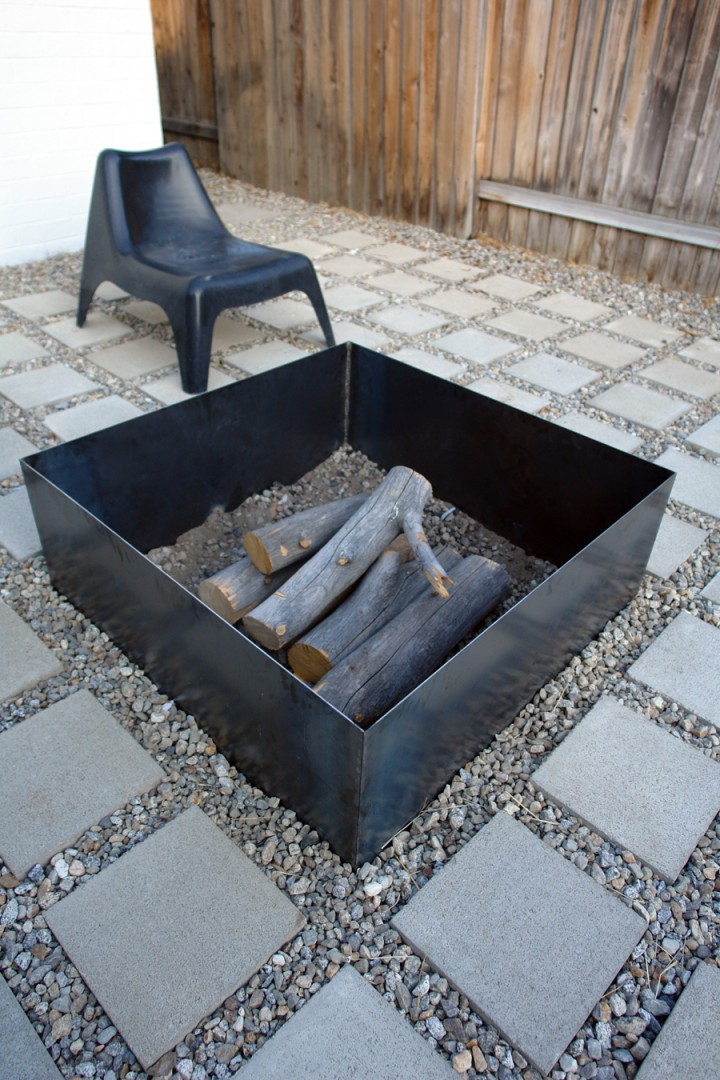 Speaking of modern, this metal pit from The Brick House is a nice alternative to stone. It's simple in design and use, which is a Godsend if you like minimal fuss and are looking for a fast set-up. And you can customize the size, so 1 or 10 people can sit around it.
11. Checkmate- Chess Board Cover Fire Pit
For nights when it's just too hot out or you feel like playing a game, a versatile cover like this one from All Things Heart and Home is ideal. From Backgammon to checkers you can imprint any game on top, making you pit a gaming table when you need it. If you're really talented you can even do a Monopoly board.
12. Wash, Dry, Repeat- Washing Machine Fire Pit
House and Fig created this stunning pit by painting and modifying an old washing machine drum- and you can too. You can paint it any color and even change it every few months to keep it interesting and fresh; plus, it's lightweight and portable, so you could drag it to the beach for a bonfire.
13. Table for 2? Personal Fire Pit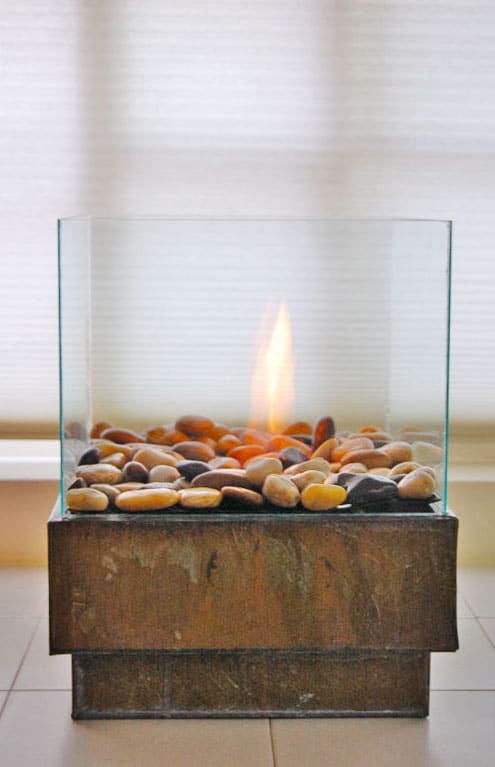 Who says a fire pit needs to be big? If you have a small outdoor space or terrace you can get all the warmth and light you need with a smaller pit, like this tabletop version from The Art of Doing Stuff. What I like most is that you can use this indoors or out!
14. A Barrel of Fun- Fire Barrel
Want something unique and eye-catching? Then this fire barrel on the BBQ Shop is the way to go. It has a rustic charm that works well in a casual outdoor setting and the top can double as a place to hold drinks or snacks.
15. Green With Envy- Eco-Friendly Fire Pit
Want to build a pit that compliments it and looks contemporary while being environmentally friendly? This pit from Fine Craft Guild does just that, using all-natural materials that still manage to look fresh and fun.
Did you love my list of DIY outdoor fire pit/ fireplace ideas? Tell me what you liked and why in the comments and be sure to share these great ideas with all your family and friends.