If you are a woodworker, you are likely already well aware of the need for a good hand planer. The problem is finding one. There are plenty of options out there, and while they are all, in title, the same thing. Not every planer is right for every woodworker.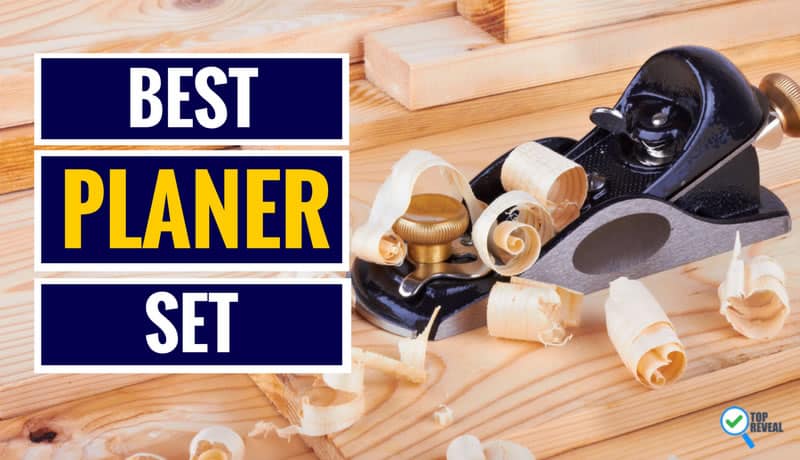 That's where we come in to help. Today we will be taking an in-depth look at five hand planers in order to help you determine which one is most suitable for your needs. Read on for a comprehensive guide to finding the best hand planer!
In the proceeding paragraphs we are going to take an in-depth look at a lot of awesome hand planers, but if you care for spoilers I can tell you right now that there is one that comes out a little bit ahead in my opinion. The WEN is powerful, efficient, and relatively affordable making it a great option for woodworkers of every variety.
Of course, you can make your own choice when we take a deeper look at what is out there.
So, What Exactly is a Planer?
The planer is a handheld power tool that is designed to help you cut flat pieces of wood to your desired thickness. It's great for smoothing out joists, evening out boards, and performing a wide variety of other small woodworking tasks that you are sure to encounter as you work.
It is a very old tool that has been around for nearly as long as people have been working with wood, though of course, modern technology has given it some pretty substantial upgrades. While the planer isn't quite as exciting as a table saw, or even a circular saw, it is nevertheless a very necessary component of any serious woodworker or do it yourselfers arsenal.
Now that you are aware of what a planer is, let's take a look at five of the best hand planers on the market.
What's Out There: Best Hand Planer Reviews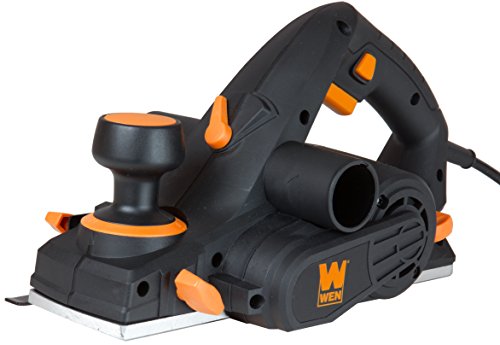 You probably remember the WEN from a little bit ago. It was my pick for the best planer on this list, and now you can find out why.
Features:
Powerful:
The 6-amp motor featured on this unit is quite powerful and is able to deliver up to 34,000 cuts per minute. While you won't always need that much power, it is certainly going to be nice to have when you do need it.
Lightweight:
Since this is a handheld planer, it helps that the unit it is relatively lightweight. Weighing in at only six pounds, you aren't going to strain yourself using this tool which is going to be very helpful for long days on the job.
Adjustable:
This planer also has sixteen adjustable positions so that you can use it to make cuts anywhere from 0- 1/8 inches. More options means more use. This planer is going to allow you to address a wide variety of different jobs.
Dust Bag:
This unit also includes a high-quality dust collection system. A good dust collection system not only keeps your workspace neat and minimizes the need for a lengthy post work clean up, but it also helps keep harmful dust particles from getting into your lungs.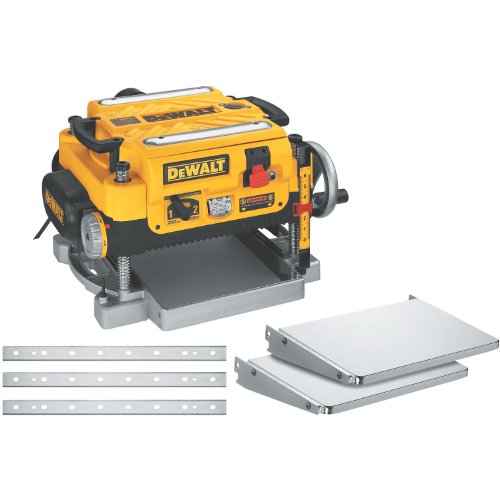 If you have any experience with tools at all, you are probably well aware of Dewalt. They make some really great stuff, and this next planer is no exception.
It's powerful, efficient, and loaded
with features that make it a good option for woodworkers of every variety. Let's take a look.
Features:
Powerful:
The fifteen-amp motor featured on the Dewalt delivers up to 20,000 RPM. The result is an ability to handle easily making large cuts on wide materials.
Three Knife Cutter:
This tool utilizes three blades at once so that each individual blade dulls slower.  As a result, you get to spend more time on your work, and less time changing blades.
2 Speed:
The two-speed gearbox included with this tool allows users to adjust the feed speed between 96 and 179 CPI. The adjustability will help to give you cuts that are more optimized to your preferences than ever before.
Chip Ejection:
Finally, the Dewalt also features a fan assisted chip ejection system that is designed to promptly and effectively remove chips from the surface of the cutter heads or the exhaust. As a result, your machine will run smoother and longer, and you can spend a little bit less time thinking about maintenance, and a little bit more time focused on the job at hand.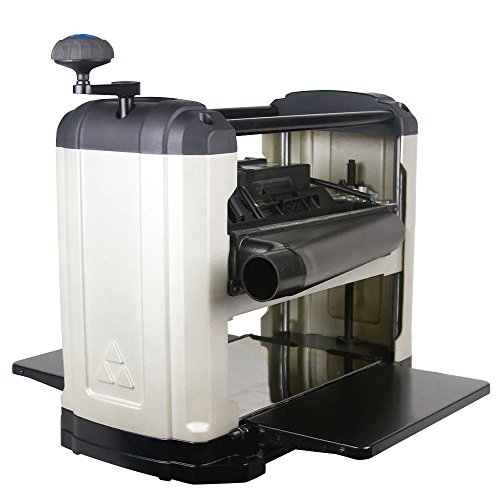 This next tool is going to set you back a little bit more money than the last couple of planers that we looked at, but depending on your situation the hike in price may very well be worth it. Of course, we won't know for sure until we dive into the features.
Features:
Motor:
The fifteen amp motor featured on this tool is designed to easily accommodate the needs of your shop. The Delta is powerful enough to handle the workloads of most woodworkers and do it yourselfers making it a great choice for the majority of people reading this article.
Stable:
This unit features four columns that provide a solid base for your work. Stability leads both to better work in the short term, and to a longer life span in the long term. Like "power" stability is one of the words that should peak your interest when talking about power tools.
Reversible Dust Port:
The dust port featured on this tool is reversible so that you can use it on either side. The adjustability will help provide an easier post job clean, and healthier lungs. As I mentioned earlier, a good dust collection system is always a big plus, and this unit certainly has one.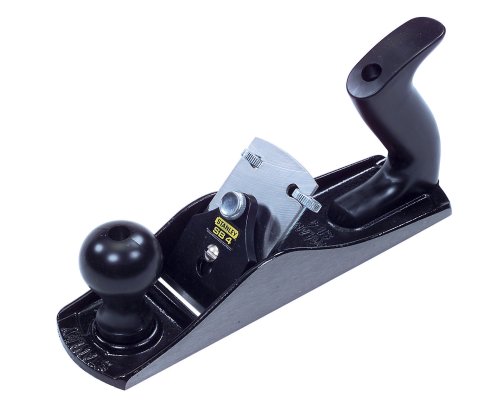 If you know tools, you definitely know the brand Stanley. This next tool is a manual planer, and as such, it is a lot lower tech than some of the other examples that we have looked at on this list, but it is nevertheless
reliable and extremely affordable
.  If you don't mind simplicity and want a great deal, this might just be the planer for you. Let's take a look and find out.
Features:
Cast Iron:
This tool is of cast iron design, meaning it is going to stay in good shape even after many years of use. The durable build means that you won't be needing to replace this tool any time soon.
Adjustable:
The Stanley is also adjustable which means that you won't have trouble using it for a variety of different jobs.
Affordable:
Finally, this tool is up to ten times less expensive than some of the other options we have looked at on this list. Yes, to get the deal you have to forgo a lot of bells and whistles that many people will consider necessary, but in exchange you get a tool that is extremely budget friendly.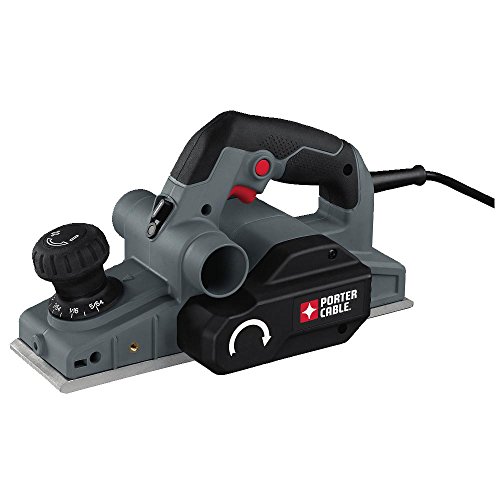 The final option that we will be looking at is also simple (though much less so than the Stanley) but it is
available at a very competitive price
. Let's one last time take a look at the features to see if it is right for you.
Features:
Dual Extraction:
Like some of the other tools we have looked at the Porter Cable makes dust extraction simple by featuring ports on either end of the tool.
Heavy Duty Motor:
While not as powerful as some of the other tools that we have looked at today the six amp motor featured on this unit is nevertheless going to supply you with enough power to approach an array of different jobs with confidence.
Shoe:
The 11.5 inch aluminum shoe featured on this tool provides stability and accuracy for a better finished product.
Buying Considerations
Power: It's a power tool, so naturally enough you want something with ample power. Planers that are capable of delivering 30,000+ cuts per minute will allow you to confidently approach a wide variety of jobs.
Adjustable: Adjustability is another good buzz word to look out for. The more that you are able to adjust a planer, the more jobs you will ultimately be able to use it for, so keep that in mind as you shop around.
Price: As you probably noticed throughout the course of the guide, there is a pretty wide variety of prices out there. While spending a little bit more money will generally get you more bells and whistles, it nevertheless isn't always necessary. Consider your needs before you start shopping so that you don't wind up paying more for features you won't wind up needing anyway.
Conclusion:
As you can see, there are plenty of options out there for you to choose from. Intimidated? Don't be. Every single one of the planers that we have looked at today are of an extremely high quality. While it might be difficult for you to make your ultimate decision, at the end of the day if you choose a product from this guide to buying the best hand planer, you are going to wind up with an excellent tool.