Finding the best way to make your home safe and secure can turn into a headache. Is that part of the home covered by the camera? Are you able to view the camera feed when you're out of the home? Does the security system actually do what it says it will do? Sometimes all of the questions can be overwhelming.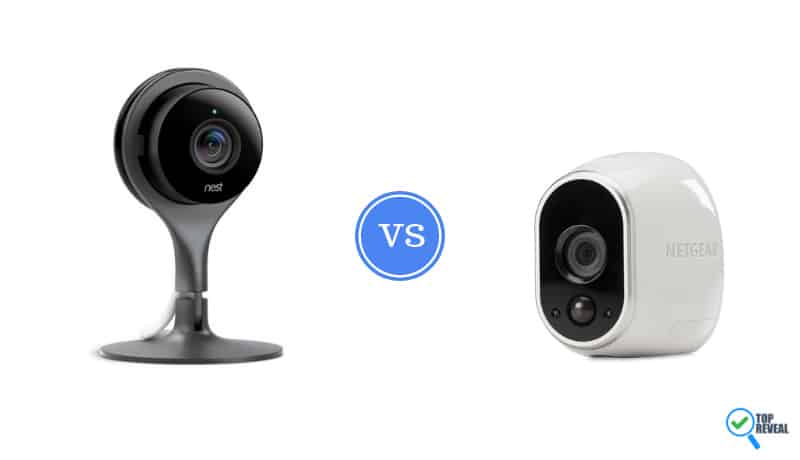 What you want is a home security system that makes things simple and safe and our review of The Nest Cam Indoor Security Camera VS The Arlo VMS3130 will compare 2 of the best for you.
Nest has been a major brand in the smart home device market since 2010, making quality products that utilize your home's wi-fi network to make life simpler. From their popular thermostats and smoke detectors, Nest has paved the way for how smart home devices should work.
Check out some of the top features with their Indoor Security Camera:
Smart Networking: The Nest Cam Indoor Security Camera connects to the Wi-Fi network of your home, allowing you to stream the captured video anywhere, whether you're at home or out of town. Unlike older style cameras that need to be hooked up to a large and expensive recording hub, the Nest only has one cable you connect to a standard wall outlet, with no hub needed.
Remote access to the camera's video feed means always knowing that your home is safe and sound.
Simple Installation: Installing the camera takes a few simple steps, mainly, plugging in the camera and logging into the Nest app. And because each home has a different layout, and your needs for security are diverse, Nest offers multiple different ways to place the camera around your home.

You can either place it on a flat horizontal surface, use the magnetic base and attach it to a metal surface, or use the included metal plate and screws to attach it to a non-metal surface, like a wall or corner. Giving you the versatility to stay covered throughout parts of your home.

Smart Alerts: By using motion-sensing technology, along with an internal mic, you can have an alert sent directly to your phone when someone is there. A perfect solution for when you're expecting guests, monitoring infants, or just for that extra peace of mind.
Arlo is a relatively new company that's adding their hat to the security camera market. A company that's owned and part of Netgear's line of devices, Arlo is backed by solid design and hardware.
Here is a list of features you should know about with their Arlo VMS3130.
Indoor/Outdoor Capability: The Arlo is one of the few security systems available that has the versatility to double as both an outdoor and indoor security cam. Made with a sturdy, weatherproof construction, the cam can be placed in practically any spot in and around your home for increased visibility.
Wire-Free Design: Arlo makes things simple as there are no cables or wiring needed for hook up. Just attach the camera to any spot in or around your home, power it up and let it sync via your home's 2.4 GHz Wi-Fi network with the Arlo Base Station, with a maximum range of 300 feet.

Because the camera is battery powered, you are not limited to where the camera can be placed.

Hi-Def Image Quality: Recording in clear Hi-Definition 720p regardless of the weather gives you sight and safety around your home, 24/7.
What are the Differences between Nest Cam and Arlo Security System?
When it comes to the Nest Cam Indoor Security Camera vs Arlo VMS3130 both of these security systems are worth the cost, offering a wide range of useful security features to protect your home and loved ones.
It's always smart to know how the devices differ, as each feature may be more valuable to you than others. See how the two security systems compare by reading below.
Battery Life
Because the Arlo is a battery powered camera, this gives it the benefit of not being tied to a power outlet. However, that means it also needs to have its batteries changed from time to time.
Arlo says that with normal use the camera will last between 4-6 months. However, the Nest is USB powered, which means that battery life simply isn't an issue. You do, however,  have to be able to connect it to a power outlet, which may limit where it can go.
Outdoor Use
The Arlo is both battery powered and rated for harsh weather, so it's perfect for outdoor situations.
Even if you are able to connect the Nest camera to an outlet outside, it is not weatherproof, which does limit its capabilities.
Cloud Storage
Both security systems allow you to save recordings and view for later. This is important for thefts when you need to show the police what you caught on video. The options for cloud storage between each device is where things differ.
The Nest Cam Indoor Security Camera offers a cloud subscription service, Nest Aware, which lets you save 10 or 30 days worth of continuous recordings in Nest's cloud. Their service ranges between $10 per month to $30 per month, and each camera has to be added to the service for a fee.
Arlo offers a free storage plan which lets you save recordings for up to 7 days and supports up to 5 cameras. This can be upgraded to a $9.99 per month and 14.99 per month plan which adds the number of days you can record and the total number of cameras that are supported.
Sound Recording
A feature that's absent on the Arlo camera is the ability to record sound, which is a key feature of the Nest. The Nest camera also has installed a speaker, which lets you talk and listen through the Nest App.
Have a conversation with someone when you're out of the house or be alerted when someone is at your home through sound alone.
Verdict
When making your final decision between the Nest Cam vs Arlo VMS3130 Security System, either option will give you comprehensive home security features. Your decision will ultimately come down to how you want your security system to work. For outdoor needs, you would find the Arlo to be better suited, as it's weatherproof and battery powered.
For home and business monitoring, the Nest may be a better option for you as there are not battery life concerns and the built in mic and speakers of the Nest Cam means you can talk and listen through the Nest App. Finally, if budget is a concern, the Arlo VMS3130 is less expensive and also includes free 7-day video storage. But, both are a great value- so whichever you choose, you can sleep easy knowing you and your family are safe.
[rwp-review id="0″]