Are you still thinking about your dream kitchen? Dissatisfied with the one you currently have? There are many people who feel the same way you do, wishing they had a kitchen that was much nicer, or much more unique to their personality. And guess what? You and they can do this too! If you don't know where to start, we can help. Check out our list of unique kitchen ideas you can do in your own home.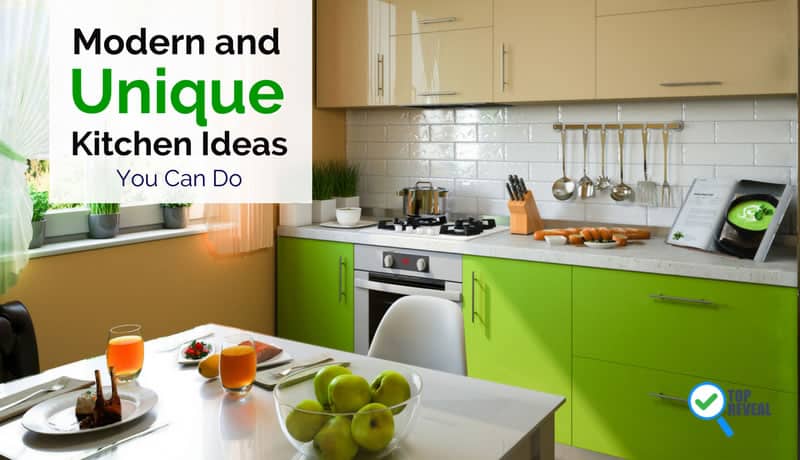 Unique and Inspiring Kitchen Ideas that Inspire You
White, White, White, – And Then More White
Pinterest
It's pretty obvious by now that the color white has become the new fashion statement when it comes to interior design. It's not hard to see why as the color makes any room seem instantly lighter and airier. This kitchen is a great example of that effect.
Mild Contrast- A Little Color Doesn't Hurt
If you like a bit more contrast than just plain white, consider a style similar to this one. The white cabinets aren't so glaring and sterile when mixed with different colors. The gray color is always a good choice as it isn't too harsh of a contrast from the white.
Via Foxnews
Dark Contrast- And I do Mean Dark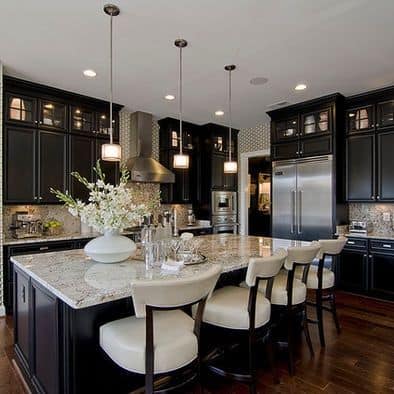 On the opposite end of the spectrum, we have these black cabinets that do nothing but contrast everything around them. Yet they have a very elegant and crisp feel. White might be in, but don't know the possibility of some dark hardware.
4.Textures-A Feast for the Eyes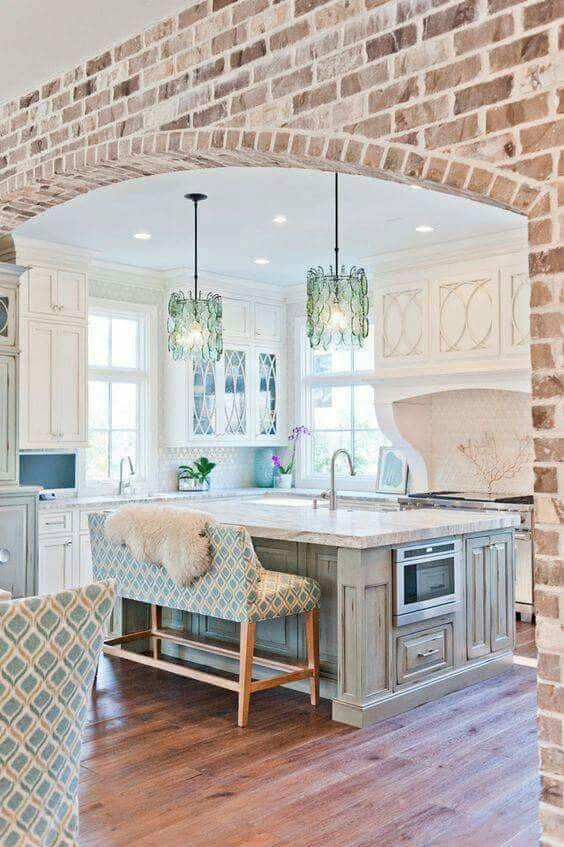 And when it comes to kitchens, feasts are highly appropriate. This kitchen is wonderfully done, and everything grabs your attention. From the lights hanging over the island to the patterned seat. All of the surfaces are different textures but when put together correctly offer a lot of class and sophistication to the look.
5.Modern Farmhouse-The Perfect Conundrum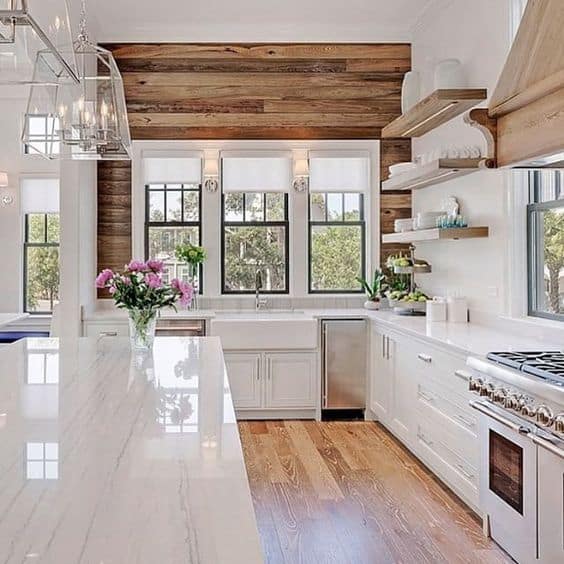 Wood and white are one of the better combinations in regards to color and texture. The white gives off a very modern feel while the wood has a cozy tone. Together they are the perfect match.
Gray- The Color of Indecision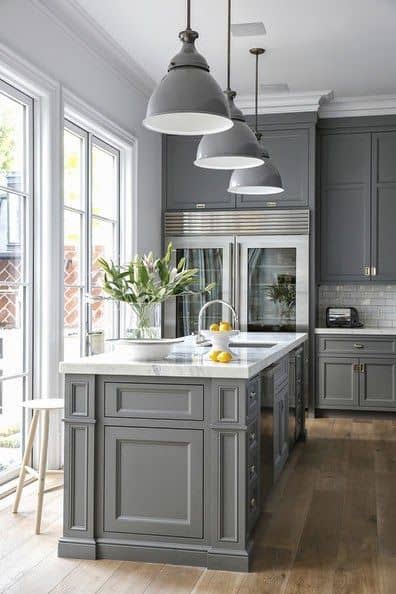 If you're not sure whether to go light or dark, just go gray! It's not too bright like a white kitchen, nor is it too dark like the black cabinets. It still gives off an airy vibe without feeling too sterile. Gray is just a nice soft color that you can easily match with anything.
Seating-So Many Options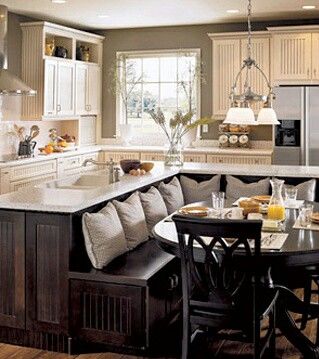 If your kitchen is on the smaller side and seating is an issue, consider this design for your home. Everyone dreams of an island but sometimes it has to be sacrificed for a table to actually eat at. Combining both is a great way to check off everything and still have space in a smaller home.
Beach Theme-Can't go Wrong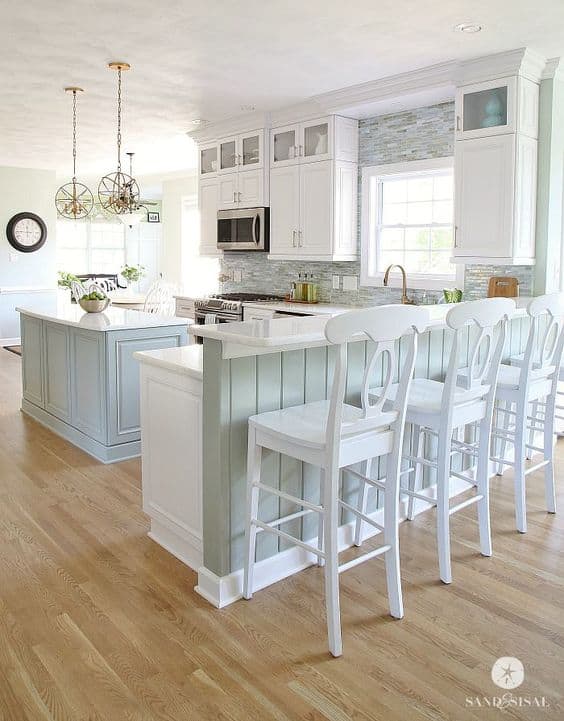 Coastal themes are always a safe bet when you want to create a stunning kitchen. The pastel blues and whites alone are calming and make you feel like you're on vacation all the time.
coastal kitchen makeover
Islands- Centerpieces of the Kitchen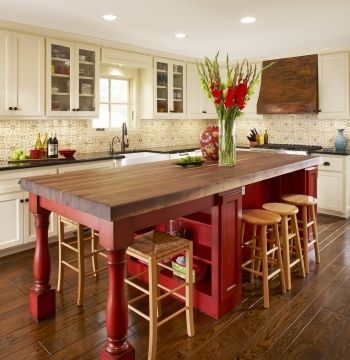 When you talk about kitchen islands, everyone always pictures the same thing; a big square topped with marble and some cabinets. But don't be afraid to be a little different. You can complement the rest of your kitchen by installing a bold-looking island.
Modern- Welcome to 2017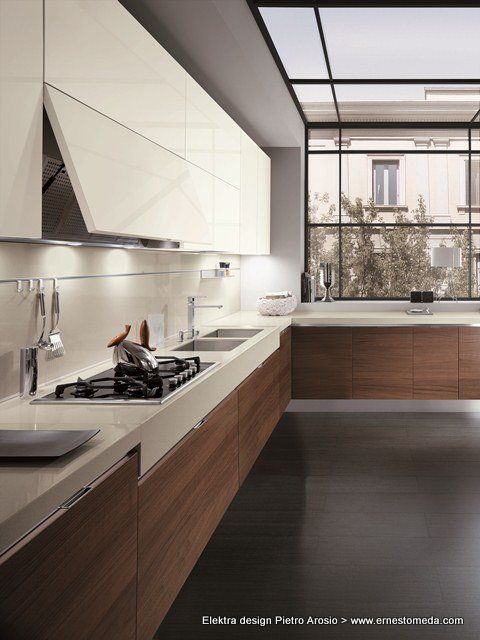 For those of you who like a more modern style, look no further than this kitchen here. With clean lines, perfect corners, and sleek floors, this is every modernist's paradise kitchen. The theme extends all the way from the cabinets to the state of the art windows. Excellent ideas to store all utilities in the cabinets. 
Keep it Classy- With Everything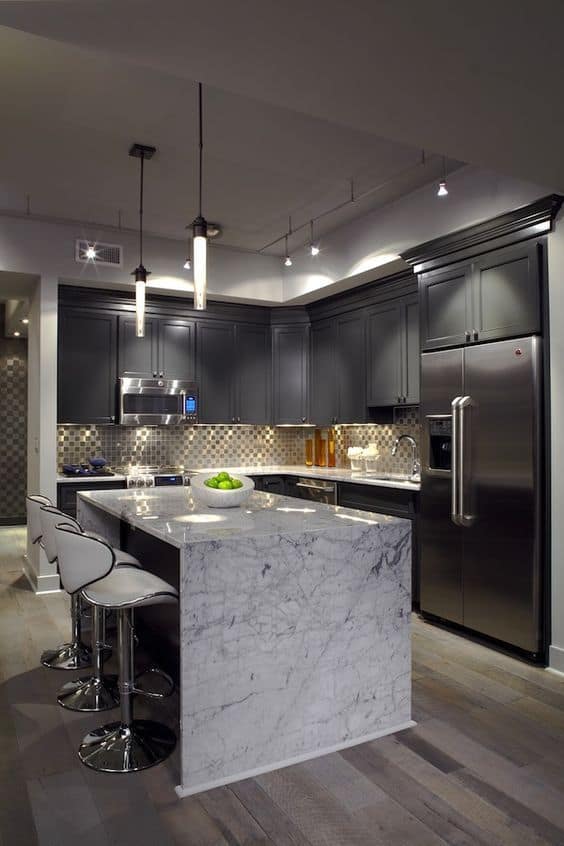 There isn't a hair out of place when it comes to this kitchen. The cabinets are lovely, the backsplash is beautiful, and that countertop is spot on. My favorite thing about this kitchen is the waterfall countertop. It is such an eye-catching detail that effortlessly adds such elegance to this room. I would say it's a must for any dream kitchen.
Got Big-Or Go Home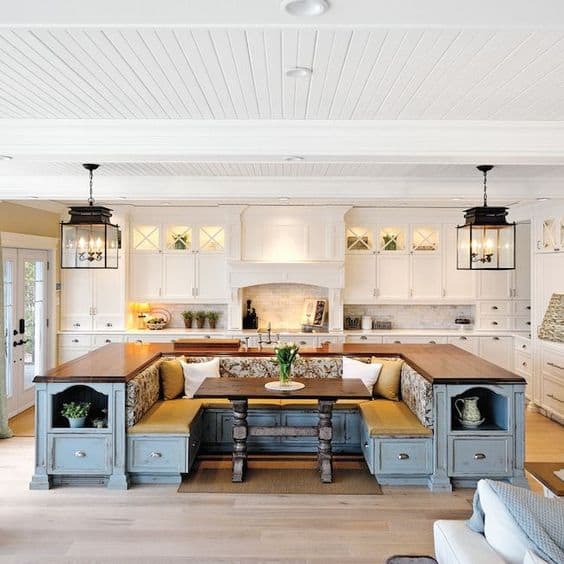 This amazing kitchen has everything you could possibly want. From the white cabinets to the antiquely tasteful seating area/ island. The design has perfectly incorporated modern and rustic. Don't be intimidated though, this style is something anyone can do! The more fearless you are, the more potential your kitchen has of looking as awesome as this one!
Wooden Contemporary-Just Dashing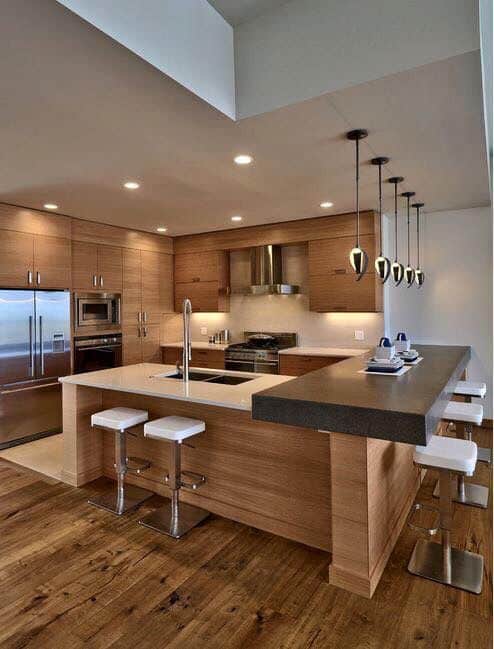 If you're more of a contemporary person, then you need a kitchen to match you and your style. With a kitchen like this, you'll be excited to wake up every morning and make coffee. Not to mention impressing your friends and family. The stainless steel contrasts perfectly with the clean-cut wood.
Open Floor Plans- Not for Everyone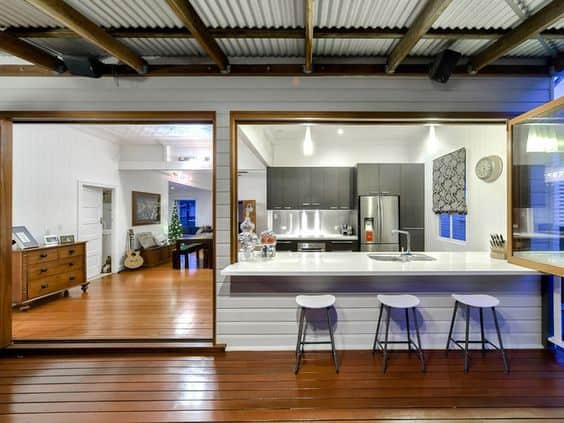 Even though the new trend is one giant open floor plan, there are those who still like a little separation in their lives. If you're one of those people, then consider this idea. You still have your separate living spaces, but also a convenient breakfast bar. It's a win-win.
Rustic-Add that Cozy Charm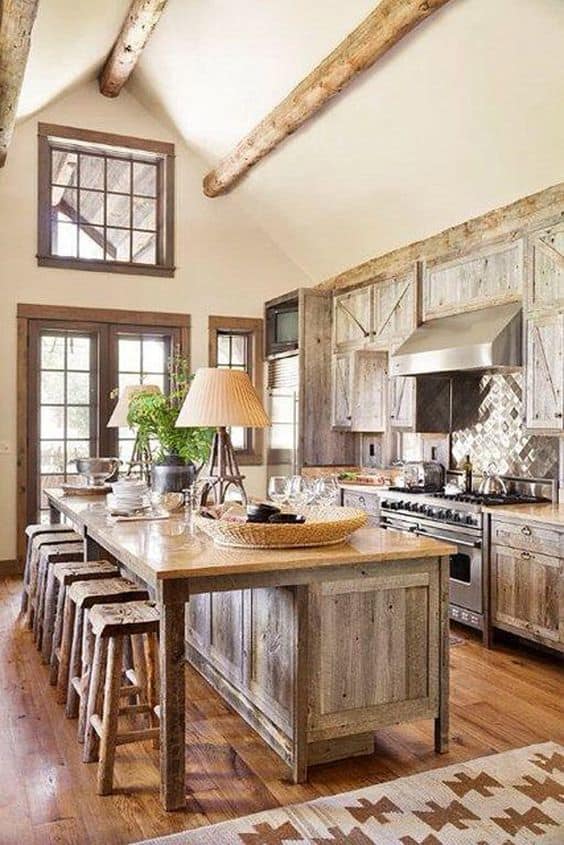 For some of us, newer is not always better. If you are considering renovating your kitchen, think about creating a more traditional space with rustic decor. Wood might seem old, but with crisp lines and a sleek finish, it will have more of an up to date feeling.
Be You- And Your Kitchen Too

Are you tired of all the traditional-looking kitchens out there? Well, you're not the only one. Don't be afraid to turn your back on white cabinets and marble islands. Instead, throw some colors around. This kitchen is a great example of how you can successfully bring together various colors and textures to make a truly unique kitchen.
Retro-Always in Style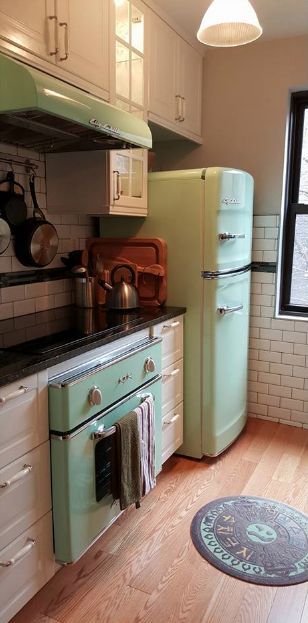 If going back in time is more your style, then contemplate a retro look. As you can see, this kitchen looks great with the old-fashioned hardware. You have to admit, that refrigerator is kind of adorable.
The subway tile adds to the vibe, and some black and feel free to throw in some black and white tiles if you're feeling extra brave. It looks great to store Your Cooking Wok and other Kitchen Appliances
Shabby Chic-Quite the Specific Taste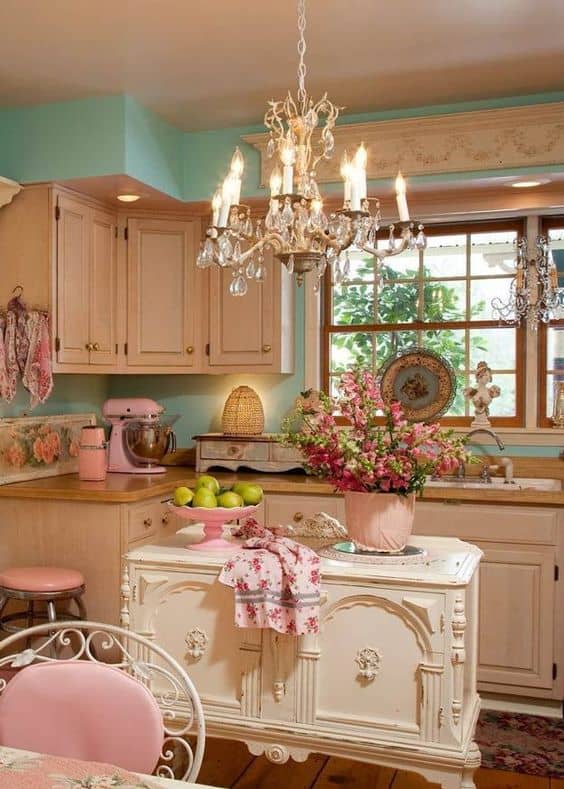 Although this is a unique look, shabby chic can look breathtaking if pulled off properly. This lovely little kitchen was designed with excellence, and makes you feel like you've just stepped into "Alice in Wonderland".
Though not for everyone, this decor will have you feeling spoiled every time you cook. See other tools in storage as kitchen shears and crepe pans
Galley Kitchens-For Limited Space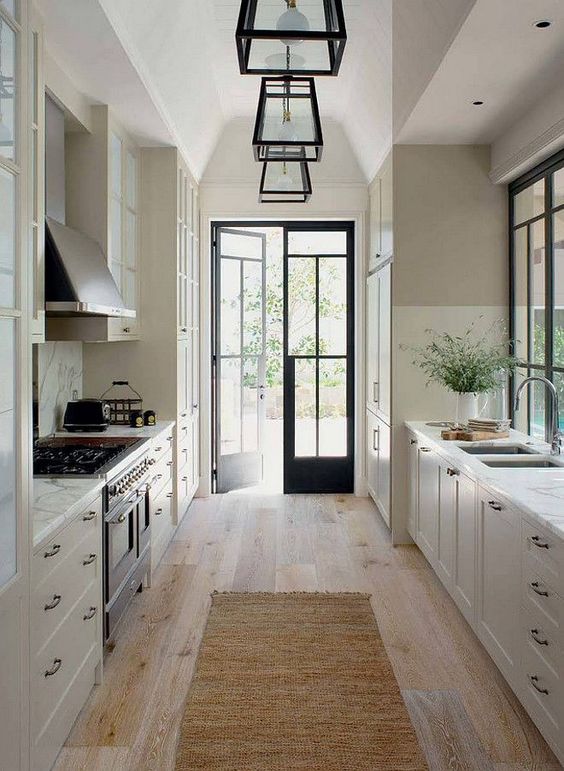 Many people frown upon the enclosed galley kitchen nowadays, but that doesn't mean you have to. If you prefer the old-fashioned look, then go for it. This is just one great example of how you can pull off a smaller kitchen and still make it look amazing. Who needs an island?
20. DIY-Make Up Your Own Style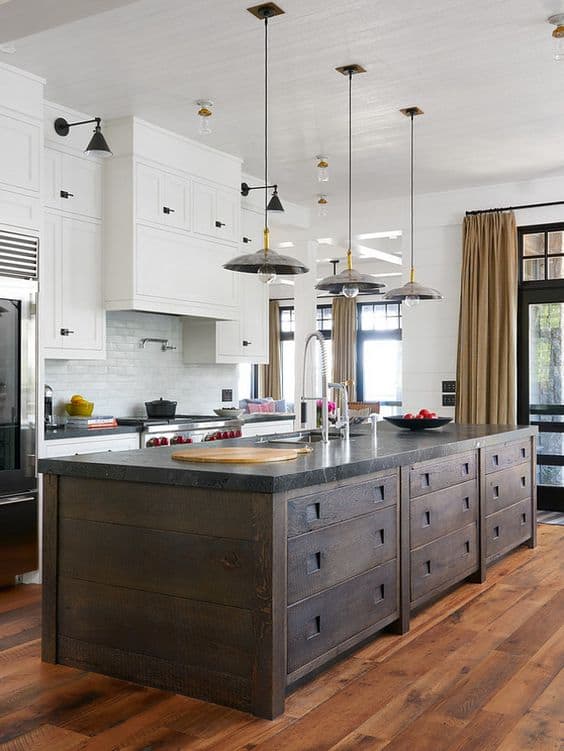 If you can't decide on a certain style, then just make up your own! Feel free to take pieces that don't match and bring them together in one room. You can have those all white cabinets and still incorporate some dark wood. This picture is a good example of mixing and matching.
See some of the cookwares for your kitchen today.
I hope you have found this list of unique kitchen ideas useful. When it comes to decorating your own house it is always important to design it so you will be happy. Please let us know what you thought and happy renovating!