If there is one thing that is a must in my kitchen, it's nonstick cookware. From sauces to French fries, a good set can mean the difference between flipping burgers and scraping them off the pan in crumbles.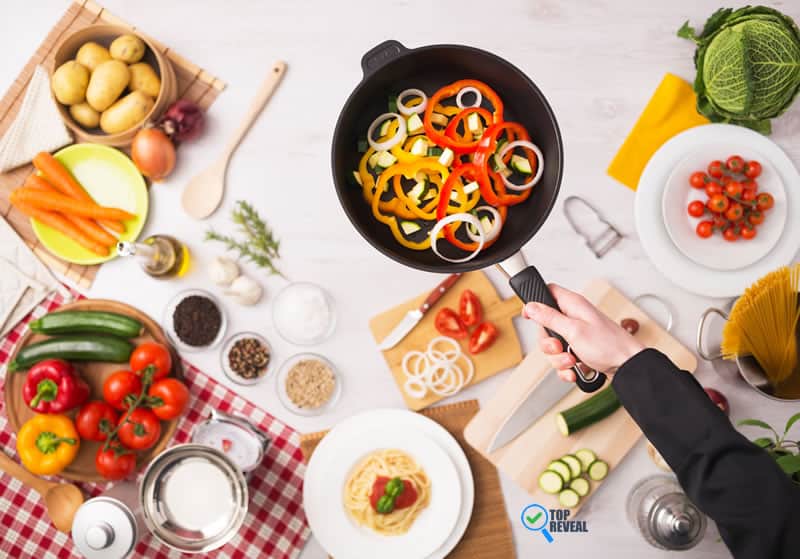 Problem is, finding a good set can be tricky. Obviously, you want cookware that will have food sliding off of it and is reasonably priced. But HOW do you find that? What should you look for? What are the essential features?
Well, I'll tell you because after years of burnt chicken and the smoke alarm blaring, I've learned what you need and what you don't. My top 5 nonstick cookware countdown is not only an in-depth look at the 5 best sets on the market, but a complete buying guide.
I'll give you price points, cooking tricks, maintenance tips and more, so the only thing you'll burn is the toast (I can help you with that too in another article).
Nonstick Cookware 101
If you're not familiar with nonstick cookware you're probably wondering why you need it. After all, a little Pam can take care of any sticking and burning right? Wrong. Yes, sprays can help with sticking, but only to a certain extent- it is not 100%.
As a result, your pans erode and deteriorate, leaving you with not just burnt food, but burnt food that has metal particles on it. I don't know about you but that doesn't sound too good and it definitely isn't good for your health.
Nonstick cookware eliminates these issues. These pots, pans and cooking utensils can make anything without it sticking thanks to special coatings.
There are 3 different types: Teflon, which is a chemical coating, ceramic and porcelain. Foods cook evenly and just glide right off, for quick, tasty meals that cleanup 1-2-3 (which makes them an automatic winner in my book). And that's not all they do, take a look:
Top 5 Nonstick Cookware Sets
Now, for the moment you've all been waiting for (drum roll)… Here is my list of the top 5 nonstick cookware sets. There are varying prices, materials and uses, which means there is something here for everyone.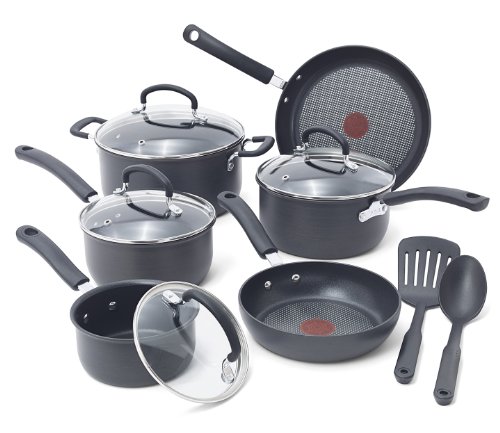 Of the 5 sets on my list, this one has the biggest raves from consumers and is the #1 choice of critics thanks to its revolutionary design and technology.
This 12 piece set sets the bar with its proprietary Thermo-spot heat indicator and unique PFOA-free titanium coating. Thermo-Spot alerts you when pans are pre-heated and ready to use, so you cook foods at just the right time. It also shows you the whole pan/pot has been evenly heated.
Then there's the hard anodized aluminum body and titanium coating. The aluminum is galvanized, making is durable and resistant to warping (up to 400°), while the titanium nonstick surface is like Teflon, but free of chemicals, long-lasting and scratch resistant.
So you can go from the stove to the oven without any issues, which means you can make just about any recipe with these pots and pans.
Finally, each piece is fitted with silicone handles, which will not transfer heat, so you can pick them up without pot holders safely if you wanted to.
This 12-piece set includes 2 fry pans (8 and 10 inches), 2 dutch ovens (5.6 and 1.1 quarts), 2 sauce pan (2.3 and 3.2 quarts), and a nylon spoon and spatula for smart cooking.
A good set for families and those who are watching their weight.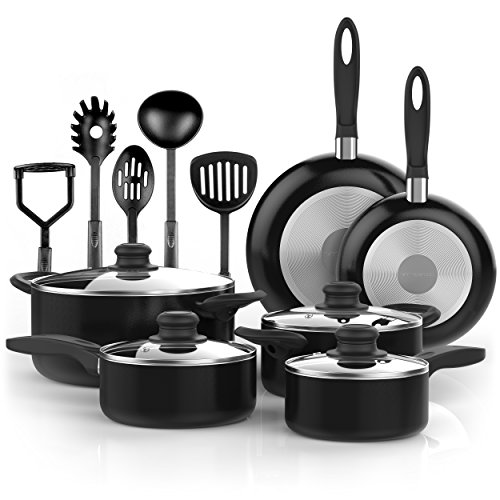 This utensil set works with any nonstick set
(Teflon, porcelain, ceramic) so you can cook without damaging or scratching the interiors of your pots and pans.
Made of pure bamboo, there are 5 essential pieces: a spatula, mixing spoon, turner spoon, forked spoon and slotted spoon. The bamboo can be washed in soap and water without dulling or deteriorating and can handle anything, from hot pasta water to stir-fry.
Each piece also has a different color silicone handle with a hole at the end so you can hang them if you need to save drawer space or want them within easy reach (they look pretty too when their on display).
There are 5 colors: sea foam, teal, pink, orange and bright green, to compliment any kitchen decor, making this set a must for all nonstick cooks.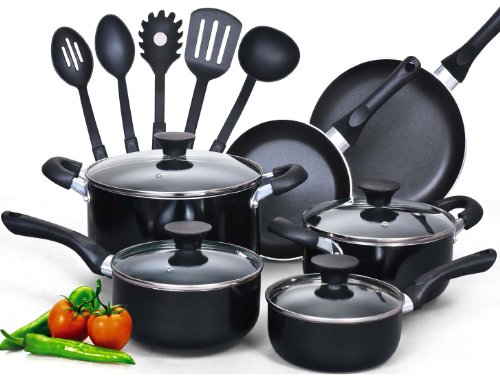 For those on a budget, this set covers all the bases and then some, and at a bargain price of just over $50. With pots, pans and utensils, this is a complete set, making it perfect for those new to using nonstick cookware.
The set is durable, thanks to a heavy-duty aluminum outer coating that gives it longevity without making it bulky or awkward. The aluminum also helps to spread heat quickly and all at once, for uniform cooking.
The nonstick interior is smooth and will not fade or scratch, even with repeated washing- showing this sets true value. In addition, the pans and pots have clear glass lids so you can see your food cook and the handles are soft silicon that is cool and easy to grip.
The one thing to remember is that due to the soft handles, this set can't go in the oven, but this is a small drawback that don't take away from the overall functionality of these pieces.
This set has 2 frying pans, 2 dutch ovens, 2 pots, and 5 cooking utensils (soon, spatula, slotted spoon, scooper and pasta spoon) and is good for new homeowners and beginners.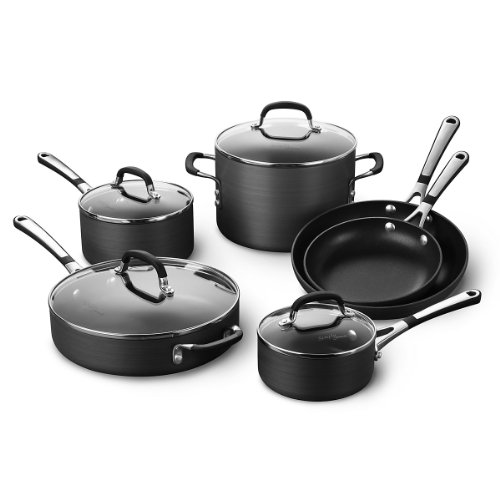 This 10-piece set is good for chefs with a taste for exotic sauces and egg dishes, thanks to its high quality design. One of the more expensive sets at $120, you can really make scrumptious omelettes and more thanks to the patented Caphlon technology.
The interior of each piece is double-coated with Caphalon, for extended use, improved heat conductivity and increased protection against chips or scratches. This ensure omelettes are fluffy and cooked throughout, sliding off the plate and right onto your plate. It also means sauces won't stick or clump.
The Caphalon is reinforced with a hard anodized aluminum exterior, which not only helps spread heat, but allows it to withstand higher temperatures.
Complete with glass lids and smooth, contoured handle grips for comfort and convenience while cooking, this set is not dishwasher safe, but still super easy to clean.
Set includes 2 omelette pans (8 and 10 inch), 3 sauce pans and covers (1.5, 2.5 and 3 quarts) and a 6-quart stock pot. A good pick for breakfast lovers and those who like to experiment with sauces and dips.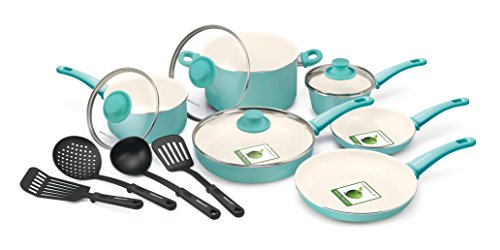 If you're weary about Teflon, like a char on your steak, or want a set that looks as good as it functions, consider this set from Green Life. Eco-friendly and economical at just under $80, this set is a striking turquoise color that performs even better than it looks.
The turquoise aluminum outer body is safe in the oven or on the stove up to 350° and gives theses pieces a lightweight, yet stable feel. It also helps the environmentally safe, white porcelain Thermolon interior heat quickly and simultaneously across the entire surface, for even cooking.
Thermolon also lets you crisp and sear with no sticking, so you can make a quarter-pound burger that's cries on the outside and juicy on the inside. It gives you unprecedented versatility, allowing you to roast, saute, fry and more.
Plus, Thermolon maintains its color no matter what foods you cook, and is dishwasher safe, so it will be as bright and clean as the day you open the box.
These pots and pans also have Stay-Cool Bakelite handles, which, as you probably guessed, won't transfer heat while cooking- even in the oven.
This set has 14 pieces: 2 fry pans, 1 sauce pan, 1 dutch oven, 1 stock pot, 1 small pot, covers and a 5-piece utensil set that make this great for those who like variety in their meals.
Nonstick Cookware Buying Checklist
Before buying a set, here are the things you need to consider:
Materials: As shown above, each material works differently, so it is a major buying factor. Love steaks? Then go with ceramic? Saute a lot of vegetable? Opt for Teflon. Choose what works best for your family, otherwise you will never use it.
Pieces: Every set is different, so see what each set offers. If you cook a lot of sauces, you'll want a set with more pots than frying pans. If you love soups, you'll want a set with a large Dutch oven. Find a set that reflects your cooking style.
Value: Make sure the set has the minimum number of pieces you need, so you get your money's worth. You shouldn't need to buy pieces separately to complete a set. Extras like coated utensils are great too.
Nonstick Cooking & Maintenance Tips
Before I reveal the top 5 nonstick cookware sets, I'm going to go over basic cooking and maintenance tips. While they are pretty simple to use, there are a few things you need to know to get the best results from them.
Use The Right Cooking Tools: To keep the nonstick surface intact, you need to use wood, nylon or nonstick utensils. Metal can scratch and is not recommended, no mater which type you choose.
Use The Right Cleaning Tools: Same goes when cleaning: use a sponge to clean them, no Brillo OS steel wool. Most are dishwasher safe, but check the set instructions first. Remember, no sticking means no scraping off food, so you won't need, or miss, the Brillo.
Store With Similar Items: To avoid possible chips, keep nonstick set pieces together to avoid accidental chips and scrapes.
Choosing the Right Nonstick Set Coating
As I mentioned, there are 3 different types of coatings, so you need to know what each can do to pick the right set for you and your family. Here is a rundown of how each set differs:
Teflon
Teflon is the most widely used coating for nonstick sets and has some great selling points. It is not only quite durable, but the only 100% nonstick coating on the market. They are tops at uniform heat conduction and more scratch-resistant than the other two.
However, Teflon is associated with some negative health concerns. When it first came out, Teflon contained a chemical called PFOA, a carcinogen that could emit harmful gases if pans were heated higher than 500°.
The FDA though, deemed them safe, recommending to cook on a low or medium flame. These days there are PFOA-Free Teflon pans, so this isn't a big issue.
Also, with Teflon, you can't get a sear or char on meats, which may be a drawback for steak and burger lovers. Teflon is good for everyday use and for those who cook healthy.
Ceramic
Ceramic nonstick sets are a great alternative to traditional Teflon, offering a highly-resistant surface that can safely heat past 500°. They also allow you to sear meats, making them more versatile and giving you the best of both worlds. They prevent caked on foods while still allowing you to get a nice char or caramelization.
Environmentally friendly, with a smooth surface that distributes heat throughout, they are a bit more fragile than Teflon and must be cleaned properly to avoid erosion.
Porcelain-Enameled
Another Eco-friendly, and budget-friendly option, is to go with a porcelain-enamel coated set. They are less expensive than Teflon and ceramic, but still offer the same benefits. The porcelain is baked on, turning to a smooth glass finish that can last a lifetime and is quite pretty to look at.
The one downside is that it is even more delicate than ceramic, so you must be a bit vigilant with it, but if you are, it can last you a lifetime.
Cooking Tricks
To help you maximize the potential of these sets, here are some cooking tips to amp up the flavor:
You don't need butter or oil, but if you use butter or flavored oils when sauntering vegetables, you c enhance flavors and add a little spice.
If you have a ceramic set, you can sear meats on the stove, then finish them in the oven so they don't dry out and stay juicy.
Use the dutch ovens like a crock pot and slow cook meats and stews. You can keep the flame on low for succulent, fall-off-the-bone meats and flaky potatoes.
The Verdict
I think my top 5 nonstick cookware countdown clearly illustrates the advantages of using these sets. Safe, durable and versatile, they take the mess out of cooking, and can make a 5-star chef out of anyone. They are easy to use and care for, so you can focus on what matters: making tasty, delicious meals day in and day out.
The bottom line is nonstick cookware is a great way to ignite your passion for cooking and help you cook healthier and smarter. They save you time, money, and best of all, leave you with a full belly and an empty sink. Now that's worth any price!

[rwp-review id="0″]