Having the best kitchen shears is essential for chefs and people who love creating tasty foods in their own home. While you may think that you only need knives for chopping and cutting your food items, you will soon find out that kitchen shears can be useful in ways you never thought of.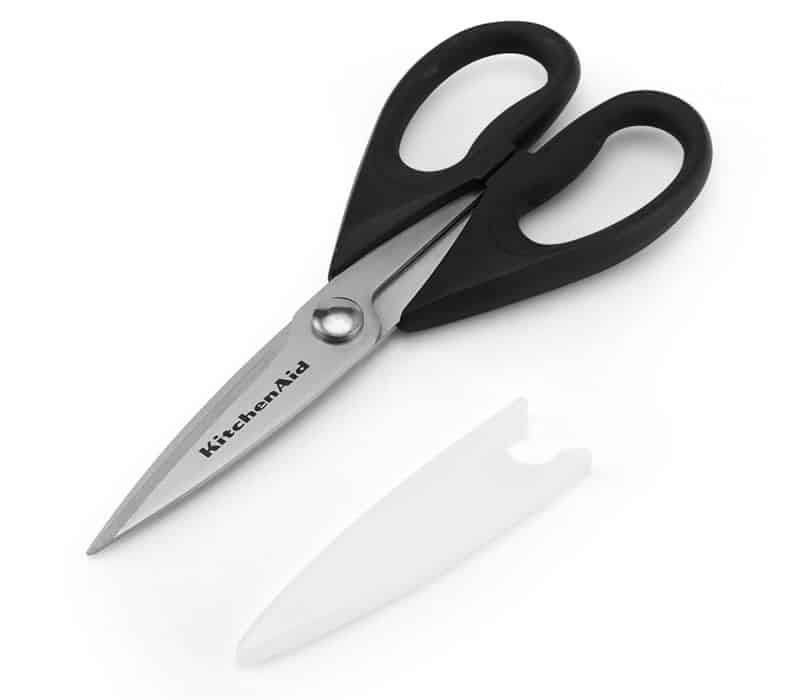 What are Kitchen Shear and Scissors?
A kitchen shear is a pair of scissors that is specifically designed as a multi-function cooking utensil. It is a culinary tool designed for the purpose of cutting hard meats smoothly and precisely. You may think that a chef knife and a paring knife can do the job, but owning a pair of kitchen shears will change that.
Surprise you with its many benefits. This cooking tool might be on bottom of your neccessities list, but once you realize all the benefits that come with owning one, that will change. From its cutting power to its versatility, it is something you definitely need.
KitchenAid All Purpose Shears Versus OXO Multi-Purpose Kitchen and Herbs Scissors Comparison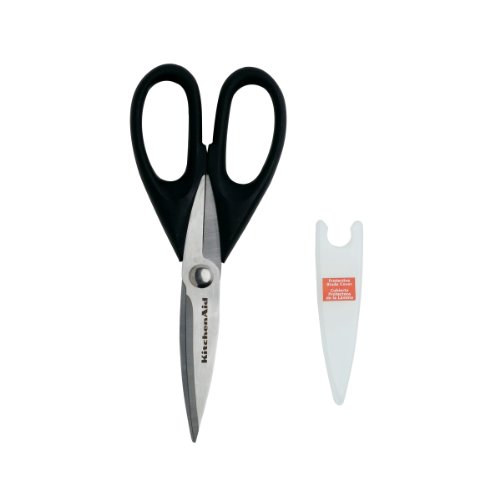 If you are on a tight budget but looking for a
quality pair of kitchen shears
, then go for the Kitchen Aid Shears with Soft Grip Handles. This scissor displays convenient qualities and features for a reasonable price.
First, it includes a protective plastic guard, which is important when you are not using this scissor. It can prevent unwanted incidents, especially if this scissor is in the hands of your children.
Secondly, the blades of the KitcheAid shears is stainless steel, making them capable of performing any task without falling apart. No rusting or corrosion can take place even after prolonged use, so when it comes to cutting capacity, this scissor can match up your expectations. Each of the blades has micro-serration so that you can efficiently cut without slipping. Also, the blades are relevantly thicker than other brands, which means that it has higher durability and strength.
Last, but not least, the handles of the scissors have a comfortable shape so your hands won't hurt while using it. A coating is furnished around the handles for softer grip/ These shears are safe with dishwashers, but we recommend that you clean it via hand washing.
Pros:
Durable and extra thick blades
Anti-rusting and corrosion
Soft handles
Protective sheath for the blades
Blades has micro serrations
Cons:
No extra features such as bottle opener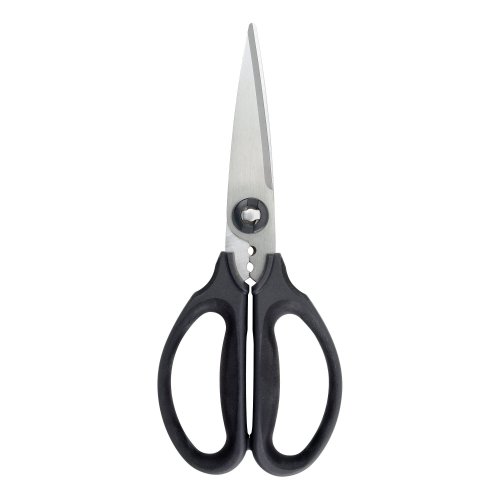 With its
unique design and outstanding performance
, the OXO Kitchen Scissors can be your partner for your cutting jobs.
This kitchen shear has ultra-sharp blades that have micro serrations so you can cut with precision without expending a lot of effort. When cutting using this scissor, even the hardest meat seems smooth. With this cutting capacity, it seems impossible that this blade is only under $20, but it is!
Aside from kitchen purposes, this scissor can be used to cut hard objects such as hard plastics and sturdy boxes without sustaining any damages because of its anti-rusting and corrosion features.
The entire construction of this kitchen shear is guaranteed quality. The blades and handles are tightly attached to each other so that it won't get loose, even after extended use and the handles are smooth, comfortable, and non-slip too!
Moreover, it has additional functions such as bottle opener and nut-cracker. The travel case is a bonus for you carrying it around.
Pros:
Sharp and serrated blades
Durable construction
Can cut even hard objects with ease
Non-slippery handles
Cons:
Some users say that it this kitchen shear should have a protective guard because the blades are sharp.
KitchenAid All Purpose Shears and OXO Multi-Purpose Kitchen and Herbs Scissors Difference
Look and Feel
This kitchen scissor can efficiently do all the cutting jobs you have, from chopping meat to trimming fats. You don't need a chopping board or a knife to do all those cutting chores!
Aside from its cutting function, this scissors has a built-in bottle opener. In between its handles is a serrated section that can be used to open tightly sealed bottles with ease. It can even crack nuts!
Pros:
Durable
Stainless steel
Have anti-corrosive properties
Tight and comfortable handles
Can produce sharp and quality cuts
Lifetime warranty
Cons:
Some customers reported that the handles are somehow loose
2. Blade
Kitchen Aid stainless blades have micro serrations and have anti-corrosion and rusting properties, perfect for kitchen applications.
The construction of this OXO enables it meant to last a lifetime. It has anti-corrosive properties so that its steel blade is always sharp, and the blades have micro-serrated edges so that food doesn't slip while cutting.
3. Handle
This kitchen shear gives you the utmost convenience when it comes to cutting and cleaning. The soft grip
In addition, cutting with the use of this kitchen shear is a lot easier, thanks to its comfortable grip handles.
OXO grip has a reliable traction, perfect to either left or right-handed chefs. It can give you enough traction on its handle so that you can efficiently cut meats and vegetables. More than that, its handles are also smooth and non-slippery.
Aside from its bottle opener and nut-cracker, this scissors can also be used to open jars. The steel tooth between the handles lets you twist the caps of jars with ease!
Pros:
Durable and sturdy
A Come-apart feature for easy cleaning and sharpening
Have several useful functions such as bottle and jar opener
Usable whether you are right or left handed
Cons:
Blades has no micro serrations
4. Case
There is no case for KitchenAid Shears. It only comes with a plastic guard.
Aside from its cutting capability, this pair of kitchen scissors flaunts multi-function features that make it a perfect tool for gourmets.
Also, the handles of this kitchen scissors are non-slip, so that can give more power to your cut.
The Chef's Heavy Duty Scissors can also be used as a straight knife, screwdriver, shell and nut-cracker, fish scaler, and bottle opener! This kitchen shear is definitely a good buy!
OXO kitchen shear also comes with a travel case for protection and convenience on storage.
Pros:
Multi-functional kitchen shears
Comes with protective sheath
Lifetime warranty
Durable and non-corrosive
Cons:
The hole of the handle is too small for big hands
5. Easy to Clean
OXO  blades can be detached from each other. This feature is useful for thorough cleaning of the scissors and allows you easier access to the leaves if you want to sharpen them.
Because of this feature, you can clean or sharpen the blades easily.
Primary Purpose of Kitchen Scissors
A kitchen shear is best used when cutting herbs, slicing poultry into pieces, and opening food packaging. These are the basic jobs that a good pair of kitchen shears can do.
When it comes to poultry, you can use a knife to slash through the joints. However, when it comes to removing the backbones (essential for grilling and roasting turkey and chicken parts), a pair of scissors is the tool that you need. Also, if you have a lot of poultry spines that you have to remove, then you need a heavy duty kitchen shear to do it faster.
For home applications, a good kitchen shear is more than enough for you. This kitchen tool comes in different sizes and can perform different functions, not only with food but around the house as well.
Cooking Shear Qualities and Features to Look for
There are several key features of cooking scissors you need to consider:
Straight or Curved?
Shears can either be straight or curved and which is best for you depends on what you plan to use them for. If you plan to cut and break down different meats curved are the best option, as that is what they were created for.
However, if you want scissors to cut meats, veggies, fruits and more then straight is the way to go as they are multi-purpose.
Edging
Not only do you want shears that have sharp edges you also want ones that can be easily sharpened. A shear is only as good as its edge and if it is difficult or time-consuming to sharpen them and keep them in-shape you will end up rarely using them. Sharp blades let you cur easier, quicker, and most importantly, safer.
Shears with micro serrations (small notches) tend to be sharper and can be kept sharp with a stone.
Metal
Besides edging, the metal you choose will also help determine sharpness. High-carbon steel is the sharpest of all but is known to rust, which can be problematic. High-carbon stainless-steel is a better option, as it is sharper than traditional stainless steel and more resistant to rust than carbon.
Stainless steel is virtually rust-resistant, but not as sharp as the others. See some other Carbon Steel Woks and Kitchen Stuff here.
Blades
To keep your shears sharp and in the best condition you need to properly clean and dry them; that is why we recommend models with removable blades. This allows you to wash and dry thoroughly and can avoid water from pooling and causing rust or other issues.
Benefits of a Cooking Shear
A kitchen shear has a significant role to play in every kitchen, whether you dabble or are a professional. These utensils provide an efficient way for you to cut hard meats and break down poultry.
Specifically, a kitchen shear proves its worth when it comes to dissecting hard-to-reach parts of a meat. If you want a precise cut, then a scissor is what you need.
Other benefits of using a kitchen shear
A kitchen scissor has multi functions – A knife is for slicing and cutting only. On the other hand, kitchen scissors have some features that make them efficient as bottle openers, jar lid openers, or even a screwdriver.
A kitchen shear is ergonomically correct – Using a kitchen scissor is easier compared to a knife. You have more control over your slicing and cutting than with a knife thanks to the double grip. Also, it enhances your precision and accuracy for each and every meal preparations.
A kitchen Shear is a great addition to your cooking utensils – When it comes to the kitchen, you need to have a complete set of tools to handle all your needs. You need to have adequate equipment so that you can prepare recipes correctly, and easily. This is particularly the case with chefs, whose cooking involves a lot of science, which is why shears are a must!
What to Consider when Choosing the Top Rated Kitchen Shear
Price

A shear is not an expensive tool, despite being a necessary kitchen utensil. But in choosing one , always remember that price comes with quality. Cheaper ones may have reduced construction while those that have adequate pricing may give more options and benefits.

Quality

In choosing the best kitchen shear, you need to assess its quality. Check if the blades are sharp and sturdy. Make sure that it is tightly attached to the handles. Moreover, always test if and how it can cut hard objects.

Additional features

Aside from cutting purposes, choose a kitchen shear that has other functions such as a bottle opener or a nut-cracker.

Protection

A kitchen scissor is a dangerous object, especially for small hands. Make sure that when you buy one, the blades have a protective guard to prevent unwanted incidents.

Warranty

Of course, be a wise buyer. If you order a product that has a defect, then a guarantee will save you from a lot of headaches.
Best Uses of Kitchen Poultry Shears
As we have mentioned, a kitchen shear is an efficient tool in the kitchen. Not only does it let you cut efficiently for any recipe, but it also provides you with more options in cooking.
Here are some of the hacks you can do with your scissors:

A kitchen shear has more power and control than a knife. This is especially true if you are trying to spatchcock poultry meats such as chicken and turkey. Breaking the meat into pieces and cutting through its backbone are some of the functions that a kitchen scissor does best.
Canned tomatoes usually come as a whole piece. If you want to dice them, then you need a kitchen scissor to snip the tomatoes into pieces!
Shrimp are hard to clean. The entire process is pesky enough that even veteran chefs find it loathsome. But if you have a pair of scissors in your hand, then the job is a bit easier. Make a cut in the middle of the back of the shrimp and then pull the vein. This process prevents the shrimp from curling and lets you keep the juice of the meat.
We know that cutting bacon is a troublesome errand. Bacon is floppy and greasy, which makes it hard to cut, and that trouble is doubled if you cut it using a knife. But if you use a kitchen shear, slicing and cutting bacon is relatively easy.
Some scissors have micro-serrations which make the "bite" of their blades firm and less prone to slips. Some chefs are using kitchen shears to cut bacon into snips through the rind so that it won't curl after cooking.
Chopping a slow-cooked pork and stewed beef is hard to handle if you use a regular kitchen knife. Therefore, the best option you have is to shred the whole meat with a kitchen knife that has sharp and sturdy blades.
By doing this, cutting will be easier and more efficient than ever before.

Some food and kitchen ingredients are sealed in a tight and sturdy container. It will take a lot of time for you to open it up using a knife. If you do this, the process will be like chopping wood using a saw.
Instead of undergoing such unnecessary travails, just use A pair of shears. Even if the food is inside a strong carton, opening it will be effortless if you have sharp scissors on your hand.

Q&A
Q. Do I really need kitchen shears?
Yes. A Pair of Shears let you cleanly take apart meats so you can get the most out of every cut and helps you do it in a way that is safe and effective. They also let you make crisp, clean cuts and shred meats for tasty dishes like pulled-pork.
Q. Are they easy to clean?
Yes. No matter if you choose pull-apart or traditional they can be cleaned with soap and water just like other utensils.
Q. Are they better than traditional scissors?
Yes. They have thicker, wider blades that allow you to cut through foods with less effort and strain. This is especially important if you use them for chicken parts and other meats that contain bones.
Verdict
A pair of kitchen shears is a handy cooking utensil. Aside from its efficiency and precision in cutting hard meats, kitchen scissors perform other useful functions for any and all of your cooking preparations.
You may think that having a knife is enough, but if you want your cooking to be convenient and hassle-free, then a pair of kitchen scissors is a great addition. We highly recommend this Heavy Duty Kitchen Shears
[rwp_box id="0″]