In the market for a steam cleaner? That is a great idea. Steaming cleaners are some of the most versatile cleaning tools on the market. Who doesn't want a product that can clean carpets, tiles, and curtains without chemicals, right?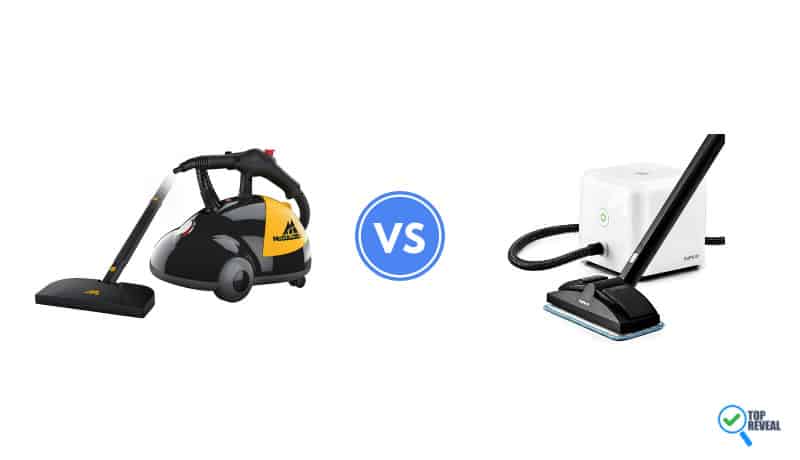 If you want a deep clean the steam cleaner is the way to go. But which one is right for you. That is the question that we will be exploring today: McCulloch verse Dupray Comparison.
There are lots of good options out there. The McCulloch MC1275 and the Dupray Neat Cleaner are both more than capable of giving your home a good clean.
Let's now compare the two products to see which is right for you.
Our Recommendation
If you aren't in the mood to read through an entire, in-depth review, then we can let you in on a little secret and reveal the winner right now.
While both of these steamers are good, we thought that the Dupray Neat Steam Cleaner came out a little bit ahead. While the features are pretty similar between both of these options, the Dupray's attributes are all just a little bit upgraded.
But hey, don't let us make your decision for you. Read on and decide for yourself which unit you will be taking home!
The next unit that we will be looking at seems almost identical to the last that we saw. At a glance anyway. The features here are actually all identical. This steamer just upgrades them a little bit. Let's explore some of the ways that the Dupray better serves your needs.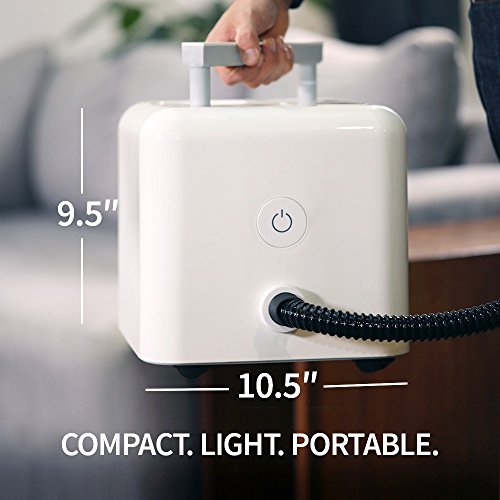 Large Tank
The tank that you get here is fifty four ounces instead of forty eight. This translates into five extra minutes of use. Not necessarily an enormous difference but if you have a larger house it can make help.
Read why customers love it here.
Warms Up Quickly
The Dupray also features a quicker warm up time—taking seven minutes instead of ten. We mentioned the slow heating time as an issue with the last one. While you may not feel like this component of the tool matters to you think about how many times you will use the steam cleaner.
Let's say that you use it two hundred times over the life span of the tool. That's a difference of ten hours. Ten hours you could use to do anything other than watch water heat up.
Removes More Bacteria
Another thing we really did appreciate about this steamer is how hot it is able to get. You get two hundred and fifty degrees of heat here—which is more than enough to let the steam cleaner work its magic.
Remember that in addition to lifting grease and grime the main function of the stem cleaner is to kill germs. Two hundred and fifty degrees of heat will make that very easy to accomplish.
18 Accessories
Last, but not least you also get eighteen accessories with this steamer.
This is actually the main point in common between these two steamers. The accessories are the same as the last unit that we looked at—attachments designed to help you access the wide range of functions that steam cleaners are capable of.
Also like the last steamer we saw, it is worth mentioning that there is little to say in terms of complaints.
The biggest issue that we noticed was price. It isn't only that this unit is expensive. It's also that the performance doesn't yield substantially different results. The quicker heat up and the bigger tank may matter to some users, but many people are likely to see little difference between this steamer and the first that we saw.
Other than the ratio of price to value, this is a good tool that most will really appreciate.
Dupray Pros and Cons
Pros
Heats Up to Two Hundred and Fifty Degrees
Heats Up in About Seven Minutes
Eighteen Accessories included
Fifty Four Ounce Tank Produces Fifty Minutes of Steam
Cons
Expensive relative to value of performance
The McCulloch MC1275 is your standard steam cleaner. Though not necessarily loaded up with special features, it does what it is supposed to, and it does it well. Let's take a look.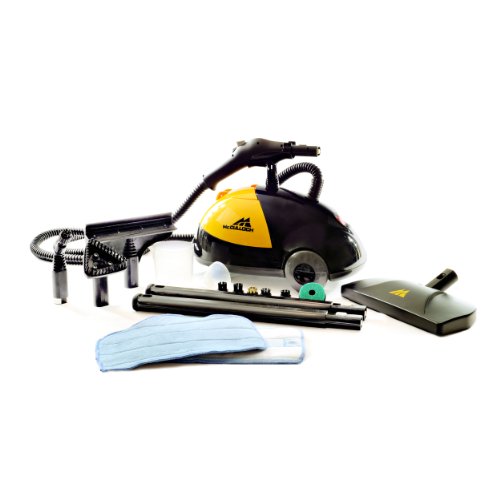 Big Tank
With this product, you get forty-five minutes of steam heated to two hundred degrees.
This feature is provided by a good-sized forty-eight-ounce water tank which should give you enough juice to clean your entire house with one tank.
Lots of Accessories
The real standout feature with this unit? The accessories. You get eighteen here. Mops, extensions and all other manner of other options that enhance the ways that you can use this tool to give your home the very best clean of its life. In general, steam cleaners are hyper versatile but an accessory package that is this robust really ices the cake.
With eighteen accessories you will certainly be able to use this package to the fullest.
High Performance
It is also important to emphasize that there just wasn't very much to complain about here. One thing that we did find worth mentioning was the wait time. It will take ten minutes for the water to heat into steam. Now in the grand scheme of things that isn't terrible. Waiting 10 minutes for 45 minutes of steam seems like a fair trade off.
We mention it because higher end units can usually heat up their water in about seven minutes. Three minutes may not seem like a lot, but over the lifespan of the tool it will add up considerably.
Other than that, the complaints are minimal. While the features don't quite stack up to those of the next cleaner that we will see they are good and reliable. Perfect for anyone looking for an economic way to steam clean their house to perfection.
McCulloch Pros and Cons
Pros
48-Ounce Container Produces Forty Five Minutes Of Steam
Comes With Eighteen Included Accessories
Steam Heats Up to Two Hundred Degrees
Cons
Water takes a long time to heat up relative to higher end steam cleaners
What are the Differences Between McCulloch vs Dupray Steam-cleaners?
Understanding the differences between two similar products can have a profound effect in determining which option you end up going with.
That in mind, let's now examine a few of the things that make these two steam cleaners different.
Price: Price is one of the first differences that you will notice between these two options. While the difference in cost probably won't be enough to cause serious financial strain for most buyers, it is noteworthy.
While neither is priced radically high, the Dupray is the more expensive of the two options. If you are trying to save some money with this purchase, you will want to go with the McCulloch.
Warranty: You don't ever hope to use the warranty, but when something goes wrong, it is certainly nice to have. In the case of today's products, both come with pretty good warranties. The McCulloch comes with a two-year warranty, while the Dupray comes with a three year warranty.
Most people probably will not allow a warranty to dramatically impact their buying decision. Still, the extra year that you get with the Dupray is certainly nice to have.
Tank Size: The Dupray also wins out in terms of tank size. In this case, the difference is small: only six ounces. With the McCulloch you get a 48 ounce tank. With the Dupray, you get 54-ounces. Like we said, the difference is small.
The McCulloch can clean for about forty-five minutes, while the Dupray can clean for fifty minutes. Still, if you have a big house with lots of carpet and tile, every second counts, right?
Heat: Can you guess which product wins out in the department of heat? That's right. Once again, it is the Dupray that wins the point. The McCulloch heats steam to an impressive 200 degrees, but falls short of the 250 degrees that are achieved by the Dupray.
Since the steam temperature will actually play a significant role in the amount of bacteria killed, this is nothing to sneeze at.
Compare Dupray and McCulloch: How are They Similar?
The funny thing about the Dupray and the McCulloch is that at a glance, they are almost completely identical. They have the same exact features. The only difference? The specifications of the features.
We already went into detail on those differences in the last section, so we won't do it again here, but suffice it to say, they do feature many commonalities.
The only aspect of these tools that is the exact same are the accessories. Both come with the same eighteen accessories designed to maximize what you can do with the steamer.
And of course, they both perform the same tasks of lifting dirt and grime, and killing bacteria without the use of chemicals.
Conclusion
As you have probably already seen, there is no clear winner here. The Dupray has a niftier design, and a few more bells and whistles. However, the savings that you get with the McCulloch will certainly appeal to many buyers as well.
Now, all that is left for you to do is to use our guide to compare the features, and decide which tool is best suited for your home.
The good news? Regardless of which steam cleaner you choose, you will wind up with a tool that will change the way you clean your home.
[rwp_box id="0″]