Do you do most of the cleaning in a house filled with pets and children? I know that I do. If you are like me, responsible for cleaning up the messes of people and animals that are really good at leaving their mark, then you know that sometimes the typical cleaning regiment just isn't enough to get the job done to your satisfaction. Vacuuming, sweeping, dusting, and mopping are all great for what they are.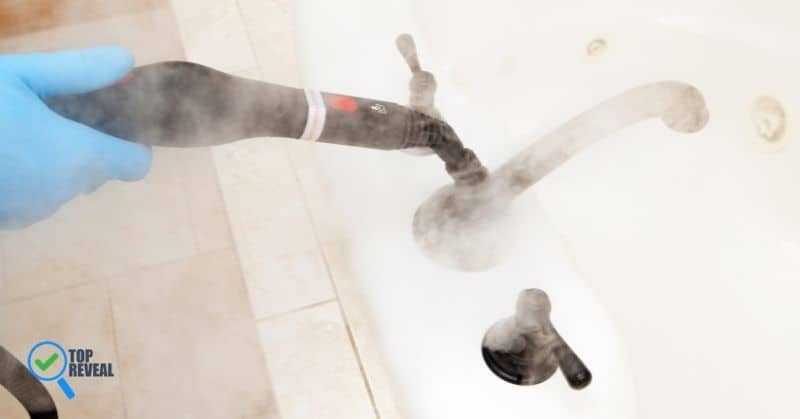 Certainly, these staples aren't going anywhere anytime soon, but the truth of the matter is that sometimes they fall short in giving my home the deep clean that I feel my family deserves. Recently I have changed that, with the help of a steam cleaner.
What is a Steam Cleaner?
If you do not know what a steam cleaner is, or have never used one to this point, you will want to change that by the time you are finished reading this. Using only water that you can get from your tap, the steam cleaner offers a deep, thorough clean that kills dust, bacteria and mold on any surface of your home. Let's take a closer look at some of the benefits, shall we?
No chemicals: Like I said, I have kids, and pets, so this is a big one for me. Rather than needing to worry about what sort of chemicals you are introducing into your home through harmful cleaning solutions, you can rest easy knowing that your steam cleaner runs on water.
Multi Purpose: The steam cleaner can clean almost any surface, going places that your vacuum certainly can't, but that is not all that it is good for. Clean drapes without the need for an iron. You can even use the high pressurized power of a steam cleaner to easily remove wall paper.
Deep Clean: I might use that phrase a few times, because I think that it is a really big deal. Here is what it means. We'll put this in the context of your carpet, as an example, but the principle of it applies to every surface in your house. Carpet cleaning with a vacuum is necessary to maintain the condition and appearance of your floor, but unfortunately, with a standard cleaning product, you are only really treating surface debris.
With a steam cleaner, you are ridding the very fibers of your carpet from bacteria and dirt. Desirable for any home of course, but perhaps all the more so for families with children that spend a lot of their time playing on the floor.
Now you know what a steam cleaner is, and all the ways that it can benefit your home, let's take a look at some of the specific ways you might be able to utilize this awesome gear.
How to use a Steam Cleaner to Steam Clean Your Bathroom?
Bathrooms
Bathrooms are a natural fit for the steam cleaner. A room that harbors the most germs and bacteria certainly deserves the deepest clean possible, and that is exactly what your steam cleaner will provide. Take care of that mess around the toilet that we are all aware of, but don't want to talk about.
Sinks
After using your bathroom, one needs to wash hands and leaves water around the sink. Steam cleaners can help sanitize the common used and wet Area.
Tile and Grout
Cleaning tile and grout is perhaps the most popular use for a steam cleaner. Though far from the only thing it is capable of, you will indeed note that this products reputation for cleaning tile is well earned. Simply put, a steam cleaner will have your tile looking like new in no time at all.
Curtains
I know that we have mentioned this one already, but did you take a moment to appreciate how awesome it is? With a handheld steamer attachment, you can clean them where they hang. Ironing is a huge pain, so why not eliminate the need for it?
How to Steam Clean Other Parts of Your Home?
Countertops
As the person who also prepares the meals in my home, I am really partial to this one. Eliminating the need for harsh chemicals on the same surfaces that I handle my family's food is an enormous plus that can't be oversold.
Glass Door of Your Oven
No one is going to judge you if you don't clean the glass on your oven door. Heck, with all there is to do in life, it is almost an obnoxious display of showboating to have one that's shining like new. However, if while you are using your new steam cleaner on your countertops, you decide you'd like to give it a try, you can rest easy knowing that you have the right tool in your hands.
Grill
As much as I love to grill, I really do hate cleaning up afterwards. For as relaxing as it is to slowly sizzle some meats and veggies outside on a nice afternoon, the mess that it leaves behind is anything but. For me, the steam cleaner has changed this. Use yours to have the interior of your grill looking the best it has since you bought it.
Car Interior
I'll be honest. Much to the chagrin of my wife, my car is one thing that I don't really worry about cleaning. Because of that, it would be safe to say that the fabric of my car's interior has its grimy spots. On the rare occasions that my better half is able to pressure me into giving the thing a clean, I simply bust out the steam cleaner, and the job gets done in no time.
Final Thoughts
Hopefully by now you are getting the message. With many benefits, and even more uses, the steam cleaner is a vital part of any home cleaning artillery. For a deep clean that forgoes the need of costly, toxic chemicals, there is only one cleaning product to turn to. This isn't like the gadgets you see on television offering a gimmicky modification of a product that you already have, available at an inflated price.
No, unlike a blender with an attached clock radio, the steam cleaner should be a staple in every home. Yes, it makes cleaning easier for you, but since it is chemical free, it is also a safer way to clean the surfaces of your home, making it the best choice for your family.