You've seen them in the store, but how does a steam mop work? If you're in the market for a product that will help you enjoy a deeper clean than ever before there is no doubt that this question is often on your mind.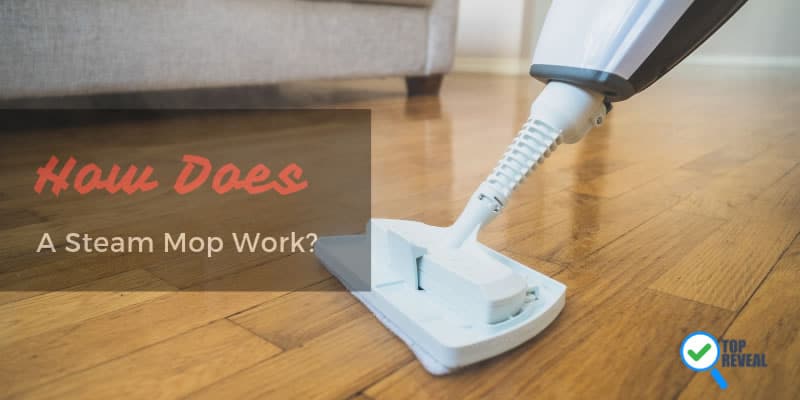 The truth of the matter is that this innovative tool is simultaneously simple and complicated. But because of how effective it is, it's also well worth your time. That in mind, today we look at how a steam mop works. Read on to find out!
Who's Even Making Steam Mops?
If the product is so foreign to you that you aren't even quite sure where to find it in the store, we can understand that. It's not quite as exotic as you're likely thinking. In fact, many of the same people making ordinary mops, brooms, and vacuums are also making steam mops.
Bissel is one of the best when it comes to making this particular product. The Bissel PowerFresh is one of my favorite options on the market thanks to the large water reservoir, the sleek design, and the high level of performance.
But the truth is that any halfway decent steam mop will be able to capitalize on a few key cleaning functions:
Dirt and grime removal
The decimation of stains
The destruction of all forms of germs and bacteria
now that you have a better idea of what we are talking about here, let's take a look at how the steam mop works.
So, How Does a Steam Mop Work?
Good question. It's pretty straightforward once you get a sense of all the steps involved. Read on and learn!
Step One: It Starts With the Water Reservoir
Before anything else can happen the water reservoir on the steam mop must be filled to capacity. The larger the water reservoir, the longer you will be able to use your mop on a single tank.
For example, some steam mops may be able to run for an hour before you need to refill the tank.
Step 2: The Water Heats Up
Next, the water needs to have the chance to heat up. Since steam is the operative factor with this piece of equipment, the tool itself needs to be able to get very hot in order to vaporize the water.
How long this takes to happen will vary depending on the product. Some may take ten minutes to heat up. Others can be much shorter. The Bissel that we looked at earlier is ready to go in thirty seconds or less.
The steam-cleaner will need to heat up to about 248 degrees which demonstrates how heavy duty the equipment really is.
Step 3: Using the Steam Mop
Once the water is heated up, you can use the product freely. However, the question still becomes how and where to use it. Though called a mop, it functions in much the same way as a vacuum cleaner and can be properly utilized using a similar motion.
To use the steam mop, push forward, and then back to ensure an even, thorough stroke. Then it is just a matter of repeating that motion until the area in question has been fully addressed.
You do need to be somewhat mindful of where you use the steam mop. More versatile than its namesake, the mop, you can use steam oriented cleaners on carpets, rugs, tile, etc.
You can even use them on bedspreads, curtains and more. Some people even used full-sized steam cleaners for effortlessly stripping wallpaper.
The list of things that you can clean using steam is nearly limitless, but with one major exception: wood. That's right. Wood and steam don't jive so well together.
Exposure to a steam cleaner will leave your wood floors permanently warped and distorted, so it's better not to run the risk.
Otherwise, you should find that this product can satisfy nearly all of your cleaning needs.
Step 4: Doing Touch Up
The one thing most steam mops cannot do is dispose of dirt and grime. Generally speaking, the job of the steam mop is not to suck up refuse the way that a vacuum cleaner would but rather its to deposit steam. The steam then lifts dirt from whatever surface it is stuck on.
The dirt will sit on the tip, easy to pick up, but also easy to disperse until you do something about it.
To ensure that you don't undo your hard work, it will be a good idea to vacuum or sweep up soon after using the mop.
Fortunately, the cleanup doesn't have to be in depth. The mop has already done most of the work for you. Your only job is to do a little bit of tidying up.
If you have a robotic vacuum, you can even automate the post mop cleanup with a little bit of Roomba action.
Step 5: Cleaning Out the Steam Mop
Most manufacturers recommend that you clean up the steam mop each time after use. Most people aren't going to be quite so diligent as that, nor do they really need to be. However, as with anything, it will be to your benefit to give the steam mop the once over occasionally.
Cleaning this product is very easy. Usually, you'll just need to run clean water through the reservoir, and any tubes that happen to be featured on the vacuum that you own. Naturally, each product will be a little different but regardless it's a good idea to tidy up the mop every so often.
Conclusion
So there you have it. How does a steam mop work? It's not too hard. A heating element, a little bit of water, and your house will be cleaner than you've ever seen it. If you want to kill 99% of the bacteria in your home, there is really only one way to make it happen.
Pick up a steam mop today, and enjoy a new kind of deep clean.