What Kind of A Steam Cleaner Should I Buy?
This is a question that often baffles people. There are so many steam cleaners on the market and so many features to weigh that it can be hard for a homeowner to know what matters and what doesn't. Lucky for them, and you, we have an in-depth, professional review of the best steam cleaner for you- the 'PureClean XL Rolling Steam Cleaner'.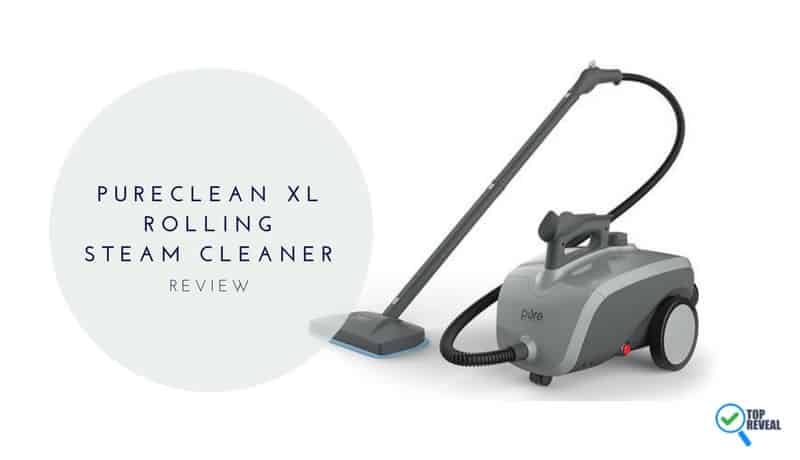 When the going gets tough, or more accurately, when the dirt is tough to eliminate, you need a PureClean Steam Cleaner. It is a heavy-duty, eighteen-piece machine that offers powerful cleaning. Its powerful system removes even those annoying stains and substances that seem to be irremovable.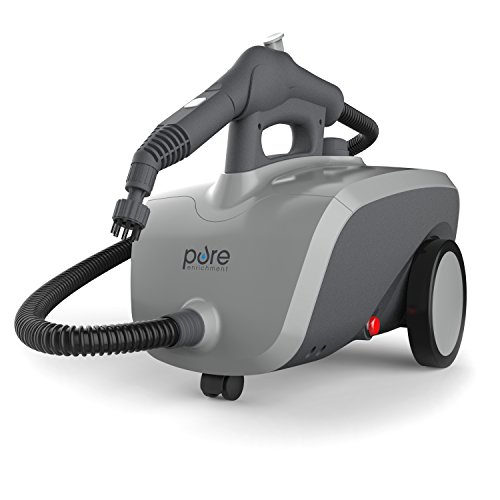 With this steam cleaner, you can always expect professional-quality performance. Pure Enrichment Company ensured that it has enough power to tackle some of the toughest cleaning jobs and the reviews support those claims. That's why, they introduced 1500 Watt multi-purposed, 18-piece heavy duty system, which can produce up to 45 minutes of continuous hot pressurized steam.
PureClean XL Features and Benefits
This cleaner can provide outstanding and in-depth cleaning for several areas, including carpet, laminate, flooring, curtains, mattresses, furniture, grills, toys, vehicles, car seats and more! The best thing is it has a capacity of 1.5-litres, and it heats up quite quickly too, almost in 8 minutes.
Besides, with immense pressure, it can even eliminate old stains, grease, mold, and grime, which are tough to get rid of from another kind of cleaners.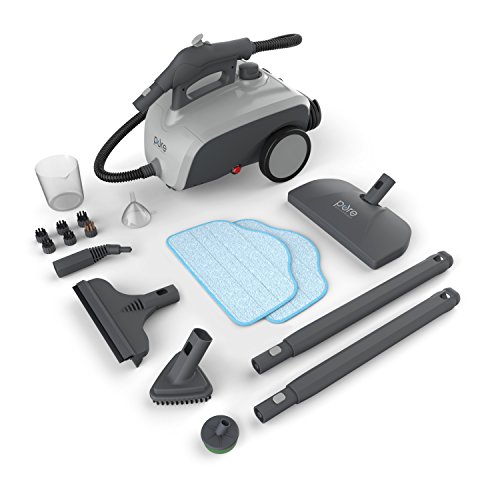 In addition, it is full of great features, including:
Portable: It's a portable, handheld steam cleaner for you. It's quite small and easy to carry around. Therefore, it offers quick cleanups around the kitchen, bath, and other areas of your home. You can even use it in tight spaces like car interior, fridge, and etc.
No Chemicals: There aren't any harsh chemicals; your precious furniture, children, and pets are utterly safe. All you need is enough water and power supply to remove the harshest of spots. Just make sure children or pets aren't near this machine while you are distracted cleaning because it is really hot and can cause burns.
Versatile: Many steam cleaners don't have the ability to clean more than one to two surfaces. Especially, with conventional cleaners, it is tough to handle different surfaces. But, this isn't the case with Rolling Steam Cleaner. From tiles to wool carpets and waterproof wooden floors, it can clean more than 10 surfaces with efficacy.
Safe House: Cleaning isn't the only purpose; everyone requires a safe, secure house as well; free from all bugs, molds, and mildew. And, Pure Enrichment manufacturers perceived this so well. This Rolling Steam Cleaner doesn't just remove all the stains but also eliminates all the bad bugs for you. Your house stays clean and fresh all the time.
Affordable: It is tough to find an exceptional XL steam cleaner at an affordable price, because of their multi-purpose and lifelong benefits. But, this Steam Cleaner is available at quite economical prices with all possible and A++ features.
Product Specifications
Here is a look at how this unit is made and works: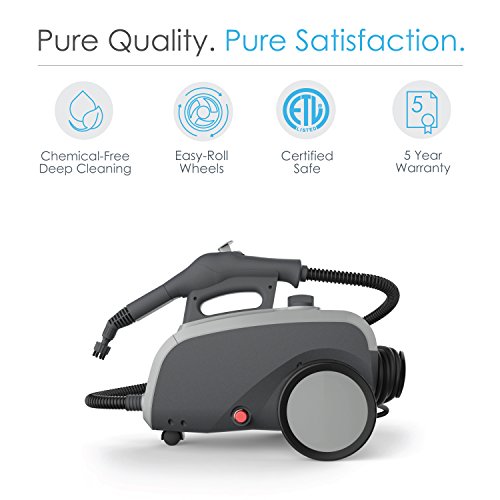 Design: It has dimensions of 15.7" X 11" X 13"and weighs around 16 pounds.
It heats up quite quickly, within 8 minutes and the unit has a continuous steam time of approximately 45 minutes.
Power cord length is 16ft, which helps in deep cleaning and tight spaces.
It's safe to use on more than 10 surfaces; ceramic tiles, cotton, carpets, and etc.
18-piece heavy duty set; self-sufficient machine with all the essential components.
Pure Enrichment offers 5-year warranty (industry's leading warranty program).
The only con we have found in this product is it can't be shipped internationally.
Why Should You Buy It?
If you are still wondering if you should buy a PureClean XL Steam-Cleaner, there are lots of other reasons and advantages to buy this exceptional cleaning machine. For example,
Our Experience
Before publishing this PureClean XL Rolling Review, we have tested this product and canvassed all its highs and lows. Just from the above description, you perhaps have already realized that it is one of the top steam cleaning machines in the market. It is definitely lightweight, fairly compact, and easy to move around the house. It also delivers 45-minutes of steam that stays pretty darn hot.
The only thing which we noticed is it is better to wait 10-12 minutes, instead of 8, for proper initial cleaning. We took it on a few chores; cleaned the grease around the stove, refreshed the carpet, and removed stains and dirt from the curtains too.
It delivered best results!
Apart from this, it is equipped with large easy-roll wheels for easy movement. It helps in outdoor tough jobs and rough terrains. You can easily clean home from the outside as well.
Conclusion
In the end, the quality and performance of the machine matters. Luckily, PureClean XL Rolling Steam Cleaner exceeds your expectations in them. It will clean almost every surface in your house, without damaging the eminence of the floor or anything. If we say, it will complement all your cleaning needs, it would be correct.
Just read directions before using brand new Steam Cleaner. It helps in using the device in a safe mode. Furthermore, there are safety precautions that assist in doing the cleaning job effectively.
[rwp-review id="0″]