Today's bathrooms are more probable to have showers with doors rather than the old fashioned curtains, thanks to the rapidly changing trends in home decor. Though the bathrooms with glass doors are aesthetically pleasing, the downside to having a shower with a glass door is that it accumulates hard water stains and a solution soap scum during the course of time and that can be quite a headache to deal with.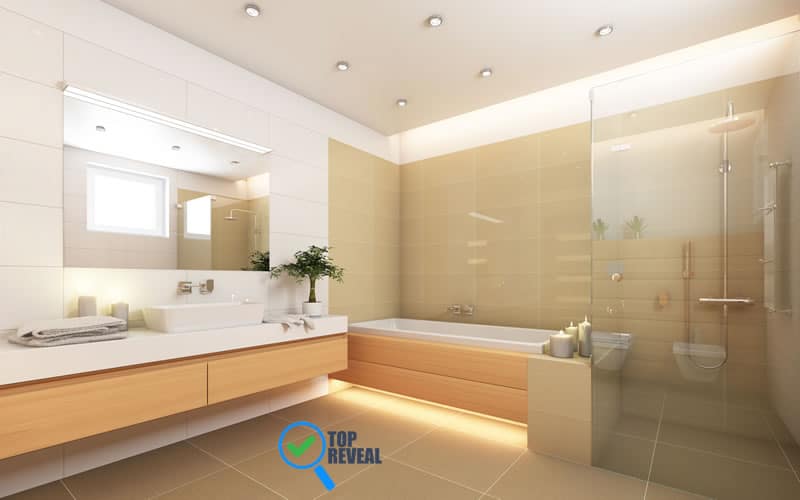 Smudges and a solution to the query of how to clean soap scum from shower doors are just a few challenges involved with cleaning glass doors. Maintaining a sparkling shower becomes a dreaded chore. There are various techniques -from DIY methods to commercial cleaners – that make cleaning the shower door a simple and efficient task.
So, here we are with remedies that will work like magic in keeping your shower doors spotless, sparkling and devoid of those ugly stains and soap scum that rob the beauty and the elegance of your glass door showers. If you do not want to clean shower door on daily basis then treated glass will be best option. If you want to buy treated Glass, Please visit here
The best way to clean glass shower doors easily and keep them sparkling
A simple homemade best cleaner for glass shower doors can be made out of the ingredients you have lying around the house. You can use these methods effectively to remove the stains on the glass doors and the shower walls. You may need to use a toothbrush or a scrub pad to scrape to remove some difficult spots.
Cleaning glass doors with vinegar solution
Ingredients that you'll need-
Half a cup of vinegar

A cotton cloth

A toothbrush

A clean cloth or sponge
Method of application
The vinegar has to be applied on your shower door using the cotton cloth. Then let the vinegar sit for five minutes. Scrub away any soap scum or stains using the toothbrush. Apply some water on the door to remove any remaining stains. Wipe the area dry with a clean cloth. Repeat the procedure as you deem necessary.
Cleaning glass doors with lemons
    Ingredients that you'll need-
Two lemons

A clean cloth or sponge

A spray bottle
Method of application
Squeeze the juice from the lemons and mix them with a cup full of distilled water. Mix the liquids thoroughly and fill them up in your spray bottle. Spray the shower doors with the lemon solution and let it sit for about five minutes. Wipe the glass dry with a cloth or a sponge to a sparkling shine.
Cleaning glass doors with baking soda solution
    Ingredients you'll need-
Baking Soda

A clean cloth and a sponge

A spray bottle filled with distilled water
Method of application
Pour out half a cup of baking soda in a container. Add a small amount of water and mix them thoroughly. What you are looking for is a paste-like consistency. Keep on adding little amounts of baking soda or water as required until you get a completely smooth paste. Spray your glass doors wet with the spray bottle. Or instead, you can use this method after you have taken a hot shower. The heat and the humidity of a hot shower make it easier for the cleaning agent to work effectively.
After the surface of the glass is wet properly, apply baking soda paste on the surface of the doors with the sponge and let the solution sit for about ten minutes. When the timer is up, re-spray the surface with a spray bottle and proceed to clean the glass door with a clean cloth.
While these homemade products remedy the situation that you are in, by clearing hard water stains and clean soap scum off shower doors and give them a sparkling finish, there are other elements that need to be taken into consideration. Your Aluminium door frames. The metal frames deposit rust due to exposure to humidity. Calcium and lime deposits also occur on the frames with the time that make them unappealing to look at. Mould and fungus also tend to grow in the cracks between the door and the frame which can prove to be a health hazard.
Best ways to clean aluminum shower door frames and the door tracks
Cleaning the Aluminium frames in your shower using a Vinegar solution
Vinegar solution works effectively in rinsing away the calcium and lime deposits from the door frame as well. The only key difference is using hot distilled water instead of normal tap water.
Method of application
Mix equal parts of vinegar to hot water in a spray bottle. Spray the solution in abundance on the metal frame. Leave the solution undisturbed for about ten minutes. Use a clean cloth or sponge to wipe away the residue. You might find dirt in the small areas in the frame that are particularly inaccessible. You can spray the same mixture and use a toothbrush to clean the areas. You'll have a shining metal frame within minutes.
To keep the Aluminium frame shining and repellent to the water stains, you can use car wax to polish the frame surface. Apply the car wax to a dry cloth and polish the frame slowly. Wipe off the excess wax on to a clean dry cloth to get a long-lasting shine.
How to clean shower door tracks
The mold and the fungus growing in the tracks of your door are potential health hazards. While Vinegar solution can clean up the fungus, it is better to go with something stronger that would stop the fungal growth at once. Bleach and Hydrogen peroxide is effective in killing all kinds of fungi.
        Ingredients that you'll need-
Bleach or Hydrogen peroxide

A toothbrush

A spray bottle
Method of application
Mix one part of bleach or hydrogen peroxide with ten parts of water and fill it in the spray bottle. Spray the bleach mixture into the door tracks and let the solution work on the mold. After about fifteen minutes, use a toothbrush to clean out the door track and rinse with warm water.
Repeat the procedure as necessary. After a few repetitions, you'll have your door track completely fungus free. It is advisable to wear gloves while using this technique.
Branded products for shower door cleaning
Though the DIY homemade techniques work effectively against the stains on the glass shower doors and on the shower walls, there are some products available in the market that do a better job than the homemade solutions. Here, we list a few brands that are so good that they will make the cleaning easier for you. Not only will these brands make the cleaning easier, but also they will wipe off those stains faster and completely eliminate.
Puracy natural: All-purpose cleaner
This cleaning agent has a formula that is plant-based is free of toxic and natural. Such cleaner is safe for your family to be used in bathrooms.
Trinova shower door cleaner
This is an effective cleaner that will help you take out the mould and other nasty growth. Unlike some cleaners, it doesn't take a ton of scrubbing. You can also use this cleaner beyond glass doors on grout, tile and more. Just spray it on, let it sit for a bit and wipe it off.
Seventh generation glass and surface cleaner
Treated Glass
Keeping the hassles of maintaining glass surfaces the glass manufacturers have developed a coating technology that makes incessant cleaning unnecessary. The glass surfaces or any silica-based surface can be coated with an optically clear, protective coating that transforms the glass surface into a water, heat and humidity repellent surface. The coating just sticks on the glass surface making it resistant to stains technically, though they may require a light cleaning at times.
Companies like Enduroshield and Luxclear manufacture protective coatings that are claimed to fuse with the surface and increase the lifespan of the glass altogether.
Fab Glass and Mirrors
Fab Glass and Mirrors is your valued brand that offers quality glass products. We make our services customer-friendly by catering to their demands. Our company specializes in manufacturing, designing, and distributing of glass interior accessories. We offer competitively affordable prices that suit the budget of our customers. You may order glass and mirror products or may also request for custom shapes and sizes regarding your requirements.