Soggy shoes are just about the least comfortable sensation there is. Squeaking home after a wet or snowy day means all you can look forward to is getting those boots off and those toes warm. Luckily, the best boot dryer options are right here so you can get those boots dry, too, and to a point that you can enjoy wearing them the next morning.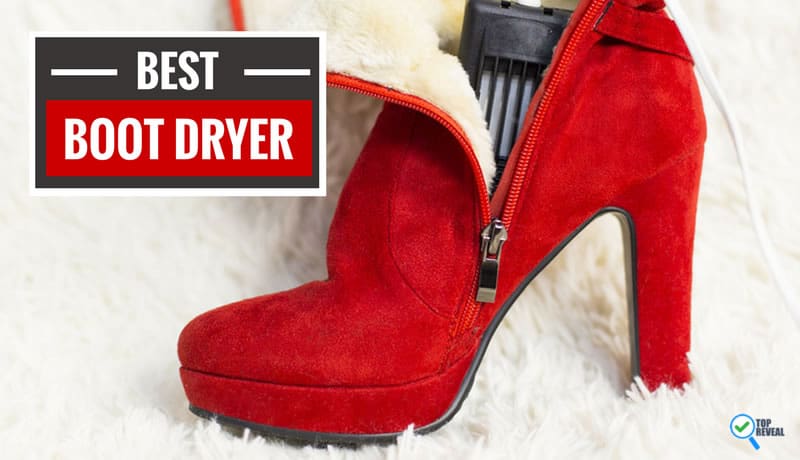 Our Recommendation
The best boot dryer that we could find – plain and simple – is the PEET Electric Shoe and Boot dryer. This electric dryer is totally silent, safe for all footwear, and energy efficient. It even comes with a 25 year warranty so that you know you can use it for years to come.
On top of all this, it has other great features that are too numerous to name. We recommend checking them out for yourself.
Benefits and Purpose of a Boot Dryer
The reasons to own a boot dryer are plentiful. As we mentioned first, slogging home in a pair of wet boots is a small nightmare. But taking that footwear off is phenomenal. Getting it dry for the next day is out of this world. Along with slipping those boots on dry the next morning comes the benefit of odor fighting and microbial killing power from a boot dryer.
This will increase the lifetime of your boots and other garments at least two-fold so that you can enjoy your stuff for far longer. In this way, you not only get a new toy but you also get to keep your old things for longer.
Top Rated Boot Dryer You Should Know: Which one is the best?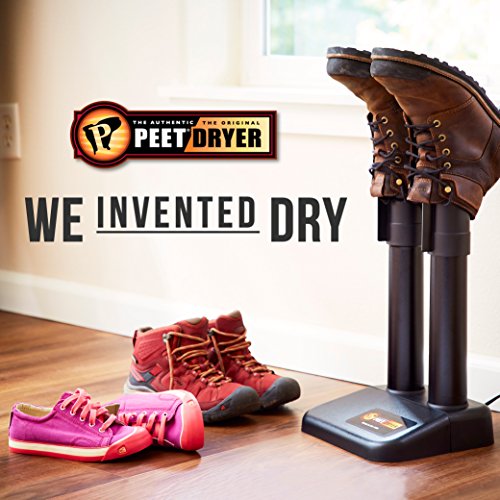 What we love most about this electric boot dryer is its efficiency. It stays totally silent while it uses less power than a regular light bulb. For this reason, you don't have to worry about breaking the bank just to have comfy, dry shoes to wear every day.
Safe for all Footwear
Whether it's your leather boots or some canvas tennis shoes, this boot dryer is up to the task. There's no worry that this dryer will ruin any shoes that you put on it so you can flip it on and be certain that you are getting your shoes back like brand new. Rubber, vinyl, neoprene, felt and anything else your shoes are made out of is prime candidates for this dryer.
25 Year Manufacturer Warranty
PEET believes in this product so strongly that they are giving it a 25-year warranty. This shows that they trust their handiwork strongly – and for more than two decades. Truth be told, that is probably longer than any pairs of shoes or boots that you have will last. But, while you have them, you can enjoy them dry and odor free.

Thermal Convection Power
Through the strength of thermal convection, this ceramic heater uses nature's influence to get your shoes dried. In about 10 minutes, your unit will be warmed up and ready to get your shoes dried. Expect warm footwear in the morning in about a half hour or a complete drying of soaked through boots overnight.
Compact with Removable Extensions
We understand if you don't want to be leaving your boot dryer out all day in your home. That's why we picked this VIVREAL HOME product. The extensions can actually be removed so that you can store it in a reduced size package. That makes it easy to store your boot dryer just about anywhere when you don't need it.
Lifetime Warranty
The warranty on this boot dryer is as great as you could ask for. Your purchase will last you a lifetime, although we are thinking that you won't need it. This boot dryer has an ETL certification and a 90-day money back guarantee for if you somehow aren't satisfied by this unit. Altogether, that means a package that delivers no risk with a big reward.

Dry Four Garments At Once
Whether its shoes or other garments, this boot dryer can handle your clothing. And, better than the usual two garments that a normal boot dryer can handle, this DryGuy product has four spots to put your stuff. That means you can handle twice as many items without sacrificing effectiveness. The totally quiet rotary blower will get everything nice and warm all at the same time.
Forced Air up to 105-degrees F
The safety of heated air is enough to get your garments dried with this unit. It has a whisper-quiet fan that drives the wetness out of your boots and gets them prepared for your next day. This heat has the added bonus of killing off odors – and bacteria and mold – so that you can enjoy your clothes in as little as one to two hours.
Accessory Benefits
This product comes with numerous features that make it even more user-friendly. Extension tubes so that you can hang your clothes, a 3-hour timer, and a heat/no-heat switch are all awesome ways to use your DryGuy to your advantage. Truly, this makes this product a feature rich option that will get you excited to warm up your clothes after a soaked through day.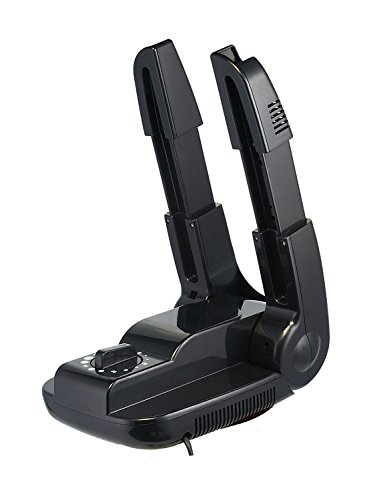 Time Scheduling Function
Most boot dryers turn on all of their extensions at once in an all or nothing fashion. But this Manledio dryer is a little different. Each dryer can be turned on individually and even set to turn off with a timer individually so that you can use only one extension at once. This is great for if you have just one glove that got wet, for instance, and don't want to waste energy consumption on that second, unused extension.
Super Compact Unit
If you're looking for a small unit that won't slack on performance, this is the boot dryer for you. Providing 200W of drying ability, this boot dryer delivers great power despite being much smaller than most other drying options. It stands at just 14 inches tall, 7 inches wide, and 10 inches deep.
Deodorizes Any Material
This antimicrobial action that this product has worked on just about any material that you can think of. Liners in helmets, leather, rubber, neoprene, and so much more can be not only dried but also cleaned through the use of this Manledio product. That means that you'll get even more out of your gear in that it will be in better condition for far longer.

Ultra Compact Design
While other dryers are large, clumsy units that aren't exactly easy to move, these KOODER boot dryers are about the size of a television remote. Rather than putting shoes on a heating stand, you insert these warmers into your shoes and let them do the drying. This makes them easier to store and simpler to use. Just slide them in and turn them on!
360 Degree Heat
These boot dryers give out heat in every direction so that they can get an entire shoe or garment heated and dry. This even distribution of heat guarantees that your whole garment will be ready to go rather than just having one dry patch. This is a shortcoming of many boot dryers that KOODER has taken care of.
High-Quality Materials
Just because this boot dryer has a lower sticker price than others doesn't make that it was "made cheap." Rather, the smaller size of this dryer makes it so that it can be made with high-quality cable and super tough surfaces that will last you a lifetime. For this reason, you may find it smart to get a smaller product made of better parts that will last longer.
FAQ
Q: Can I use my boot dryer to dry other clothing?
A: Definitely! As long as you are mindful of the temperature you set your dryer to, you should be able to dry whatever you would like.
Q: What is the best heater type for a boot dryer?
A: Truthfully, the best heater type is the one you choose. Forced air, ceramic, and electric heaters are all great options for a boot dryer due to their combination of effectiveness and safety.
Q: Will a boot dryer ruin my footwear or clothing?
A: Of course not! The heating implement of a boot dryer is designed to not exceed a temperature that your clothing couldn't handle. So, your items are safe on a boot dryer.
Wet and Miserable or Warm and Comfy?
The choice is truly yours. The best boot dryer options are all up there – but which one will you choose? We all know that soggy feeling that boots can get when they are too wet – and we all hate it. For that reason, you would be smart to get a boot dryer to take care of your feet and boots all at the same time.