There are so many different home decoration ideas out there, it can be difficult to know where to start. If you're like most of us, your time is limited, and finding unique home decor ideas at affordable prices isn't always easy. However, with a little effort and creativity, you can find some truly awesome home decor ideas that will make your house outstanding without breaking the bank. The following article has some great suggestions that will help you get started on your quest for great home decoration.
Change Your Cushion Covers
Cushions are always a great idea when it comes to how to decorate my home because they tend to be so versatile. You can use them on sofas, armchairs and even the floor depending on how big they are – which is why they tend to come in sets of two or more as well as different colors like beige, gray, and green (although some companies do mix it up too). If you want to create warm and cozy spaces at home, you should check these out and get yourself modern designed warm cushions for your sofa that will transform your home décor in a few minutes. You will be amazed how something simple as this can add such a lovely touch to your special room in the house.
Have Fun With Textile Wall Hangings
If you're looking for a cool home decoration idea that will add fun to any room, try textile wall hangings. This is an inexpensive option that comes in all shapes and sizes these days. Start by finding some great fabric at your local store, whether it's craft or sewing-related, and choose the colors carefully, they are sure to become part of your décor for years to come! You can also take old clothes that don't fit anymore and rework them into designs for hanging on the walls. Doing this adds warmth to bare spaces while still being affordable. There are so many different ideas out there when it comes time to decorate with textiles you just have to find ones you like best.
Make Your Personalized Photo Boards
If you are trying to come up with awesome home decor ideas but need them to be budget-friendly, you might want to try something like making your personalized photo boards. This is an easy DIY project that anyone can do; all you need is plywood or wood paneling and some paint that will adhere to the surface. The size of the board doesn't matter because you can cut it down later if necessary, although buying a piece of wood in the correct dimensions makes life easier. The next step is painting the board whatever color suits your fancy and then adding the photos using either glue or double-sided tape so they don't fall off while hanging on your wall.
Give Your Walls A Faux Finish
If you want an awesome home décor idea that's quick and easy, simply painting the walls might be what you're looking for! You can find paint that has that chipped or distressed look if your current décor has this kind of theme, it will work perfectly in your room if matching your other items isn't important. If you'd rather go for something without such specific color tints, there are many paints available these days with grains added so they look like wood paneling or plaster instead. The choice is yours when deciding on this kind of design element because it all depends on personal taste and the look you're trying to achieve.
Add A Wonderful Chandelier To Any Room
A chandelier is one of the best ideas for home decoration because it can be added to virtually any room, giving it a special touch that makes everyone take notice. If your current décor has no accent lighting of this kind, adding one can make a huge difference in how any space feels; if yours does have something similar already up, get rid of it and install your new chandelier instead! There are many different styles available, made with crystals or beads depending on what you like best; the more elaborate ones are usually used in formal rooms while simpler designs work well in spaces where kids live (or adults who don't want something too fussy).
Get Funky With Mirrors
Mirrors are a great addition to any room because they help open up smaller spaces, making the overall feel of the home seem larger and more inviting. You can find them in all different colors these days, most notably black or silver for that ultra-modern look everyone loves so much, but there are also options with gold edges if you want something with a little more character. Accents like this are hard to moderate when it comes time to repainting your walls or redecorating altogether so choose wisely before you start moving anything around! Home decoration ideas involving mirrors are popular because they work well in many kinds of rooms and give off an expensive vibe as soon as they're installed.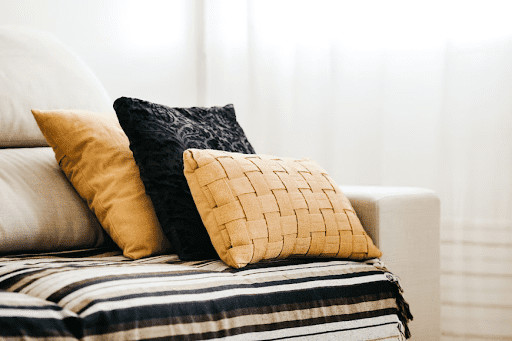 As you can see, transforming your home décor doesn't have to be a long and arduous process, requiring you to hire a professional or buy expensive items. There are all kinds of great decorating ideas for beginners, allowing you to learn as you go if this is your first time doing something like this. So next time you feel like spicing up your home, try one of these awesome home décor ideas and see how much of a difference it makes!