These days, the question is not whether or not you want a smart speaker. It is which one that you want to get. These devices do so much more than any one name or title could possibly quantify.
They play music, radio, audiobooks. They can turn of your lights unlock your doors, and even help you call an Uber. The options that we will be looking at today can also play video for an even greater range of access to your favorite media.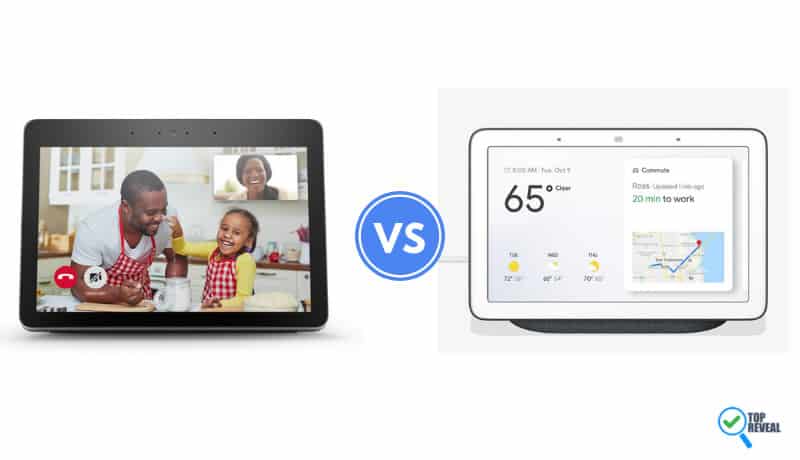 The Echo Show, and the Google Home Hub are poised to be two of the hottest products on the market. Today our objective is to help you decide which is
right for you.
Read on for a comparative look at the Echo Show VS. the Google Home Hub!
Our Recommendation
In the coming paragraphs we will be taking a close look at both of these devices. However, if you don't have time to read the full review, here is a spoiler for you: We do have a recommendation.
As far as we were concerned, the Echo Show comes out just a little bit on top due to its features and performance. Hey, that's just our opinion. You can decide for yourself as we now look at what makes these products special.
Let's start things out by taking a close look at the Echo Show. This device is going to be familiar to Echo users. It features technology similar to that seen in other Echo products, but benefits from a few upgrades that you will want to get your hands on.
Let's take a look!
Alexa
The main benefit to any Echo product is always going to be the inclusion of Alexa. If you haven't met Alexa yet, you are going to want to change that.
Alexa is a very versatile piece of technology that provides you with your access to all of the other chief features of the Show.
Just by saying the word "Alexa," and issuing your command you can perform a wide range of functions.
Alexa can do anything from locking your front door, to playing your favorite podcast.
The nice thing about this and pretty much any Echo product is that the Show can sync up with the smart devices in your home. This means that the more smart devices that you have the more things you can control with the power of your voice.
Depending on your collection you will be able to lock your doors, turn off the lights, or really anything else that might occur to your imagination.
Video
Historically, video has been the only thing missing from the Echo devices. Not anymore! The touch screen featured on the Echo Show manifests itself in ways that are both big and small.
You can do anything from watching your favorite videos, to simply reading the lyrics to the music that you play on your show.
You can also see weather updates, view your calendar, and get news updates straight to the screen.
This is actually the main difference between this Echo and previous iterations of the device. The video screen really takes things to the next level.
Improved Sound and Microphones
Pretty much anytime Amazon rolls out a new Echo product, the speakers and microphones are two of the things that they dedicate attention to. Since these are technically smart spears, it makes sense that they produce high-quality sound, right?
You do get good sound quality here, and you also benefit from enhanced audio receptors. This means that you can speak at a conversational volume to Alexa, and trust that it will register your requests with ease.
These are really fairly small improvements in the grand scheme of things, but they are still nice to see.
Pros
• Video
• Alexa
• Smart Home Compatible
• Improved Speakers and Microphones
Cons
• Pricier than other Echo products
Google Home Hub
It is worth mentioning before we dive too deep here that the Google Home Hub is not actually released yet. This means that if our review of the product excites you, you are going to need to wait a little while before you can add this gadget to your collection.
The product comes out October 22, so you won't have to wait to long. Let's now take a close look at this product to see if it is worth getting on launch day.
Screen
The benefit here is similar to that of the Echo Show in that the Google Home Hub seems poised to take an existing product (in this case the Google Home) and add a screen to it.
The benefits, therefore are pretty similar. The screen of the Google Home Hub is going to let you view recipes, read lyrics, video chat, get weather reports, and much, much more.
It's a touch screen, which means that you can navigate it by hand, or with the power of your voice.
It is worth noting that while it does have a screen, it does not have a camera. Google claims that this move was made to ensure that people would feel comfortable putting the device in any room of the house.
That being the case, when and if you do make video calls, they will be one sided. You will be able to see the person that you are chatting with, but they won't see you.
This privacy consideration is mostly a positive thing, but it does force the device to forgo some features.
The screen also features a brightness sensor. This means that it registers the brightness of the room it is in, and adjusts its display accordingly. This is a small touch, but does contribute to a pleasant ambiance in any room.
Google Assistant
Like Alexa, the Google Assistant will serve as your own personal digital butler. Though similar to the Echo, and, by extension, every other AI speaker on the market, the Home Hub does include some distinguishing features.
For one thing, this device will benefit from voice recognition technology.
This means that the device will be able to recognize your voice, and provide personalized assistance.
User Friendly Features for a Hyper Digital Age:
We have gotten to a point in our culture where over exposure to technology is a real issue. The Google Home Hub recognizes this issue and proceeds accordingly.
This device offers a wide variety of parental controls, and also empowers users to set restrictive hours as to when the device can be accessed. In this way, it naturally mitigates the issue of over exposure to screen time.
Pros
• Parental Friendly Features
• Smart Home Control
• Screen
Cons
• Pre-released product with the potential for yet unknown issues
How Echo Show and Google Home Hub are Similar – What are in Common?
These devices have plenty in common. Both feature a screen, and both are designed to do more or less the same thing.
With either device, you are going to be able to control your smart home technology with the power of your voice.
It is in how this feature is executed that we find some variations.
What is the Difference between Echo Show and Home Hub?
How these products differ is the consideration that will ultimately do the most to inform your buying decision. That in mind, let's now take a look at some of the main differences between these products.
Price
The Echo Show is actually listed at a slightly higher price than the Google Home Hub. The difference is really pretty miniscule but if budget is a serious consideration, you may favor the slightly lower price tag of the Hub.
Screen Size
Since these devices are being advertised for the screens, size counts right?
The winner in the size department goes to the Echo Show, which features a ten-inch screen as opposed the seven inches that you get with the Google Home Hub. Three inches may not sound like much, but considering that accounts for 33% of the Echo Show's screen size, the difference is definitely noticeable.
Interface
The interfaces here are very similar, but they do differ slightly. The Echo Show, of course uses Alexa, while the Google Home Hub uses Google Assistant.
There is no clear winner here. Deciding which is better is really just a matter of personal preference. At the end of the day both products are really designed to do more or less the same thing.
Some people find that the Google Assistant is a little bit more conversational than Alexa, but at the end of the day you will just need to decide for yourself what interface you prefer.
Conclusion
As you can see, there really isn't any going wrong with either of these options. Both products are more than up for the task of keeping you entertained while simultaneously running your home.
Whether you opt for the proven success of the Echo Show, or the promising new technology of the Google Home Hub, you will wind up with something exciting.
While neither one of these products come cheap, we feel that you will be more than pleased with what your money gets you in either case.