Whether you're building a custom home or remodeling an old one, the elements of a modern home make all the difference. Incorporating them enhances the overall feel while adding a touch of style and personality. Many of these options improve energy efficiency and sustainability. Here are five elements of a modern home to consider: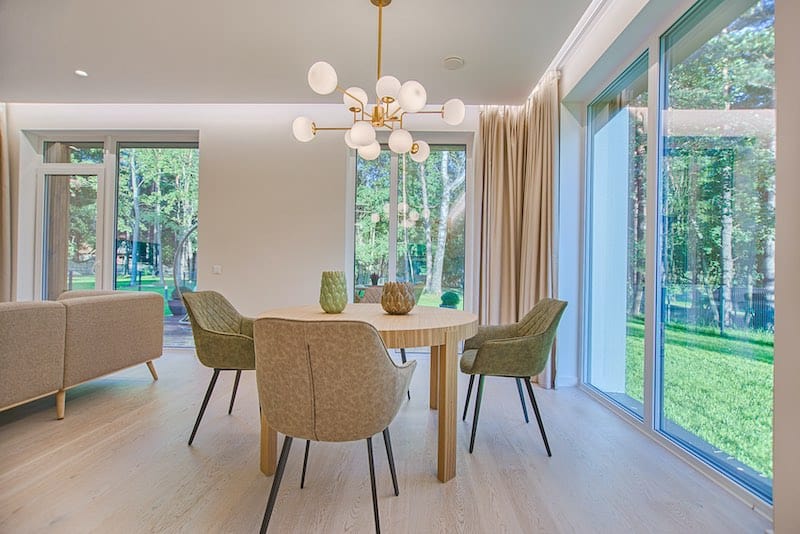 Automation and Connectivity
Smart technology is a crucial component in modern homes. Automated systems adjust the temperature, lighting, and security from anywhere. Connectivity solutions like Wi-Fi and Bluetooth control appliances, adjust the thermostat, and even operate audio-visual equipment. These systems increase convenience, security, and energy efficiency.
When automating your home, consider your needs and budget. For instance, remote-controlled systems, including outdoor fence lighting, are ideal options if you're always away. If you have older adults or those with physical disabilities, voice control is a great option. Investments to prioritize are:
A Modern Lighting System
Indoor and outdoor lighting systems add security and convenience to your property. Motion-activated lights offer safety and added visibility when needed, while automatic timers turn on/off the lights at specified times. You can program the smart lighting systems to work with your security system, enabling you to control them using an app.
Outdoor fence lighting adds a layer of security to your property, providing visibility in the dark. Opt for the low-voltage LED as it's energy efficient and works well for residential and commercial properties. It's also a great way to add ambiance to the backyard or garden.
A Modern Security System
A modern security system does not only offer peace of mind but also adds value to your home. You'll monitor the security systems 24/7. It alerts you when motion is detected and notifies the authorities in case of a break-in.  Security systems can also be set up to provide live video footage and remote access, allowing you to stay connected to your property even if you are away. The system consists of video cameras, control panels, and sensors. Password-operated locks and secured access points are also ideal considerations.
A Smart HVAC System
A modern HVAC saves money and increases comfort. Smart options are designed for convenience, accuracy, and efficiency. They can adjust temperatures and humidity levels according to the season or let you control it from your smartphone or voice-activated device.  These HVAC systems have features such as humidity, air quality sensors, and alerts for any temperature changes. Investing in one reduces your carbon footprint and energy consumption while offering more comfort.
Green Technologies
Sustainable solutions like solar panels and rainwater harvesting systems are now more commonplace in modern homes. They make it easy to reduce energy costs while keeping your home as eco-friendly as possible. Before investing in any green technology, research your local regulations and building codes. Also, consider the long-term cost savings and potential tax incentives.
A Minimalistic Approach
A minimalistic approach means investing in furniture and decor that is both stylish and functional. It eliminates clutter, creating a more organized space. It also reduces dust and allergens by limiting the number of objects in a room. You also save energy since you won't power multiple devices or appliances.
To achieve this look, opt for items with multiple functions. For instance, an ottoman can double as a storage piece or seat. A minimalistic approach also means repurposing existing furniture instead of buying new ones. Giving old furniture a facelift with paint, fabric, and accessories creates a new look.
The Use of Natural Materials
Natural materials such as wood, cork, and stone create a calming and sustainable atmosphere. Wood is a great material to bring warmth and texture into the space. Use natural stone for countertops, tiles, or accents to create a timeless, sophisticated look. Sustainable materials may initially cost more, but they're worth the investment. They require less maintenance and last for many years.
When selecting furniture and fabrics, look for pieces made from renewable or recycled materials such as organic cotton, hemp, and wood. Look for natural, non-toxic finishes and fabrics that won't emit toxic chemicals into the air. Use rugs and carpets made from wool, cotton, jute, or sisal, as they are biodegradable.
When it comes to lighting, natural is preferred, as it is more energy efficient than artificial light. Large windows, skylights, and solar tubes are ideal choices. If you require artificial light, look for LED or Energy Star-rated bulbs.
Simple Color Palettes
Monochromatic colors, neutral tones, and muted pastels create a calming effect. Keep the color palette to two to three colors, and use shades to create contrast. It keeps the overall space looking organized and balanced.
Creating a modern and calming home is achievable through thoughtful design and installation choices. In the long run, your space will be comfortable and inviting for your family and friends. Keep in mind future needs when carrying out the modifications. Consult experts to achieve a cohesive look and design where applications or smart integrations complement each other.