It was only a matter of time until Amazon came out with a streaming device, ala Roku, and it looks like that time has come. But Amazon being Amazon they went a step beyond, combining a streaming box with an Echo speaker and Fire TV. The result is the Amazon Fire TV Cube, which is available to Prime members June 7th and 8th. But before you reach for your debit card, let's take a closer look at yet another Alexa-enabled device and see if it's worth your time and money.
Up Close & Personal with the Fire TV Cube
When I first heard Amazon had another new device I have to admit I was less than excited; as much as I love Alexa, I was skeptical that there was anything left for her to do. And after seeing the Cube, I can safely say I was right….and wrong. Because while Alexa isn't doing anything mind-blowing, like reading your mind, she has picked up a few tricks that promise to make your life, or at the very least, watching TV, a bit smoother.
The main thing you need to know is that the Cube, at its core, is a high-end universal remote. Yes, using Alexa you can switch between Fire TV and cable, stream Netflix, lower or raise the volume on your set, and more all with just your voice. And while the Cube is a speaker in and of itself, it can also work with your soundbar or other speakers.
That being said, before we get into specifics, let me say that the design, aesthetically, is less than impressive. As the name implies it is a cube shape, with the sides a glossy and the top matte as that is the speaker part with 4 buttons to control volume and power. It gets the job done, but it's a bit boring and uninspiring. It's not a big deal, but I wish Amazon would spend a bit more time on how their devices look in the future.
Fire TV Cube Features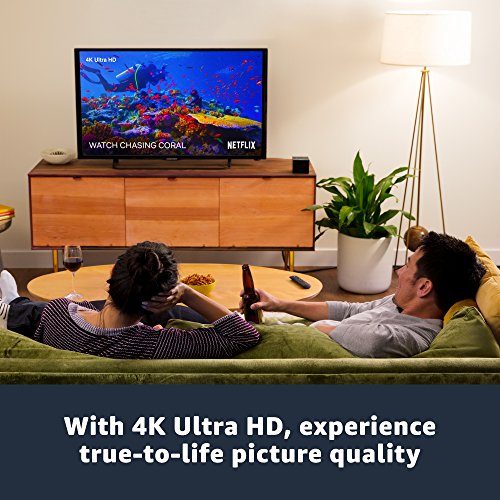 Aesthetics aside, there are some cool features here that are worth getting excited about. Here's what you need to know:
Cube Control
The Cube is packed with IR (infrared) blasters on all sides, so it can be used to control the TV, soundbars, cable boxes and other AV devices. Thanks to an HDMI-CEC connection, you can switch between Fire TV and cable, or even turn the TV on and off. Sounds like a small thing, but anyone with a Fire remote knows the ability to control the TV, or any other device on its own is a big upgrade. It also means one less remote to look for after you settle in to watch a movie.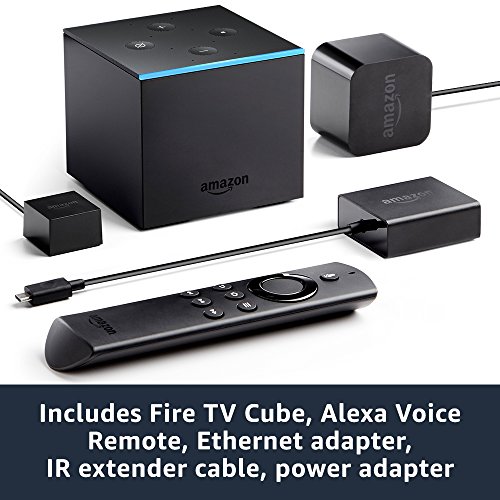 And the Cube is smart too; if you ask it a question Alexa will respond through the device itself but if you say, Alexa, play Stranger Things, the sound will come through your TV or soundbar. And you don't need to be on the same HDMI; control volume while streaming or switch between inputs without missing a beat.
Compatability
The addition of IR blasters is crucial because it lets the Cube communicate cleanly with cable boxes from Dish, Spectrum, Comcast, and DirecTV, among others. Some cable boxes already had Alexa integration, but it was limited. The IR blasters allow a more in-depth control, so all you have to say is Alexa, put on MTV's The Challenge and CT will appear on your screen. There's also an IR extender if you need to control components the Cube's signal isn't reaching.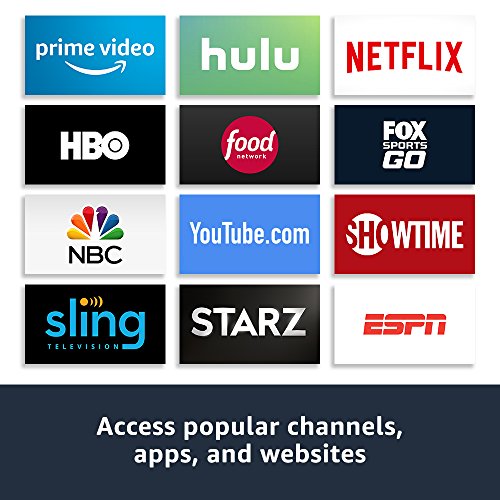 On the downside, you can't control game consoles like XBox or DVD/Blu-Ray players, but those devices should be added in the months ahead. Personally, I think it should have been part of the initial set-up with how integral those devices are in most of our lives, but maybe I'm being greedy.
Quality Sound, Not Vision
The Cube can support HDR10 and Dolby Atmos, and the mics, unlike on a standard Echo, are linear and not 360 degrees. Sounds like it would be limiting, but the linear set-up lets it pick up your voice clearly, even over the TV when it's blasting as long as you say the magic word- Alexa.
The one drawback here is that there is no Dolby Vision, which means there is no stand-alone YouTube app. As of now the Apple TV 4K will be the only device with an actual YouTube app once it's next software update comes out and you can still get YouTube through the Cube by streaming it over Firefox. But honestly, YouTube is everywhere- they need to fix this and figure it out.
Alexa's Here, But….
Alexa is here and she can do some things she couldn't do before, even when she was controlling your home's lights and thermostat. But she is limited. You can't use her to call or send messages through the Cube and you can't sync it with other Bluetooth speakers, so if you currently have an Echo music set-up across several rooms you can't add the Cube to it.
Overall, the Cube has a lot of promise and if it works as well as it seems to over the long haul it will make a solid addition to your home. Especially with a price tag of under $100. What I like most is that it puts everything into one unit, so you don't need a Fire TV remote, TV/cable remote, soundbar remote every time you sit down. You can use your voice and watch what you want, either low enough not to wake the baby or loud enough to have you dancing around while the music channel is going.
There are some upgrades I'd like to see, particularly in the areas of controlling more devices like a Blu-ray player, but I think this is a solid start and as it stands now the Cube is a good investment, with the potential to become so much more.