Do you want your home to look fabulous but don't really have a lot of money to do that? No problem – Dollar Store is your decorating opportunity waiting to happen.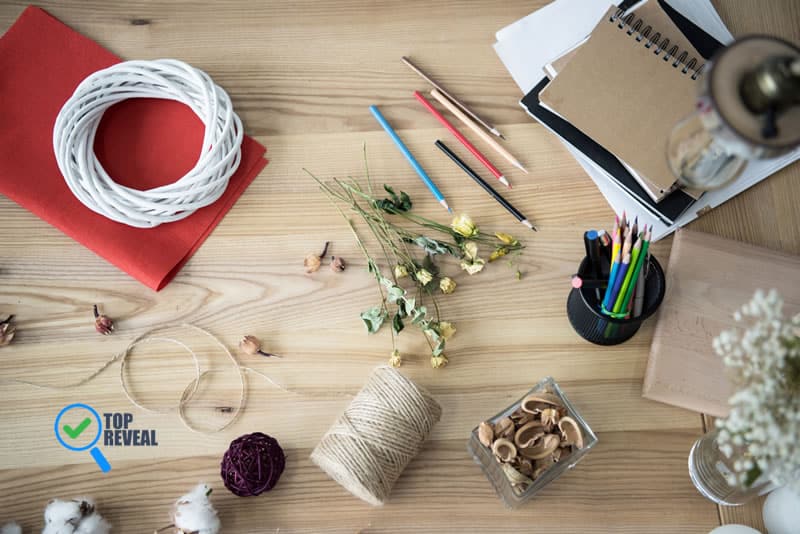 One thing I love about going there, is that it is so inexpensive that I can change my mind or reboot the whole decor without sweating it. I am continually surprised at the things I find there, and the possibilities are as endless as your creativity.
1. Living Room Ideas

Antique Plaque
Make something special for your own house or a gift for someone else.
2. Rubber Mat Wall Art

Dollar Store Crafts
There is nothing I like more than an expensive look for pennies!
3. Glammed Lamp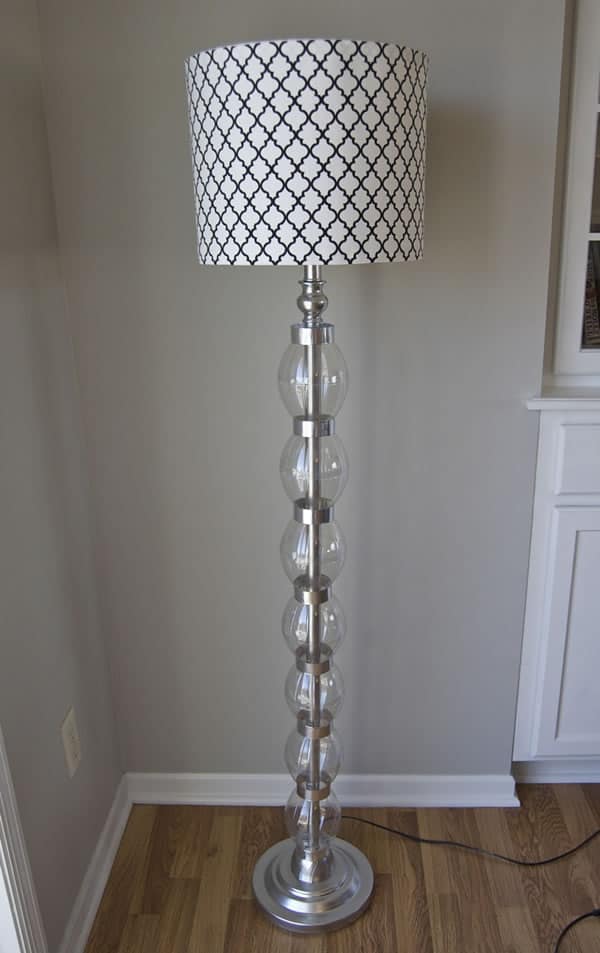 Source
Mindblowing change when you take your existing floor lamp and glam it up with coke bottles and duct tape.
4. Decorative lanterns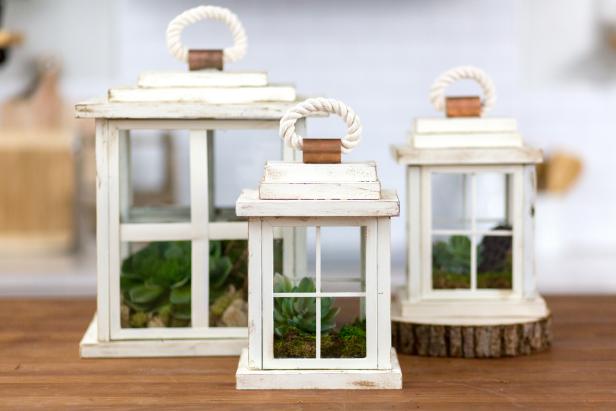 HGTV
These lanterns would look amazing on the dinner table on a deck or side table.
5. Simply Succulent Centerpiece

Miss Plan It
Watch this video to create a beautiful non-floral centerpiece.
6.Jewelry Tower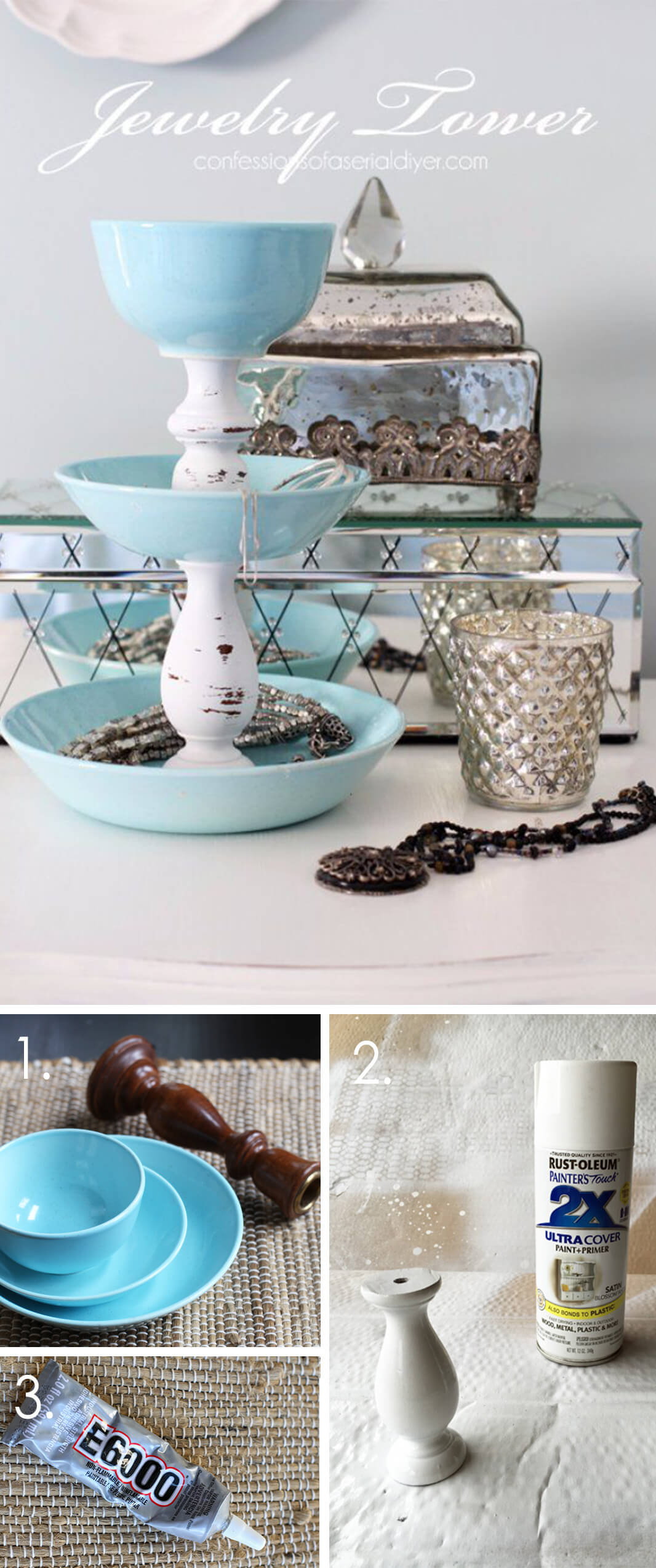 Confessions
Stylish and roomy, this will hold your jewelry and can be customized to your colors and decor.
7. DIY Serving Tray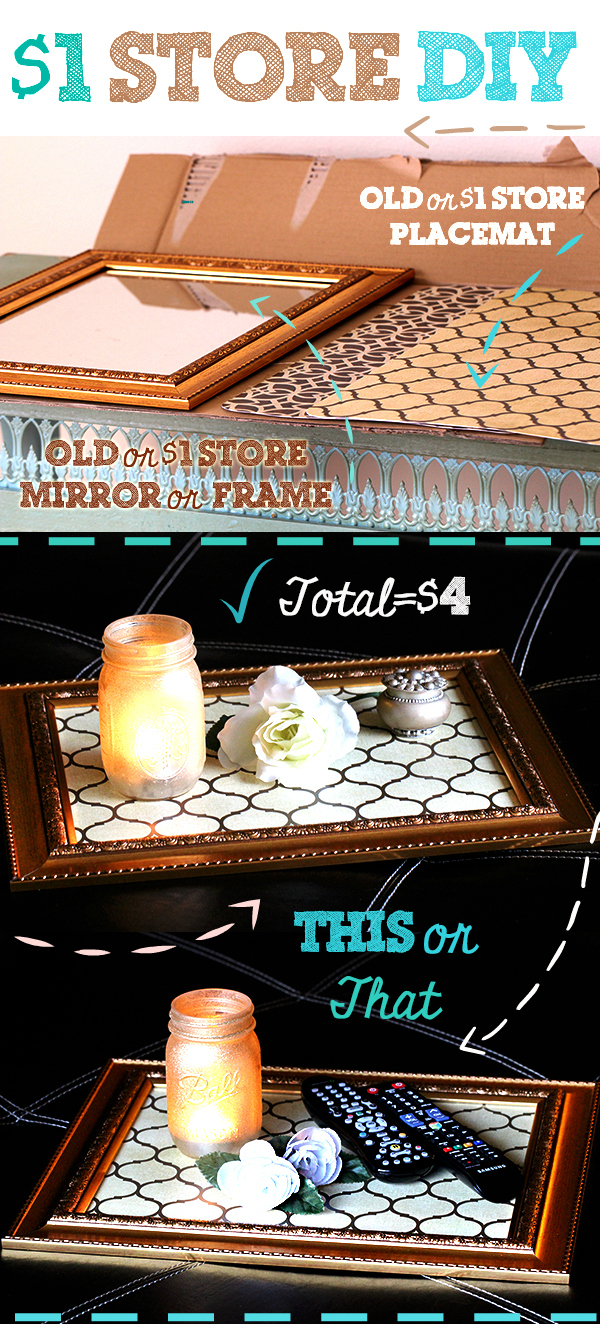 Cutefetti
Make a serving tray that allows you to be creative and to use as decor or utility.
8. Thumbtack Ampersand Sign

Livelovediy
You could actually make a monogram or any other letter or number with the directions to the tack ampersand.
9. Farmhouse Chic Cookie Sheet Organizer

The Spruce Crafts
Communicate with family, keep small notes, and hold pens and pencils all while stylishly adding to the farmhouse theme.
10. Plate Wall Decoration

On Sutton Place
Although this is a Christmas decoration, the word on the plates can really read for daily decor if so desired. Matter of fact, at that price, you could have some to switch out for each holiday.
Holiday Home Decor
11. Plastic Spoon Christmas Tree

Handimania
Plastic spoons never looked so good!
12. Valentine's Day Jars

Pinterest
These jars make lovely decorations and then can be given as gifts as well.
13. Easter Hurricane

Bloglovin
These are Easter classy for any table and can also be changed out with different things for each holiday.
14. St. Patrick's Day Tree

Heatherednest
It is easy to decorate for every holiday, even St. Patrick's Day, with Dollar Store accessories.
15. 4th of July Holiday Door Wreath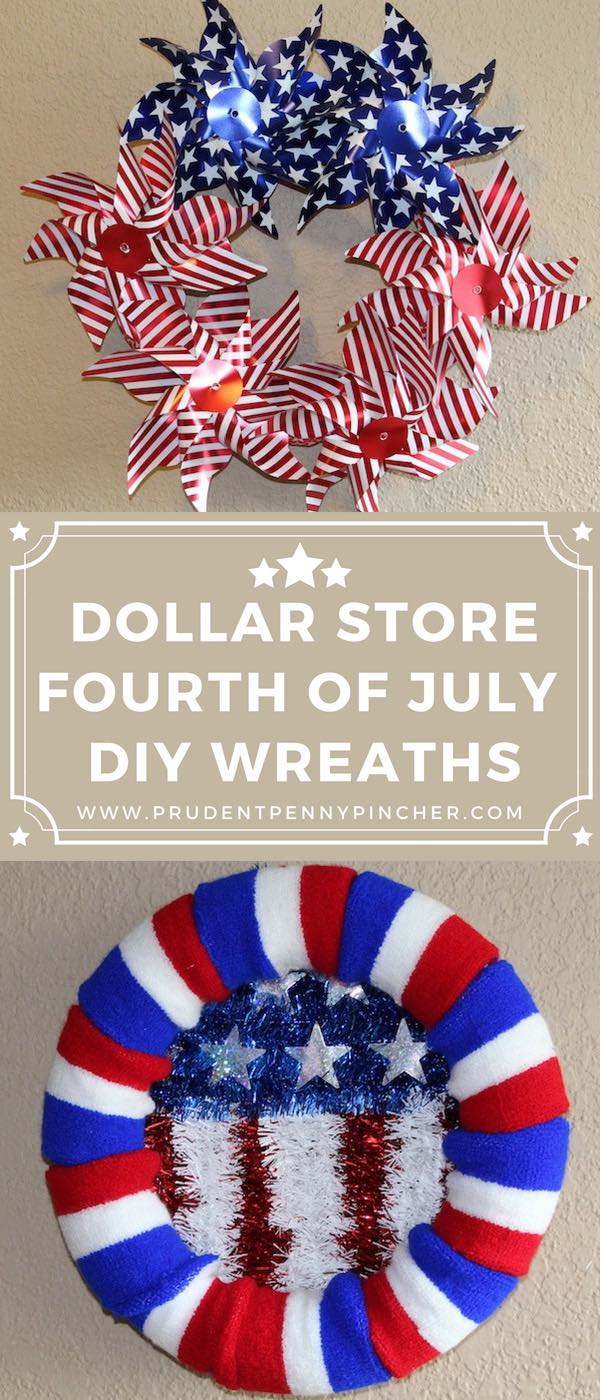 Prudent Penny Pincher
Patriotism is always in style – these are so cute you might like to leave them up all year!
16. Halloween Village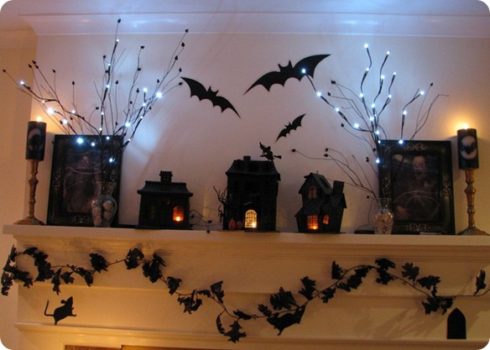 Prudent Penny Pincher
Dress up your mantel in the Halloween spirit – classy and spooky at the same time.
Snazzy Storage
17. Pier 1 Rope Basket

Busy Bliss
Pier 1 has many decor items I love, but I could only get a small number of things from there when I could make this basket that looks like its from there for just a few dollars at Dollar Store.
18. DIY Fruit Stand

Pinterest
Cute and functional, this stand will maximize your counter space.
19. Pot Lid Storage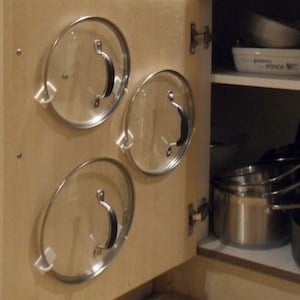 Musely
Just this morning I was groaning as I shifted all the lids around trying to fit everything and get to the pot I wanted. I am definitely using this hack.
20. Curling Iron Organization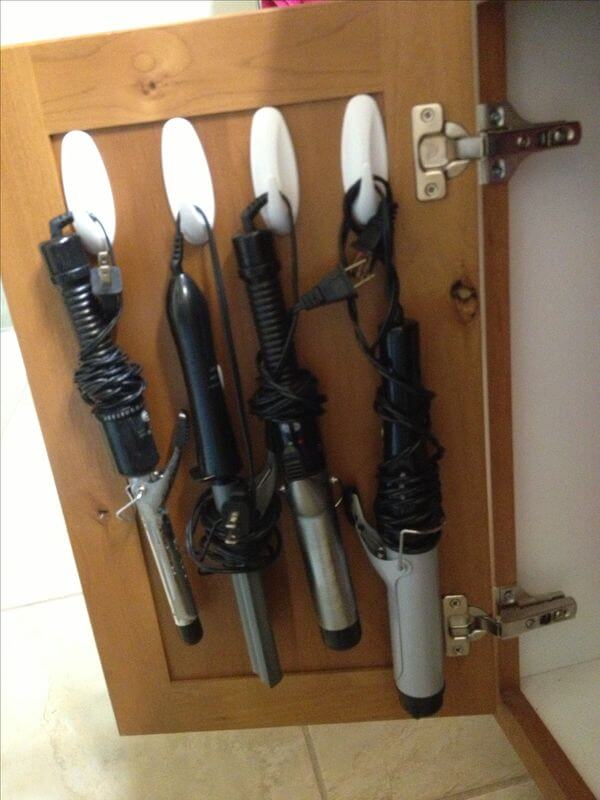 HOMEBNC
Make the most of your cupboard space and get all those curling iron tools and cords in order.
21. Shower Bar Pot Storage

Source
This is a unique way to save space or work with a small kitchen that looks industrial.
Garden and Plant Wonder
22. Aged Galvanized Planters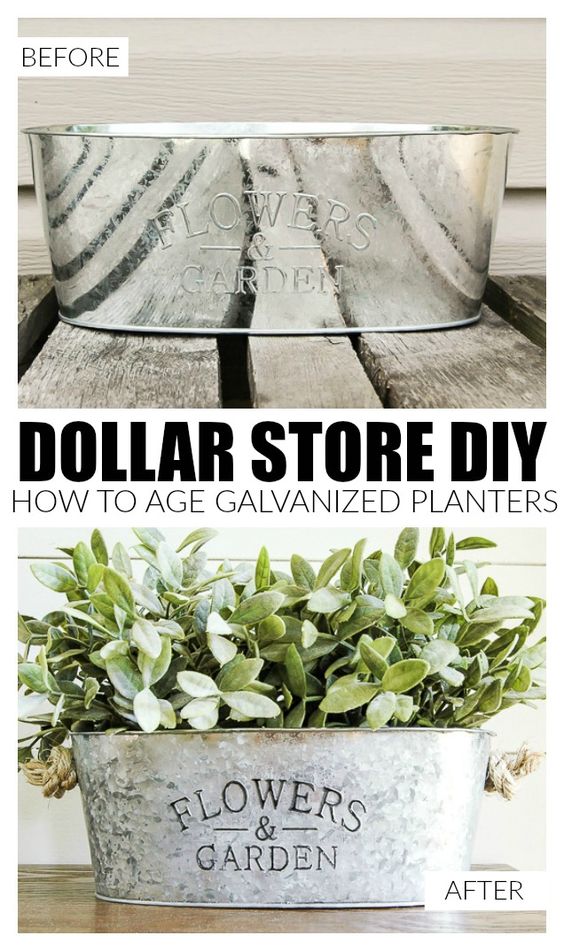 Hative
Take the new brightness down a notch for that vintage farmhouse look.
23. Sophisticated Vase Centerpiece

Passionate Penny Pincher
I love when you can make something look like it comes from the page of a magazine when really it is DIY and inexpensive like this vase.
24. DIY Fairy Garden

Source
Add some magic to your porch, balcony or backyard with a miniature fairy garden.
25. Kate Spadesque Rose Bowl

Vintage Romance Style
Looks top dollar but only $3-4.
Dress It Up!
Are you sold on Dollar Store DIYs yet? Every home needs a little decor pick me up once in a while and Dollar Store DIYs make it fun, easy, and financially doable. Most of these projects are fun to share with the whole family and most are customizable to your colors and decor style.
Comment feedback or favorites, and be sure to share with friends and family!