As soon as my kids get home from school, they drop their backpacks and kick off their shoes. Two hours later when dad gets home, he trips over said shoes. That is until I built my handy shoe rack to have a spot for literally everything. Shoes go on the shoe rack! Here are a bunch of my favorite DIY shoe rack ideas I found in my search for an organized home.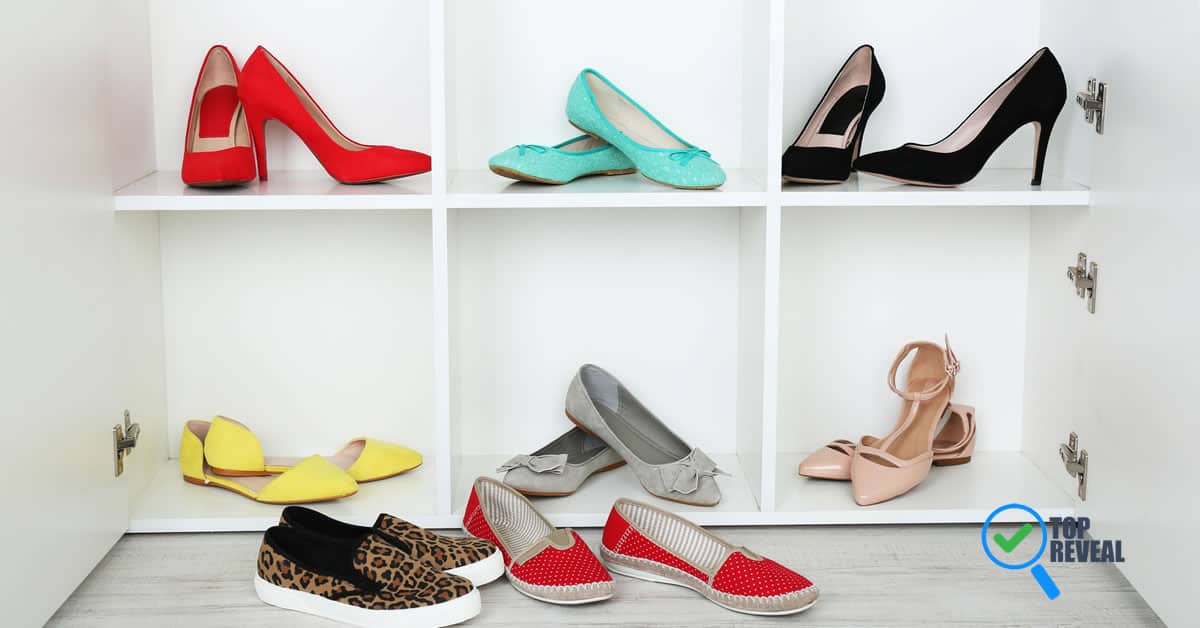 Clever DIY Shoe Racks and Storage
1. Honeycomb Storage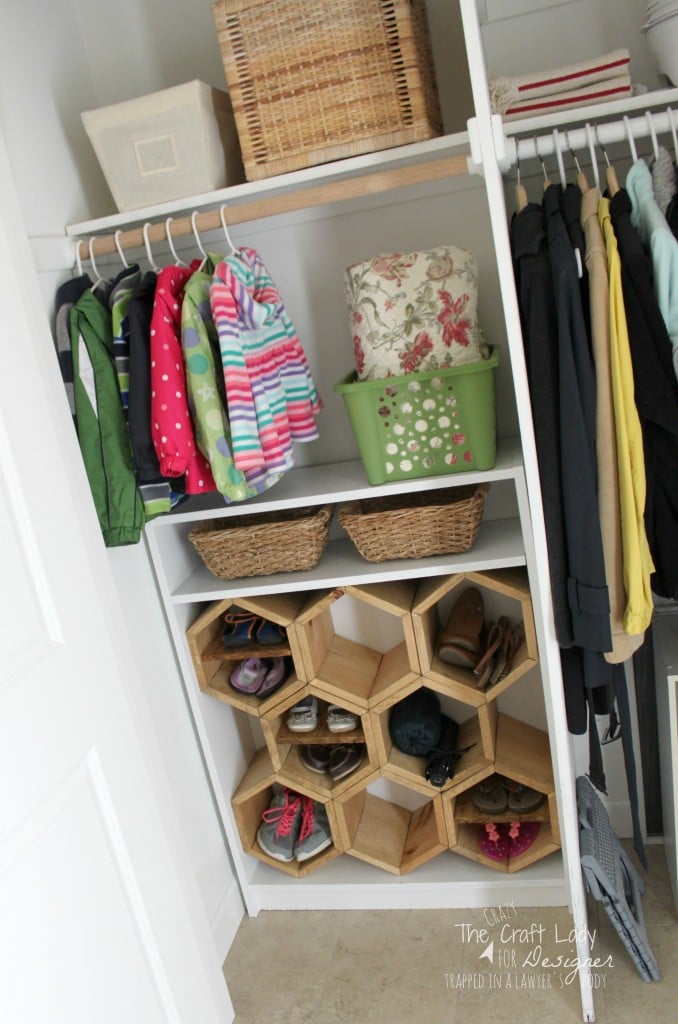 Source
I picture this honeycomb storage in a child's room, adding the perfect amount of playfulness to their space.
2. Bench Baskets

Trey & lucy
Shoe rack's don't need to be large and complicated. A few baskets and name tags under a bench will do just fine.
3. Lazy Susan Shoe Spinner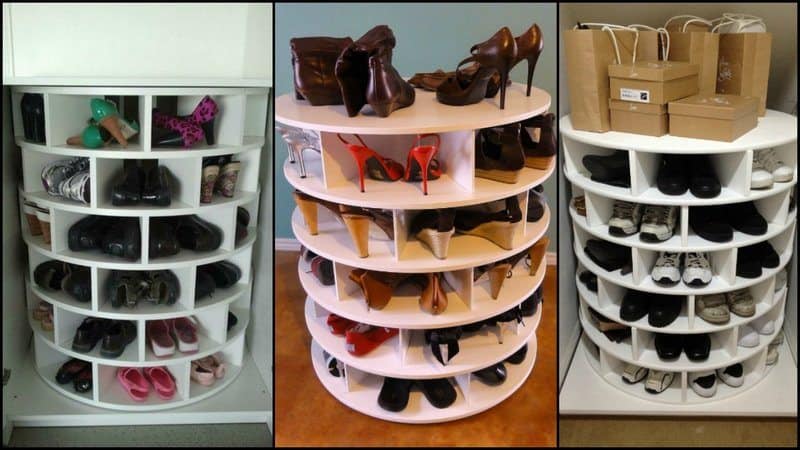 theownerbuildernetwork.co
If you have trouble making up your mind in the morning, this shoe spinner is the perfect way to see all your choices in one easy motion.
4. Crown Molding Shoe Rack

Picklee
If you are looking for a pretty spot to showcase your delicate heels, a down molding rack is the perfect glamorous option.
5. Command Center

Source
Combine your kid's command center with a spot to put their shoes for school. It will make sure the shoes are always put away and can always be found.
6. Piping Shoe Storage

Cookie Loves Milk
A DIY that can quickly be completed in an evening and can fit any space. This DIY allows you to clean up shoes in moments and is perfect for the teenager or kid with just too many shoes.
7. Geometric Organizer

A Piece Of Rainbow
This is a great one for the minimalist or creative one in your home. It is very easy to put together and you can scale it to the size you need.
8. Shoe Bench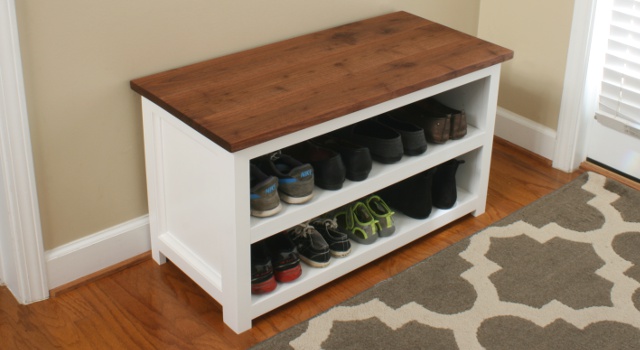 Source
For simple, clean, and quick storage, a shoe bench is a perfect way to keep your shoes at the ready.
9. Horse Shoe Rack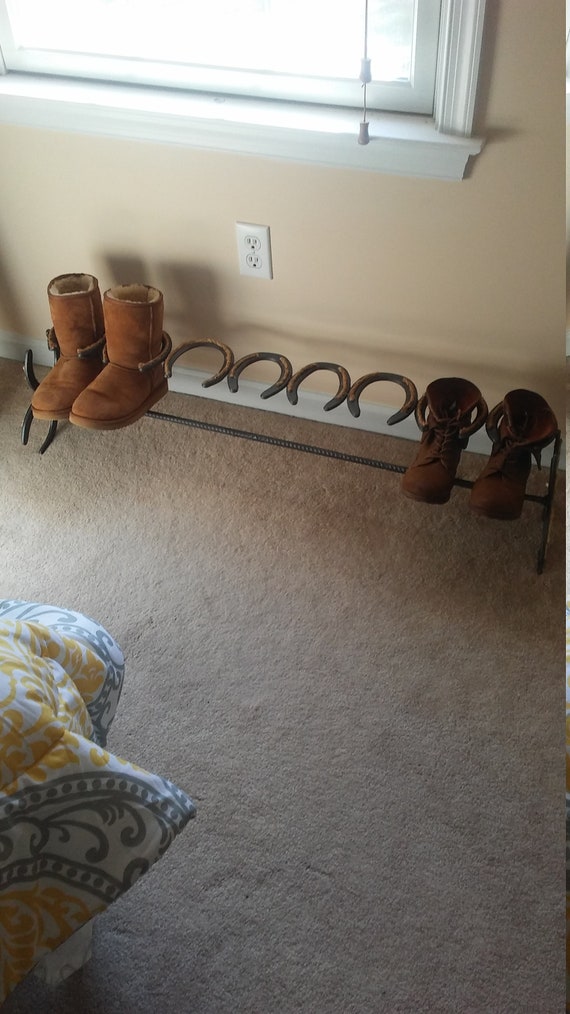 Etsy
A horseshoe rack if a fun way to carry a theme throughout your home. Hang your working boots, cowboy boots and sneakers on this rack when you are done for the evening.
10. Simple Shelves

Source
Some simple shelves are sometimes all you need. Nothing fancy, just a useful place for storage.
11. Part Dresser / Part Storage

Our House Now A Home
An option for when you also need a dresser. This fun design allows space for all different kinds of shoes, from sneakers to boots.
12. Copper Pipping Shelves

Source
For a stylish urban look, these shelves are a fun way to put all of your most stylish sneakers on display.
13. Skateboard Shelves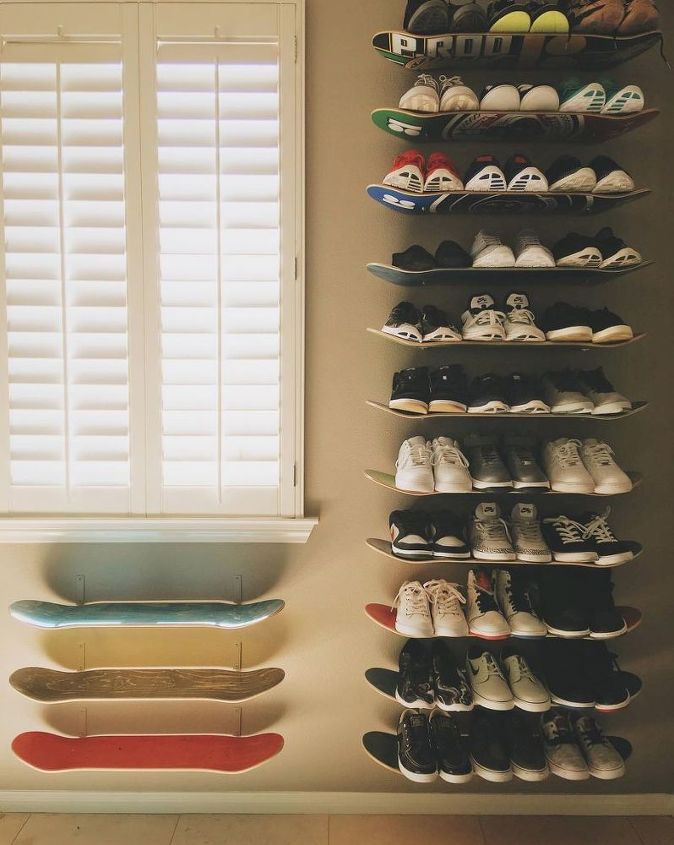 Source
Got a kid who loves to skateboard? These shelves are the perfect storage solution to his many shoes!
14. Shoe Organizer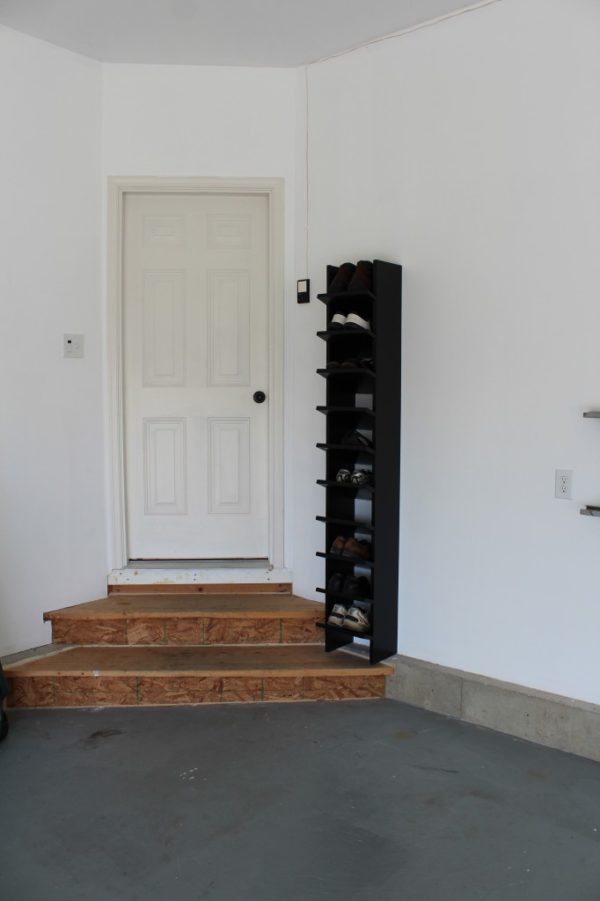 Source
A simple organizer that can be neatly tucked against a wall.
15. The Outside Bench

Life Storage
If your family is one to track in dirt, an outside bench with shoe storage can keep things inside your home the cleanest!
16. Minimalist Ladder Shoe Shelf

designsponge.com
This minimalistic ladder shelf is a pretty way to keep things neatly kept, without being too large or overbearing in your room.
17. The Ikea Hack

Ikea Hackers
Use some kitchen piping to create a great heels display! Similar to the crown molding DIY, this one is super easy to install and set up, so all your favorite shoes are on display.
18. A Couple of Sticks

Source
New to DIY? This project keeps it simple with slender pieces of wood you can easily cut and make into this quick shoe shelf. It just takes a couple of sticks.
19. The Shoe Cubby

Remodel Aholic
If your home is filled with family and friends, a shoe cubby is a great way to keep all the shoes organized and put away. This design is great because of just how many shoes it can hold.
20. A Bright Shelf

Crafting In The Rain
If you have yet to find an idea with creativity, use this blueprint as your chance to put your own personal touch on things.
21. A Picture And A Box

Source
Visit your local crafts store and select some pretty boxes to hold all your favorite shoes. Snap some photos so you always know what's inside and suddenly you have a safe spot for each priceless item.
22. The Crate Shelf

Source
If you love the look of those storage crates then this rustic DIY can make the perfect shoe shelf for the shoes of all sizes.
23. Shoe Hangers

Epbot
If you have spare closet space, shoe hangers can make it easy for you to shuffle through your shoes and find that one pair!
Did you enjoy the list? If you are looking for a way to minimize dirt and keep all those shoes together, a shoe rack can make it simple. Be sure to share this with a friend and let us know which shoe rack you will be building this weekend!