With summer right around the corner, I am breaking out the pool towels and ice coolers. Along with that comes the many popsicles and icy treats! Perfect opportunity to utilize some of our creativity and crafting skills with some DIY popsicle ideas.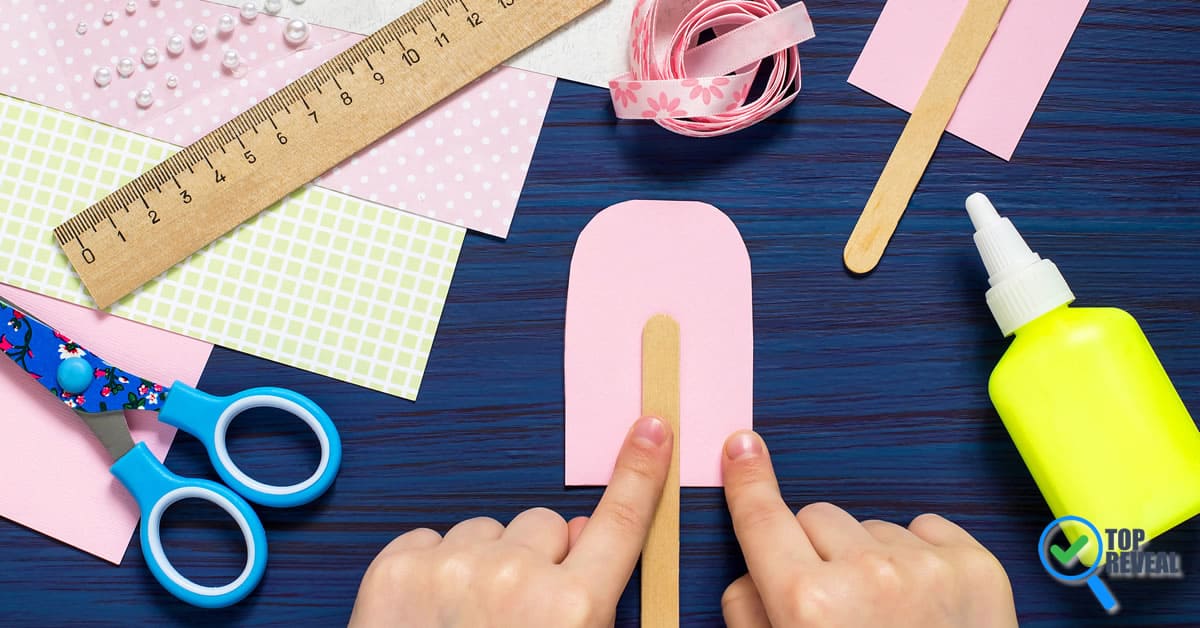 Everything from fashion and jewelry to clocks and wall art, you will find plenty of ways to recycle popsicle sticks.
Fun DIY Popsicle Ideas
DIY Popsicle Stick Glitter Earrings
Who knew? We are coming out swinging with these DIY ideas! Turn popsicle sticks into snazzy earrings with this tutorial from The Bold Abode! You would never be able to tell they used to be a sweet treat.
Hexagon Shelf Wall Art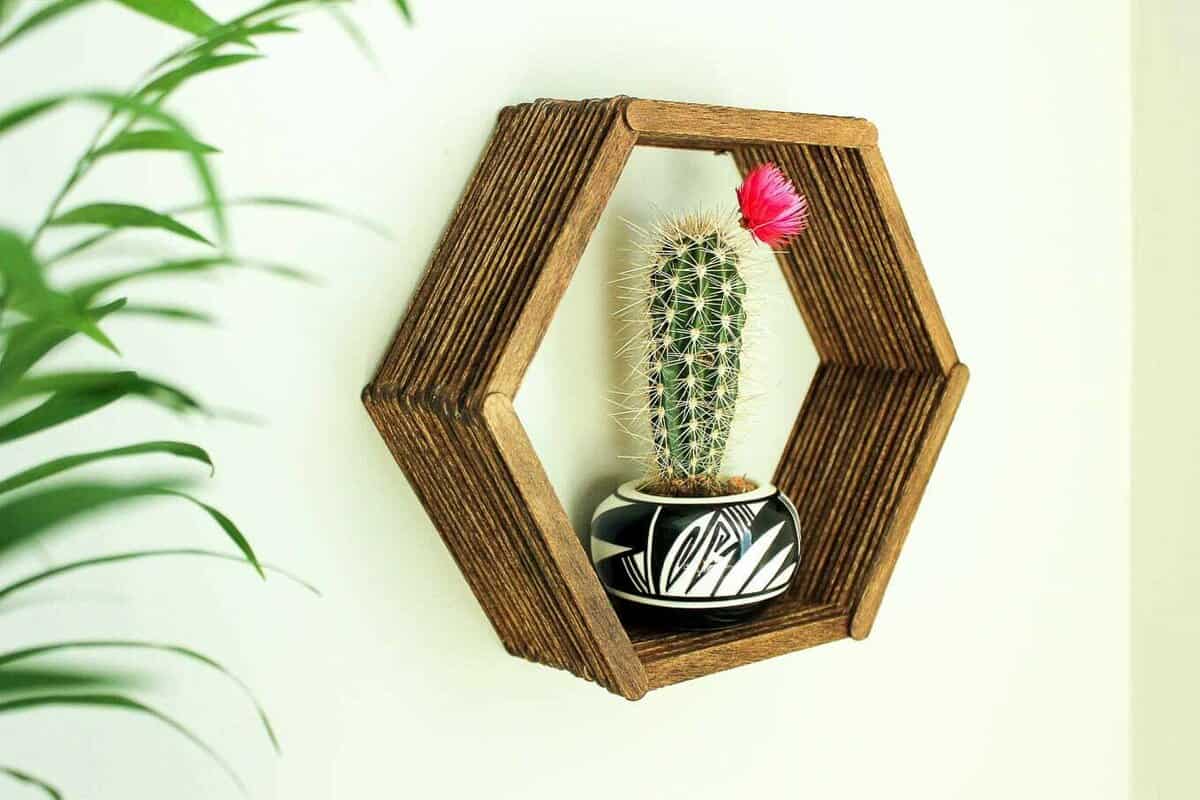 Create a unique piece of wall art to store a pretty plant or unique sculpture with this DIY form the Make and Do Crew. So perfect for any rustic or eclectic space.
Arrow Wall Art
I especially love this project from Festoon and Frill for a teen girls room. Off some pretty arrows to create a trendy design for any space. Clean and super cute.
Trinket Box
Need a space for your keys? Vitamins? Earrings? This little trinket box from Crafty Elf can take care of minimal storage space needs!
Wooden Helix Vase
A modern – rustic vase? This cool design from the Cheese Theif is modern and rustic all at the same time. Top it with some pretty flowers for the perfect centerpiece.
Stick Garland
Graduation or birthday coming up? Create a pretty sign to welcome guests like this one from Parscaeli! Play around with the colors and the letters to create your super-personalized garland!
DIY Wax Paper Lantern
Your little one needs a night light? Looking to add some pretty lighting to your outdoor space for those warm summer nights? Artsy Fartsy Mama's DIY is the perfect option for a little light that won't break the bank.
Pallet Coasters
Ok, I really love these coasters from Think Crafts for the design that this DIY'er applied. But they can easily be personalized to whatever stamp or vibe you want to give with your own coasters.
Minimalistic Earrings DIY
Have you ever tried creating your own jewelry? This project from Baisley and Noir is the perfect design to start with. Super simple, but super cute.
Dagger Earring Studs
The last design was for our minimalists, this one from Minted Strawberry if for those out there who are looking to add a bit of flair to their jewelry.
Kid's Play Magnets
With this project from Pure and Noble, you can really get your kids involved! They can help eat the popsicle's, DIY them, and then play with them as fun magnets on the fridge! They will be entertained for days! Maybe hours! Ok,…minutes.
Garden Markers
Get your garden ready for harvesting! These cute markers by Aimee Bee will make you smile every time you go out to water those little beauties.
Popsicle Hook
Looking for a cute spot to hang your bracelets and necklaces? This sweet holder from Onelmn is perfect to display those pretty accessories you don't want to be tangled up.
DIY Sidewalk Chalk Popsicles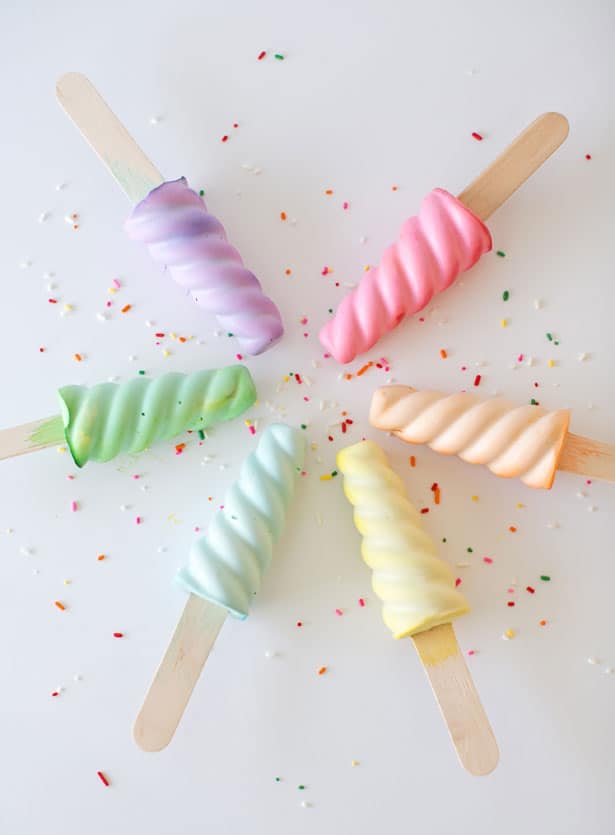 Keep the entertainment going with turning your leftover popsicle stick into sidewalk chalk. These are from Hello Wonderful and are super cute; your kids will love the playful colors!
DIY Popsicle Stick Trivet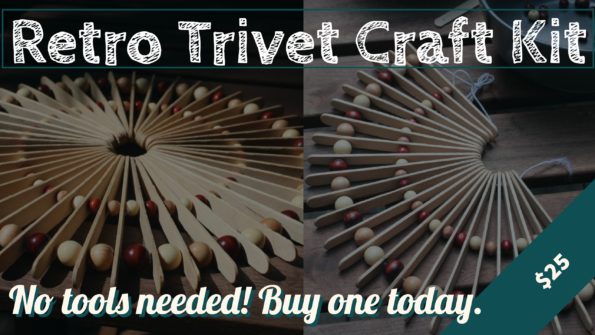 At the end of those long summer days, take your leftover popsicle sticks and make them into something useful for the fall! A trivet like this one by Harmonic Mama! Protect your countertops with this turn of the century trivet!
Decorate With Popsicle Sticks
You may not think of popsicle sticks as a very cute thing to hand from your walls or lay on your kitchen table until you see this DIY from All Put Together. This adorable design allows you to decorate spaces with unique but simplistic art!
DIY Label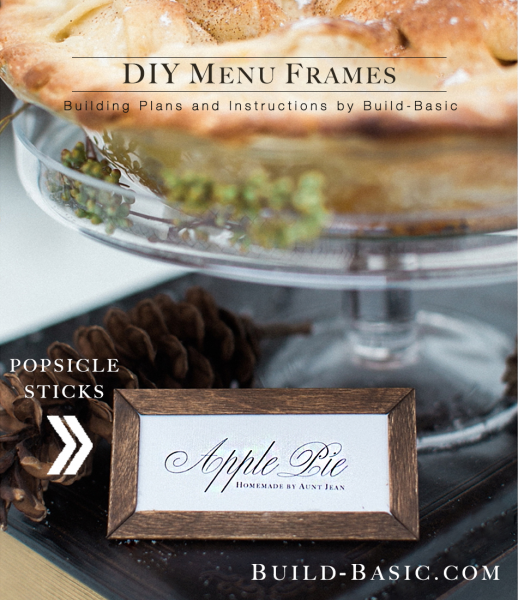 This cute design from Build Basic is perfect for menu frames, name tags, or any small label you need for your upcoming party! Super simple and no one will ever know you used popsicle sticks!
Popsicle Stick Workout Jar
Source: https://wholefully.com/pinterest-challenge-popsicle-stick-workout-jar/
Image: https://wholefully.com/wp-content/uploads/2012/08/IMG_0234.jpg
Eat too many popsicles? Turn them into a fun way to challenge yourself and workout! This user found a way to make working out more enjoyable with motivation through colorful popsicle sticks.
Pearl Statement Ring
When I originally saw this design, I could not figure out where this DIY'er uses a popsicle stick! It is that good. This charming ring from Wholefully is perfect for you, your friends, or even a teen girl you know looking to up her accessories game.
Stick Scarecrows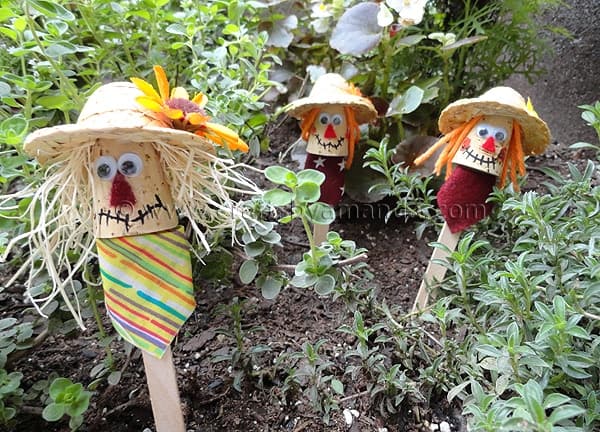 Great uses for popsicle sticks are DIY projects that will be useful in the months following summer. Which makes these adorable scarecrows from Crafts By Amanda the perfect project when your little ones are tired from the summer sun!
DIY God's Eyes
This creation by Honestly WTF is not just a beautiful project to hang in your home, but it can be a therapeutic way to spend your time and do a relaxing activity with your kids.
DIY Craft Stick Fish
If you are looking for a summer craft that your kids will love this is the perfect one by Darice! Eat some popsicles then make this colorful looking fish before heading back out to the pool!
Popsicle Stick Snowflakes
Are you all set on your summer decor? Maybe skip ahead to winter and plan out some beautiful snowflakes to decorate your home in when the temperature drops. These beautiful pieces from A Girl With a Glue Gun will compliment any home.
4th of July Popsicle Stick Flag
This fun DIY by the Suburban Mom is perfect for entertaining your kids between snack and swim time. Have them create their very own 4th of July flag and learn a bit about their country!
Popsicle Stick Wall Clock
This DIY from Dipfeed may surprise you but it is actually very similar to some of the other projects we have seen. Simply follow the instructions and you have a snazzy new clock. Perfect for a kids room or classroom!
Christmas Tree Advent Calendar
This is the most adorable DIY by Crafty Nest. It can be a fun project your kids can help you with and you can completely personalize the little gifts inside the calendar.
Popsicle Stick Playing Cards
Sick of your playing cards getting ruined at the beach or pool? Create these popsicle sticks from Instructables to keep the fun going, no matter the weather!
28.Popsicle Stick Garden Fairies
With all the time you spend working on your garden, create a craft that your kids can add their own personal touch to your beautiful landscape. Glued To My Crafts' popsicle stick garden fairies are perfect for adding some loving fun to your home.
DIY Popsicle Stick Airplane Magnets
For the kid who always has his head in the clouds, this craft by Make-Happy is an adorable way to create some hanging airplane for a child's room, playroom, or simply to hand items outside.
DIY Phone Holder
This phone holder from Make It Love It is one of my favorite ways to keep me onto of things while I work. I always know where my phone is, it allows me to quickly change music, or answer a call!
Did you enjoy the list? Popsicle stick DIY projects are a fun way to interact with your kids or recycle some frequently used summer items! Let me know what you think in the comments below, and if you love it, share it with a friend!