A seasoned wood worker is well aware of the fact that it is a passion that requires a wide variety of tools in order to achieve maximum results. One of the most versatile and well-regarded wood working tools out there is a wood router, but while the product itself is a sure-fire way to enhance your shop it can be difficult determining which to buy.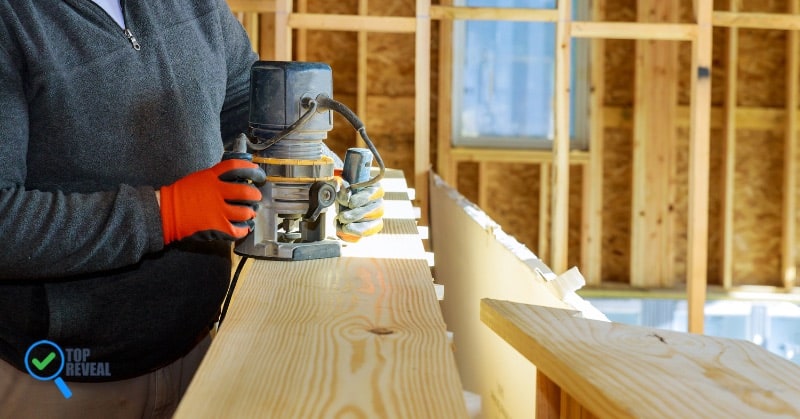 Don't worry, we are here to help! Read on for a guide on the best wood routers!
Before we dive into the guide itself I will let you in on a little secret. For my money, the Bosch comes out a little bit on top here. For its features, quality, and value, I think that it is a great buy, but of course you will have to decide for yourself as you look through all the great options on our list.
Benefits of Using a Wood Router
Just in case you still aren't quite sold on why you even need a wood router let's take a look at some of the qualities that make them so efficient.
Versatile: The wood router is a craftsman's favorite due to the versatility with which it can be used. There are plenty of jobs that can benefit from the work of a wood router which means you can count on yours getting plenty of action.
Portability: The wood router is also pretty easily stored and transported which is always a nice touch. Portability means that there is no trouble making sure that the router is where you want it to be, a big plus for the wood worker that often finds themselves on the go.
Safe: Relatively speaking, of course. Woodworking is never completely safe but the way in which the wood router is operated helps make it about as safe as it can get. The way that the router is held ensures that your digits are never in proximity to its moving bits.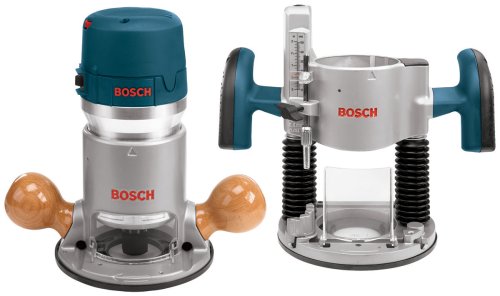 You probably remember the Bosch from earlier. It was my pick for the best buy featured on this list, and you can see if you feel the same way as we now take a look at its features.
Features:
Variable Speed: Variable speed is an important feature in the world of wood working as it enhances the degree to which you can be precise. All jobs are unique which is why it helps to be able to take an individualized approach to your work.
Powerful: Those variable speeds that we talked about? They start at 8000 rpm, but go all the way up to 25000. The 2 1/4th horsepower motor provides you with all the power that you need to confidently approach any job.
Ergonomic: I think a comfortable grip is an often underrated feature. The Bosch features a soft wooden grip that will keep you comfortable during long hours on the job.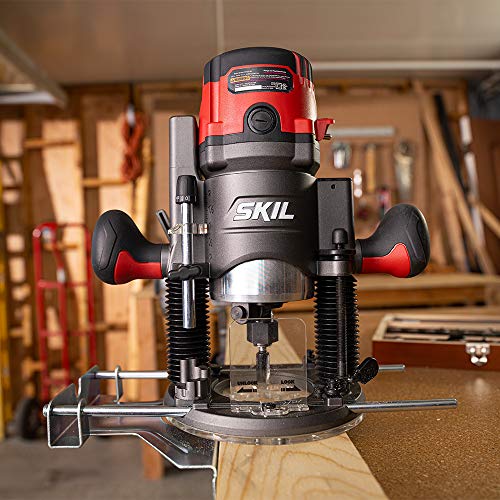 This next model that we will be looking at does not quite have the same name brand recognition as the Bosch, but that is not to say that its quality has suffered for it. Let's take a look!
Features:
Easy Bit Replacement: As you work with your router you will encounter the need to replace your bits for a variety of reasons. Of course, when that happens you will want to be able to get it done quickly so as not to slow down the progress which is no problem with this router. It features a quick-change system that will get you back to work in no time.
Depth Adjustment: This product also features the ability to adjust the depth of your cuts which adds to the precision of the router. When it comes to wood working, craftsmen all know that the more precise you can be, the better.
Versatile: This model can also be used with ½ or 1/4th' router bits which makes it a versatile option.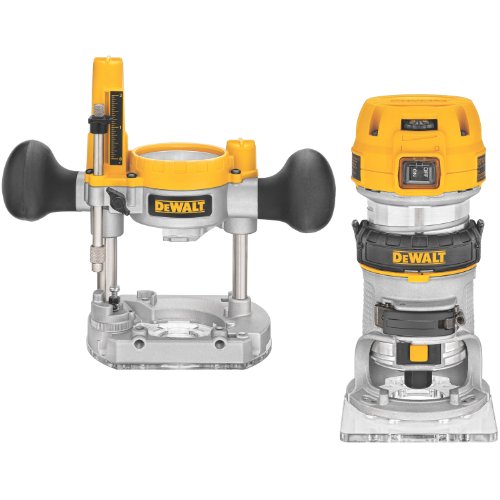 Dewalt is another company with a long-standing tradition of making really great tools, and this wood router is certainly no exception. Let's take a look at the features.
Features:
Powerful: The Dewalt features a powerful 1.25 horsepower motor that will be more than enough to take on whatever wood working job you have in store for it.
Speed Control: The Dewalt is another router to feature speed control. Power is great but the ability to control that power to your exact specification is even better.
Maximum Visibility: This model also features an LED light feature and a clear base to help ensure maximum visibility so that you get the best possible view of your work.

The Ryobi is another powerful and efficient tool that is sure to make short work of whatever job you have in store for it. Powerful and loaded with features that are great for the beginners and veterans alike, it might just be the router for you. Of course, there is only one way to find out.
Features:
Bits Included: When you buy a router, there is generally an additional cost of the bit set. Even the best router in the world is useless without an equally good bit set. Fortunately, the Ryobi comes with three bits included to get you started. Granted, you may need to expand your collection later on but until then these should be enough to get you started.
LED Lighting: The built in LED lighting is designed to help you see your work surface better for more efficient cuts. Better visibility means better work.
Depth Adjustments: Adjusting the depth of this router's cuts is a s simple as pressing a button, which makes it easy to produce precise work, and move from job to job quickly.

We already took a look at one Dewalt product on this list and now we will be looking at another. The DW618PK is a slightly more advanced model but both are great buying options for those that like a high-quality tool. One last time, let's take a look at features to see if this is the router for you.
Features:
Depth Adjustment: The DW618PK features a depth adjustment ring that offers precise changes in 1/64th of an inch increments for the most precise work possible.
High-Grade Dust Collection: This model features a quality dust collection system that is able to clear up to 95% of the dust on your work surface for a cleaner line of sight.
Tool Free Base Changes: Adjust your router with ease via the tool-free motor cam lock, for an easier less stressful day on the job.
Wood Router Buying Considerations
Now that you know for sure that you are interested in adding a router to your tool arsenal, let's take a look at some buying considerations to make sure that you get one that fits your needs.
Adjustability: The value of speed and depth adjustability depends largely on what you plan on using your router for. If you plan to use it casually for light do it yourself work, you may be content with a very basic router, but if you plan to get more use of it, something with some adjustability may be better for your needs.
What do you need it for?: Different work requires different specifications. Determine whether you need a plunged router, or a fixed rate router before making your buying decision so that you don't wind up with something you have little use for. There are also models available that are capable of both for maximum efficiency.
Price: You probably also noticed that all of the models featured on this list varied pretty widely when it came to price. You can definitely get a good tool for an affordable price. Take inventory of what you need out of your router to determine which features are necessary, and which you can do without to save some money.
Do it yourself
Of course, once you get your router you are certainly going to want to get to use it. Here are a couple of simple do it yourself projects to get you started.
Remember that before working with tools of any kind, safety always comes first. Gloves and goggles, and vigilance can go a long way towards preventing injury. Now, let's take a look at some awesome projects.
A router can be a great way to make a wooden picture frame. To perform this do it yourself simply apply your router to four strips of wood the length and width of which you have deemed appropriate for your frame. You can use your router to shape the edges of the frame to give them the distinct design and patterns that you want.
You can also use your router to make a unique sign designating your home or business. You can use your router both to hollow out the lettering on your sign, and then to shape the edges to your own specifications. The end result will be a beautiful and personal sign that sets your home or business apart!
Conclusion
If you are into wood working, the router is a must have. It's versatile, precise, and efficient which are all qualities that are sure to make your work pop. The question isn't if you need one, the question is which router is right for you.
Consider your needs, browse this list, and wind up with a tool that will change the way you approach your craft.