One of my favorite spots in my house is the kitchen, which is why keeping it clean and tidy is a priority for me. And I know that a couple of you share this feeling as well.  Which is why I'm going to let you in on a little secret: having the best kitchen trash can makes all the difference when it comes to keeping your kitchen in tip-top shape.
I know that many of you are wondering why I believe a garbage can makes such a big difference. You're probably saying: "they are just trash cans, right?" Their only purpose is to keep all those specks of dirt at bay."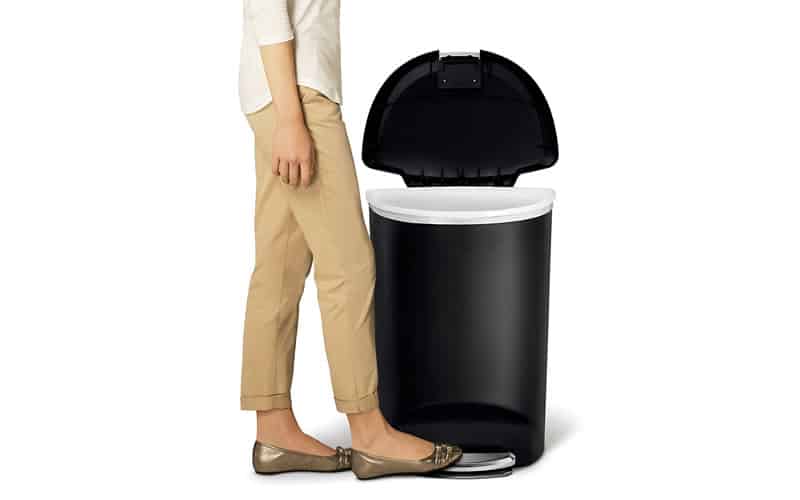 Well, that is where you're wrong. A good kitchen trash can is necessary to handle the amount of garbage that you throw away on a daily basis if you hope to keep a mess-prone place like the kitchen spotless.
When choosing the best kitchen trash can, you need to get rid of the age-old idea that these things are not worth your money. Innovation comes with a price, and that applies to garbage cans, too.
In this article, I will tell you everything you should know about choosing the best kitchen trash can for your home. This includes highlighting some exemplary brands of waste bins that you may want as an addition to your kitchen.
What is a Kitchen Trash Can?
A kitchen trash can is a container where you dispose of all the dirt and trash you produce while cooking. They are specifically designed to handle kitchen wastes, and are different from the ordinary trash bins you find in your office or workplace. Those types of containers have mesh or perforations, as they are built to handle mostly papers and plastics, not wet, or semi-liquid garbage, which is what you often dispose of in a kitchen.
That's why kitchen trash cans are often solid, with easy to clean surfaces, and in some cases, deodorizers to handle food smells.
The Best Top 5 Kitchen Trash Can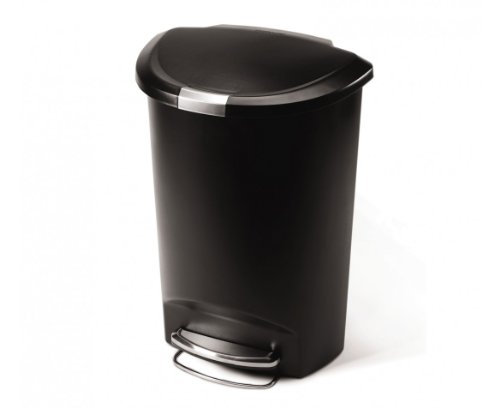 When considering a heavy trash can, the Simplehuman is your ideal choice. This brand of trash can has  the capacity of 50 litres (13 gallons), which is perfect for large households and busy kitchens. More importantly, its construction materials are a byproduct of a solid engineering. The manufacturer guarantees that this bin comes with the ability to last for at least ten years!
Although this is a plastic container, do not get disheartened; it is a special plastic that has a shock absorption features that can sustain impacts without getting cracks or leaks.
This kitchen trash can employs a step-to-open technology. Its steel pedal can endure up to 200,000 steps without breaking. It also has the Lid Shox technology that regulates the motion of its lid so that it closes gently and silently. When you want to open it, the pedal lets the damper push air out so that the top quickly unfolds.
Since it has a semi-round shape, this trash bin can fit even into small spaces. Also, it has a non-skid base with rubber pads, so it has excellent traction to the ground. It doesn't matter if you have a slippery floor, this trash bin won't budge a bit.
Pros:
Have inner bucket so that you can dispose of waste quickly
Finger-proof finish – keeping the surface shiny
Liners have double-seam construction
Entirely durable
Large capacity
Suitable even for small spaces
Five-year warranty
Cons:
Some users prefer the stainless steel type rather than the plastic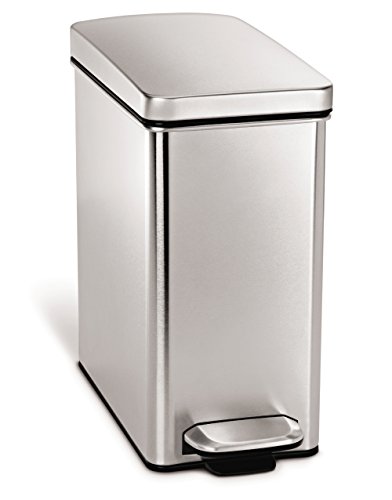 Just like the first one, this trash can is also a product of the manufacturer Simplehuman. The only difference is that this one is made of stainless steel, and has a lower capacity. The profile step trash bin can only cater trash of up to 10 liters (2.6 gallons). This may limit what households can use it, but it is still a great option, And when you consider the price, this is already an excellent kitchen trash can.
This bin has an inner bucket that lifts out easily in case you need to take out its contents. It has Code C liners that fit perfectly inside, and they have double seams too, hence no tears and rips.
Its entire body has a fingerprint-proof finish, so no matter how frequent you touch it, you can't see smudges.
Aside from its space-saving feature, this bin also boasts a rubberized non-skid base to prevent it from moving.
Furthermore, its steel pedal and silent close lid technology will ensure that you will have the utmost convenience when using this trash can. The pedal can sustain 150,000 steps. That's 20 steps a day for 20 years!
Pros:
Sturdy Construction
Stainless body is fingerprint proof
Compact steel pedal
Removable inner bucket
Guaranteed space saver
Cons:
Has a small trash capacity (only 10 litres)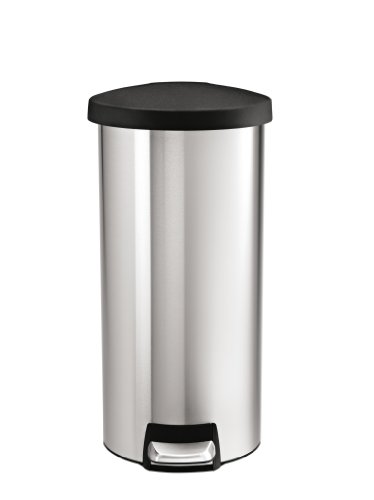 This one is slightly different from the other Simplehuman trash cans. Aside from the conventional features that this brand offers, it has some extra features it can flaunt too.
It has a plastic lid that you can't dent no matter how much you subject it to high impacts, making it ideal for busy kitchens, where accidents are a part of the daily routine. It also employs the Lid Shox technology, so that the lid opens quickly but closes silently and gently. Moreover, the lid is fingerprint-proof too, just like the entire body.
Another selling feature, aside from its sturdy construction, is that it has minimal parts. It is a unibody waste bin and has no inner bucket. Therefore, this trash can is relatively lightweight and easy to clean.
In addition, it has an oversized rim on the edge so that liners won't slip and stay hidden. The steel pedal can handle 150,000 steps before it shows any signs of damage.
Finally, this trash can hold a huge amount of trash relatively. Its capacity is 30 litres. Hence, taking it out to the garbage collector would be less frequent to your part.
This kitchen trash can costs $39.99
Pros:
Sturdy stainless steel construction
Durable pedal
Guaranteed space saver
Plastic lid is dent-proof
Lightweight and very easy to clean
Has a non-skid base
Five years warranty
Cons:
Users suggest that it should have an inner bucket so that trash could be removed easily

If you are looking for a more innovative design for your trash can, then this one is right for you. Instead of using a step-to-open layout, this trash can operate using a touch-free sensor – just place your hand over it and the lid opens automatically. This feature is convenient for busy chefs. Moreover, it also safeguards the trash can from unwanted spills. Very savvy feature!
It even has an ergonomics that keeps the lid open until you want to close it.
One of the best features of this kitchen trash can is that it can kill the odor and cross-contamination of germs while your garbage is still inside. Furthermore, the infrared technology it uses aids in keeping the air of your kitchen fresh.
4 D-size batteries power this kitchen trash can, but don't worry, this product has an energy-saving feature to make your battery run longer.
Its stainless body is fingerprint-proof. No smudges can be seen even if your kids somehow love to play with this can.
The design of this kitchen trash can is a perfect addition to your kitchen decor. Sophisticated, classy, and functional. This bin has it all!
With a price of $39.99, you won't regret buying this one!
Pros:
Can kill foul odor and germs
Uses infrared sensor to open the lid
Durable and sturdy construction
Space saver
Great physical look; perfect as kitchen decor
Fingerprint-proof
Dent proof
Cons:
The use of batteries may be an additional expense for you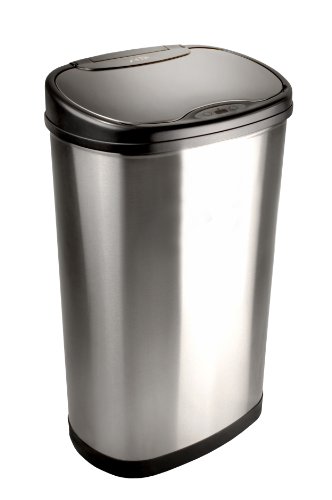 The Nine Stars kitchen trash can is one of the best when it comes to function and features. If you want a garbage bin that can be placed right against the wall, then this one is for you. Its rectangular shape allows for a perfect fit,  even in those tight corners.
It uses a touch-free sensor so that opening the lid would not be a bother to your busy hands. Moreover, it has a stay-open lid that is ideal for longer cooking chores.
The lid efficiently seals the odors and any contaminants. This feature makes this kitchen trash can safe even when in reach of your children. Also, it uses a garbage bag ring so the inside bag will be completely hidden. It can hold up to 13.2 gallons of trash before it is full.
The stainless body is fingerprint-proof, and its physical appearance is ideal for modern kitchens.
A little bit too steep, but with the features it has, it is worth the try.
Pros:
Touch-free operation
Rectangular design to save space
Sturdy and durable
Odor and germ-free
Clean design
Cons:
More expensive than the other brands.
Benefits of having a Kitchen Trash Can
A real kitchen trash can adequately contain all the waste you can possibly produce while preparing food. This means that this tool is slightly larger than the ordinary bins and has a lid to hide the mess.
A trash can in the kitchen can minimize or kill the foul odor. The waste products we produce in the kitchen, from peeled skins of vegetables to unused parts of meats, can accumulate bad smell over time. However, if you have a specialized unit such as the stainless steel ones, these unwanted odors can't escape.
A trash can be an addition to the aesthetics of your kitchen. Many food lovers have an innovative design for their cooking place for it to be pleasing to the eyes. Who doesn't want to cook in a kitchen where everything is organized, and all utensils are available? To preserve the cleanliness of your food haven, having a top-notch kitchen trash can is a must. I mean, every utility in your kitchen should compliment the entire design of the place.
How to Choose the Best Kitchen Trash Can?
There are a lot of varieties when it comes to trash cans for your kitchen. If you want to get the best, you need to remember that it has to suit to your kitchen. Furthermore, there are some other factors that you might want to consider such as size, construction, and function.
Construction and material
For a trash can, durability is a must. This way, you can assure that it won't leak anytime even if your pet frequently knocks it down. Also, it should have protective features so that trash won't escape even if the can accidentally stumbles.
A stainless steel kitchen trash can is one of your best options. They can guarantee durability,  even over a long period of time in use. Plus, they have a sleek appearance, which is perfect for the modern type of kitchen, and are also easy to clean. Best of all, their lids are so secured that your dogs, cats, and kids won't have access to your garbage.
Try to avoid buying plastic trash cans. Yes, it is true that they are cheaper that the stainless one. But remember, they are susceptible to cracks and leaks. Hence, you will end up replacing them frequently, which will incur more expenses in the long run. And to be honest, they look ugly.
Function
Innovation is everywhere, including trash cans. In choosing a garbage can, try to see if it has additional features that would make it more convenient to use.
Some trash can today have mechanisms to control and kill the odor of your wastes. You may need a garbage can that has an automatic opening mechanism so that your hands won't be needed to open them opening them when they are full of food, or just dirty.
You can choose from these following options: touch-free sensor, step-to-open, lift top, and swing top. Each of these features will give you utmost convenience depending on how you use them and the type of cook you are!
Size
In choosing the best kitchen trash can, you also need to consider the amount you rubbish you generate. I am not saying that it has to be on a daily basis. Always ask yourself if you are the type of chef who produces a lot of mess in a single meal preparation. If so, you probably need a bigger trash can.
Moreover, the benefit of having a big trash can is that it takes more time to get full. Hence, the less frequent you will take the garbage out.
Additional reminder
Make sure that you have one or two trash cans in your kitchen. At this time, you should be responsible enough to segregate your garbage (e.g. biodegradable from non-biodegradable). Each bin should have a designated role. In this way, you will save yourself from getting humiliated by your trash collectors.

[rwp-review id="0″]