Our homes are our pride and joy, so it only makes sense that we often have the urge to change things up to give our space a well-deserved makeover. Does your kitchen look dull, old-fashioned, and tired? Do you have tiles all over the floor? Is there an old-looking basin in your kitchen? Stop living with these eyesores and take some simple steps to give your home a much-needed modern makeover. This article will show you how to upgrade your kitchen cheaply, quickly, and with minimal fuss.
1. Paint Your Walls
One of the quickest and easiest ways to update your kitchen is to give the walls a fresh coat of paint. You can choose any color you like, but we recommend sticking to light, neutral shades to create a bright and airy feel. The color you choose should also reflect your style, so take the time to think about what sort of design concept you want to go for – do you want a rustic country feel? Or are you hoping to create a more modern atmosphere?
Also, while some paint companies will claim that their paints are 'washable', this may not be the case if your walls are covered in tiles or other water-resistant materials. If this is the case for you, choose an oil-based paint to create a durable finish that is easy to wipe clean.
2. Swap Tiles For Wood Flooring
Tiling is a quick and easy way to liven up your kitchen floor. However, if you want an updated look without spending too much money, you can simply swap your tiles for wood flooring. This will give your room a more modern and sleek appearance, and it's not too difficult to do. You might think that changing your flooring is a difficult DIY project, but it doesn't have to be. To make things easy on yourself, simply purchase laminate wood flooring – this is a cheap and easy way to create the look of tile without having to do any of the heavy liftings yourself. All you need is a good quality laminate flooring cutter, and you'll be able to have your new flooring installed in no time.
3. Install A New Basin
If your bathroom basin is looking a little dated, it's easy to give it a new look. Simply remove it from the wall, and replace it with a new, modern basin. This is a quick and easy way to give your kitchen a fresh new look, and it won't cost you too much money. Another great feature that's extremely popular these days is the touch faucet. It is convenient and also hygienic because you no longer have to put your hands directly to turn the faucet on anymore. All you have to do is give it a brief touch, and the water comes out. According to mrkitchenfaucets.com, there are many advantages of touch kitchen faucets that make them a popular choice at the moment. They add a touch of luxury to your kitchen without breaking the bank, and these faucets are available in a range of different finishes, so you're sure to find one that will suit your kitchen's decor. Having a new basin installed is a job that can be done by any competent DIYer, so there's no need to call in the professionals.
4. Upgrade Your Appliances
If your kitchen appliances are looking a little dated, it might be time for an upgrade. Luckily, modern appliances are not as expensive as they used to be, and it's possible to find high-quality appliances that will look fantastic in your kitchen. If you want a more luxurious feeling in your kitchen, you might want to consider purchasing a stainless steel appliance suite. These suites come with an oven, hob, fridge-freezer, and dishwasher, and they look great in any kitchen. You can find great deals on these appliances in the sales, so keep an eye out for discounts if you want to get your hands on some state-of-the-art appliance suites.
5. Change Your Kitchen Worktop
Another quick and simple way to give your kitchen a modern touch is to change your kitchen worktop. This is a job that can be done relatively easily, and it doesn't require too much money or effort. If you're looking for a cheap and easy way to update your kitchen, you might want to consider purchasing a laminate worktop. Laminate worktops are a low-cost option that will give your kitchen a sleek and stylish appearance. They're also durable, so they'll stand up well to wear and tear. The best part about this is that installing a laminate worktop is simple to do, so you can have your new kitchen worktop installed in no time at all.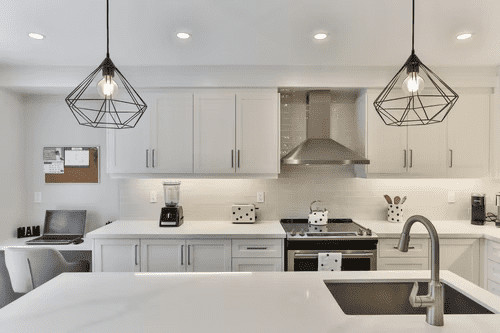 Whether you want to give your kitchen a complete renovation or simply update the look of your room, there are plenty of quick and easy ways that you can give your room a fresh new look. If you need some inspiration for your kitchen makeover, consider these five ideas – it doesn't matter whether you're a skilled DIYer or not, as these projects are all easy enough for anyone to complete. So what are you waiting for? Get started on your kitchen makeover today!