Football and the holiday season is here! You know what that means! Evenings spent cheering for my favorite team, Elf and The Santa Claus on loop, and the Yule log on Youtube. With so many holiday memories gathered with my loved ones in the living room, I am looking to make my entertainment center a thing of beauty – and I imagine you are too!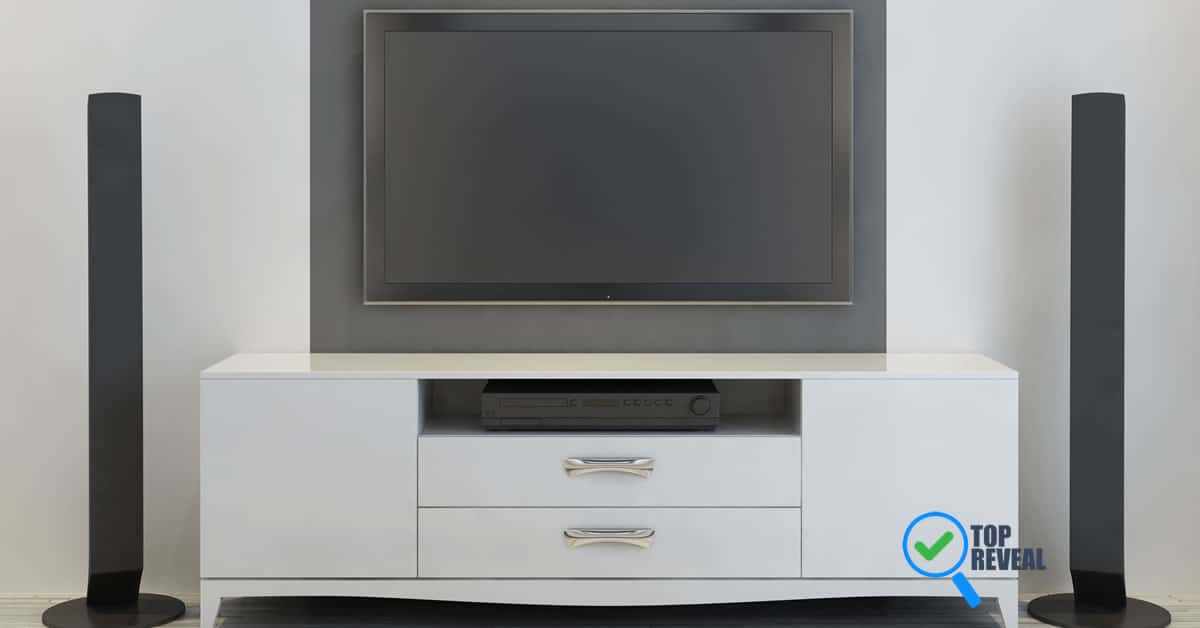 To save money for those holiday gifts, here are some great DIY Entertainment Center options to help spruce up your living room for the upcoming holidays!
1. Farmhouse Console

Shanty 2 chic
Simple and pretty, there is plenty of room for fluffy pillows and blankets in those baskets!
2. The Large Screen

Source
Of the few many DIY projects out there, few provide enough space for a screen we wall want to watch football on. This DIY is perfect for the large family and even bigger football fans.
3. Simple Corner Screen

Source
From big to small, there are DIY options for everything. This simple option is great for a screen tucked away in a corner.
4. Light App Please?

Instructables
If your entertainment system is all about the tech, then this is the perfect one for you. Hook up some LED lights, then sync it with your app and you are in business!
5. Big And Beautiful

Source
I particularly love this center for a bedroom. With additional storage and pretty fixtures on the shelves, I may find myself watching my handy work more than the screen.
6. Tucked Away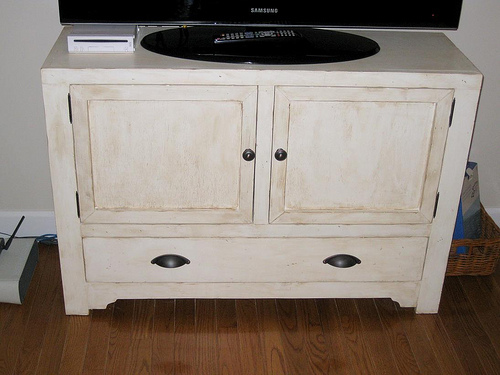 Ana White
Got a lot of wires, controllers, and games? This DIY allows you to neatly tuck everything away with no clutter in sight!
7. Clean and Pristine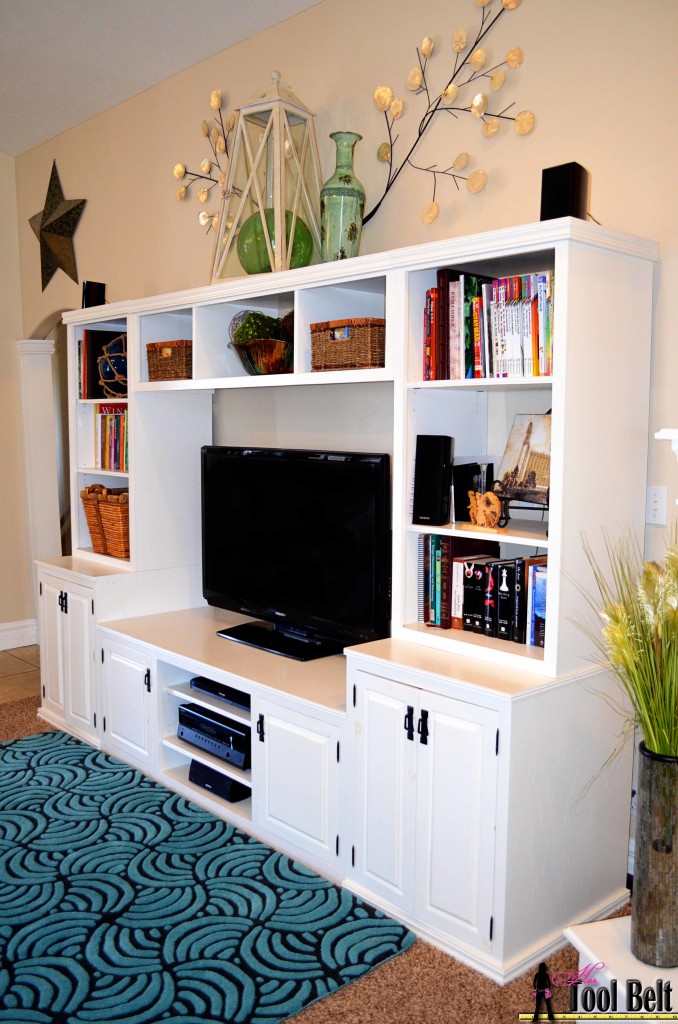 Source
This entertainment center just screams organized and clean. I love the fresh color of the wood with the delicate touches of the flowers and vases above.
8. Easy Access

Source
This DIY entertainment center allows you to quickly access that remote, movie, or game in those chic baskets!
9. Craftsmanship

Pneumatic Addict
A more advanced DIY but well worth the work. This is the perfect craftsman style entertainment center to complement a craftsman style home.
10. Temporary Entertainment Center

Source
If your TV is on the floor right now, it will not take much to upgrade. This simple DIY creates just enough storage and lift to get you through the holidays.
11. Rustic Corner Piece

Source
A beautiful rustic entertainment center when your TV is best placed in the corner.
12. The Fixer Upper Entertainment Center

Ana White
I call this one The Fixer Upper Entertainment Center because it honestly looks like it popped right out of a Magnolia Silos store.
13. Country Center

Source
There is rustic, then there is country. This country style entertainment center happily welcomes your cowboy boots at the end of a long day.
14. Mixed Entertainment Center

Source
This amazing work may be a bit advanced, but it mixes the modern pipping look with some rustic beautiful wood. It will surely be a talking point with all your guests.
15. The Modern Entertainment Center

Source
Clean lines and floating shelves, this entertainment center is perfect for the modern home. Enjoy this minimalistic approach with crisp edges.
16. The Expert

Miss Frugal Fancy Pants
I call this one the expert because this DIY'er truly showed that you can take any piece of furniture and make it beautiful. Apply these tips to some of your older pieces.
17. Little Bit of Everything

Source
This entertainment center is a little bit country, a little bit clean, a little bit open and a little bit hidden. It has everything when you just cannot make up your mind.
18. The Extension

Source
The Extension sticks out to me because of the extended center console. It really makes a beautiful statement and is fancy without trying too hard.
19. X-Leg Stand

Source
The x-leg tv stand is simple yet sophisticated. With its clean lines and rustic baskets. It is easy to put together, but beautiful to look at. See other Wood projects and inspire your own creativity here.
20. Bachelor Pad Center

Source
The Bachelor Pad Center is masculine, strong, and bold. It has hard straight lines and forgets the fluff.
21. The Bedroom Center

Shanty 2 Chic
Another great entertainment center for the bedroom, this one comes with tons of storage so you can save on even more space.
22. Pallet Entertainment Center

Source
The pallet entertainment center is great for those looking to save a buck and work with these easy materials.
23. The Open Center

Remodel Aholic
The open center allows for plenty of creativity. Add some pillows, baskets, flowers, or board games to complete the space.
24. The Quick Job

Source
DIY projects are not for everyone, and if the idea of creating your own entertainment center sounds exhausting, here is a quick one that is easy to complete.
25. The Barn Door Center

Welsh Design Studio
Taking the classic barn doors and adding them to an entertainment center makes this a crowd favorite. Or use a coffee table as a temporary solution.
How did you like the list? Let us know in the comments and send it over to a friend you are going to watch Sunday's game with! Entertainment centers can quickly become the focus of a home, make sure yours is ready for this upcoming season.